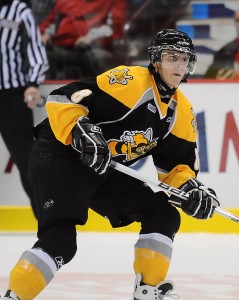 The development of a major junior hockey player has its ups and downs and that especially holds true for the former Sarnia Sting 2009 fifth round selection Joseph Campagna (known by most as "JC").  The free-spirited extroverted eighteen-year old maintained a positive outlook as he weighed his options for the upcoming hockey season upon realizing that he would need to play elsewhere to reach his potential.  The Sarnia Sting and JC mutually decided that it might be beneficial for both parties to see if there were any other opportunities for Campagna's future via the waiver process.
While Campagna was uncertain where he would end up playing hockey, the young lad maintained a positive outlook throughout the entire process. As with most things in life, when one door closes a window usually opens.  The Ohio native has recently received word that he will be heading east to the beautiful Maritime province of New Scotia to join the Quebec Major Junior Hockey League's Cape Breton Screaming Eagles.  Located in the historical coal mining city of Sydney, the Screaming Eagles will be the new home for JC as he embarks on his new journey in a new league. In life, people are often provided with second chances and an opportunity to start fresh – the Cape Breton Screaming Eagles offer Campagna just that. 
On the ice, Campagna possesses a strong offensive skill set highlighted by a silky smooth skating stride and soft hands that will surely be welcomed by the Screaming Eagles' organization.  The six-foot-four winger has good puck protection skills and the ability to stick handle in close quarters.  Cape Breton has played home to a few notable NHL alum including first round selections Marc-Andre Fleury (Pittsburgh Penguins), James Sheppard (San Jose Sharks) and Winnipeg Jets' netminder Ondrej Pavelec.  Over two seasons with the Sarnia Sting, JC Campagna potted 15 goals and 29 points in 110 games.  Campagna was passed over in last years' 2011 NHL Entry Draft, his first opportunity to be drafted, but still holds hope that his renewed opportunity in Cape Breton could project him onto NHL clubs' radars for next year's 2012 NHL Draft.
At the Sarnia Sting's recent training camp, JC Campagna had a strong showing and there appeared to be a swagger about him that has him hungrier than ever to prove show what he has to offer.  I had the pleasure of catching up with the newly acquired Screaming Eagle for a Q & A session.
JC, can you provide us with a little background on your family and childhood roots?  
JC:  Ya, my father, Tim, was among the best in the world in track and field.  My mother, Diana, is the best stay at home mom anyone could ask for and my older sister, Maria, has always supported me and we are very close.  I grew up in Colorado mostly and that's where I got my start in roller hockey.  
Is there a specific person who influenced you to take up hockey? If so, how was he/she an influence?
JC:  My sister's boyfriend at the time had a brother close to my age who played hockey and I wanted to play as well.  It was he that gave me my first pair of skates.  
Can you pinpoint an age and/or team when you realized that you had the skills to play hockey competitively and chase your hockey dream?
JC:  When I was a second year mite, I was playing travel Pee Wee for my father's team and lead my team in points. After that year, my family and I started to take hockey more seriously.  
You mentioned earlier that you played inline hockey in the summer months.  There are skeptics that believe that inline hockey is detrimental to your on-ice game. What are your thoughts on this belief?
JC: Well, I wouldn't be anywhere in ice hockey without my experience in roller hockey.  There are many players in the NHL today that I play against at NARCh (North American Roller Hockey Championships), so I see where people are coming from but I think it is the best way to stay in shape in the summer and sharpen your skills. I couldn't have done it without Dave Fromm, Joe Cook and Alkali Hockey.
From what I hear, you came onto the scene fairly fast as you spent only one year in AAA before jumping to Junior?  Is that correct?  Can you provide us with a brief timeline of the teams you played with prior to arriving in Sarnia, Ontario?
JC: Yes, I can't believe it but that is correct.  Like I said, I played for my dad until I was 11 in 'A' hockey, then I played for Dave Fromm in the Colorado Hockey Club program and won the Pee Wee A State Title.  I moved to Indiana to pursue a better opportunity playing for the Indy Racers which was a Bantam AA team.  I lead that team to two State Titles and a National Championship Silver medal.  From there, I moved onto the AAA Blue Jackets out of Columbus which was my only year of AAA before playing my underage year in Sarnia.
As an Ohio native you must have had several choices after minor hockey to further your hockey career.  Where you scouted or drafted by leagues other than the Ontario Hockey League?
JC: Yes, I was drafted 1st round to the Chicago Steel of the USHL. I also attended NTDP Camp with the final 40 participants. There were also several Division 1 offers to consider on top of being drafted by Sarnia.  
 What made you eventually decide to pursue your hockey career in the Ontario Hockey League?
JC: My family and I prayed about it on numerous occasions and asked God for guidance on which path I should take.  I also feel that the Major Junior route is the quickest way to the NHL and the best developmental system in all of hockey in my opinion.  
Upon coming to Canada, were there any lifestyle adjustments you had to make?
JC: There wasn't too many adjustments to be made – just little things like saying "pardon" rather than "what"(laughs) but luckily Sarnia was a border city so it had a bit of an American feel to it.
As a hockey player, how would you describe your playing style? Do you mold your game after anyone?
JC: I would describe myself as a skilled forward who doesn't mind getting his nose dirty.  I try to mold my game after a guy like Evgeni Malkin.
What are some of your best qualities/skills as a hockey player?
JC: I have a strong skill set, good hands, strong shot and good vision
What are the areas of your game that you need to improve the most?
JC: Well, I think there is always room for improvement in the 'D' zone.  You can't score goals if you don't stop them.
 Who is the best player you have ever played with?
JC: I would have to say Nail Yakupov, he is so fast and can score at will. It was fun playing with him.
Who is the best player you have ever played against?
JC: Wow, that's a tough one. Jeff Skinner was the most automatic goal scorer I've played against but you can't leave Taylor Hall, Tyler Seguin, and Cam Fowler out of that group either.
You spent two years playing in Sarnia.  What are some of your favorite memories of playing for the Sting? 
JC: I loved going to the rink. It's a small town and people would come out to watch practice and we had a great facility. It makes your job that much easier when you love going to work.
Are there any Sarnia players/friends that you became good friends with that you will keep in touch with often?
JC: Yes, for sure I had a lot of close friends in Sarnia that I still keep in contact with every day. I miss them.  I can't forget my billets (The Hynes) as they were fabulous and always had food for me.
You have recently signed to play with the Cape Breton Screaming Eagles of the QMJHL.  Have you ever travelled to the Canadian Maritimes?
JC: No, I have not but now that I have, I regret that because it's beautiful out here.  I'm 15 minutes from ocean.  You can't get much better than that.  
What are you looking forward to the most by going to Cape Breton? 
JC: Well, it's a fresh start with a new team and I get to meet a great new group of guys that will hopefully welcome me to their family. 
Do you have any personal expectations or goals for the upcoming season?
JC: My goal is to help contribute to the team and help us win as a unit. I don't care if I have 50 goals or 5 goals as long as the team is successful and I'm doing my part to contribute.  In saying that, I hope to be one of the "go to guys" on the team who they can count on to score when we need one.
What roles are you expected to play upon arriving in Cape Breton?
JC: I will be expected to play hard at both ends of the ice and score goals.
Let's switch to a few lighter questions.
What are your hobbies when you get some spare times?
JC: I love to golf.  I golfed a ton this summer. I also play roller hockey throughout July in a couple tournaments.  I'm a huge Will Farrell fan as well so I watch his movies quite often too.
Do you have a go-to goal celebration?
JC: I'm a huge fan of jumping into the glass. Nothing too fancy or crazy as I've learned my lesson from going overboard with celebrations (laughs).
A lot of players like to talk trash on the ice, what is the funniest chirp you've heard while playing?
JC: We were playing against London and a player during warm ups said, "Hey Campy, you know what you and the Titanic have in common? You both looked good until you hit the ice." Now, I am usually quick to say something back but I really was speechless after that.  
Who are your favourite NHL players?  Who is your favourite NHL team?
JC: My favorite players are Pavel Datsyuk, Evgeni Malkin and Mike Modano.  I was born in Dallas so I will forever be a Stars fan. In Colorado we had tickets to the Avs games so they are also one of my favorites.
Do your friends/teammates have any cool nicknames you want to share with us?
JC: Well most of the ones that would be entertaining are not exactly appropriate; you know the old hockey saying "what happens in the room stays in the room."
What's your favourite Canadian food?
JC: I'd have to say All Dressed chips. I never had those before and I fell in love with them.
It has to be pretty cool to see yourself in a video game now that EA Sports includes CHL players.  Do you play the EA Sports NHL 12 series?  If so, are you happy with how good you are in the game? 
JC: Ya, I'm pretty happy with my rating, I think its cooler being able to play with my video game self and seeing my picture in the video game.  It's also pretty cool having the little kids saying they played with me in NHL 12.  That makes my day.  
JC, thanks for the taking the time to answer these questions.  How about one final question? Are there any individuals who have influenced your hockey career or that you would like to give thanks to? 
Well, most importantly – God. He is the reason for who I am today. Secondly, my family has been overly supportive of a long career so far. My mom used to drive me three hours round-trip to practice daily.  Lastly, I have to give thanks to Dave Fromm. Dave developed me so much as a player and I can't say enough about him. He is the best coach I've ever played for and he taught me the insides and outs of the game. 
Quick Update:  JC made his QMJHL debut tonight (September 17th) for the Cape Breton Screaming Eagles and notched scored in his first game.  Campagna and his new teammates defeated the defending Memorial Cup Champions, Saint John Sea Dogs, with a score of 6-5.  Congratulations JC and good luck!  We will be following your successes.
My passion for the game has led me to writing about hockey, specifically dealing with the future of hockey and it's prospects.
You can find more of my work at DobberProspects.com, TheHockeyGuys.net and OHLWriters.com
Outside of the rink, I enjoy spending time with my friends, golfing, kayaking and fishing as well as competing in several of my own hockey leagues.
If you so do choose, please feel free to follow my thoughts and work on twitter @RossyYoungblood