With Rookie Camp winding down today, here's a list of the Bruins' top-ten prospects headed into the 2011-12 season. First up is Niagara Ice Dog and number nine overall pick in 2011, Dougie Hamilton.
1.) Dougie Hamilton, D – The selection of Hamilton was widely lauded around the hockey world, completing the Phil Kessel deal and adding another blue-chipper to the Bruins' hefty stockpile. Without a doubt, Dougie is the top prospect in Boston's system with the graduation of 2010 number 2 overall Tyler Seguin.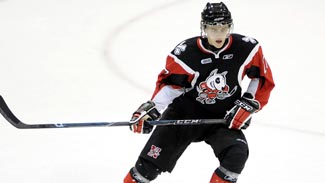 At 6'5, Hamilton possesses elite size and he's already learning how to use that advantage efficiently – consistently dispossessing attacking opponents who fail to maintain their distance. Despite needing to "grow into" his frame (weighing in at only 194 pounds as of training camp), Hamilton displays good physicality and a willingness to go to war both in front of the net and behind it. He shows the potential as a top-caliber shutdown defender despite his need for further coaching.
Hamilton owns plus speed (particularly considering his height) and while his mechanics are a bit surprising (more upright than you'd expect), he owns excellent acceleration and good lateral agility. He's tough for even the most slippery forwards to shake, and he can keep pace with all but the top speedsters in a straight line.
Offensively, his potential upside is better than most have suggested. He owns a howitzer of a blast from the point, which is consistently low and tippable. He might not possess the creative mastermind of a guy like Ryan Murphy, but he's aggressive and an effective passer both in transition and in-zone. I think he projects solidly as a forty-point defenseman and has fifty-plus upside.
All-in-all, the Bruins are very fortunate that Hamilton fell into their laps nine picks into the 2011 draft. Some draft pundits would argue that he was the best defender in the draft (even ahead of Adam Larsson, #4 overall) but regardless of where you put him, Dougie is by far the best defensive prospect Bruins' fans have seen in well over a decade. He might have had a case to make a good number of NHL squads starting six this fall, but with the B's coming off a Cup win with their solid defensive core, they can afford to be patient. Expect Hamilton to beat down the door to the Garden in one or two years.
Projection – First-Pairing (likely No. 1) Shut-Down Blueliner with Solid Offensive Upside. Potential All-Star.
2.) Ryan Spooner, C – Spoons was the Bruins third selection in the 2010 NHL draft (2nd round, 45th overall) and has quickly earned a significant amount of buzz within the Bruins' community. A point-per-game player in three seasons in split between the OHL's Peterborough Petes and Kingston Frontenacs, Spooner has the puck skills to dazzle fans and opponents equally. Despite being 5'10 and on the low end of the 180s, Spooner plays well in traffic and finds his way into open space due to his elusiveness and pacing. He's a sublimely quick skater and can change directions with little deceleration. His theatrical forays around the ice earned him a nearly automatic berth into the OHL's plays of the week.
He's got a bit of both sniper and playmaker in him: In recent rookie games versus the Islanders, Spoons scored with a high-circle one-timed slapper and a deceptive wrister. His incredible offensive acumen is visible when he zips crisp tape-to-tape passes through crowded zones and waits till the last second to release the puck. Ryan looks extremely comfortable running an offense from the half-wall, point and behind the net.
Despite his defensive game consistently lagging behind his impressive offense, Spooner has made strides to rectify it and looks much better than even a year ago. While it's doubtful he'll ever be a "plus" defensive forward, with his speed and hockey sense he could find his way on to a PK unit and earn his team some shorties in the process. Physically, he's never going to be stout – but he battles well and plays with an edge enough to where he shouldn't find himself overwhelmed by the smaller spaces at the NHL level.
His performances at Development and Rookie Camps have no-doubt earned him a look for the NHL squad this fall. He's probably ready to go, but if he fails to make the team, it's very hard to imagine he wouldn't in 2012.
Projection – Average to Above-Average 1st-line C/W 70+ Point Potential ; Excellent PP Weapon.
3.) Jared Knight, C/W – Knight's hard-nosed north-south game has earned him a cavalcade of fans among Bostonians including a few well-respected members of the media. Selected with the 32nd overall pick in 2010, the Knight Train wows fans with his excellent straight line speed, net drive and pro-caliber shot.
Jared might be 5'10 like Spooner, but the physical similarities end there. Listed at 198 lbs. (but some reports had him as high as 202) but with a low-low body fat percentage, Knight is cut and has a man's frame. With a work ethic that should push him into the NHL no matter what, the London Knights' property has Bruins' prospect-watchers buzzing.  Gregarious and engaging, he has the mental tools to excel in the high-pressure world of professional hockey.
Offensively, Knight is a straightforward player – one I have called on several occasions "the smallest power forward in hockey." His north-south skating is great and while his lateral agility is middling, he has that top gear that can burst him past even the strongest-skating defensemen.  He owns a hard shot with a quick release and can blow it past goaltenders from mid- and even long-range. Modestly creative, he has good passing instincts but seems to look his best when playing within himself: Rushing up the wings, mucking for the puck and driving to the net with fearless, almost reckless abandon.
The still-19 center/winger will probably see the 25 goal plateau frequently in his career, though it's some matter of debate within the Bruins' community if 30 or 40 is in the cards. Full disclosure: I see Knight as more of a 30-goal two-way dynamo than a pure-sniping 40 goal wrecking ball. However, Kirk Luedeke (formerly of Bruins Draft Watch and current scout for Red Line Report) projects him as having 40-goal potential.
Knight's defensive play is admirable as well, and he solidly projects as a great two-way forward: His unwavering discipline and determination aiding in his puck-pursuit and decent positional play. Like many his age, he could benefit from further coaching but it's easy to see why this is going to be a strength going forward.
Knight was one of my early picks to have a shot at cracking the Bruins' squad going forward, but he's slipped behind because of the explosive offensive outbursts of Spooner. Still, he's got a shot but he's another that should see 2012 as a target year, giving the fact that seven Bruins' forwards have contracts expiring after this season.
Projection – Second-Line Scoring Winger with Outstanding 2-Way Play; Consistent 30-goal Threat.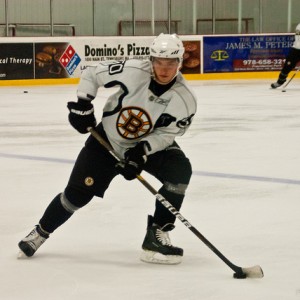 4.) Alex Khokhlachev, C/W – After spending one year as one of the "faces" of Russia's new junior league, the MHL, Koko made the jump to the OHL's Windsor Spitfires to increase his draft stock. Drafted 40th overall in 2011, Khokhlachev was considered a steal that far into the second round. With an elite offensive skillset, dynamic skating and a rookie season in North America which saw him pot 34 goals and 76 points; Koko has startling potential.
That said, he was one of the more divisive prospects. Ranked all over the board by scouting services, (including 13th overall by Red Line and the ISS) concerns about his Russian background and all-around game eventually led to his falling (happily) into the B's laps.
His experience in Development Camp was marked by some moments of exciting creativity – but Khokhlachev was noticeably worn by the intense skating drills and hard practices. After spending time with a skating coach in Minnesota over the summer and a good amount of nutritional and athletic guidance from the Bruins, Koko came to Rookie Camp last week in much better shape.
His skating game has been described as "dynamic" by many, and I think this is apt – but Koko doesn't have the top gear that someone like Spooner possesses. Additionally, it's hard to get a gauge on his skating in general because it seems to vary greatly from play to play. He skates an almost serpentine route with the puck when attacking, masking his intent with subtle changes in direction. With the puck on his stick his top gear seems increased as does his agility. His best skating attribute is acceleration, he seems capable of shifting between speeds in the span of seconds to back off opponents and create space.
He certainly has work to do to get his defensive game up to an even passable level, and it's probable that this is something that could keep him out of the big league for a while after his offensive game is ready. He's a surprisingly gritty player and is a willing combatant in the corners and out front – anything to infuse some offense. His refusal to be denied the puck is also evidenced in his strong defensive puck pursuit, as he'll attack the carrier over and over.
His offensive acumen is nearly through the roof. It's exciting to watch him break down a play with the puck on his stick. He's as effective a playmaker as he is a sniper, and both attributes will serve him well in the future, which seems labeled as a first-line scoring C/W. Wonderfully patient with the puck, he'll take a tour of the offensive zone if he doesn't feel an appropriate opportunity to dish or shoot presents itself. His shot is strong but it's the quick release and accuracy more than any base speed that will turn heads.
Khokhlachev is probably two or even three years away seriously contending for a NHL job with a contender like the Bruins. As such, there is probably some rightful concern that he might jump ship to the more immediately lucrative KHL. That said, Koko has consistently affirmed his desire to play in North America, and B's fans should be extremely excited he's in their pipeline.
Projection – Average 1st-Line Scoring Winger, Excellent 2nd-Line Scoring C/W, Limited 80 Point Potential
5.) Jordan Caron, RW – The "Q" grad from Sayabec, Quebec was a contributor in 23 games at the NHL level in his first professional season. Grabbing three goals and seven points in those games, Caron did not look at all out-of-place and was an effective participant offensively (even scoring his first goal off of future Hall-of-Famer Martin Brodeur) and defensively. He contributed some solid work on the penalty kill and provided a decent net-front presence before he was sent down to Providence of the AHL for much of the remainder of the season.
In Providence, Caron struggled a bit before coming around and earning some respectful season totals (12-16-28 in 47 games). Even though he just turns 21 in November, Caron is a relatively safe bet to see significant time with the NHL squad again in '11-'12. He's as or more ready than any player in the Bruins' system and barring a poor performance in Training Camp or some unexpected youths (particularly Spooner and Knight) making the B's, he'll likely break camp among Boston's 13 forwards.
Caron has the goal-scoring touch and hands to be a decent scorer at the NHL level. With pro size (6'2, 202) and a broad, hard-to-budge frame; Caron is good on the cycle or camped in front of the opposition's net. Despite not being an elite skater, Caron has a great head for the game and moves deliberately and efficiently around the rink.
Another guy who'll make his money as a two-way gem, Caron has the intelligence to be effective in all zones and is a virtual no-doubter to have an NHL career even if his scoring upside doesn't pan out. That said, he should be a consistent 20-goal threat in a few short years and 30 is certainly not out of the question.
Projection – Slightly Above Average Second-Line Scoring Winger; Power Forward; Two-Way Talent
6.) Maxim Sauve, C/W – When you ask a person in the know about Max Sauve, the first thing that comes to their lips is "Speed." Max, the son of former NHL player J.F. Sauve (and related to several other pros) has the wheels to blow through most defenses. Another Bruin graduate of the QMJHL, Sauve scored 21 goals and 38 points – good for third on the P-Bruins in 2010-11.
With solid hands and a quick release to go with his elite skating, the French-born Sauve has the look of a top-six scorer at the next level. His offensive acumen is largely underrated and the fact that he's played on several mediocre teams undoubtedly has hurt perceptions of him.
He was one of the most plus-players on the P-Bruins in '10-'11 (+6) which is evidence of his defensively responsible play despite his obvious offensive strengths. He appears to have put on mass this offseason, but still has a slender frame which will keep him from being as gritty a warrior as some in the system.
I'm not certain he's got the chops to win a NHL job on the third or fourth line, which might keep him out of Boston unless injuries or trades open holes. He doesn't seem likely to break down the door of a contender (like the Bruins) so he'll need to continue to develop his sandpaper game to have a good shot at a spot in the Garden.
With that incredible speed comes injury concerns and after missing considerable time in each of  the last two seasons, one wonders if this is merely a preview of the health woes to come in his young career.
Sauve has the potential for a decent scoring career, but right now the way appears blocked with a solid set of veterans and a few rookies blocking the way. On a lesser team, he would be a nigh-on lock for a NHL job – but the Bruins are Stanley Cup champs and as such, he'll have to toil at least another season in the minors (barring an explosive performance at Training Camp) and then make his push during the 2012 preseason where I'd expect at least 3 NHL jobs will be up for grabs.
Projection – Sniping Second-Line Speedster with a Solid All-Around Game.
7.) Jamie Arniel, C – The kind of guy that third-lines are made out of, Jamie Arniel has put himself into an enviable position. Despite only making one start with the Boston Bruins thus far, Arniel has earned a lot of respect within the organization. After leading the P-Bruins in '10-'11 with 23 goals and 50 points, the Kingston, Ontario native looks poised to be a depth player on future Bruins' squads.
Arniel, at 6'0, 190, doesn't possess much more than adequate size. His offensive skillsets are nothing to write home about: He's a modestly effective playmaker and his high goal totals stem more from his grit and tenacity than his hard but inaccurate shot. Arniel is a good skater but not to the point where it would carry him to the next level.
His defensive capabilities are impressive. He's willing to take one for the team, whether that means blocking a tough shot, taking a hit to move the puck or standing firm at the front of the net. He wins face-offs well and looks to be a decent bottom-line pivot. He's usually one of the first guys in on the forecheck and scraps for the in the corner as well as anybody.
Because of the Bruins' impressive depth in the prospect pipeline at the forward position, it would be easy to think that Arniel would have a top time cracking Boston's forward corps. However, it's believed the Bruins are quite high on the kid and love his intangibles. With a strong showing at training camp, Arniel could steal that 13th forward spot away from Caron, even given the skill gap.
Projection – Solid Third-Line or Plus Fourth-Line Checking Center with Decent Scoring Touch.
                8.) David Warsofsky, D – After a stellar performance at Development and Rookie Camp; Marshfield, Massachusetts native David Warsofsky has opened my eyes. The 5'8 blueliner might not possess prototypical or even below-average NHL size, but he more than makes up for it with tenacity, speed and a borderline-elite offensive skillset.
Warsofsky, who played three years at Boston University before turning pro, has dynamic skating abilities. His speed is a large factor in his capable defensive play, as he's rarely beaten even by the most fleet-of-foot attackers. His size is obviously a significant issue, as there are no top-four defensemen currently playing in the NHL listed below 5'10 – but with coaching, a commitment to heavy weight training and learning to use his size in leverage situations, Warsofsky could become a decent defensive player.
Even if he doesn't grow into more than a mediocre defensive player, Warsofsky will make NHL rosters throughout his career because of his outstanding offensive play. With the puck on his stick, he's a field general, commanding the offense like second-nature. He brings a plus transitional game and can hit the home-run pass or zoom up the ice with his elite speed. On the powerplay, the former Boston University Terrier has the chops to lead a first unit from the point. He can set up a play with the pass, rotate to open up lanes, take a tour of the zone to examine his options or rocket a surprisingly devastating shot low and through traffic to set up a goal.
At worst, we're probably looking at someone of the Marc-Andre Bergeron mold, a powerplay specialist who can play limited minutes on defense or some spot time at the forward position. He's gifted enough offensively to make limited jumps to forward, but his plus potential as a puck-moving offensive defenseman is certainly why he's here.
With some significant efforts toward bulking up and learning how to handle bigger forwards at his size, Warsofsky could make small jumps to the NHL as early as this year. More likely, he'll take a few seasons in Providence to grow his defensive game and improve his strength before making it to Boston.
Projection – Second or Third-Pairing Offensive Defenseman and Powerplay Specialist
9.) Tommy Cross, D – The Bruins' second-rounder in 2007 will return to Boston College for his senior year to captain the Eagles. Cross is a big (6'3, 210) and strong stay-at-home defender who thinks the game at a high level and has the poise and leadership to wear a letter at the NHL level. Injuries have taken a toll on his career as three knee surgeries have dampened his potential outlook.
Cross possesses all the necessary attributes of a successful defensive defenseman: He's smart, reads the play well, plays physical and has above-average mobility for a guy his size. Not an outstanding transition game, but he gets the puck out well under pressure and will take the hit to advance it. The Connecticut native displays decent gap control and good agility to take on the faster attackers. Cross isn't a dynamic physical player but will make the big hit when the opportunity presents itself.
He's not an outstanding offensive player, but he's not out-of-place on the powerplay – his booming shot has a frequently low trajectory. He is willing to jump into the rush if the situation presents itself, but more often than not is happy to play the fullback in most situations.
Tommy is still trying to catch up to his peers in the 2007 draft class because of the time he lost due to those three surgeries. With the Sword of Damocles constantly above him (or his knee to be more precise) one wonders how much the threat of a possible career-ending injury has worn on his psyche.
With one year remaining at Boston College, he'll earn his degree and head to Providence when the year's up. Expect the Bruins to take it slow with Cross – I doubt he'll see significant time with the big club until after 2012-13. Even so, he's got the potential to be solid defender at the professional level, and with all the setbacks he's suffered – to still be on course is a feat in and of itself. I wouldn't bet against this kid.
Projection – Solid Second or Third-Pairing Defensive Defenseman.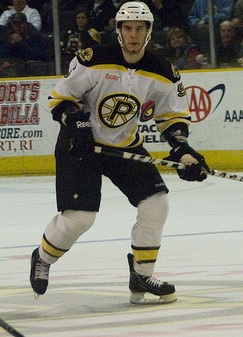 10.) Ryan Button, D – The former Seattle Thunderbird and Prince Albert Raider of the WHL heads to Providence this season with a pro contract in hand. With good size (6'1, 195) and an excellent skating game, Button looks to turn heads as a plus puck-mover and perhaps make the trip up I-95 to the Garden a few times this year.
Looking at Button in practice during Development and Rookie Camp, one couldn't help but be impressed by his speed, crisp passing and offensive acumen. He battled in the corners and turned several heads. Unfortunately, when the time came to watch him in the games that aggressive player seemed gone. Conservatively playing the D-to-D pass and rarely jumping into the play, Button's efforts in the two rookie games versus the Isles harkened to the warnings several scouts and prospect analysts had said to me when I was high on the kid this offseason: "He has all the tools to be a dynamic puck-moving defenseman – he just doesn't seem to put them together in games".
It mirrors some of the problems he saw in his time in the WHL, as the 2009 third-rounder averaged just five goals and 35 points over his last three years in junior hockey. With his talent level and athletic ability –that number is almost ludicrous. Part of that might stem from the defensive conservatism of some of his coaches, but even so, it's worrisome.
If he puts it all together, he'll be a very solid transitional blueliner. He remains poised under pressure, battles and can make the big outlet pass or jump forcefully into the rush. His skating is plus, perhaps even better and it makes him difficult to contend with on both ends of the ice. Button has a good shot, and looks at home on the powerplay; but isn't the game-changer that Warsofsky is with the man advantage.
Button has the size, athleticism and two-way ability to compete for a NHL job within a year or two. Boston's defensive depth (both at the NHL level and organizationally) might keep him from making the jump he would if with another franchise but hopefully the time in Providence will do him good and push him to utilize his hefty skillset.
Projection – Second-Pairing Puck-Moving Defenseman, Capable Powerplay QB.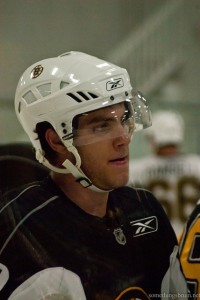 The Best of the Rest:
11.) Craig Cunningham, C/W
12.) Matt Bartkowski, D
13.) Brian Ferlin, RW
14.) Anthony Camara, LW
15.) Carter Camper, C
16.) Zach Trotman, D
17.) Zach Hamill, C
18.) Michael Hutchinson, G
19.) Colby Cohen, D
20.) Marc Cantin, D
Bob is a Boston Bruins Correspondent for The Hockey Writers. He lives in the Boston Metro Area with his wife, Amanda and their five-year-old son, Cormac.