Last season, his first as a pro, the now 21-year-old Reece Scarlett put up 20 points (6g-14a) over 48 games as he tried to adjust to 'playing against men' in the AHL with the Albany Devils. Scarlett, a defenseman from Edmonton, Alberta, had just completed four solid seasons with the Swift Current Broncos (WHL) — including his last two where he posted identical 49-point campaigns (9g-40a).
Selected late by the New Jersey Devils in the 2011 NHL Draft (Round 6, 159 overall), Scarlett has now started to make an impact in the AHL. Over a recent four game stretch he put up eight points (1g-7a) behind the power of back-to-back three point games.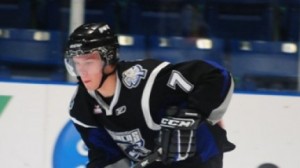 With the NHL Devils likely out of a playoff position this year, the team will likely be sellers and if defensemen start getting traded Scarlett could find himself in prime position to make a run at a job; whether it's at the end of this season or with another franchise or in training camp with the Devs next season. He told The Hockey Writers after his team's 5-3 win in New Jersey about how confident and comfortable he is becoming in the AHL and about a few coaches that have really helped him.
The Hockey Writers: Tonight was a back and forth game as far as momentum goes, how were you able to come out on top?
Reece Scarlett: It wasn't our strongest game; we came out strong — (and then) let them back in it for a bit. Our power play scored a couple of goals, which is always nice; and our PK came up big at the end. Overall not a strong game for us, but we found a way to win.
Reece Scarlett: 'Improving and moving forward… | Watch: http://t.co/5vWVxxjuEg pic.twitter.com/dKpIHkUhPM

— Albany Devils (@AlbanyDevils) July 17, 2014
THW: Was tonight different for you guys? Obviously it's a different arena, environment; but the rink is still the same dimensions right?
RS: Yeah, but anytime you get to play in an NHL rink it's a little special (smiles). We tried to treat it the same way we normally do (for a game). We've been here before; everyone's been to training camp here, so it's nothing too different. But it is a special occasion.
Devils select Swift Current (WHL) defenseman Reece Scarlett in the sixth round, 159th overall.

— New Jersey Devils (@NJDevils) June 25, 2011
THW: You weren't a high draft pick, you played through all of your years in Juniors and now you are in your second year of pro hockey at the AHL level. How do you feel about where you are now as a player and your development?
RS: I feel like I've developed a lot over the last couple of years; coming from Juniors to pro is a big difference — you're playing against men. Last year I went through a little bit of a transition period where I had to learn to play against those bigger and stronger guys. I really feel like I'm settled in pretty well now, I have a lot of confidence, confident carrying the puck, moving the puck. Everything has really gone smoothly and I'm happy.
Interview with this guy (Reece Scarlett) coming soon to #THW #Adevils pic.twitter.com/KQzXg0enmN

— Dan Rice (@DRdiabloTHW) January 26, 2015
THW: How has being coached in the Devils organization by such solid former pros like Tommy Albelin and Scott Stevens helped you?
RS: Absolutely. My first training camp here after I got drafted Scott Stevens was with the team and he helped me a lot there. Last year with Tommy, I mean, he had an unbelievable career, just like Scott did; he helped me a lot with the little details of pro hockey — being in the right position, how to handle bigger guys, that sort of thing. They've definitely helped (me) a lot.
Reece Scarlett not having a letter on his sweater is a real missed opportunity…

— Mike Ashmore (@mashmore98) January 22, 2015
THW: The last few weeks your game has really picked up, and in tonight's game you had three assists; your offensive game is starting to evolve a bit as you get more comfortable in Albany it seems, right?
RS: Our power play units have been clicking really well the last two weeks or so; having NHL-caliber guys like Joe Whitney and Mike Sislo at the top sure helps a lot. They do a lot of the work and I guess I kind of get lucky sometimes (smiles). I'm feeling confident right now, the last few weeks have been pretty good for me and I'm looking to keep it going.
Joe Whitney knows how to score goals. Visual evidence here:
THW: What do guys like Whitney, Sislo, Reid Boucher and Seth Helgeson say or try to teach you guys (if anything) when they come back to the AHL from a stint in the NHL?
RS: They're unbelievable players and they deserve everything that they get and earned. Their presence on the ice helps a lot too and it's nice to have them back with Albany with their wisdom.
Dan Rice can be reached via Twitter: @DRdiabloTHW or via Email: drdiablo321@yahoo.com