No one will ever confuse Jon Merrill and Seth Helgeson of the New Jersey Devils for Felix Unger and Oscar Madison (stars of The Odd Couple) but the two are good friends despite being quite different in so many ways. Both defensemen are just beginning their NHL careers and hopefully for the Devils and their fans the two American kids are linchpins on the blueline for years to come.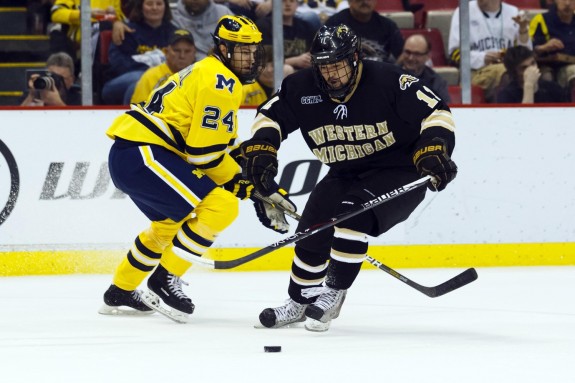 The two are almost the same age (Merrill is 22, Helgeson is 24), went to rival colleges (Merrill went to Michigan, Helgeson to Minnesota) and both were draft picks of New Jersey (Merrill 2nd round/2010, Helgeson 4th round/2009). Personality wise, at least with the media, the two are light years apart — Merrill is respectful, but short, to the point; no extra words needed, very reserved — while Helgeson is energetic, funny, gives long, detailed answers and his personality comes across strongly. The night The Hockey Writers spoke to Merrill, his teammate Patrik Elias had scored his 1000th NHL point (all with the Devils) in a 4-1 win over the Buffalo Sabres.
#TBT On 1/6/12 Patrik Elias played in his 1,000th @NHL game! Exactly three years later he recorded his 1,000th point! pic.twitter.com/2fSwbbDz2H

— New Jersey Devils (@NHLDevils) January 8, 2015
"He's a smart player and he has all of the skills and intangibles you need to be a really good hockey player," Merrill (who recently played his 100th NHL game) said almost emotionless. "One thousand points is a pretty phenomenal accomplishment and we're all proud of him." THW followed up trying to get him to open up more, asking about his relationship with the possible future Hall-of-Famer. "He's really good with everyone; he's a good guy in the room. Especially the young guys; he helps you out, shows you the ropes when you first get here," he said, finally grinning a bit before adding, "He knows what it means to be a Devil; he's spent his whole career here and he's an awesome guy."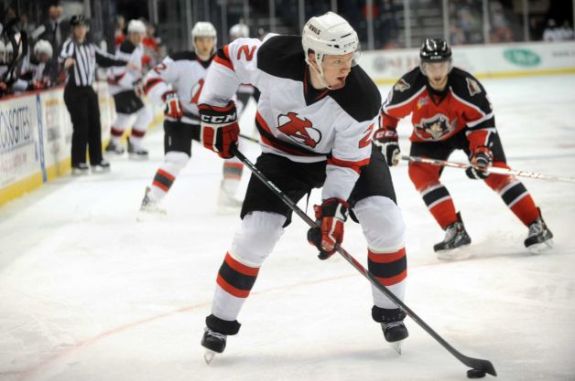 That same night THW also interviewed Helgeson, different questions for a different player; beginning with what it's like for a guy who has less than 20 games of NHL experience to have his boss (Lou Lamoriello) now behind the bench and around the team daily. "That's a good question," the Faribault, Minnesota native said with a smile from ear-to-ear. "He's very positive; I think that's what we needed coming back from the Christmas break. He's been great so far, always telling guys positive things on the bench, (he) gives some insight here and there; a little quiet back there, (and) sometimes you don't notice him. But (he's) great at telling you 'good job' or 'maybe work on this'; it's been good so far, very helpful (for me)."
Helgeson (shockingly) had even more to say about the situation, "At first I didn't know what to expect. I expected to be intimidated a bit, I'm not going to lie," he said sporting the biggest Kool-Aid smile you ever saw. "But it's been great; you don't want to let him down, I think that's where it comes from."
A hat full of secrets based on a true story written by Seth Helgeson pic.twitter.com/2GZXl85kBk

— Paula☯ (@pfaay_) December 31, 2014
Most importantly, both players have something that can't be taught and something that the Devils needed — size and reach on their blueline; Merrill is 6'3", 205 lbs, Helgeson is 6'4", 215 lbs. It seems the plan in New Jersey is (as of now at least) to let this young group of defensemen go through their growing pains together. These two, along with Eric Gelinas (23), Adam Larsson (22) and Damon Severson (20) could very well be the future protectors of Cory Schneider's crease. "He's been a rock every night for us. It's unfortunate we haven't been able to pull out as many wins for him as he probably deserves," Merrill told us about the new franchise goalie, "but he's always our rock back there in net."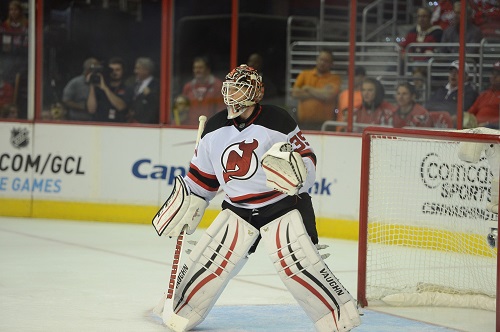 "Communication is key and we're familiar with one another. I played with Lars and Johnny already this year (as well as in Albany)," Helgeson explained. "That makes it (the maturation process) a lot easier just knowing and playing alongside them previously. We're all around the same age so we're hanging out together on the road and stuff like that. It's been great for my confidence, they're easy to talk to; but also the older guys are real easy to talk to. They're never shy about answering my questions as well."
The first career goal for Jon Merrill was a memorable one, an OT GWG:
The former Golden Gopher admitted he is really enjoying having new assistant coach Scott Stevens around working with him and the other young pups on D. "One of the biggest things is he's a great teacher; he obviously played a long time and had a very successful career so having him back there, with his insights and experience and being able to translate it to us has been very helpful for myself," he said. "He's a very positive man and that's been good for us so far (as a defense corps)."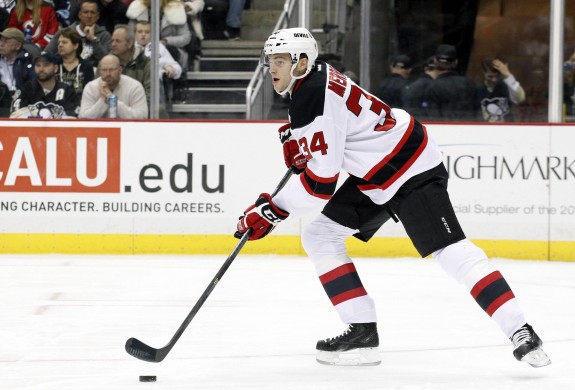 The night before the win over the Sabres Merrill met a bunch of fans at a local event where they took pictures with him, talked hockey with him and got his autograph. We thought for sure this would be a question that would really get him to open up. "It was good, it was a great experience," he said finally eliciting a smile that showed his teeth. "I met a lot of great fans; I'm glad they came out to hang out and meet me; some really fun and awesome people."
No one knows how long either of these players will be on the New Jersey Devils. Players come and go all the time. Trades are made, contracts are signed, etc. But for now the future of their blue line has a glimmer of hope and the modern day odd couple could be a big part of any success the team does have if they develop together, the right way.
Dan Rice can be reached via Twitter: @DRdiabloTHW or via Email: drdiablo321@yahoo.com