The upcoming offseason for the Rangers, as it is for any other team, is of much importance — this offseason in particular, however, is of vital importance to the Rangers for several reasons.
A New Coach, And What It Means For Lundqvist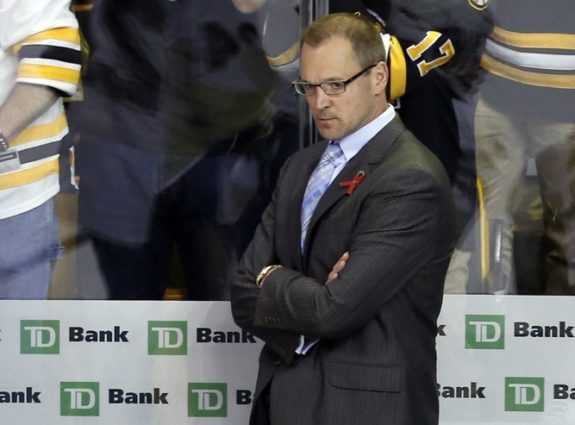 The offseason started off with a bang in New York — just four days after being defeated in five games by the Eastern Conference Champion Boston Bruins, Glen Sather shocked his garden faithful by announcing the removal of head coach John Tortorella. It was move that many Ranger fans felt needed to happen, but not many expected it. in fact, many of the Rangers' beat writers felt that Tortorella would be given the beginning of next season to right the ship. Apparently, that changed on breakup day. When Mike Francesca broke the firing of Tortorella, he mentioned that there was an "internal escalation" over the past 24-48 hours (breakup day was Monday, May 27th, and Tortorella's firing was Wednesday, May 29th — you can come to your own conclusions) that led to him being dismissed.
The ensuing search has not concluded as of yet — Sather is still looking for a coach to replace the fourth winningest one in the history of the franchise. It's not going to be an easy task, as Henrik Lundqvist's future with the Rangers could very well depend on the success of the coach which Sather chooses. Lundqvist has a desire to win that few can match, and if the team does not make progress next season, he could leave as a UFA for greener pastures.
There have been many candidates mentioned by the media; recently fired Alain Vigneault, the coach who, in my opinion, is Sather's best option, and then there is Dave Tippet, who is set to become a "UFA" on July 1st, which is when his contract with the Coyotes end. While Tippet is an excellent choice, it appears he would like to stay with the Coyotes; I assume that his future with the team is directly linked to the future of the team itself, or, in other words, whether they remain in Phoenix or are relocated. Perhaps, if the situation is not resolved by July 1st, Tippet will lose his patience and head to the open market where, assuredly, many teams will be interested in his services. Other current candidates include Mark Messier (ugh), Wayne Gretzky (double ugh), Paul Maurice, John Stevens, and Lindy Ruff. Unfortunately, my former top choice Dallas Eakins will reportedly coach the Edmonton Oilers, which, by the way, I think is an excellent move by Craig MacTavish.
Another coaching possibility could be Dan Bylsma, current coach of the Penguins, although many feel his future is in doubt after his team was swept by the Bruins. If that were the case, I assume Bylsma would shoot up to the top of Sather's ideal coaching choices, being that he has won a cup and is a veteran of four seasons.
The Important RFAs
Finding a coach is not the only task that awaits Glen Sather, as an important group of Ranger players will be restricted free agents on July 5th; each of Ryan McDonagh, Derek Stepan, Carl Hagelin, and Mats Zuccarello will be in need of new contracts for next season. Of course, re-signing there four players with be Sather's top priority this offseason, along with finding a new coach.
Ryan McDonagh
McDonagh is coming off yet another successful campaign. The 23 year old Wisconsin product had a productive season, recording 19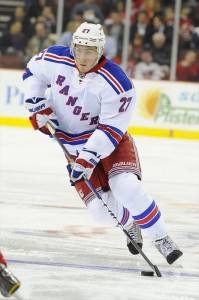 points in 47 games, and a +13 to go along with that. The season prior, he had a career high 31 points in 82 games, as well as a +25 rating. In the playoffs, McDonagh stpped up his defensive game even more so, as he played a hand in keeping Alexander Ovechkin to two points in seven games in the Rangers' first round matchup with Washington.
Out of the four big RFAs, McDonagh is the player most are expecting to get a longer term deal, taking into consideration the fact that he is arbitration eligible, much like Ryan Callahan and Brandon Dubinsky were two summers ago. Dubinsky and Callahan got four and three year contracts respectively after career years from the both of them.
My prediction — Sather locks up McDonagh for five years at $4.75M per. I am basing this on the fact that Marc Staal got a five year, $3,975M per contract in the 2010 offseason. He was not arbitration eligible, while McDonagh is. I think the $800K per makes up for that fact, and that McDonagh more than likely won't need arbitration.
Derek Stepan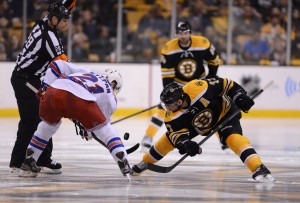 Stepan is coming off what was a career year in 2013, where he amassed 18 goals and 44 points in 48 games. To go along with that, Stepan also recorded a +25 rating, good enough for fifth in the league amongst players like Jonathan Toews and Sidney Crosby.
I believe this contract will be the most difficult to negotiate for Sather. While Stepan had an incredible season, it's impossible to determine whether he would have kept up the pace had the season been a full 82 games — personally, I believe he would have, but that's not what Sather is going to think headed into negotiations. More than likely, Sather is going to use the 'half' season as a bargaining chip to get Stepan to lower his price. Unlike McDonagh, Stepan is not arbitration eligible, so this works in Sather's favor for time purposes.
My prediction — Sather locks up Stepan for three years at $3.75M per, the same contract Claude Giroux was signed to after his breakout season (76 points in 82 games). The contract will look like a steal if Stepan continues to improve, and there's no reason to believe he won't. In fact, he has linearly improved since day one, going from 45 points in 82 games, to 51 points in 82 games, and now 44 points in 48 games. His point-per-game numbers have increased each season he's been in the league, and, frankly, despite the lack of fanfare, his three-zone play is comparable to the likes of Patrice Bergeron and Jonathan Toews — obviously, he isn't at the level of those players as of yet, but in a few years, who knows? He truly had a remarkable 2013 season.
Carl Hagelin
Hagelin is coming off a solid sophomore season where he registered 24 points in 48 games. To go along with that, Hagelin also recorded a +10 rating, which was good enough for fifth overall on the Rangers (behind Stepan, Nash, Stralman, and McDonagh, in that order).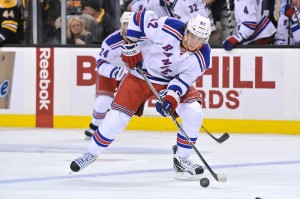 Unlike the Stepan/McDonagh contracts, I believe this one will be a much easier contract to negotiate — in fact, Yardbarker has reported that Hagelin could re-sign as early as a week into negotiations. Hagelin IS arbitration eligible, so knowing that, he might try to squeeze a few extra K out of Sather, but it seems the two just want to get a contract done, which is good news for Ranger fans. It will be interesting to see how Hagelin develops offensively from here on out — in my opinion, he was one of the Rangers best players in the playoffs, despite playing with a torn labrum for the bulk of the run. He was third on the team in points during the playoffs with six in 12 games, and he was first on the team in plus/minus with a +6 rating. Oh, and he also did all of that with a torn labrum in his shoulder for the majority of the playoffs. He was raking up the points early in the Capitals series, so it's easy to infer that Hagelin was hurt in game five or game six of round one.
My prediction — Sather locks up Hagelin for two years at $2.5M. A good contract comparable would Vancouver Canucks' left winger Mason Raymond, who, after a career high 53 points in 2010, signed a two year contract worth $2.55M per year. While Hagelin has not had a year like that production-wise, the cap has gone up since then, so player prices are going to be inflated, and, besides, regardless of point totals, I believe that Raymond via 2010 and the current Hagelin are equal players; Raymond's point totals were increased playing on an elite offensive team, whereas Hagelin was on a mediocre-to-below-average offensive team. In the end, it evens out.
Mats Zuccarello
Zuccarello played a key role in the Rangers' push down the stretch after returning from a stint in the KHL, registering eight points in 15 games. For the majority of the time, Zuccarello was playing on a third line with Taylor Pyatt and Brad Richards. In the final seven or eight games, this line really turned it on and was a big reason the Rangers played so well headed into the playoffs. In the playoffs, Zuccarello was moved up to the top-6 with Clowe out of the lineup, and he performed admirably, registering seven points in 12 games, good enough for second on the team behind Derick Brassard, his usual linemate.
Unlike the other three players, there is no guarantee that Zuccarello will be retained — quite frankly, the notion of Zuccarello being let go is preposterous, but there has been no indication as to whether or not Sather intends on re-signing Zuccarello. I, personally, think there's very little chance he isn't re-signed, but the possibility is certainly there, as silly as it is.
My prediction — Sather gives Zuccarello a one year "show me" contract at $1.5M . Much like the Islanders gave PA Parenteau after having a solid season in 2010-2011 (although that contract was valued at $1.25M).
The Trade and Free Agent Market
For the first time in years, I don't expect the Rangers to be very active in the free agent market. Too little offensive fire power, and yet, the "top" players (names like Nathan Horton, Stephen Weiss, David Clarkson, and Mark Streit) are going to be extraordinarily overpaid. One may include current Rangers property Ryane Clowe in that group. From what I have read, it doesn't appear that Clowe will be retained — a wise decision, in my eyes. While I was a huge proponent of the Clowe trade, with the injuries he suffered while he was here, it's just too big of a risk to give up another second rounder in the hopes that he can come back next year and be the same player he was before the injuries. He was good with the Rangers, for sure, but the injuries, I think, killed any chance of him having a future here.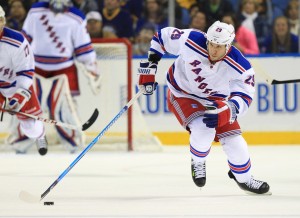 Perhaps the Rangers will look into some mid-tier free agents, like the aforementioned Mason Raymond. Clarke MacArthur is an intriguing option as well. Both play LW. Larry Brooks mentioned that the Rangers might have interest in free agent defenseman Marek Zidlicky. He is a right handed, offensive-mided defenseman. He is also 36 years old and coming off a mediocre-to-bad season, so I'm not sure I see the logic in signing Zidlicky. Maybe if it was 2005.
No, the free agent market shouldn't be of much interest to the Rangers this offseason. The trade market? That's a different story. It's been speculated for quite some time that, under the right circumstances, the Rangers would move Michael Del Zotto. The "right circumstances" would likely mean getting a young, productive forward back in the trade. Names that have been thrown around by the media as "available" this offseason include one of Brayden Schenn/Sean Couturier, Alexander Burmistrov, Chris Stewart and Jordan Eberle. It's difficult to speculate if a deal such as this could occur, as it's not known what these organizations think of Del Zotto (although, the Edmonton journal did mention the Oilers are fond of Del Zotto; so there could be something in that), but it should be noted that Del Zotto could very likely be traded this offseason for some help up front. In my opinion, it's a move that the Rangers must make to improve their offense.
All in all, the 2013 offseason looks to be an interesting one as a New York Rangers fan. Unfortunately, that's usually the most interesting part of the year as a Ranger fan. And so it goes.
I'm a diehard New York Rangers fanatic, and a hockey nerd in general. I can fascinate with my passion and dedication to the game of hockey. If you're looking for a writer who can present an insightful angle that not many would think to look at, I'm your man.