After a disappointing 11-10-5 start to their season, the New York Rangers are 14-4-2 in their last 20 games. Stars Adam Fox, K'Andre Miller, and Igor Shesterkin have all stepped up but they are also getting key contributions from some unlikely players as well. Backup goalie Jaroslav Halak and defenseman Ben Harpur have each played a role in New York's turnaround.
Jaroslav Halak's Play
The Rangers signed Halak to a one-year contract after trading Alexandar Georgiev to the Colorado Avalanche in the offseason. The 37-year-old backup has had a long, steady career but he got off to a bad start this season. He lost each of his first six starts (with one of the losses coming in overtime) and seemed to give up a soft goal every game including a few on shots from bad angles.
Though Halak did not play well in his first few games, he also did not get enough help from his teammates as the Rangers managed to score just seven goals in his first six starts. He did manage to steal the team a point in a 3-2 overtime loss to the Detroit Red Wings on Nov. 6 even though the Blueshirts played poorly. He made 33 saves, including a couple on great scoring chances from the slot.
Related: Rangers Season Could Sour Quickly if Halak Keeps Struggling
---
Latest News & Highlights
---
Halak has now looked much sharper in goal, winning five of his last six starts including four in a row. Even more importantly, he is coming up with timely saves late in games to hold on to leads. He stopped 32 of 35 shots in a 5-3 road win over the Florida Panthers on Jan. 1.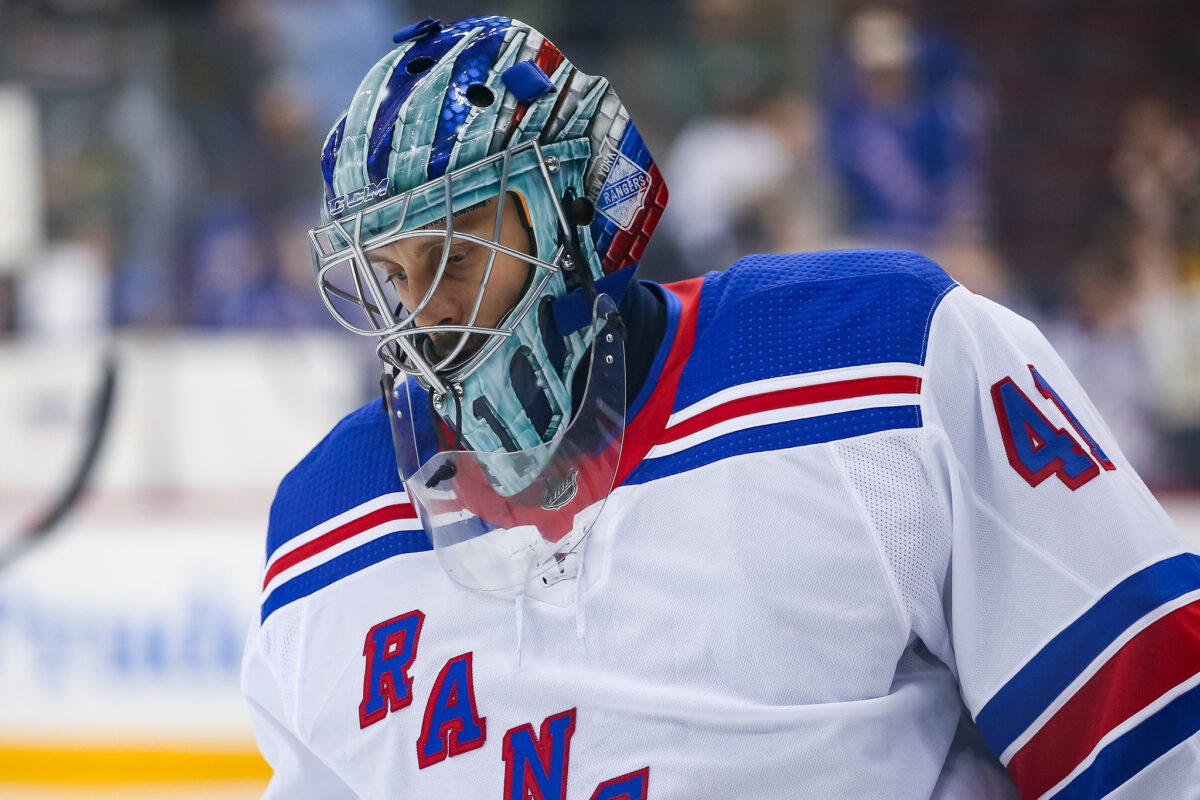 Halak has played even better in his last two starts, stopping 17 of 18 shots in a 4-1 road win against the Montreal Canadiens on Jan. 5 and 24 of 25 shots in a 3-1 road win against the Columbus Blue Jackets on Jan. 16. After the Rangers dominated the first two periods in Columbus, they played poorly in the third but their backup goalie came up with multiple saves on chances from the slot and stopped 12 of 13 shots in the period.
After his rough start, Halak is playing very well and putting the Rangers in a position to win without star goalie Igor Shesterkin starting. His save percentage is now .901 and steadily climbing.
Ben Harpur's Play
Like Halak, the Rangers signed Harpur to a one-year contract in the offseason but the 28-year-old blueliner began the season with the Hartford Wolf Pack of the American Hockey League (AHL). The steady defensive-minded defenseman had three goals and two assists in 17 AHL games.
While Harpur had a strong start to the season in the AHL, both Zac Jones and Libor Hajek struggled playing on the left side of the Rangers' third defense pair. Their defensive mistakes led New York to turn to Harpur and he is making the most of the opportunity.
At 6-foot-6 and 231 pounds, Harpur is a physical presence and he uses his long reach to break up plays. He gets the puck out of the defensive zone and rarely makes sloppy giveaways. His strong play has solidified the team's third defense pair and his defense-first mentality is allowing Braden Schneider to get more involved offensively.
Harpur has two assists in 16 games and scored his first goal with the Rangers in the team's 3-1 loss to the Boston Bruins on Jan. 19. His play is certainly not flashy but he has given the team exactly what they need from their sixth defenseman.
For the last few years, the Rangers have struggled to find a reliable third defense pair. However, the Schneider and Harpur duo has proven to be a strength in the 16 games since they called up the reliable veteran.
For the Rangers Moving Forward
While the Rangers have played very well recently, the standings are still tight in the competitive Metropolitan Division. They need to maintain their strong play to make the playoffs and they need their role players to keep playing well. Halak and Harpur have both excelled in their roles and they have given the team a big boost.
I grew up in Brooklyn, New York, rooting for the Rangers, Yankees, Giants, and Knicks. When my dream of playing shortstop for the Yankees fell short, I started writing about sports instead. I'm a proud graduate of the Philip Merrill College of Journalism at the University of Maryland.