Ask anyone familiar with the New York Rangers' state, and they will tell you the same thing – the Rangers are at the end of their rather brief rebuild. In just three years, general manager Jeff Gorton has solidified a young core, battling every night in the NHL, regardless of the results. But even more appealing than the NHL talent is the pipeline of glorious prospects waiting in the wings, with a plethora of youngsters who have yet to arrive with the big club.
Yet after another one-goal defeat, this time at the Philadelphia Flyers' hands, the Rangers' lineup looks like a shell of itself with five regulars missing due to injuries, COVID-19, or personal reasons. On Wednesday, head coach David Quinn was forced to roll out a lineup that featured a bottom-four on the blue line of Jack Johnson, Brendan Smith, Anthony Bitetto, and Libor Hajek. It's safe to say that's not how Rangers' brass drew it up at the onset of this campaign.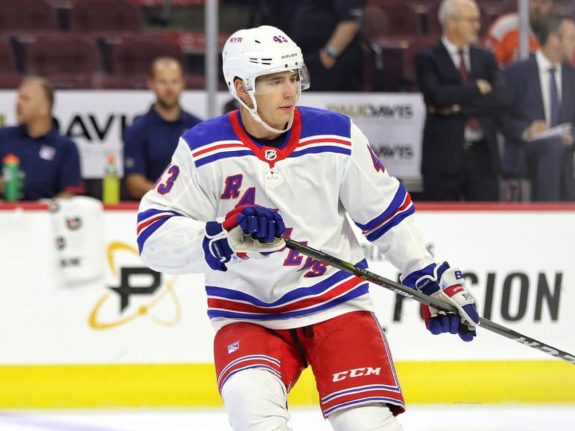 What many see as a ready-made excuse as to why a beaten-up Rangers' roster is falling in the standings, I see as an opportunity. An opportunity to give young players a chance at a time when veterans who may be blocking their path are out. Right now, they are experimenting with Hajek, a 23-year-old defenseman who they acquired in a trade that sent Ryan McDonagh and J.T. Miller to Tampa Bay.
Hajek has yet to realize his potential, failing to record a point and playing to an even rating in eight games this season. In 41 NHL games, the Czech Republic native has just six points and is a minus-three, but his underlying numbers give even more cause for concern. Per Evolving Hockey, Libor Hajek has an expected goals differential of minus-1.38, better than only that of Jack Johnson (minus-1.81).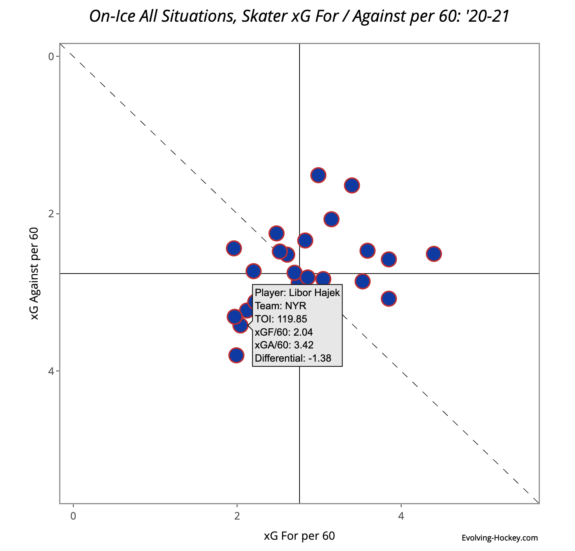 As you can see, the Hajek experiment has yet to yield results, and the once-promising prospect seems better suited for a top-pair role in Hartford, where he can hopefully develop on the defensive side of the puck. A swap with Finnish defenseman Tarmo Reunanen seems to be a solution the Rangers have yet to try, giving the 22-year-old a chance to show he belongs on the NHL roster.
Impressions From Hartford
In four games for the Hartford Wolf Pack, Reunanen has registered two goals and two assists, a fantastic start to his first season in North America. He has always been a smooth skater with above-average vision, putting those attributes on full display during his brief AHL tenure. An invitee to the Rangers' training camp, Reunanen has ultimately deemed an odd man out, particularly after K'Andre Miller's emergence.
But now Miller sits in COVID-19 protocol, and the Rangers are continuing to run out a defensive corps that lacks any sense of imagination. It seems ideal for Reunanen to come up and play a couple of games with the big club at a time with such little expectation. There is no sense in bottling him up in Hartford when there is a clear opportunity to get him ice time in New York.
Reunanen's offense has looked crisp, registering a goal on the power play as well as one at even strength through the team's first four games. But his defensive prowess is by no means lacking. As Wolf Pack blogger, Ricky Milliner, points out, Reunanen is ready to defend at the NHL level right now.
He continues to read plays well and is able to make strong, defensive decisions without having issues or costly mistakes. [Tarmo] Reunanen is one of the best players on the roster currently and I see strong potential for [Reunanen] long term. He's also disciplined, where he is cool in defensive situations and has not been out of position. He has not taken a penalty or was close to taking one. Ranger fans should be excited for Reunanen when he does make the jump into the NHL.

Ricky Milliner
The ability to read plays without taking penalties is an attribute the Rangers could utilize, considering they took five in their last match with the Flyers. Speed, agility, and youth in the defensive end will go a long way, and Reunanen possesses all three. As Milliner points out, he has yet to make a costly mistake and seems poised for the jump to the NHL.
But more importantly, Reunanen brings offensive talent to the blue line that the Rangers have lacked since the Tony DeAngelo saga unfolded. His point totals and power-play prowess have already been mentioned, but his hockey IQ and ability to get pucks through would greatly benefit the Rangers right now.
"In his limited sample size, [Reunanen] earned himself four points through his ability to shoot and be able to assist in plays in the offensive zone," Milliner said. "He has shown he can shoot well in one game, which he scored right after a faceoff win by Jonny Brodzinski. He can make quick decisions and has a high hockey IQ."
Tarmo Time
The time is now to give Reunanen a crack at the Rangers' destitute defense. Miller was given his chance and ran with it, shining at the NHL level a year before most people thought he would be ready. So why should Reunanen not be afforded that same chance when his upside is far higher than any of the options in front of him?
Reunanen might be young, but he has played professionally in Finland since 2016-17, making him more mature than most 22-year-olds. Calling up the Finnish defenseman makes sense on two fronts: the first is that Reunanen can get a taste of the NHL and potentially shine, immediately helping the roster. The second is that Reunanen could be that mobile option that slots in on the third pairing behind Miller (upon his return), keeping the struggling Johnson out of the lineup.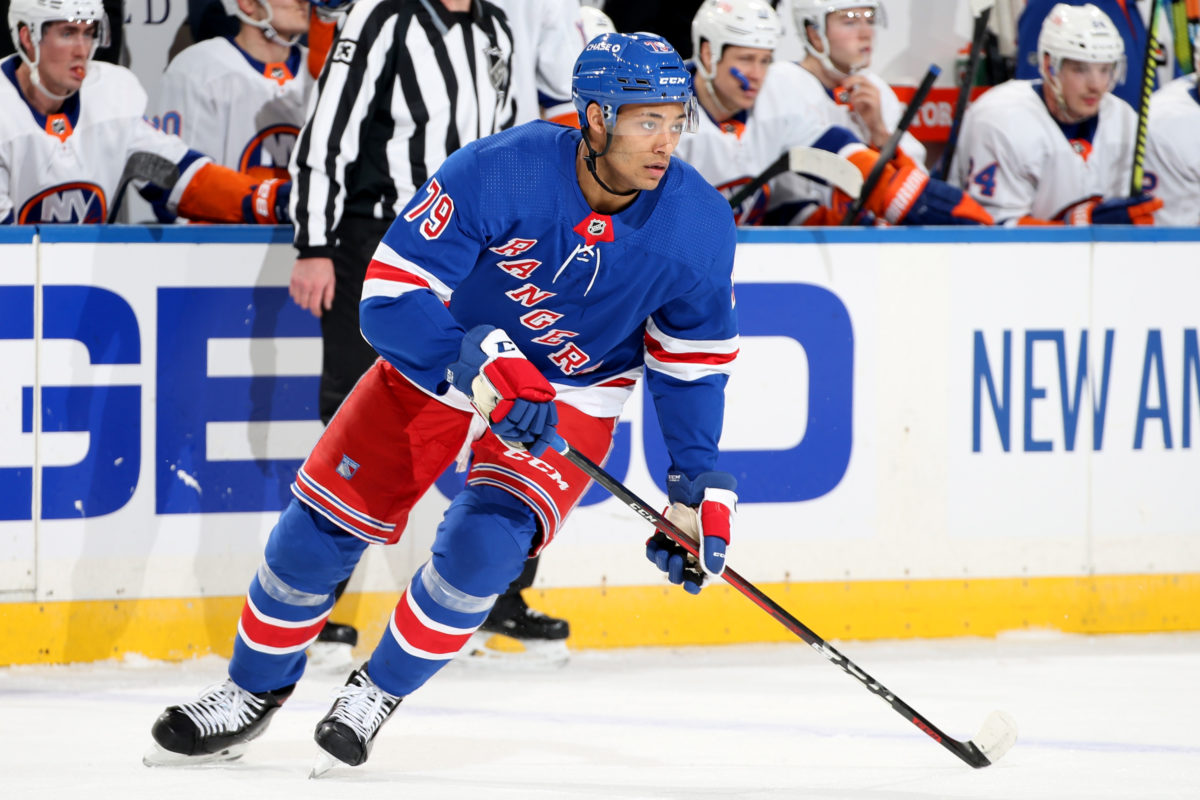 It shouldn't be long before we see Reunanen wearing a Rangers sweater, especially with the defensive corps' current state. The youngster deserves a chance to roam the blue line at the NHL level and could provide the defense with an offensive spark it desperately needs. There is no doubt about it; it's Tarmo Time on Broadway.
---
---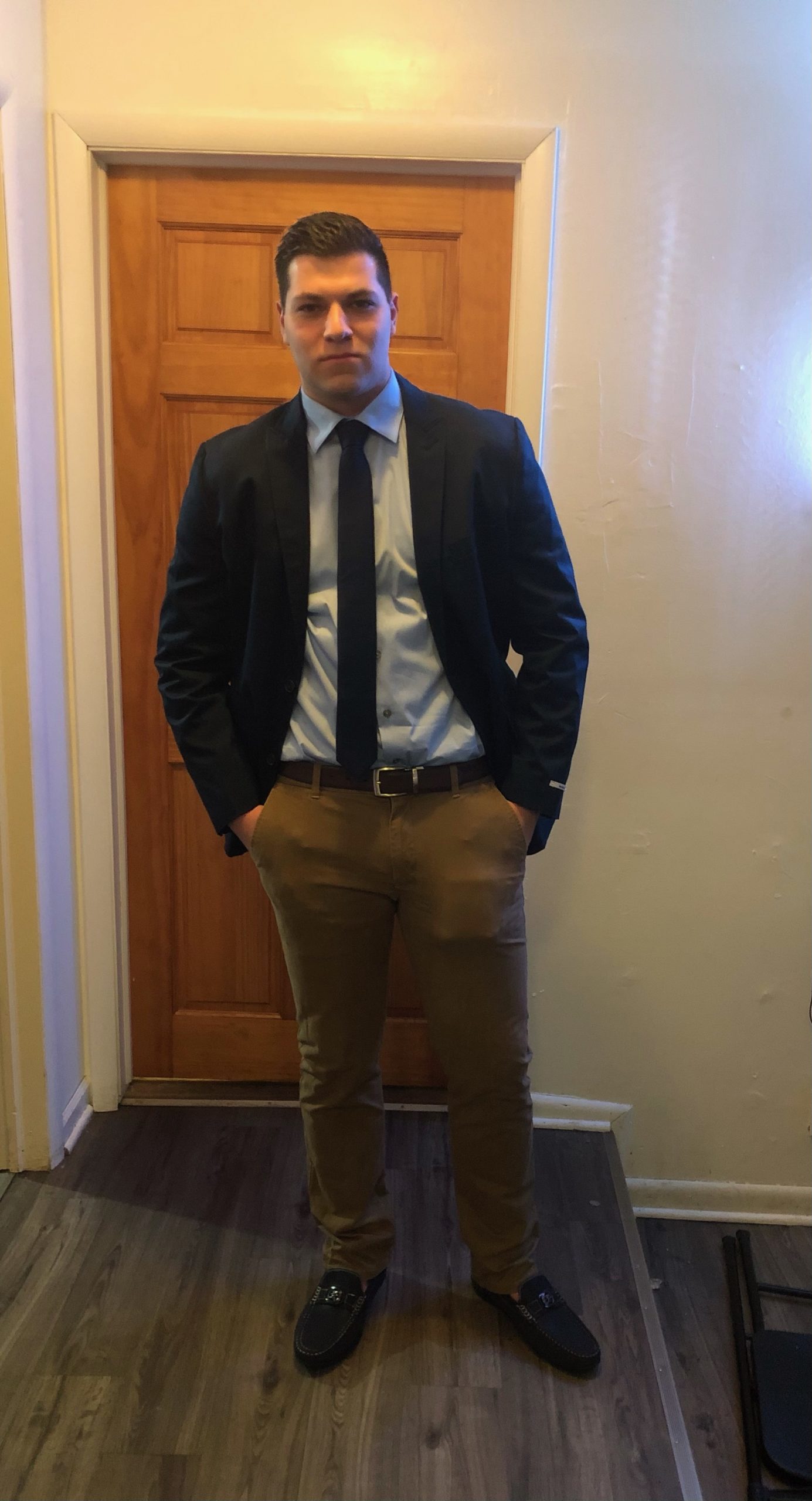 Brendan Azoff is a THW contributor and podcast host dedicated to covering the New York Rangers. His passion for hockey started when he first laced up the skates at three, growing into his love for writing and talking about the greatest sport in the world. His podcast, The Backcheck, breaks down the Rangers, Islanders, and NHL news and can be found on The Hockey Writers Podcast Network and Belly Up Sports. Brendan has been writing about the Rangers and the NHL for over two years, with his content also found on Puck Prose, Blue Line Station, and E2G Sports. If you want to connect with Brendan and stay up-to-date on his posts, follow him on Twitter. He is always available for content ideas and interviews, don't be afraid to ask!