After a very strong training camp, Rasmus Ristolainen has secured a spot on the Buffalo Sabres roster. Just as Mikhail Grigorenko did last season, Ristolainen will begin the following season on the senior club right after being drafted in the summer. The 2013 first-round pick may also have the opportunity to follow in the footsteps of another recent Sabres rookie. If he'd win the Calder Memorial Trophy as the NHL's top rookie, he'd join Tyler Myers (Myers won for his 2009-10 campaign) as being a Buffalo Sabres defenseman to recently win the award.
Previous Pro Experience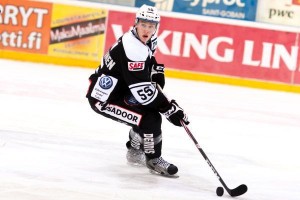 Where Ristolainen's situation differs from that of Grirgorenko's and Myers' is that he already possesses pro experience heading into his NHL career. He played the last two seasons for TPS of the Finnish SM-liiga. Having already played with fully developed grown men, will prove to be an invaluable experience for the Finnish defenseman. Not only did he participate, but he's showed marked improvement from one year to the next. During the 2011-12 season, Ristolainen netted three goals and tallied five assists while taking 78 penalty minutes in 40 games. The following season, he improved immensely again scoring three goals and adding 12 assists while only taking 32 penalty minutes in 52 games.  He showed more poise and discipline play in his second professional season by reducing needless penalties, while honing his offensive prowess.
Ristolainen will also be no stranger to high stakes, high pressure situations. He's been exposed to big game scenarios by playing for Team Finland during the last two World Junior Championships where he has accumulated eight assists in 17 games. Not only has he been a part of the national team, but he's played a major role both from a performance standpoint and as a leader. The staff thought highly enough of Ristolainen to make him captain of the team in 2012-13. These innate qualities will translate well to the NHL and should continue to develop as his role with the Sabres increases.
The Opportunity is Present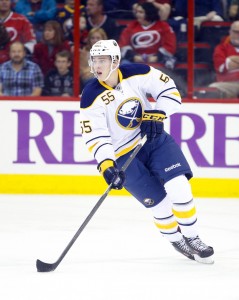 Not only is the foundation there for Ristolainen to succeed, but so to will be the opportunities moving forward. Since the Sabres are a very young team, expect him to play an important role in Buffalo with a steady amount of ice time each game. The Sabres will leverage his offensive ability on the power play, and Ristolainen should also have a number of opportunities to join the rush. All signs point to him being paired with Mike Weber, which would be a great partner to have for the young defenseman. Since Weber is more of a stay-at-home defenseman he'll sit back and allow for Ristolainen to jump up in the play without fear of giving up too much defensively. Not to mention Weber's unheralded leadership skills and top-notch work ethic should provide both a calming effect and great example of how the rookie defenseman should conduct himself. The two compliment one another perfectly.
Having ample opportunities to pad his scoring will be crucial to Ristolainen's chances of winning the Calder Memorial Trophy. This is because many voters become too fixated with statistics, making it difficult for defenseman to win the award in comparison to their rookie forward counterparts.
Myers was not only the last Sabre to win the award, but also the last defenseman to be honored as rookie of the year. In fact, Myers is just one of two defensemen to be awarded the Calder Memorial Trophy since the 1997-98 season. What helped Myers capture votes were his standout numbers. He played in all 82 games on his way to scoring 11 goals and assisting on 37 others. Ristolainen will need to experience similar success in order to be considered as well.
Regardless of whether or not Ristolainen is in contention for the Calder Memorial Trophy, he'll be an integral part of the Sabres organization moving forward, and fans of the team will enjoy watching the Finn forge his path in the NHL.
As an American based in Amsterdam, Joe provides a unique hockey insight, bringing a global perspective to the game. Joe has several years of experience covering the game on both a domestic and international level, including being credentialed for multiple World and World Junior Championships.