The San Jose Sharks and their old Western Conference rival the Detroit Red Wings wrapped up their season series without the venom fans remember from the old days. But, what the game lacked in animosity, it made up for in offense as the two clubs combined for nine goals.
First Period
San Jose came out quick in the opening minutes trying to get on the right track and stave off a four-game losing streak. They dominated the shot attempts from the start.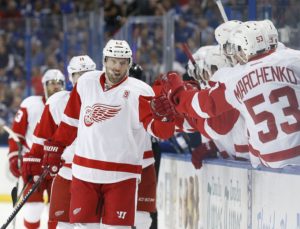 But at 12:48, San Jose's momentum was interrupted as the Red Wings opened the scoring on a shot by Thomas Vanek that would deflect down and under Martin Jones. The goal didn't stop the Sharks from pressing and they went on a scoring frenzy minutes later.
At 15:58, Joonas Donskoi tallied his seventh goal of the season on a strange pinball puck that looked to be tipped by Tommy Wingels or Kevin Labanc in front of the net, but the Raahe, Finland native ultimately received credit with the Sharks opening goal.
A minute and a half later, Mirco Mueller — playing in his third game for the Sharks —sent a missile past Coreau that was aided by a double screen in front of the net by Chris Tierney and Patrick Marleau.
https://twitter.com/zakkthebear/status/817948242897833984
Just 121 seconds later, Patrick Marleau's shot deflected off the stick of Danny DeKeyser. The Detroit defender attempted to block Marleau's attempt but ended up knuckling the shot past Coreau for the Sharks third goal of the opening frame.
The period would end with the Sharks up by two and out-shooting the Red Wings 15-9.
Second Period
After Coreau's rough first period, Detroit sent out Petr Mrazek to start the middle frame.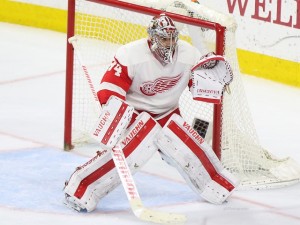 The move seemed to spark the Red Wings, who showed jump in the early going, including a big chance for Tomas Tatar on Martin Jones. Jones channeled his inner Dominik Hasek to make a windmill save on the Detroit forward.
Mrazek's first period of action would be active, and he'd keep shutting the door on the Sharks. San Jose went on the power play twice in the period but, not only did the bleeding stop for the Red Wings, they mounted a decent counterattack and kept the Sharks on their toes. The period ended with no scoring for either squad.
Mrazek denies Marleau's bid for his 2nd goal tonight …

— TEAL TOWN USA – A San Jose Sharks Podcast (@TEALTOWNUSA) January 8, 2017
Third Period
Early in the third, the Sharks jumped out to a 4-1 lead on a Brent Burns blast from the point that Joe Pavelski deflected past Mrazek. Timo Meier assisted on the play for his first NHL assist and earned his first point since joining the Sharks top line.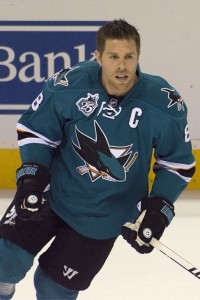 A few minutes later, the Sharks got their fifth goal of the game when Brent Burns wrist shot from the right boards was tipped by Mikkel Boedker.
Detroit would answer back moments later. Anthony Mantha fought off a Joe Thornton backcheck and got stick position to knock home a Drew Miller rebound that Jones kicked out to his left and right to Mantha.
DeKysers nightmare game continued when Joe Pavelski's shot was deflected by the Red Wings rearguard, his second such deflection past his own netminder of the evening. The Red Wings kept at it and a great no-look pass from Frans Nielsen was tapped home by Andreas Athanasiou to make the game 6-3 with just over 6 minutes to play. That would be the last goal of the night as Jones' 31 saves propelled the Sharks to their first win of 2017.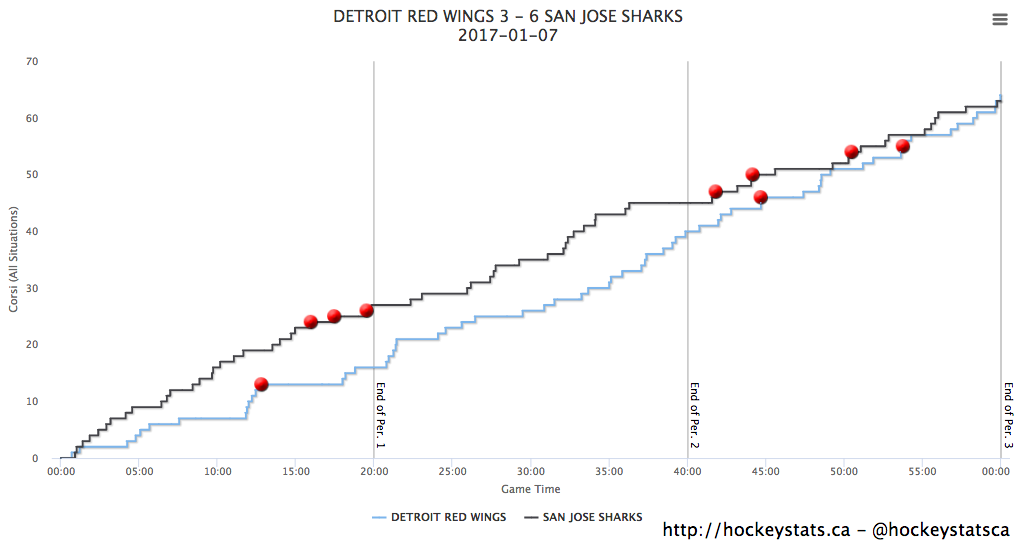 ---
Scoring Summary
First Period
DET – Thomas Vanek (10) Assisted by Frans Nielsen, Andreas Athanasiou
SJS – Joonas Donskoi (6) Assisted by Tommy Wingels, Mirco Mueller
SJS – Mirco Mueller (1) Assisted by Dylan DeMelo, Joel Ward
SJS – Patrick Marleau (12) Assisted by Joel Ward, Paul Martin
Second Period
(No Scoring)
Third Period
SJS – Joe Pavelski (14) Assisted by Brent Burns and Timo Meier
SJS – Mikkel Boedker (3) Assisted by Brent Burns and Paul Martin
DET – Anthony Mantha (11) Assisted by Drew Miller and Luke Glendening
SJS – Joe Pavelski (15) Assisted by Joe Thornton, Dylan DeMelo
DET – Andreas Athanasiou (7) Assisted by Frans Nielsen
THW Three Stars
First Star: Joe Pavelski (Two goals)
Second Star: Brent Burns (Two assists)
Third Star: Andreas Athanasiou (Goal, assist)
---
NEXT UP
San Jose Sharks vs. Edmonton Oilers
Rogers Place – 6:00 PM PST on Tuesday, January 10, 2017
Broadcast Channels: CSNBA, SNW
Season Series:
December 23, 2016 – Sharks 3 Oilers 2 (OT)
NEXT UP
Detroit Red Wings vs. Team
United Center – 8:30 PM EST on Tuesday, January 10, 2017
Broadcast Channels: WGN, FS-D
Season Series:
First Game of the Season Series
Covering all manner of hockey on the West Coast, including the San Jose Sharks, San Jose Barracuda, Stockton Heat, WHL, and random prospect news and notes with random SM-Liiga coverage tossed in as well.