Now that we are past the trade deadline, rosters across the NHL are pretty much set in stone. There will be no more tearful goodbyes, and talk of adding draft picks and prospects will now have to wait until the end of the Stanley Cup Playoffs. However, that doesn't mean that teams don't have the opportunity to incorporate fresh faces into their lineup before the end of the season.
Related: 4 Red Wings to Keep an Eye on Post Trade Deadline
Like many other teams, the Detroit Red Wings have a solid collection of talent marinating down in the American Hockey League (AHL). Their AHL affiliate, the Grand Rapids Griffins, are still trying to scratch and claw their way into a playoff spot in what has been a disappointing season. Despite their struggles as a team, there have been a number of individuals that have fared well this season and have made a good case for themselves to see some NHL action before the season concludes.
With a month left to go in the NHL season, here are three Griffins that the Red Wings may want to call up.
(D) Simon Edvinsson
Of course, right?
Simon Edvinsson, the Red Wings' top pick in the 2021 draft, is nearing the end of his first season in North America. The Swedish defenseman was one of the last cuts from the Red Wings' roster prior to the season, and most expect that he will start the 2023-24 season in Detroit. What better way to give him a running start heading into next season than to give him a taste of what awaits him at the NHL level.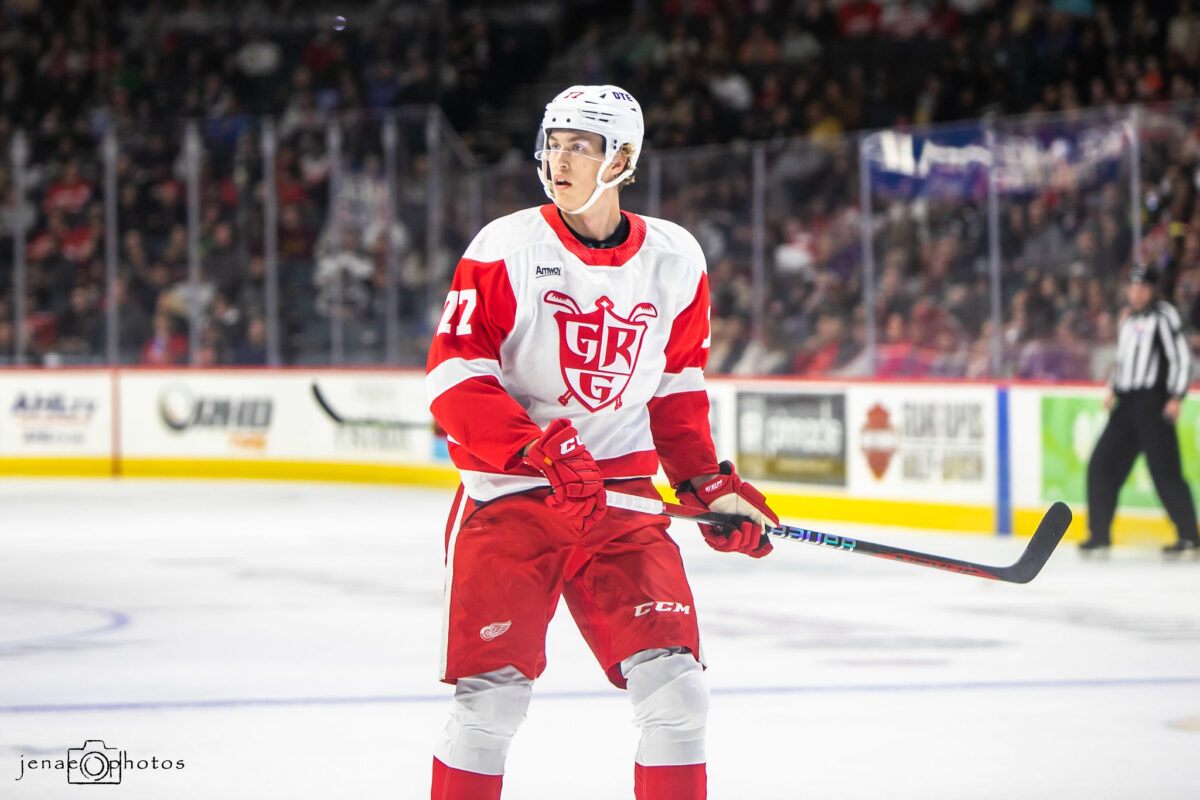 As has been the case since before his draft season, Edvinsson's game is one that is highlighted by his blend of size and skill. The 6-foot-6 defender uses his long reach to corral the puck in transition, as well as to disrupt shooting and passing lanes on defense. While he can sometimes be over-reliant on his size advantage, it is not a bad thing that he already recognizes that his size gives him an advantage over other players. If the Red Wings did call him up, he would instantly become the biggest player on their blue line. As for his skill level, he stands out at the AHL level as a defender that can really take charge from the back end. He looks to make things happen almost every shift, and while his risk-taking has sometimes been an issue this season, he's the type of defender that thrives when he is free to take risks in the name of creating offensive opportunities.
---
Latest News & Highlights
---
After the Red Wings traded Filip Hronek to the Vancouver Canucks, the offensive capabilities of their defense group took a serious hit. Hronek was tied for second on the team in points at the time of the trade, and Detroit did not bring anybody in to replace his production. Edvinsson has the potential to become a star offensive-defenseman in the NHL, and a taste of the NHL this season could help the 20-year-old defender reach that potential. He could even provide a boost to a Red Wings power play that is currently ranked 17th in the league.
(D) Jared McIsaac
One thing to develop over recent weeks in the "2018 Line" which features wingers Jonatan Berggren and Filip Zadina flanking centerman Joe Veleno. Those three forwards were the Red Wings' first three selections in the 2018 draft, thus allowing for one of the better line nicknames Red Wings fans have seen in recent memory. But as you may or may not know, the fourth player Detroit took in the 2018 draft is currently patrolling the blue line down in Grand Rapids.
Jared McIsaac, who went 36th overall back in 2018, is in the midst of his second full season in the AHL. Through 132 AHL games, he has 43 points and has made steady progress since turning pro. While it appears his offense will be limited at the pro level, he can still launch a good, clean pass out of his own zone, and he battles well when he faces pressure in his own end. Despite an unfortunate stretch where he played just 46 games from the beginning of the 2019-20 season to the end of the 2020-21 season due to separate injuries, he seems to be on track to carve out a nice career for himself; now it's time to see if that career will be spent mostly in the AHL or the NHL.
McIsaac is a restricted free agent at the end of the season, meaning that the Red Wings will retain his rights unless they decide to cut him loose. Complicating matters is the fact that he will no longer be waiver-exempt next season, meaning that the Red Wings would have to place him on waivers next season before they can assign him to Grand Rapids. Considering the fact that he will be 23 years old by the end of March, it may be in the Red Wings' best interest to give him a look in the NHL this season to help them decide what to do with him heading into next season.
(D) Albert Johansson
Perhaps the biggest surprise to come from the Griffins' season is defenseman Albert Johansson, a second round pick from the 2019 draft. After a prolific start to his career over in the Swedish Hockey League, Johansson joined Edvinsson and others as first-timers here in North America this season. While Edvinsson and winger Elmer Söderblom got most of the attention due to their size and proximity to the NHL (Söderblom made the Red Wings' roster out of training camp), Johansson has done nothing but steadily improve over the course of his first season in the AHL.
Like most Europeans in their first season in North America, Johansson was a bit slow to start this season. The 6-foot defender doesn't have the same physical tools that Edvinsson has, and his overall toolkit isn't as dynamic as Edvinsson's either. However, the 22-year-old plays a mature game that combines safe play in his own zone and timely reads in the offensive zone. By the end of 2022, Johansson really started to earn the trust of head coach Ben Simon and his coaching staff, and that trust has lead to his role increasing over the course of the season.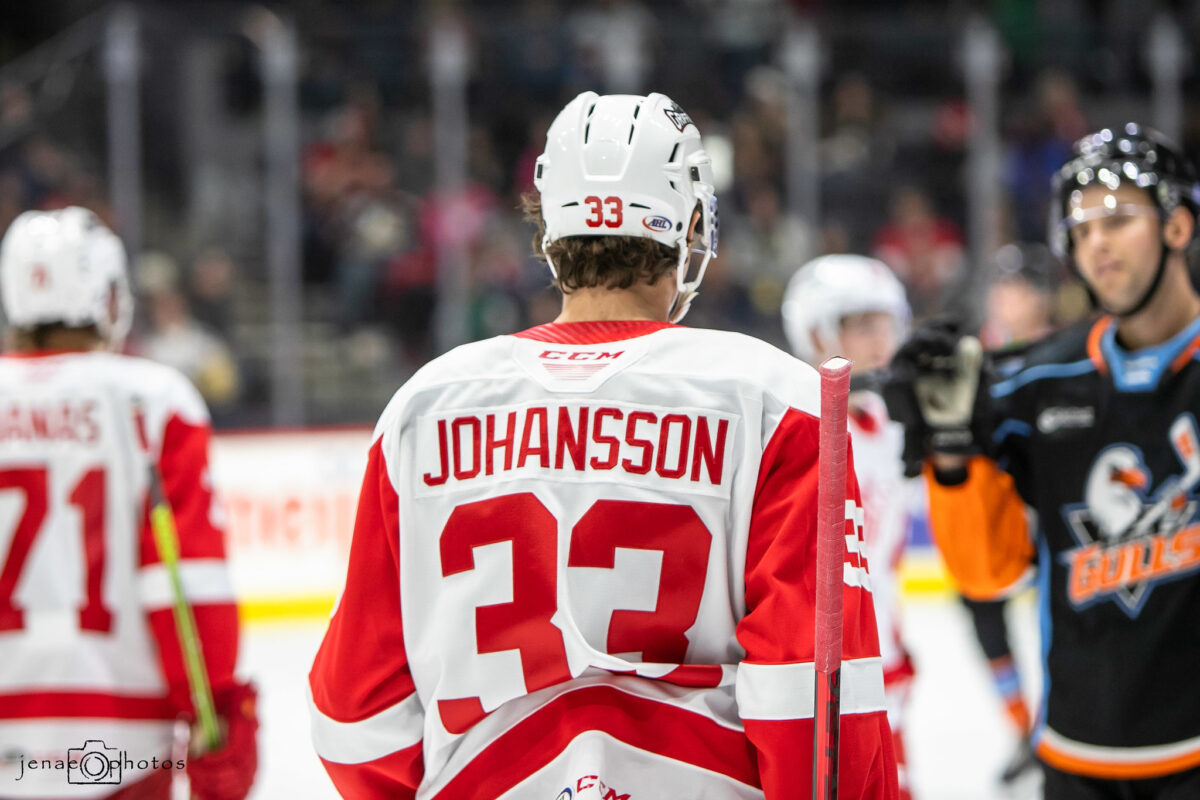 Johansson is the type of defender that could, theoretically, fit alongside almost any type of defensive partner. He can play a responsible game or a more risky game depending on what his team needs from him, and that versatility could come in handy as the Red Wings attempt to get an idea of what their defensive pairings could look like next season. Also, if Red Wings general manager Steve Yzerman and head coach Derek Lalonde want to use a call-up as a reward rather than a source of information, Johansson stands as one of, if not THE player that has developed the most over the course of this season. He'll be another player pushing for a spot in the NHL come training camp, so why not give him an early look at what the next level is like?
Red Wings May Play It Safe
In the days after the trade deadline, the Red Wings have already had to call a few players up from the Griffins. In their recent back-to-back against the Boston Bruins, the Red Wings' fourth line featured center Austin Czarnik and winger Alex Chiasson, both of which were called up from Grand Rapids, with Czarnik being called up on an "emergency loan". Teams can only perform a normal call-up three times after the trade deadline, meaning they have to be purposeful with any non-emergency call ups they make.
Any of these three defenders could receive the call to pack up their stuff and head to Detroit, especially if there's an injury to a Red Wings defenseman between now and the end of the season. One other player that could be called up is Söderblom, but considering he has already played some games for the Red Wings this season, he did not make the cut for this list.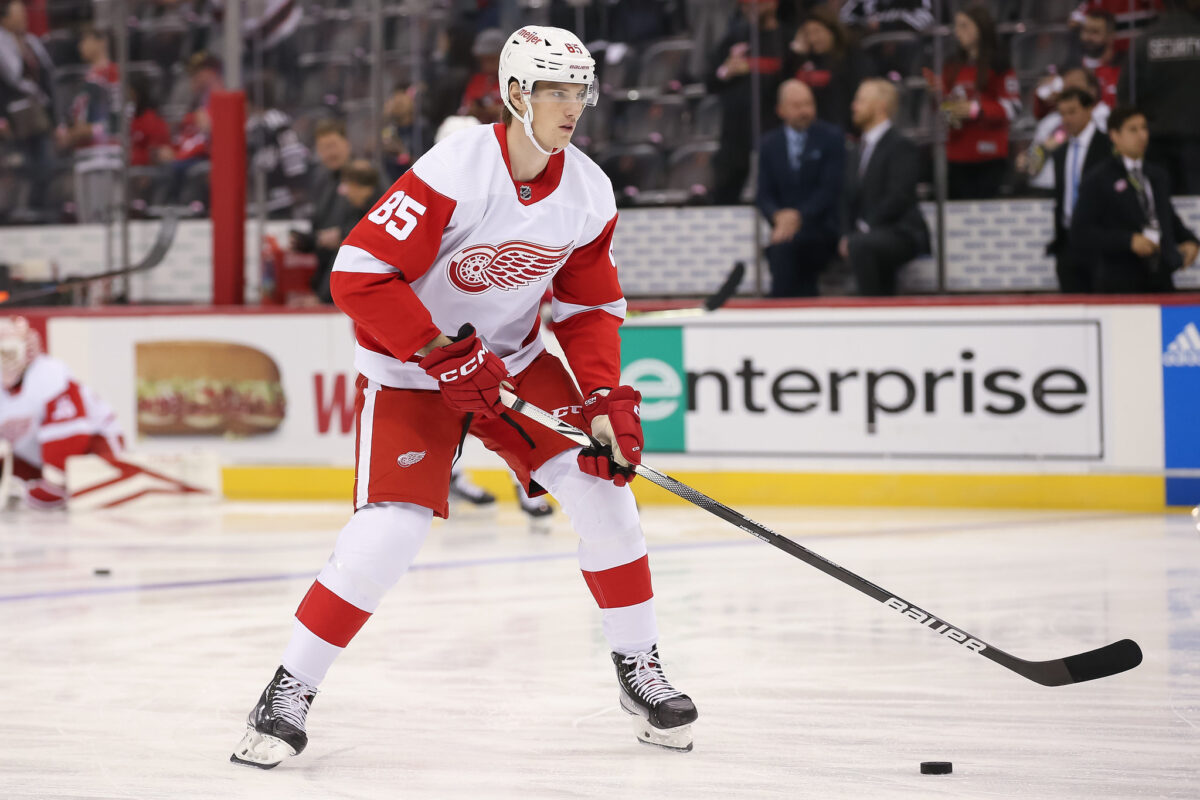 But if their recent actions are any indication, the Red Wings may instead opt to reward some of the veteran players in Grand Rapids if they decide to use a call up. Matt Luff is one example, especially after the forward spent a few months on injured reserve following his stint with Detroit back in November. Perhaps goaltender Alex Nedeljkovic could return as well, especially if something happens to shake up the Red Wings' depth chart in goal. Either way, it is not a given that Yzerman and Lalonde will opt for a younger face when they decide to add a body to the roster.
With the season entering its final month, teams are gearing up for what the end of April has in store, whether it's the offseason or the playoffs. In the Red Wings' case, this final month offers the last opportunity for players to "audition" for a role on next season's team before the start of training camp in the fall. For Edvinsson, McIsaac and Johansson, this is the last opportunity to show that they are ready to push for the NHL next season. Ideally, that push starts by getting a taste of what the NHL is like before the end of this season.
---