Just as the animals went upon Noah's arc by two so did the goals as the Detroit Red Wings played host to the Tampa Bay Lightning.
Talk about tilted ice – hope if you were there you had seats at that end of Joe Louis Arena as Detroit welcomed back their favorite son Steve Yzerman.
Now back to the streaking…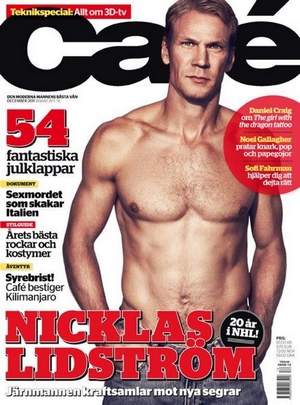 No not that streaking!
The fact that Detroit won their first five games, then dropped six and now have won six to sit a top the Western Conference.
It would be a battle from the start as, first star of the night, Pavel Datsyuk would put a wrist shot past Dwyane Roloson off of a feed from Todd Bertuzzi. Then it got all Twilight Zoneish as Jonathan Ericsson scored his first goal of the season.
That's right the 6'4" 221 pound Swedish defenseman with the equally as massive contract scored his first of the season. Looks like the Red Wings wont be trading him for Bobby Ryan now that Big E has validated his 3-year $9.75 contract.
Clearly the Lightning would not take that as they came into Detroit to snag some points in their push back into a playoff spot in the Eastern Conference.
Martin St. Louis made his case for the second star of the game as he scored a power play goal after Red Wings Ericsson took a time out in the penalty box for tripping. It was nearing the midway point in the game as St. Louis put a wrist shot past that of Detroit goalkeeper Jimmy Howard.
Basic Hockey 101
Do not let up the gas no matter how much or how little time is left on the clock.
Oddly enough no one thought to teach the Red Wings team that before Steven Stamkos tied the game with 14 seconds left in the second period.
A Swede Night
Tomas Holmstrom would score the game winning goal just 4:22 into the third after Tampa's Eric Brewer was called for hooking.
Red Wings captain Nicklas Lidstrom would get the primary assist on the Holmstrom goal.
Tampa Bay Lightning announced before the game that they had extended Swedeish Defesman Victor Hedman's contract for another five years.
Detroit's Jonathan Ericsson ended the game with his first goal of the season and assisted on the final goal of the game (scored by Darren Helm); while Johan Franzen got an assist on the Datsyuk goal in the first.
Jimmy Howard is starting to look a little like some goalie named Chris Osgood:
What They Are Saying:
The Detroit Red Wings were one of five recipients of the annual Chris Greicius Celebrity Award by the Make-A-Wish Foundation.
Notes: Detroit fans welcome back beloved Yzerman.
James O'Brien over at NBC's ProHockey Talk takes a look how the Red Wings welcome Steve Yzerman back.