The Detroit Red Wings need help on defense, especially the right side. Moritz Seider has cemented himself as a top-pairing defender who can be the number one guy going forward, so long as he isn't paired with Ben Chiarot. That's a huge boon for the franchise, as finding a true number one defender is a hugely important part of rebuilding.

However, Detroit has a clear need behind him on the backend, with no NHL quality depth or high-end right defense prospects in the pipeline. The left side isn't in nearly as much need with three NHL caliber defenders still with the team in Jake Walman, Olli Maatta, and Chiarot, with prospects Simon Edvinsson and William Wallinder on the way. It's clear that the Red Wings have a bit of a logjam of talented lefties these days, but that wouldn't stop me (nor the Red Wings) from taking a left handed defender in this year's draft if they are clearly the best player remaining.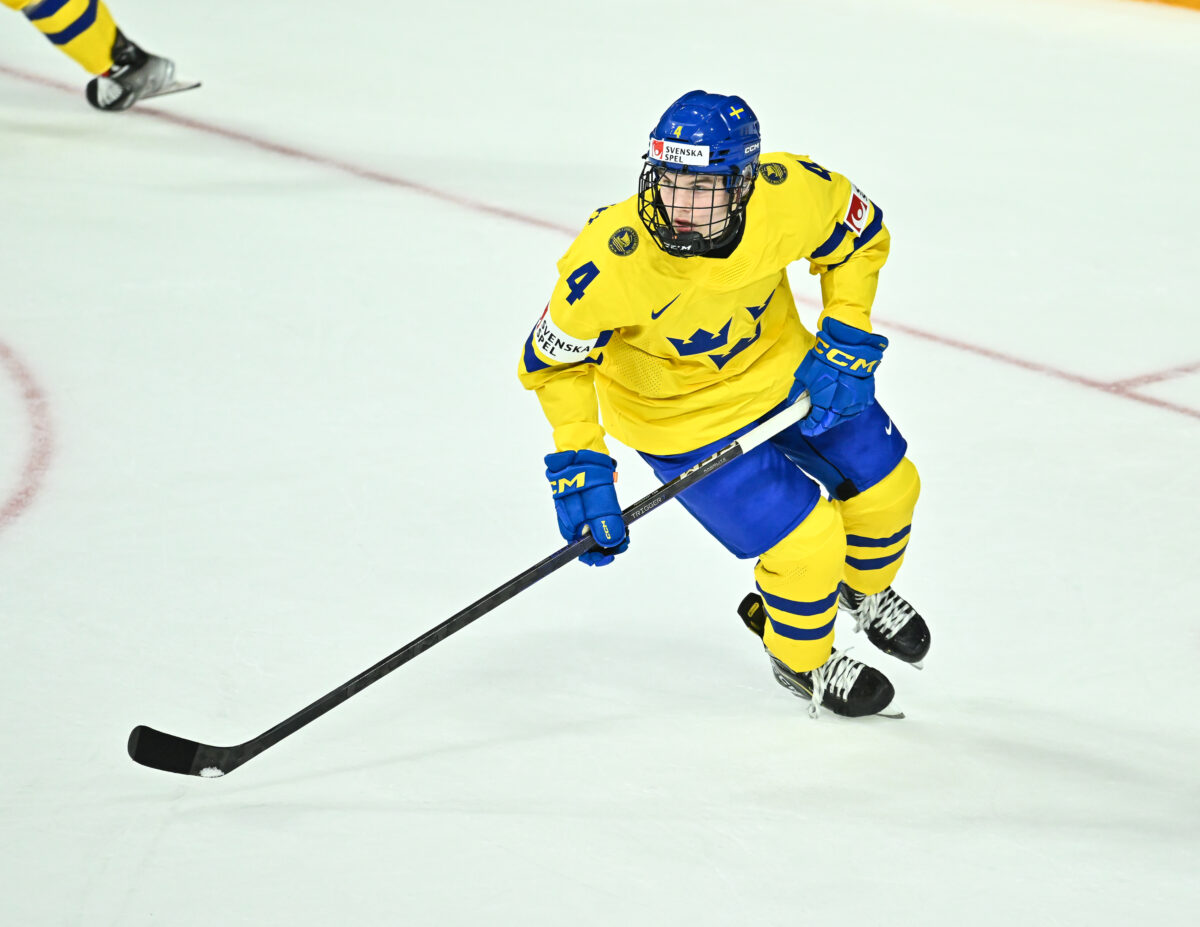 In hopes of finding the Red Wings' next great defenders, I've looked at the best options the organization is likely to find in each round of the 2023 NHL Entry Draft and will offer a player who is likely to be available when the Red Wings are on the board at each of their 10 selections.
Of course, Detroit would never select 10 defenders, but it is a significant need for the team so I wanted to consider the highest upside defenders, especially as we get later into the draft. I'll start with the ninth overall selection and make my way down to the 201st overall pick, so prepare to hear some brand-new names as we get deeper into the draft.  
9th Overall: Axel Sandin Pellikka, RD, Skellefteå IK J20 (J20 Nationell)
Rankings: NHL CS Rankings: 7th (EU Skaters), THW Horn's Ranking: 15th
Axel Sandin Pellikka (ASP) has slid down draft rankings a bit lately, due in no part to poor play on his end as he actually finished his season with a remarkably strong performance at the U18 World Championship. Instead he slid a bit because of the great performances of prospects around him. For my money, Sandin Pellikka has the highest offensive potential amongst all defenders in this draft and I'm not particularly worried about his size because he's 5-foot-11, not 5-foot-9 like some people seem to think. 
Related: 2023 NHL Draft Guide
---
Latest News & Highlight
---
The Red Wings would be adding a defender with the potential to be a dynamic, power play quarterback who racks up points next to someone like Wallinder someday. He would likely slot in on Detroit's second pairing where I think he would thrive with Seider absorbing the tougher matchups on the top pair. Ninth might be a little early for ASP, but he has enough offensive upside to possibly be looked back on as a great choice in a decade or so.
17th Overall: Dmitri Simashev, LD, Yaroslavl (KHL)
Rankings: NHL CS Rankings: 19th (EU Skaters), THW Horn's Ranking: 16th
I know lots of Red Wings fans are upset at the suggestion of Detroit taking another left-handed defender with an early pick, but Dmitri Simashev has such immense potential that I'd be surprised if the Red Wings pass on him at 17th, assuming he's even available. Simashev is a remarkable defender for his age, not looking out of place on defense in the KHL at the start of the 2022-23 season.
He skates really well, competes hard, and stands at 6-foot-4 which leads me to believe that he's just Detroit's type. I understand the complaints around taking another big lefty, but I won't be worried about that unless Edvinsson and Wallinder establish themselves as clear top-four NHL defenders in the next 12 months, and even then, I'm a firm believer that you can't have too much of a good thing. I do think Detroit will have options at 17 that will better fill their needs, but Simashev would be the best defenseman who will likely be available in this range. It's also worth mentioning that Tom Willander would be an excellent choice here should he be available at 17.
41st Overall: Lukas Dragicevic, RD, Tri-City Americans (WHL)
Rankings: NHL CS Rankings: 18th (NA Skaters), THW Horn's Ranking: 37th
Lukas Dragicevic has been a polarizing prospect this year. He's one of the most purely skilled offensive defenders in the 2023 Draft, has a right-handed shot and is 6-foot-1. Dragicevic is excellent in the offensive zone, positioning himself well to provide teammates with passing options and creating chances of his own with his shot and hands. However, Dragicevic's skating is not at the level it needs to be for him to be a top-four defender in the NHL at this point. If he can develop his skating further, Dragicevic could be a solid option behind Seider on the right side.
42nd Overall: Theo Lindstein, LD, Brynäs IF (SHL)
Rankings: NHL CS Rankings: 14th (EU Skaters), THW Horn's Ranking: 44th
There was a lot of hype surrounding Theo Lindstein coming into his draft season, which tends to happen when you split most of your age-16 season between the top junior league in Sweden (J20 Nationell) and the SHL. While the Lindstein hype-train has slowed down considerably this season, there are still reasons to be excited about his game and the potential he has as a two-way defender. Lindstein is a powerful skater with a very smooth stride which allows him to backcheck effectively and makes him a dangerous player on the rush.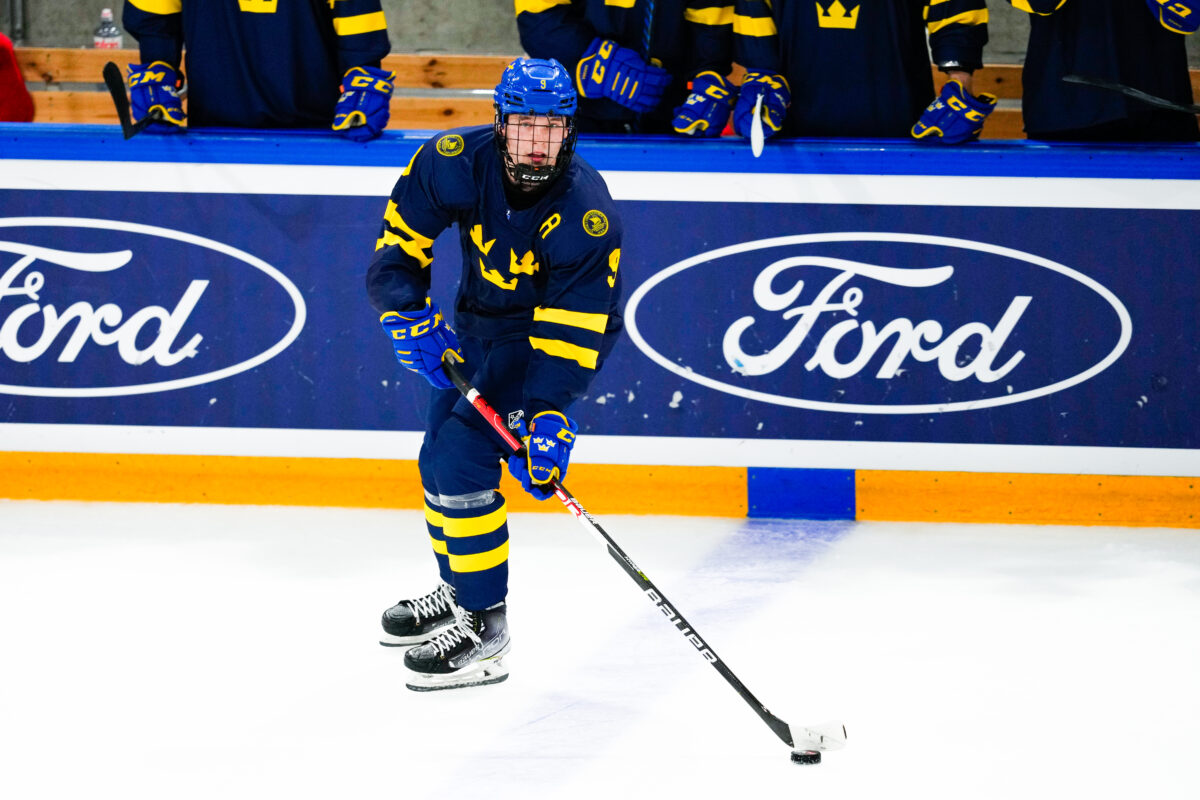 The biggest thing that Lindstein seems to need some work on is pace, which is the ability to make the right plays while under pressure and moving at the speed of the pro game. It's important for young players to be able to make pro-style plays and reads, but it's even more important to be able to complete those plays in a game environment when their opponents are bearing down on them. He has shown growth in his ability to play at pro pace from his first year in the SHL until this season, but there is still a ways to go if he wants to become an everyday NHLer.
43rd Overall: Etienne Morin, LD, Moncton Wildcats (QMJHL)
Rankings: NHL CS Rankings: 19th (NA Skaters), THW Horn's Ranking: 71st
Etienne Morin is a confident two-way defender who has one of the best shots from the point in the draft class. His offensive game is certainly more polished at this point than his defensive game, something that's common for many young defensemen, but he is competitive and physical enough on defense to project as a potential top-four defender in the NHL.
Related: Detroit Red Wings 2023 Draft Coverage
Morin scored an impressive 72 points in 67 QMJHL games this year, and any amount of offense he can bring to Detroit's top-four will be more than welcome. Dan Marr, the head of the NHL's Central Scouting Bureau told media members at the 2023 NHL Draft combine that Morin is his favourite defender this year so maybe he's got a bit more potential than I initially thought.
73rd Overall: Daniil Karpovich, LD, Yekaterinburg Jr. (MHL)
Rankings: NHL CS Rankings: 59th (EU Skaters), THW Horn's Ranking: 77th
This might be the first new name for many readers, and while Daniil Karpovich hasn't received much attention from the public, I am sure that NHL teams are well aware of him. He is a big defender with plenty of NHL tools including his 6-foot-3 frame, a smooth skating stride, and a heavy point shot.
Karpovich did play in the weakest division in the MHL so his production can be taken with a grain of salt, but 35 points in 47 MHL games isn't nothing. He defends well and has a ton of raw potential if he can develop some confidence with the puck and improve his hockey sense a bit.
117th Overall: Brady Cleveland, LD, USA U18 (NTDP)
Rankings: NHL CS Rankings: 64th (NA Skaters), THW Horn's Ranking: 101st
Brady Cleveland is a big-time project player, with a few raw tools and a whole lot of improvements to make. He's a beast physically, playing a mean style and measuring at a hair under 6-foot-5. Cleveland only managed six points in 55 NTDP games this season, drawing quick attention to his lack of offensive skill right now. I think he'll be drafted near this area for his motor and size, but he'll need to improve his play with the puck as well as his decision making while playmaking if he wants to become an NHL defenseman.
137th Overall: Konstantin Volochko, RD, Dinamo-Shinnik (MHL)
Rankings: NHL CS Rankings: 42nd (EU Skaters), THW Horn's Ranking: 78th
Konstantin Volochko is another unheralded Russian defender who I think will surprise a few people on draft day. He's got okay size at 6-feet tall, skates well, has a right handed shot and carries the puck through transition confidently. Volochko only scored 20 points in 46 MHL games this year so he'll likely need to improve there if he wants to be an everyday NHLer, but he has all the tools already at his disposal. His best attribute is his point shot which is heavier than you'd expect from a 6-foot-0. 170 pound player.
169th Overall: Konnor Smith, LD, Peterborough Petes (OHL)
Rankings: NHL CS Rankings: 94th (NA Skaters), THW Horn's Ranking: 156th
Konnor Smith is a huge defender who plays an incredibly physical style and defends quite well in the OHL. There are massive questions surrounding his skating and offensive skill as he currently has trouble handling the puck, especially under pressure.
His skating will limit him on both ends of the ice as he moves up levels, but he's a justifiable upside bet based on his size, physicality and his good hockey sense.
201st Overall: Nikita Ishimnikov, RD, Yekaterinburg Jr. (MHL)
Rankings: NHL CS Rankings: 43rd (EU Skaters), THW Horn's Ranking: 153rd
Have you noticed a theme? Nikita Ishimnikov is the fourth Russian defender in this article, and I think he'll be worth a look in the late rounds as a big, right-shot D who has tons of skill with the puck but some hiccups in his skating stride. Ishimnikov has a big frame and plays hard physically, but his skating is quite heavy and will be the biggest barrier for him when it comes to making the NHL. 
Plenty of Great Options on Defense
The Red Wings will have many opportunities to work on filling out their defensive depth when the draft begins in Nashville next Wednesday. From the first round to the seventh, there are excellent prospects available to Detroit and I can't wait to see who they select this year.
Which of these defense prospects do you think the Red Wings will select? Do you think the Red Wings should pick ASP at 9 or should they prioritize size and go with Willander? How many defensemen do you predict that the Red Wings will select on draft day? Sound off in the comments below!