With the stink of Matt Patricia slowly fading away from Ford Field and the Detroit Lions, there is no doubt who the least popular coach in all of Detroit sports is.
Since 2015, Jeff Blashill has been the man behind the bench for the Detroit Red Wings. Through 428 games, he has a record of 161-211-56 – a points-percentage of just over 44%. The legendary playoff streak that spanned a quarter of a century ended on his watch, and the rebuild that has gone on now for three years has all been conducted with "Blash" at the helm.
Former general manager Ken Holland promoted him from the AHL after former head coach Mike Babcock departed for the Toronto Maple Leafs. To that point, Blashill is the third-longest tenured coach in the NHL behind only Paul Maurice in Winnipeg and Jon Cooper in Tampa Bay. It's almost become a bit of a running joke that the Red Wings' coach is on his own island when it comes to whether or not his seat is hot, because most fans would say that he's been on the verge of getting fired for over two years now. And yet, he's still standing.
I wouldn't expect that to change, either.
Give Blashill His Due
Alright, calm down. Put away those pitchforks. Don't throw tomatoes at me, this is a new shirt!
In all seriousness, let's take a step back and look at the big picture here. As I mentioned, the Red Wings are still in the early stages of their rebuild. They are the second-oldest team in the league, behind only the Washington Capitals, which illustrates just how filled with veterans the Red Wings' roster is. But these aren't veterans like the Capitals have. Instead of Alex Ovechkin and Nicklas Backstrom, the Red Wings regularly throw Sam Gagner and Frans Nielsen over the boards. No offense to either of those guys, but they aren't exactly young guns or big time difference-makers anymore.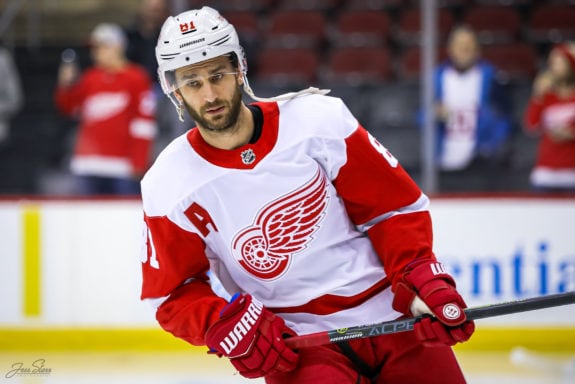 There's no denying that modern day hockey is a young man's game. Unless your older players are top-tier talents like Ovechkin and Backstrom, those older legs are going to hold your team back against the Brayden Points and the Sebastian Ahos of the league. What makes matters even more difficult is when your prime-aged players like Vladislav Namestnikov and Jon Merrill aren't exactly game-changers. Despite the high-end talents of Dylan Larkin and Filip Zadina, the Red Wings suffer from an overall lack of talent throughout their roster. It's hard to compete in the NHL when there's a clear talent gap between your team and almost every other team in the league. No amount of great coaching is going to completely overcome that.
That's the go-to defense for Blashill: "look at what he's had to work with." He has found success when he is given a competitive roster. Heck, the whole reason he was destined to become the Red Wings' coach is because he guided their AHL affiliate, the Grand Rapids Griffins, to their first ever Calder Cup championship back in 2013. That team had guys like Tomas Tatar, Gustav Nyquist, Danny DeKeyser and Petr Mrazek (among others) on the roster – all of which are bona fide NHL players today. Judging Blashill based on the Red Wings' performance this season or last is like judging an actor's abilities based on a guest appearance on a sitcom – you're not really getting the full picture.
In fact, there's an argument to be made that Blashill has actually done a good job with this season's group, especially in regards to coming up with a game-plan that puts them in a position to win. You see, when the Red Wings have looked good this season, it's when they are playing a low-event style of hockey. They clog up the neutral zone which prevents the opposition from getting any clean breakouts, and they allow strong defensive structure to create offensive opportunities for them. It can be boring to watch at times, but has been effective against teams like the Tampa Bay Lightning and the Florida Panthers, two of the top teams in the Discover Central Division this season. This isn't the coach's preferred way for his team to play, but there's no mistaking that once they abandon that style of play, they usually get run over by their opponents.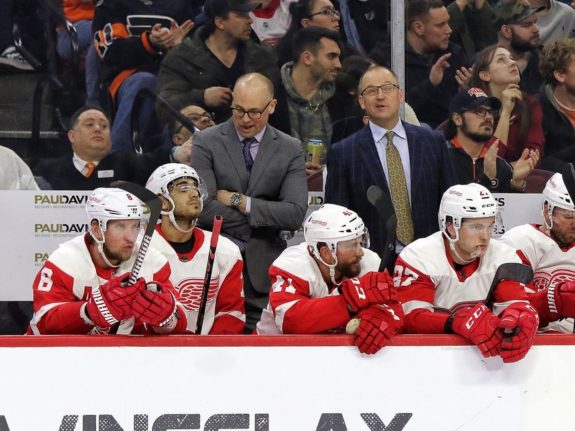 To that point, current GM Steve Yzerman has continued to back his coach, going back to last year when he stated that "Quite frankly, we need to improve the team for anybody to truly critique or assess the coaching staff," (From "Jeff Blashill to return as Red Wings coach for 2020-21 season" – The Athletic – 5/27/20). The second-year GM has praised the team's compete level and overall progress this season, and that comes during a season where the roster probably isn't improved in the way that he meant when he said improvement was needed before we can accurately judge the coaching staff.
For Yzerman, that "improvement" likely comes in the form of guys like 2019 top pick Moritz Seider joining the roster, as well as the continued development of young players like Zadina. In other words, he's looking for roster improvement from the organization's long-term pieces rather than improvement from free agent signings. That's fine. In fact, that makes sense for a team in the midst of a slow and steady rebuild. However, there is one practice of Blashill's that seems contradictory to all of this.
The Kids Aren't Playing
With the exception of Zadina and defenseman Filip Hronek, Blashill never seems to give the team's younger players a legitimate chance to grab a roster spot. Even when such a player does enough to merit a further look, they eventually find themselves heading west to Grand Rapids. Look no further than Givani Smith and Evgeny Svechnikov, who have both captured the imagination of the fanbase through their limited play in Detroit.
Smith (23 years old) had a Gordie Howe hat trick earlier this season in a win over the Panthers, and regularly plays well and displays grit and skill in a bottom six role. Svechnikov (24 years old) has four points through four games; his two goals are already more than fellow forwards Nielsen, Mathias Bromé and Darren Helm. Despite their production, as well as the fact that neither of them looked out of place in the NHL, Blashill inexplicably refused to reward them for their efforts.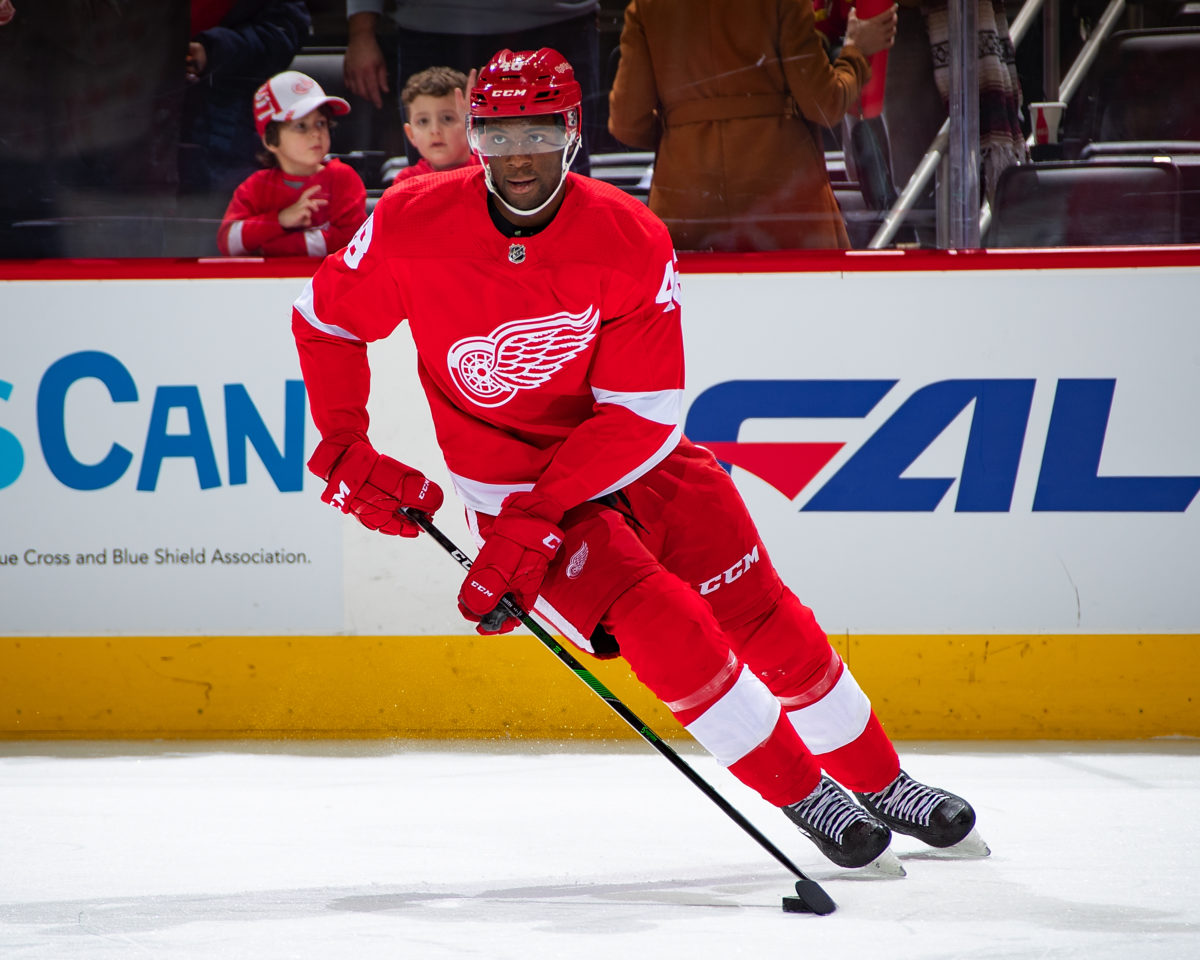 The problem here is that Blashill is supposed to be the coach that nurtures the talents of the team's young players. That was the narrative surrounding him when he was named the Red Wings' head coach, and that narrative still somewhat persists to this day. With a few exceptions, Blashill has never been keen on relying on his young guns; when they make mistakes, they are scratched the next game. When veterans make the same mistakes, their ice time is completely unhindered. If the kids are supposed to learn from the veterans,
How are they supposed to learn if they aren't playing in the NHL?
The lesson doesn't seem to be "make fewer mistakes and you'll play", it instead seems to be "get older and you'll play."
With the likes of Seider and 2020 top pick Lucas Raymond on their way, can fans trust that Blashill will handle them fairly?
Plenty of Coaching Candidates
It's not like there's a lack of viable options available on the coaching market, either. Fans have been clamoring for former Vegas Golden Knights coach Gerard Gallant since he was unceremoniously fired from that gig in January of 2020. He's been available for well over a year, and yet Yzerman hasn't made a move – has "Stevie Y" ever been the kind of manager to pass up an opportunity to get a guy he wants? The answer is no, and that's why I think adding Gallant isn't going to happen, at least for now.
The Montreal Canadiens recently fired their head coach, Claude Julien, after they wasted a strong start to the season. Julien has a Stanley Cup championship ring due to his 2011 championship run with the Boston Bruins; he has 667 career victories as a coach in the NHL, as well as a 68-56 career playoff record. It's hard to argue that Blashill is a better coach than Julien, and yet Yzerman seems content with the man he currently has in charge.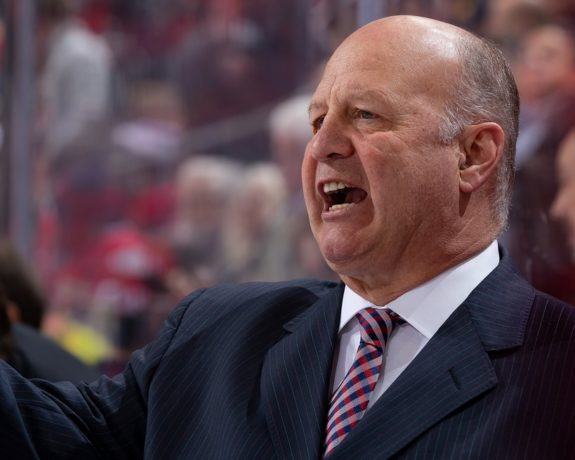 Lane Lambert. Ken Hitchcock. Igor Larionov. Bruce Boudreau. The list goes on and on. Most, if not all of these guys could help manufacture more wins for this Red Wings roster. And yet, there's a phrase going through the fanbase that has become a bit of a cliché: "not even Scotty Bowman could reach the playoffs with this roster." While it's unwise to doubt the abilities of the most successful coach in the history of the sport, this sentiment is likely true. So, if no coach is going to completely reverse this team's fortunes, what's the point of hiring a different coach?
This Phase Belongs to Blashill
As I already noted, this team is still early into its rebuild. They haven't drafted inside the top three since the rebuild began. They were knocked on their *butts* last season. This season, they're learning to crawl. Next season, they'll learn how to walk again. The following season, they will hopefully start learning how to run. It will be up to the coach to make sure the team takes those steps.
While we can all agree that Blashill's over-reliance on veterans and defensive players is a hinderance to the Red Wings, their overall draft position is only going to get better because of it. Unless a can't-miss coach with a proven track record of developing young players becomes available, there's no reason to move on from "Blash" until the team is trying to contend for the playoffs. Given Yzerman's continuous support of his head coach, it seems as though he feels the same way.
Now, once the team's top prospects take this team over, the real test will begin. If Yzerman says we can't judge the coach until the team gets better, then we all need to put our pitchforks away until Detroit has a roster that is better than a sub-.500 record. Once that day comes, though, all bets are off.
Want more Red Wings content? Tune into The Hockey Writers' Grind Line — a weekly show on YouTube and Facebook. Check out our most recent show below, and make sure you subscribe to the channel so you don't miss any upcoming shows.
---
---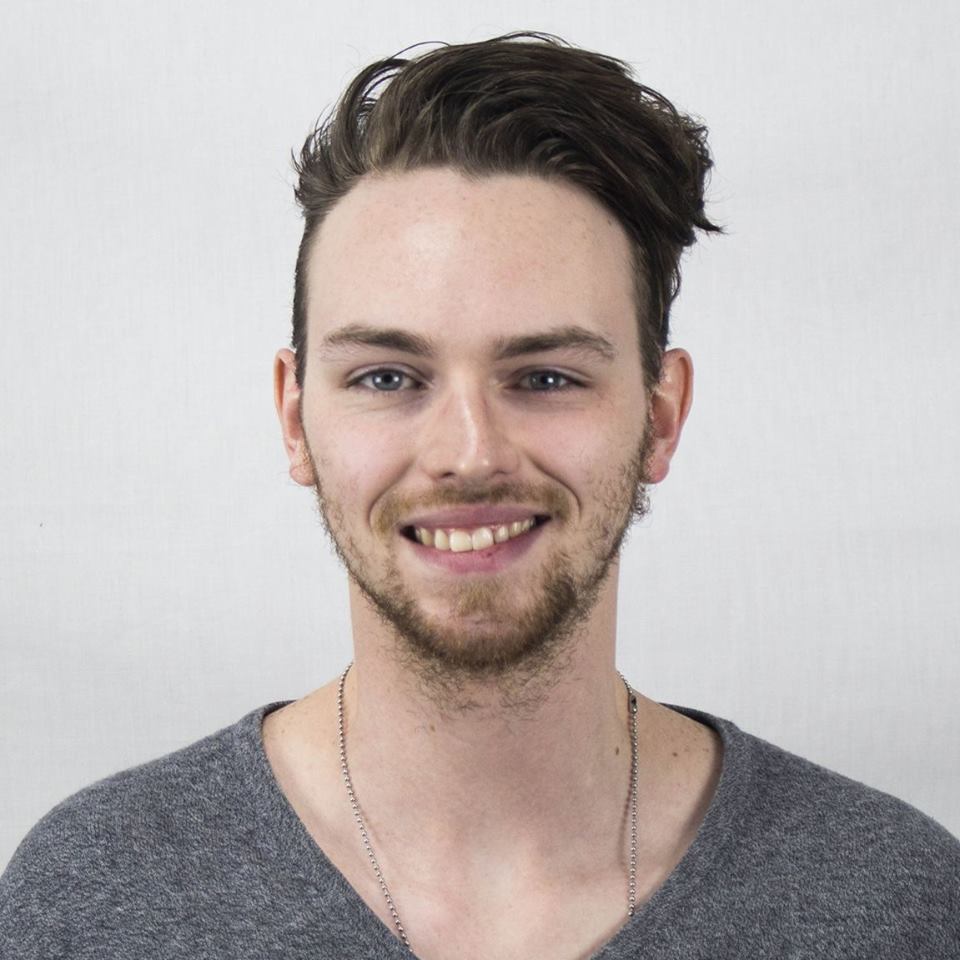 I am a Western Michigan University alum whose passion for hockey knows no limits. Dr. Pepper enthusiast. Catch me and my fellow Red Wings writers' YouTube show "The Hockey Writers Grind Line" which drops every Saturday.