As 2022 comes to a close, I opened my mailbox up to the lovely people of Twitter for all their Detroit Red Wings-related questions, musings, and everything in between. This year consisted of many changes for the Red Wings and there are still plenty of things up in the air as 2023 rings in.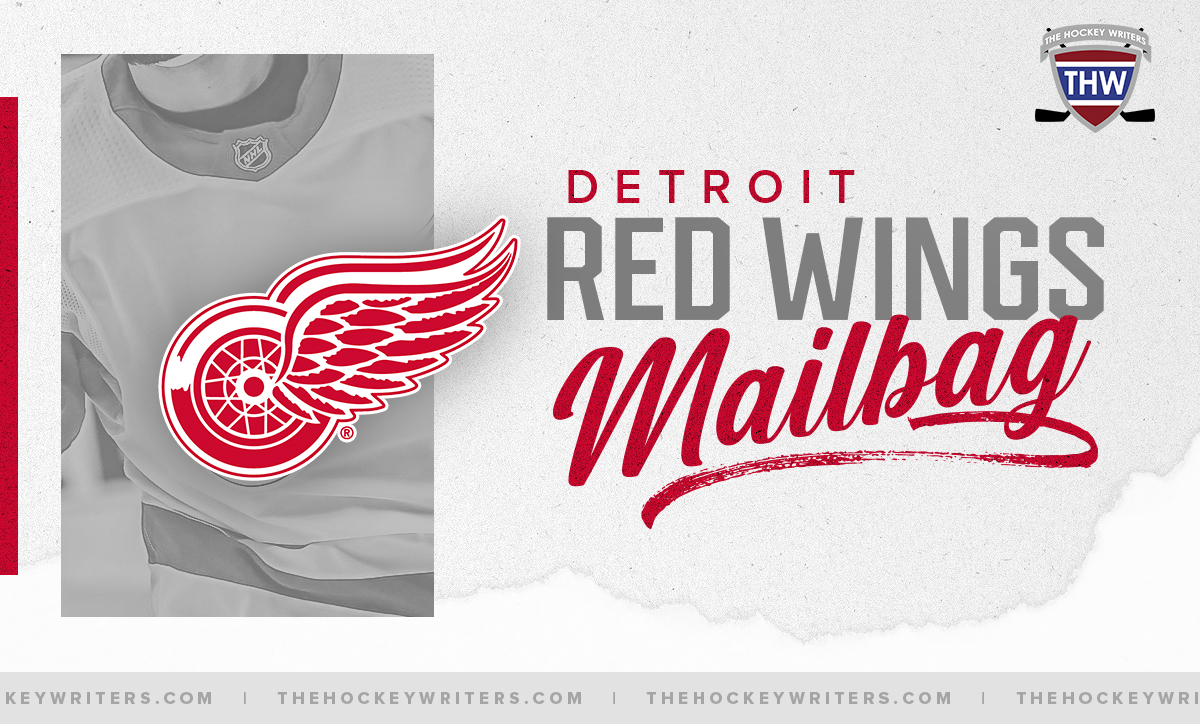 Let's end the year on a high note and get into these burning questions!
How Would You Handle Ned for the Rest of This Season?
@HockeyWithDevin
There are many answers to this one but personally, I wouldn't fully count him out yet. Do I think that he is going to get a contract renewal? Not really given the way that he has been playing as of late but that doesn't mean that there's not some potential. When he's good, he's pretty good, but the same can be said for his bad stretches. He has been somewhat living in the shadow of Ville Husso this season and the former notion of a 1A/1B situation faded away quickly. I think that he still has lots of redeemable qualities as a goaltender and he will be a great backup for the team if he is able to fix some of the areas of his game that have been hurting him this season.
---
Latest News & Highlights
---
I am curious about how Nedeljkovic would look at the American Hockey League (AHL) level whether it be a conditioning stint or a more permanent move. Since he is not coming back from an injury or absence, he would have to approve a conditioning stint in Grand Rapids before getting sent down. Getting some action in the AHL may allow him to work some of the kinks in his game out while still getting the reps and ice time that he needs to do so. With Magnus Hellberg being added back onto the roster, Nedeljkovic has taken somewhat of a back seat in the goalie rotation so having him in Grand Rapids wouldn't necessarily be a bad thing.
How Concerned Are You About Kubalik Going Forward?
@RileyJaneWIIM
Dominik Kubalik started out his first season as a Red Wing on a high note, but his production has since dipped dramatically. Out of his last 10 games, he only had points in three games after having several streaks up to that point. It makes sense to be a bit worried when one of the leading scorers on a team suddenly goes dark, but I don't think this is an issue here.
He just had a two-goal game on Dec. 29 which was enough to ease some worries for the time being but honestly, I'm not too concerned. Kubalik has played in 34 games so far this season and has a total of 28 points, which is just four points shy of his season total from 2021-22. He's still keeping a good pace with his scoring and if he stays on this track he will still surpass his prior seasons. It sucks to see such a sharp and sudden drop in performance, but I think that he has what it takes to turn that right back around.
The Emergence of Hronek as a Legit Top 4 Defenceman. Is it Coaching, Development, or His D Partner?
@YzeRohan
While I'd like to give some of the credit for his success this season to his handlebar mustache, I think it was a combination of the new coach, new defense partners, and changes in equipment. Firstly, his plus/minus rating is the best that it has ever been in his NHL career at a plus-10 compared to his minus-29 from the 2021-22 season. This might be the most dramatic change in his statistics on paper and I believe that all the new defensive additions to the roster have made an impact on this.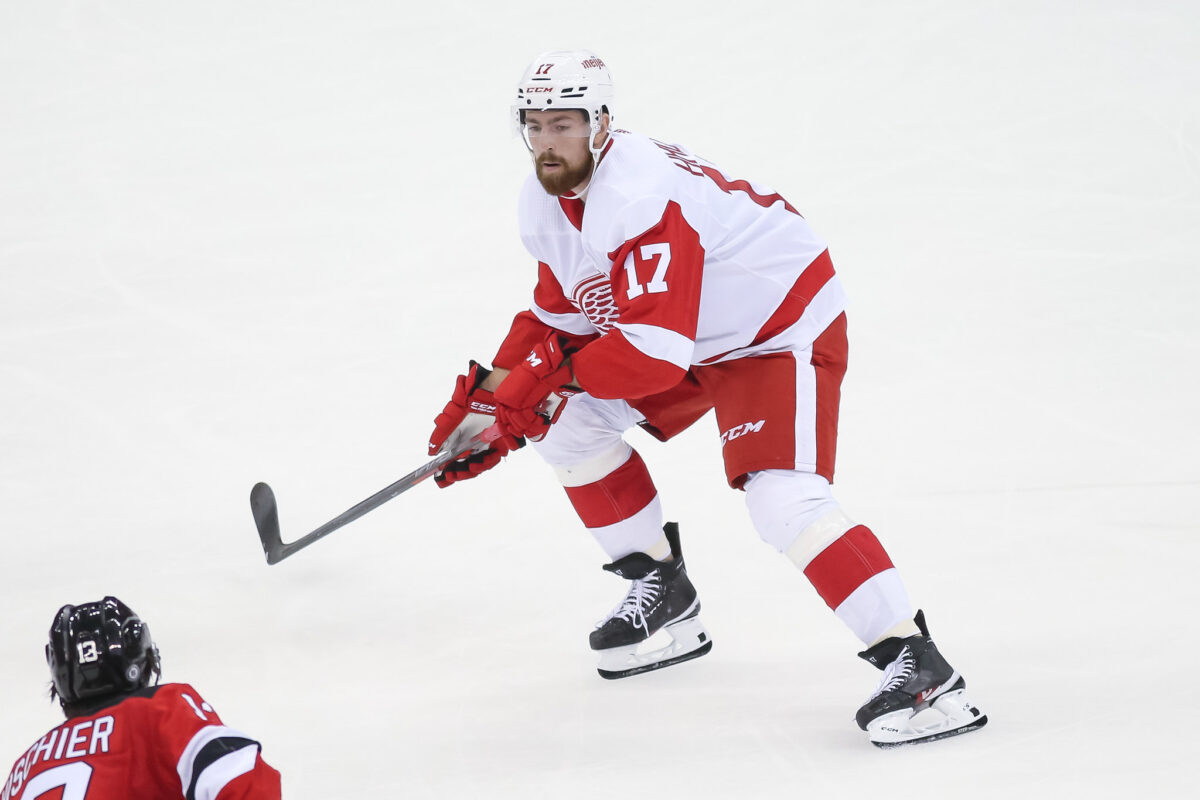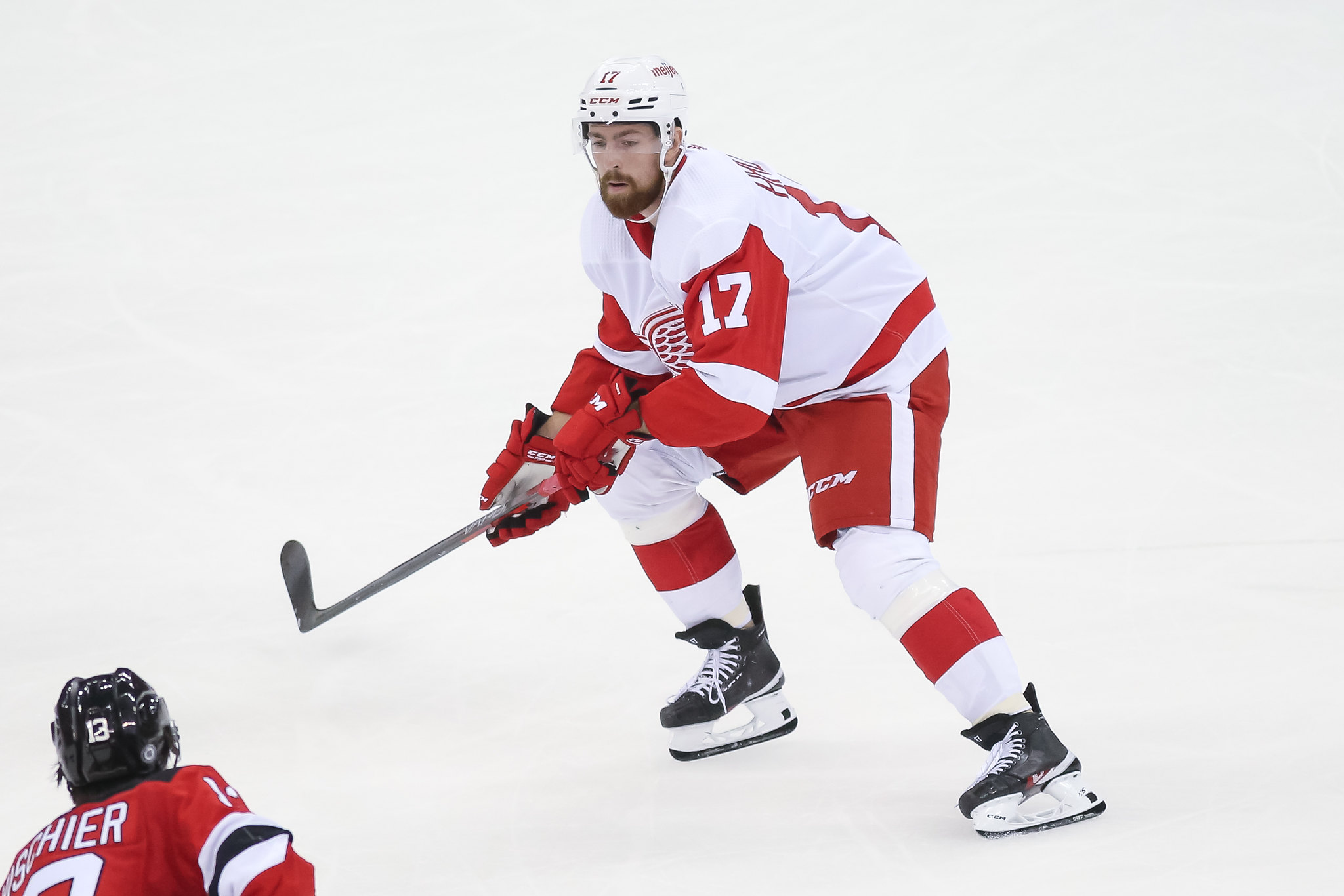 Hronek has been partnered with Olli Maatta for the majority of this season after not having a solid partner for quite some time. In the 2021-22 season he cycled through Marc Staal, Olli Juolevi, Nick Leddy, and even Danny DeKeyser. Having a consistent linemate seems to have made a tremendous difference for him this year. According to GearGeek, he has also switched sticks three times this season. He switched to the CCM Ribcor Trigger 7 Pro around Nov. 7 and then had 13 points in the first 10 games after the switch with six of those being goals. Could be a coincidence or he finally found a stick that works well for the offensive side of his game. Needless to say, whatever the combination of things may be, it has worked wonders for Hronek's game this season.
With Some Guys Hopefully Returning From Injuries Soon, What Do You Think the Top 4 Forward Lines Will Look Like and Who Will be Assigned to Grand Rapids?
@LoganWHorn
I was hoping that nobody would ask this question because I don't even like my own answer. Likely it will be Elmer Soderblom that gets the boot down to Grand Rapids but I think that Jonatan Berggren is safe from being moved. One could argue that he is on the list of players getting sent down, but I genuinely think that would be the wrong decision. He has been one of the best-looking players on the ice almost every game since he made his NHL debut and letting that talent go would be less than ideal. Joe Veleno is another player that I would not be shocked to see go down for a bit as he has made the move a few times already. I don't want to see Soderblom go down to Grand Rapids as he's just getting back in his groove after returning from an injury and has five points in his last five games.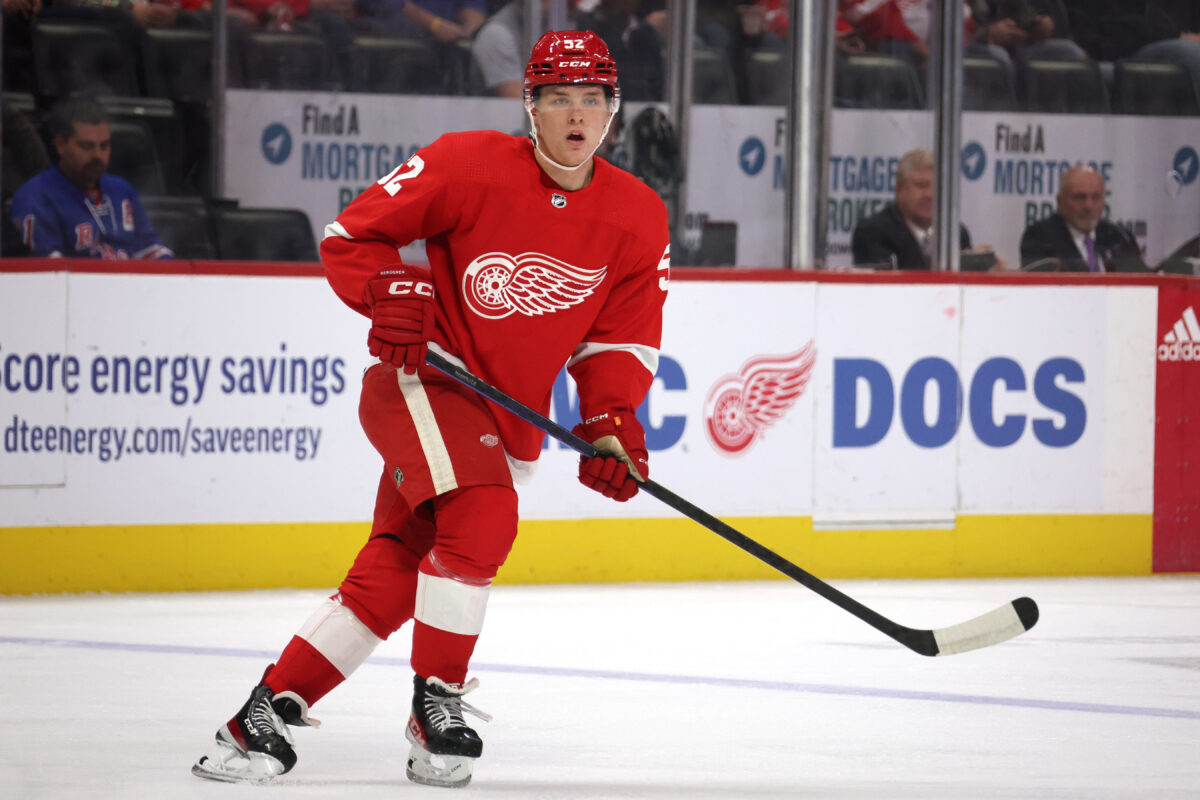 With Robby Fabbri's return, I doubt that he would be slotted back into the top-six right away since he has been gone for so long. I could see him getting time as the fourth-line center in place of Veleno until he's ready to make a full comeback. Tyler Bertuzzi is also set to return soon and he will probably be fighting his way back into the top six. Seeing the Bertuzzi-Larkin-Raymond line back in action sometime soon wouldn't be a total surprise as he makes his return to the ice. Jakub Vrana is also set to make his return soon as he wraps up a conditioning stint in Grand Rapids. I think that he will benefit from being alongside players such as Dylan Larkin and Andrew Copp to help push himself back into the pace of the game.
Since Oesterle Has Locked Up That 3rd Pair RD Spot, What Do You Think the Wings Will Do With Lindstrom?
@Jennife99697952
Gustav Lindstrom has been on the struggle bus for a while now and he doesn't seem to be getting off of it. Through 109 career games, he has one goal, 17 assists, and a minus-26 rating. This being said, does he really have a role on this roster now that the defensive talent has been increased? I don't really think he does outside of being a substitute for that bottom defensive pairing in case of sickness, injury, or other circumstances.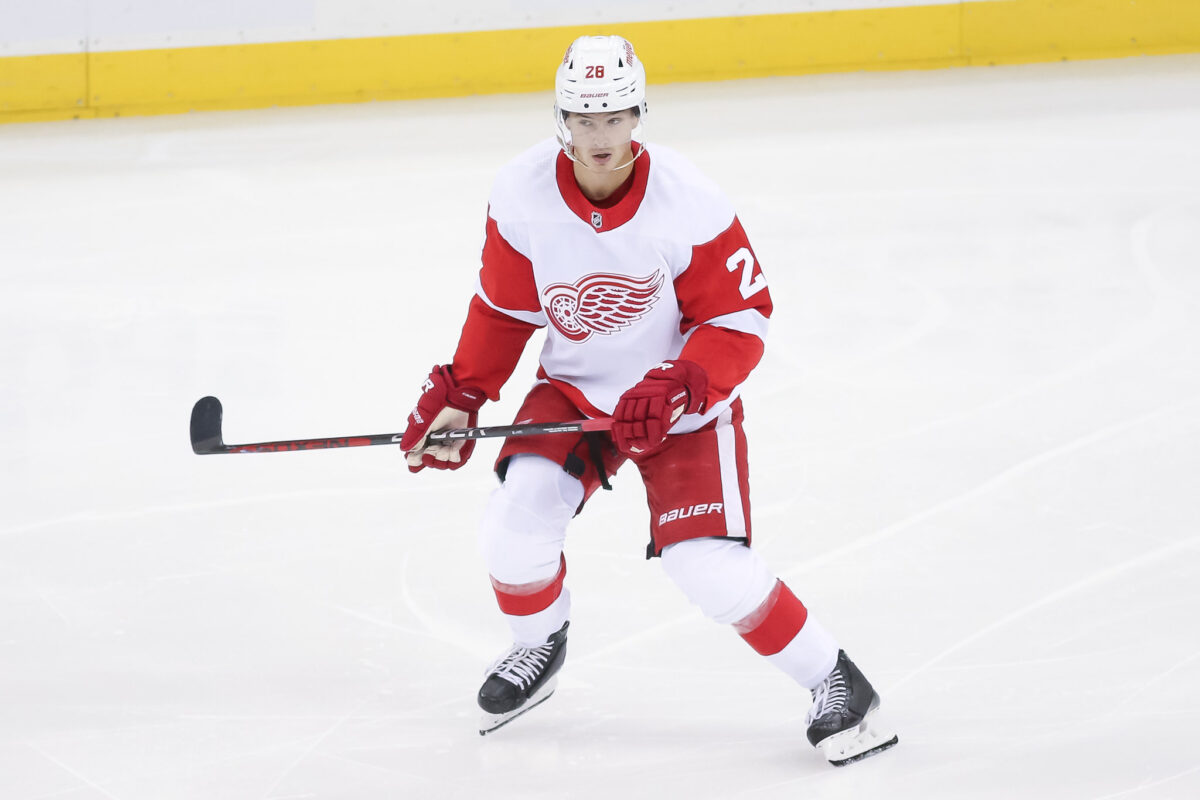 He hasn't done anything memorable or noteworthy in quite some time, so it might be best for him if he were to get a change of scenery at a lower level. Since he's so young and has some talent, it might not be a bad thing if he were to get a restart of sorts on his career at a lower professional level. The 2022-23 season is "make-it-or-break-it" time for Lindstrom as he is on the brink of free agency. He will be a restricted free agent after this season and I don't see the Red Wings front office making a push to re-sign him.
Larkin is an Unrestricted Free Agent at the End of the Season. If the Season Doesn't End on a High Note, Does He Take a Deal Elsewhere? If So, Who Would Be Captain?
@Tholomewx
My gut says no, Larkin won't take a deal elsewhere even if the season ends in the worst way possible. He doesn't seem to give any indication that he is looking to leave Detroit anytime soon. Since he's a Michigan native who grew up close to Detroit, he has a true connection to the heart and soul of this team. However, he will be an unrestricted free agent after this season and the ball will be in his court. If another team were to offer him more money than the Red Wings and he has not yet signed a contract, he might have a change of heart. Like most other people, I'm rooting for him to get offered a new contract in the $10 million range and that might not be unrealistic to expect.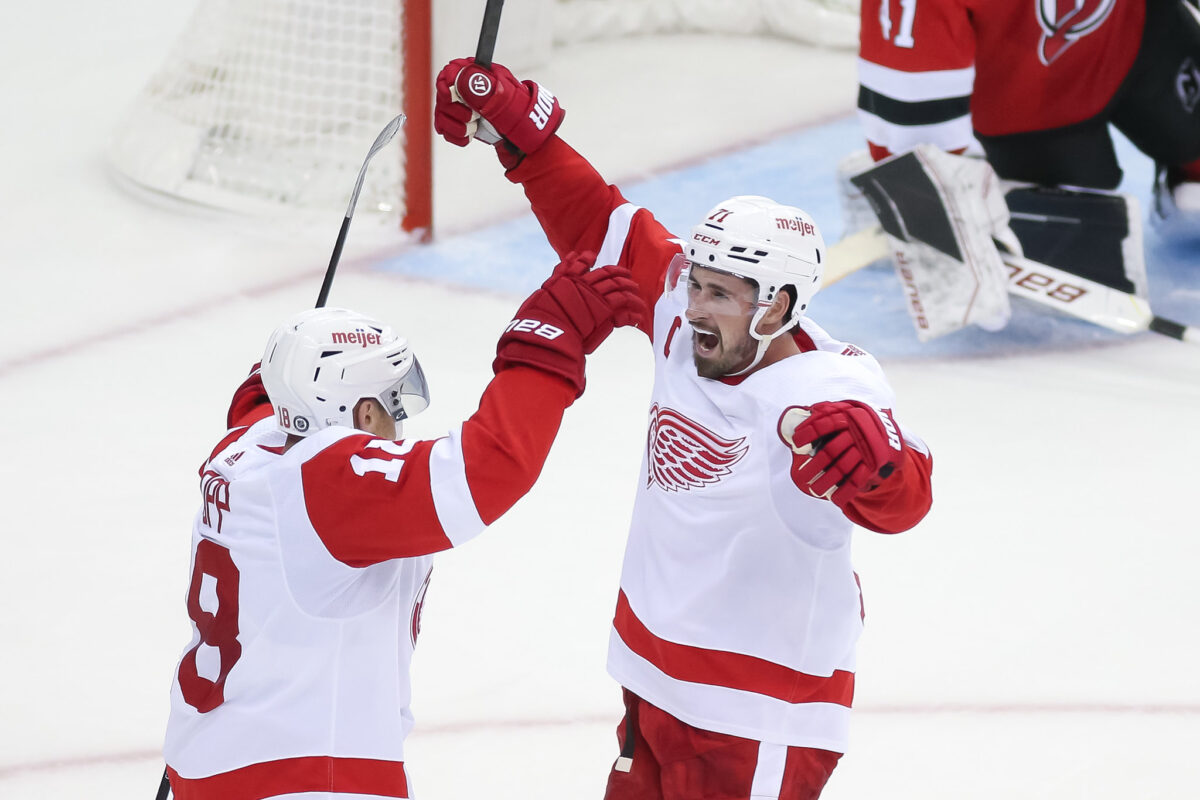 If for whatever reason Larkin was to walk away from the team leaving the captaincy vacant, that's another tough one to answer. As of right now, Ben Chiarot, David Perron, and Copp are wearing the A's and they are both new to the team as of this season. Out of that mix, I could see Perron filling that role first with the second choice being Copp. Chiarot is here on a one-year contract so it's not super likely that he would be handed the captaincy.
What Do You Think the Trade Deadline Looks Like for the Wings?
@lindylou266
In one word, busy. As long as Steve Yzerman is the general manager of the Red Wings I do not think that there will be another uneventful trade deadline for quite some time. There are a ton of big names that have been in trade talks already including Patrick Kane, Bo Horvat, Timo Meier, Jakob Chychrun, Ryan O'Reilly, and many others. These players are all pending UFAs at the end of the 2022-23 season, so there will be a lot of huge moves being made all around the league to acquire such desirable players.
Related: Red Wings Face Big Lineup Decisions as Injured Players Return
I do not think the Red Wings will be making a push for Kane, Toews, or any of those other big names aside from Horvat. Something that is likely to still be at the top of the Red Wings' wish list is a consistent goal scorer and they will be looking for someone to come at a good price close to the trade deadline. My prediction is that Tyler Bertuzzi will be the biggest asset on the table when this time rolls around and I don't see him being a Red Wing by the time summer comes.
Do You Think Yzerman Gets Aggressive by Trading For and Signing Bo Horvat or Timo Meier? Also, Does Bertuzzi Get Traded Before the Deadline?
@Sean_Laurino
Out of the two, I could see a bit more of an effort being made for Horvat. He is a guy who can go out and consistently score goals which is something that the Red Wings need. He's currently leading the Canucks in goals with 26 and is third in the league behind Connor McDavid and Tage Thompson. It isn't an insane proposal that the Red Wings could acquire him either as the Canucks are looking to bring in new faces and Detroit has the assets available to offer. However, landing either Horvat or Meier would be bringing a reliable goal scorer to the team which is a win either way.
Related: Red Wings Have the Pieces to Acquire Canucks' Horvat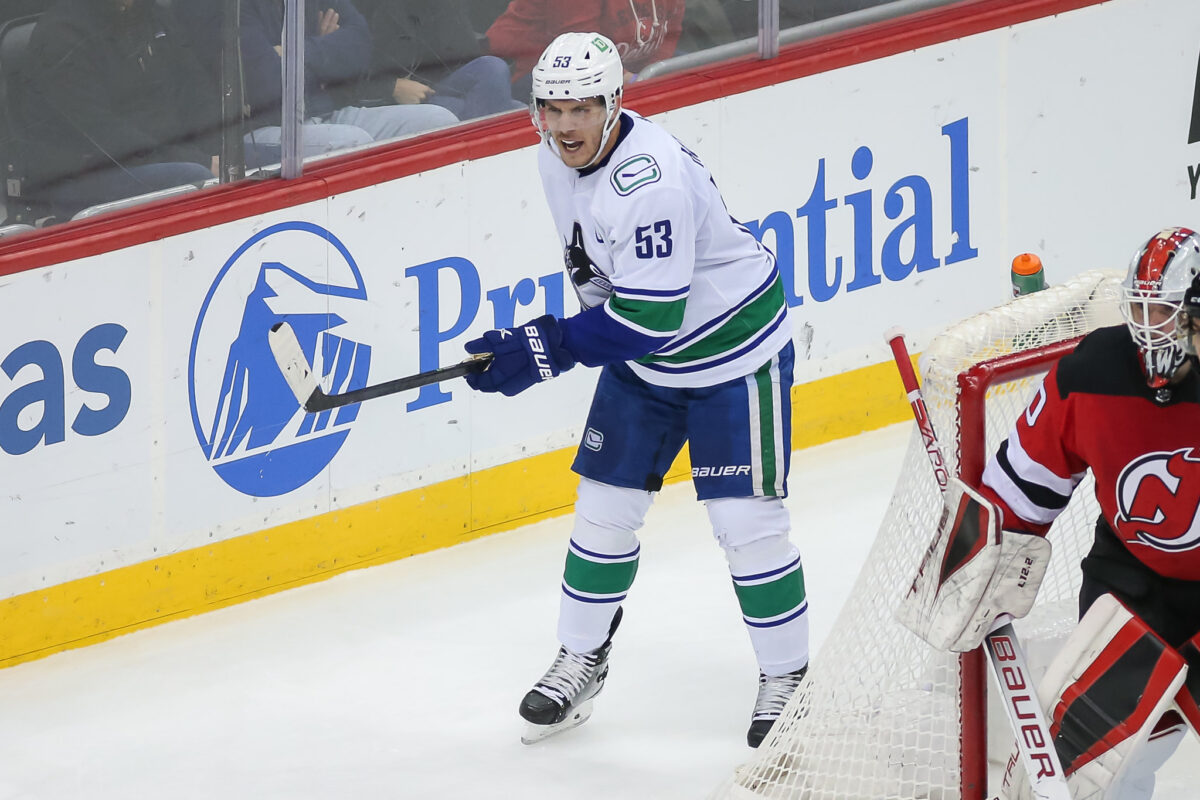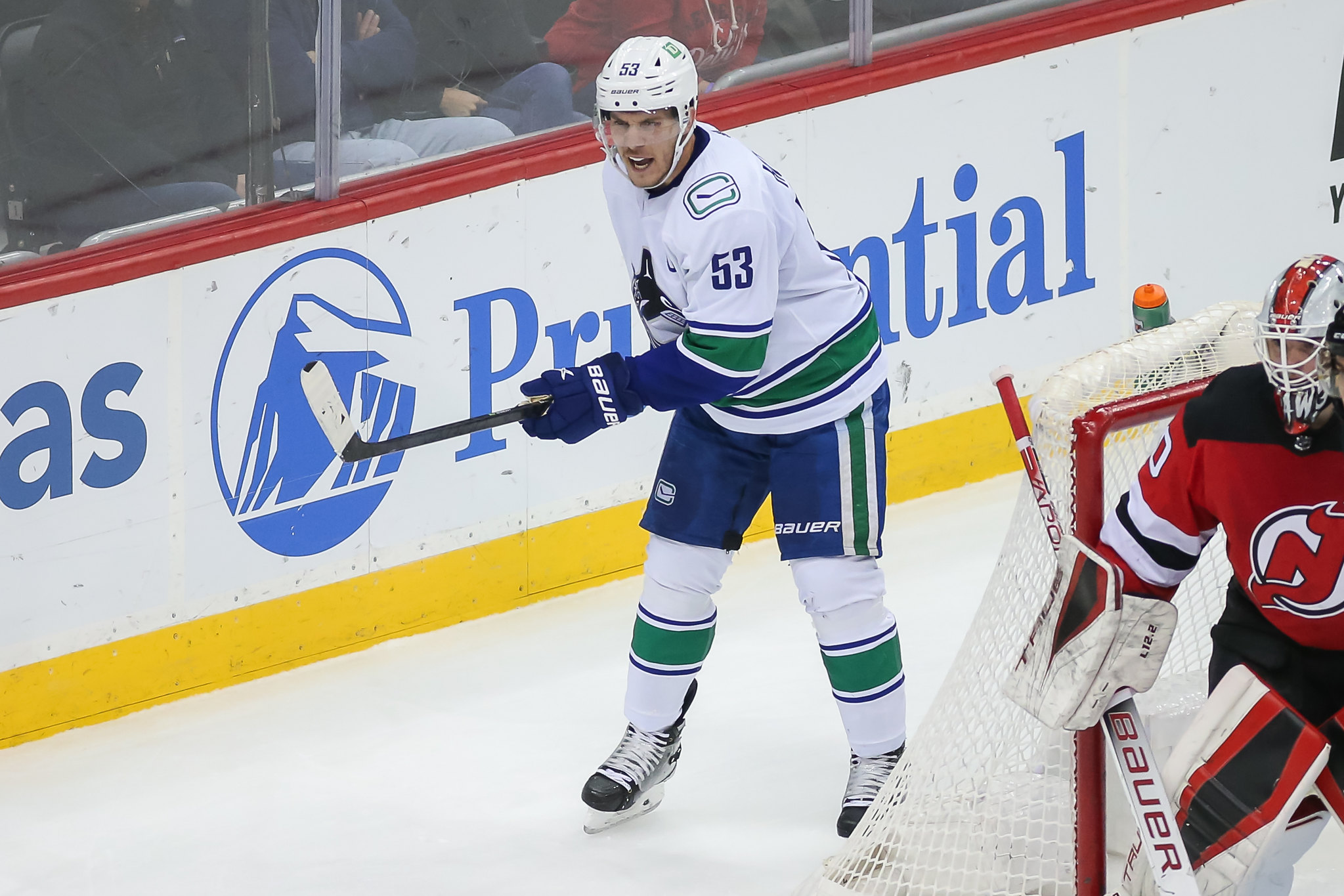 Personally, I think that it's somewhat inevitable that trade talks surrounding Bertuzzi will pick up at some point this season. His injuries this year have had a negative impact on his trade value, but odds are he will still bring in a good return. He hasn't been a huge presence for the Red Wings in the last season or so and with all the new talent being brought in from the offseason and prospects, there's less of a need for him on the roster at this time.
When Do the Absolute Clunkers Against Buffalo Stop Happening?
@AJEwart1
With only one matchup against the Sabres remaining in the 2022-23 season, my guess is in the 2023-24 season.
Is There Anything More Humiliating Than Getting Griddy'd On?
@RivardNHL
Blowing a 4-0 lead and losing in overtime at home. That's all I have to say.
Next Mailbag
As of right now, I'm planning on doing another mailbag around spring break or mid-March. Happy New Year to everyone reading this and I'd like to thank you all for making my first year at The Hockey Writers so memorable. Wishing you lots of happiness in 2023!
---
---