Watching the Detroit Red Wings last season was difficult, to say the least. Posting the worst record of the salary cap era, (17-49-5) their goaltending was partially to blame. Jimmy Howard had a career-worst season (2-23-2), while Jonathan Bernier was left to pick up the pieces.
The Red Wings have a few goalie prospects in their system: Jan Bednar (2020, 4th round), Keith Petruzzelli (2017, 3rd round), and Filip Larsson (2016, 6th round), but there is no clear-cut number one.
Current Goalie Situation
The organization does not have a goalie signed past the 2021-22 season. Bernier will become a free agent after 2020-2021 and newly signed Thomas Greiss' contract, worth an average annual value of $3.6 million is up after 2021-22. There are no guarantees that either of them will receive new contracts.
As a shrewd general manager, Steve Yzerman could re-sign both of them to short-term extensions without a raise. While this would stabilize the goaltending for now, it would not do much for the future, except give their prospects time to develop.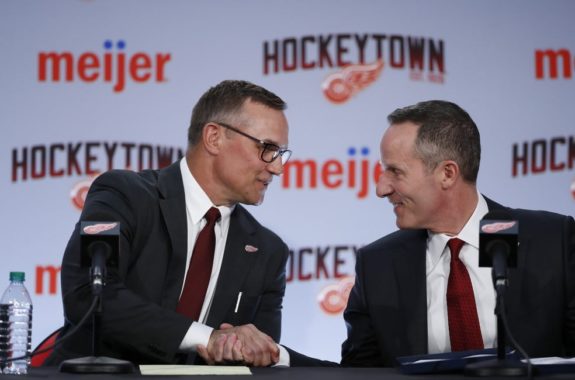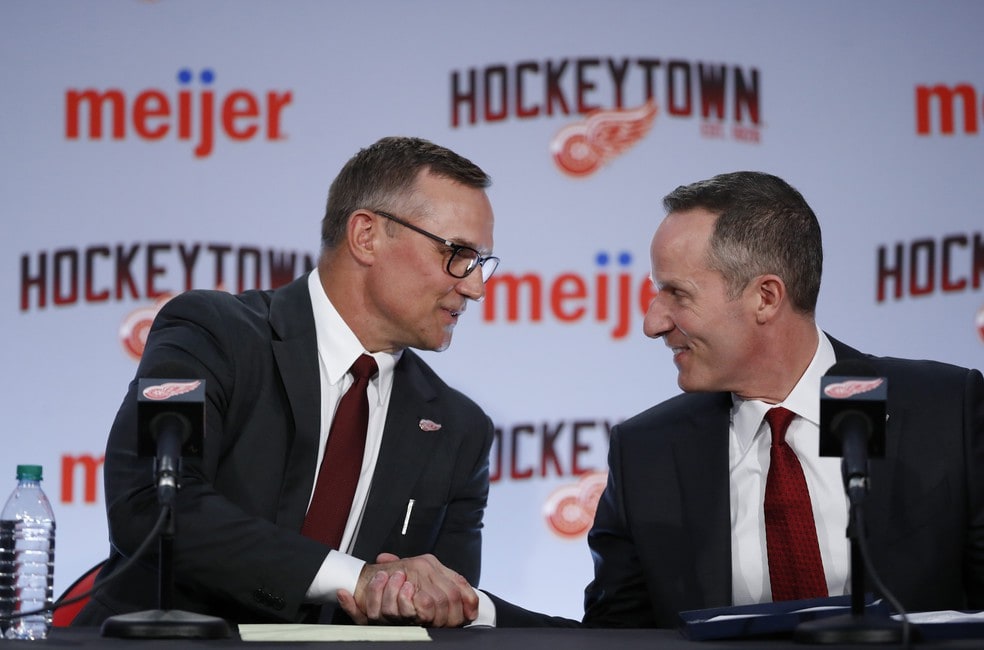 There is a goaltender in the NCAA who has a history of winning wherever he goes and who could help the Red Wings in the short-term. Yzerman should consider signing Strauss Mann in his quest to stabilize his team's goaltending situation.
Strauss Mann
If I asked most people to describe Mann, they'd probably answer "Who?" However, teammates and coaches of the 22-year-old at the University of Michigan would say something different. They would describe him as prepared, a leader, and driven. "He has no doubt flown under the radar," said Wolverines head coach Mel Pearson. "But that's probably because he hasn't taken the usual junior path to where he is today."
Instead of playing junior hockey in the Canadian Hockey league, Mann played under-scouted high school hockey and joined the Fargo Force of the United States Hockey League as a walk-on after attending an open-camp try-out before the 2017-18 season. He beat out Fargo's drafted goalie prospects and their returning goalie Ryan Bischel (Notre Dame) for the starting spot and back-stopped the Force to the Clark Cup Championship title.
Cary Eades, Fargo's former head coach and general manager said of Mann, "He's phenomenal and outright stole us some games, making our team from an undrafted player to a year later leading us to a Clark Cup is a real example of who Strauss Mann is."
Strauss's History
Despite producing eye-popping numbers at the junior level, with a 1.84 goals-against average (GAA) and a .941 save percentage (SV%) in 51 games (2014-17) split between Brunswick Prep School and Mid-Fairfield 18UAAA over three seasons, and given his championship season at Fargo – 48 games played (playoffs included), a 1.97 GAA and a .932 SV% – he remained mostly unknown.
Mann earned a scholarship to the University of Michigan who first became aware of him when he was in prep school on the east coast but wanted to see what he could accomplish at the tier-1 junior level. "Once he got to Fargo, that's when we really knew we had to follow up on him," said Pearson. However, attending Kent Business School and getting used to a new routine probably led to a few bumps in his first season when he posted a 6-8-4 record.
For Mann, having a routine is everything. He began a strict nutritional diet during high school, and couples it with continuous offseason workouts to keep him dialed in. Mann's play has led to a strong start to the Wolverines' 2020-21 season winning four of six games.
"He reminds me of, dare I say, Marty Turco, just how calm he was in the net and the way he approached the game," Pearson said. "Completely different personality-wise away from the rink though." Mann is slightly undersized compared to today's typical goaltender at six-feet-tall and 174 pounds. I believe this has forced him to develop other areas of his game. As Pearson noted, "He's a student of the game that studies other teams' shooters and top power-play units… He's one of our better athletes and an excellent skater with a high hockey IQ."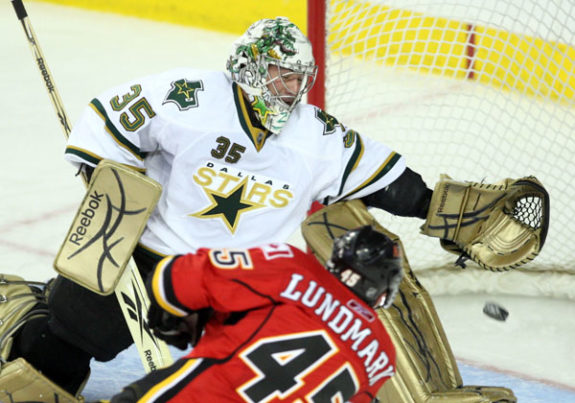 Mann's confidence has helped U of M's rookie-studded roster flourish (from 'Michigan hockey is loaded with NHL draft prospects: Here's our ranking,' Detroit Free Press, 11/13/2020). Through the team's first four games, three of their top five scorers are rookies: Thomas Bordelou (San Jose Sharks, 2020 1st round) with seven points; Kent Johnson (2021 draft-eligible) with eight points; and Matthew Benniers (2021 draft-eligible) with five points.
Qualities of a Captain
Mann's discipline and attention to detail in practice are unrivaled. "We have a saying here at Michigan," says Pearson, "When the time to perform is here, the time to prepare is long gone." Mann is a leader on and off the ice; his teammates unanimously voted him the first goalie captain in 78 years at U of M. Whether it's staying late after practice to work with players on their shooting or whether he's driving rookies home after a game, Mann is, according to Pearson, "the total package," (from 'Teammates thankful for Strauss Mann,' The Michigan Daily, 11/24/2020).
When I asked Eades if he thought Mann's skill would translate to the NHL he said, "He's going to have to prove himself. I know the American League or the East Coast League is where he'll have to start at, but he's proven doubters wrong every step of the way, including myself. When I first shook his hand, I thought to myself, who is this kid?"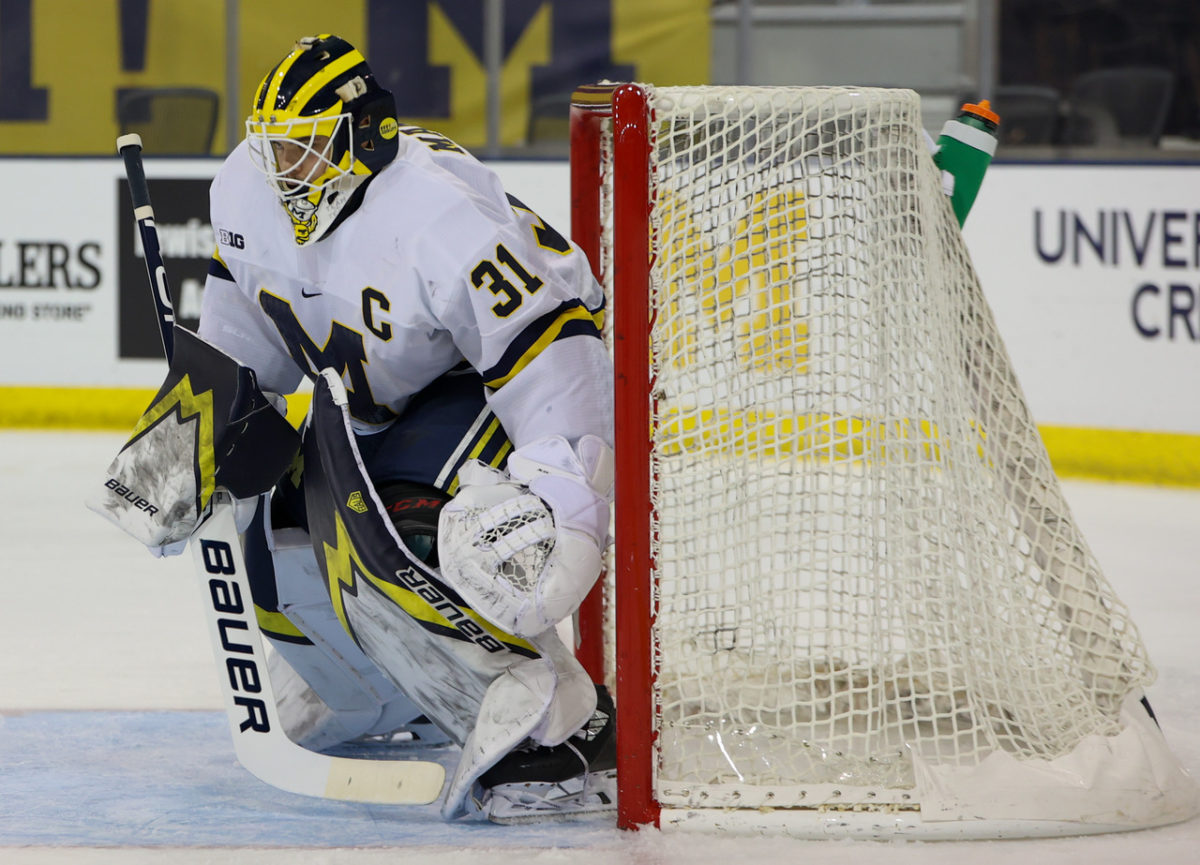 Yzerman and Kris Draper should give Mann a long look. Yzerman is known for making bold moves and he isn't afraid to pull the trigger when the time is right. With the Tampa Bay Lightning, he found a lot of talent outside of the first and second rounds of the draft, and he has loaded up on free agents this offseason.
Yzerman has surrounded himself with a keen-eyed staff. Signing a college free agent would cost the base salary of $832,000 which is next to nothing in the NHL. It's a long shot for any player to make the NHL, let alone one who has taken Mann's route, but he could be a diamond in the rough. Signing one of the NCAA's top goaltenders for next to nothing? It could be a deal that pays off.
---
---