The Detroit Red Wings have an intriguing season ahead. The team has low expectations, which will make for an interesting season of evaluating players. One of the most unique seasons in NHL history kicked off on Wednesday, and as the Red Wings prepare to host the Carolina Hurricanes at Little Caesars Arena on Thursday, let's consider the best and worst-case scenarios for Detroit's forwards this season. I'll start with who I think will be on the top line (ie; Dylan Larkin, Anthony Mantha, Tyler Bertuzzi) and then work my way down.
Dylan Larkin (Center, Age: 24)
Best Case: Larkin produces better than a point per game, scores 20 goals, and in a best-case scenario, helps lead Detroit to the postseason. I wouldn't get my hopes too high on the Red Wings making the playoffs, but I expect the first two predictions to happen.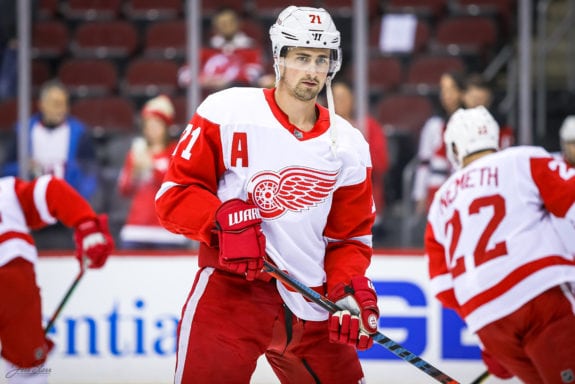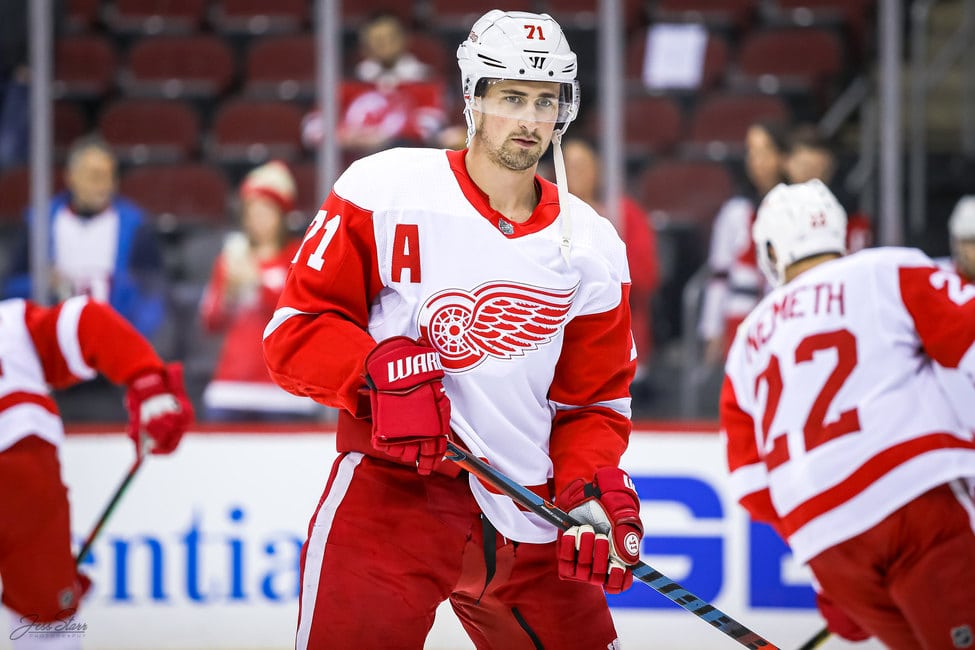 Worst Case: He struggles out the gate, fails to put up points, which leaves the Red Wings in the same position they were in last season. I hate this situation because I can't take another campaign of brutal losses. However, now that he's been named captain, expect Larkin to do everything in his power to make sure we don't see a repeat of 2019-20.
Anthony Mantha (Right Wing, Age: 26)
Best Case: Mantha averages between 55-60 points. He hasn't scored more than 48 points in a season before now, so this is asking a lot. However, after an awful season in 2019-20 and signing an extension over the offseason, he should be motivated to perform better.
Worst Case: He fails to score at least 30 points and gets knocked off the top line. When healthy, he can be a force offensively, and I'm interested to see what kind of physicality he brings this season. I will be disappointed if he takes a bit off his hits, but it would be understandable given his injury history.
Tyler Bertuzzi (Left Wing, Age: 25)
Best Case: His point total has increased every season he's been with the Red Wings, so maybe we'll see another increase this season? His best case would be to solidify his role on the top line by scoring 50+ points and establishing even more chemistry with Larkin and Mantha. This is the situation that every Red Wings fan is rooting for.
Worst Case: He's slow out the gate and gets pushed down the lineup in favor of more productive players. Of the first three players mentioned, Bertuzzi would be the first to be removed from the top line. Head coach Jeff Blashill might switch up his lines if or when the team struggles offensively, and that's when Bertuzzi could fall off.
Vladislav Namestnikov (Center, Age: 28)
Best Case: Namestnikov stays on the second line all season, whether it be on the wing or at center, and puts up at least 25 points. He scored the same in 54 games with the Ottawa Senators last season before he was traded at the deadline. He should be a top-six player in 2020-21 and could earn some time on special teams as well.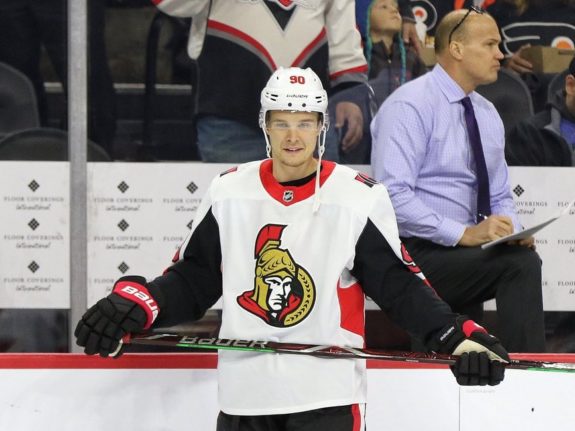 Worst Case: His woes on defense continue, and he falls out of favor with the coaching staff. The Red Wings coaching staff thinks highly of him, but if he turns the puck over quite a bit or loses a significant number of faceoffs, Detroit will push him down the lineup to a bottom-six position.
Robby Fabbri (Center, Age: 24)
Best Case: Fabbri follows up his 31 points in 52 games from last season by scoring similar totals in 2020-21. If he has 36 points, evenly split between goals and assists, I'd be really happy. He looked right at home with the Red Wings after the St. Louis Blues traded him in Nov. 2019, so I'm hoping he continues to be bright spot within the organization.
Worst Case: He leaves his groove back in 2020 and only puts up 10 or 15 points this season. Fortunately, his versatility will allow Blashill to use him where need be, but if he can't establish himself in the middle-six as he should, the Red Wings are going to have major problems.
Filip Zadina (Right Wing, Age: 21)
Best Case: He stays on the Red Wings for a full season and contributes 30, 35, maybe 40 points, at best. Everyone is expecting him to break out at some point, and even if it doesn't happen this season, I won't be selling my Zadina stock. He'll be fighting to hold the second-line right-winger spot with Bobby Ryan for most of the season.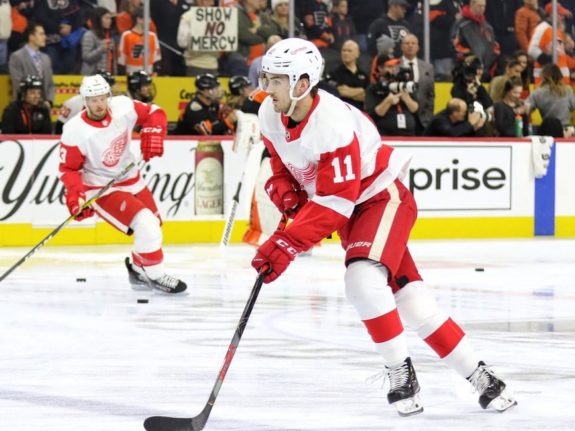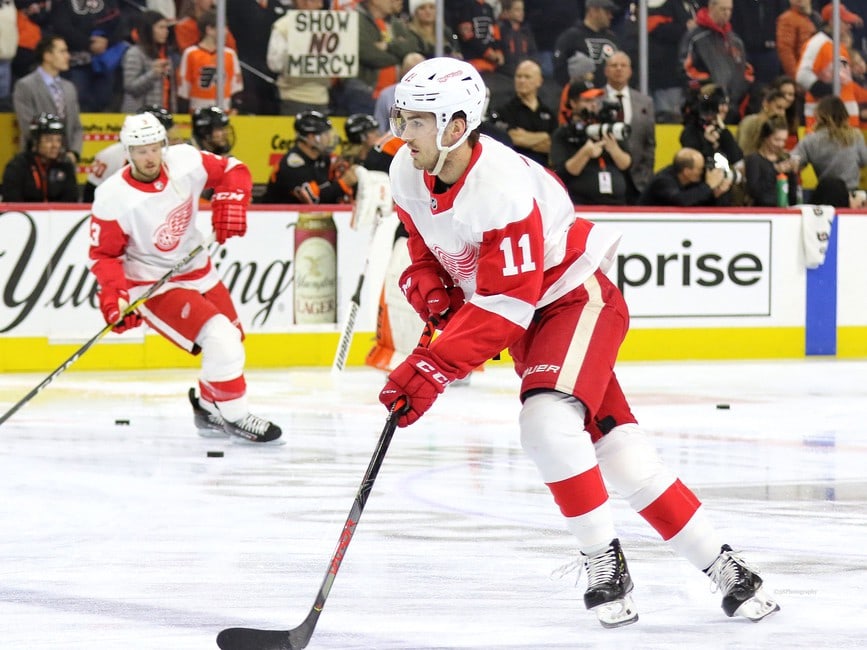 Worst Case: Zadina can't maintain a spot on the top two lines and is sent to the taxi squad or Grand Rapids. There's no point in having him play a bottom-six role where he'll just get beat up for 15 to 20 minutes a night. He should be with the Red Wings for the entire season, and he will only be taken off the main roster if he's an absolute flop.
Mathias Brome (Left Wing, Age: 26)
Best Case: Brome is projected to start on the third-line left-wing, and if he's still there at the end of the season, I'll consider that his best-case scenario. He signed with the Red Wings as an undrafted free agent last April, after he finished 6th in SHL scoring in 2019-20. I don't see him being a top-six player this season, so I'd love to see him thrive on the third-line.
Worst Case: Brome doesn't fit with the NHL game and is sent down to the taxi squad or Grand Rapids. Like Zadina, he is waiver exempt, so there isn't that worry about someone claiming on via waivers. Although, he is 26 years old, so there could be another team out there willing to trade for Brome but at this time, it's unclear what his value is since he hasn't played in an NHL game.
Valterri Filppula (Center, Age: 36)
Best Case: He holds his own as a third-line center and is an effective penalty-killer. Filppula is surely done with the Red Wings after this season, which will be nice from a cap standpoint; management can use his $3 million cap hit to get a better player for next season. A team might be willing to trade for Filppula if the Red Wings agree to keep half his salary (I can't see a GM paying full price for him), and if Detroit could squeeze a draft pick for him, I'd be happy.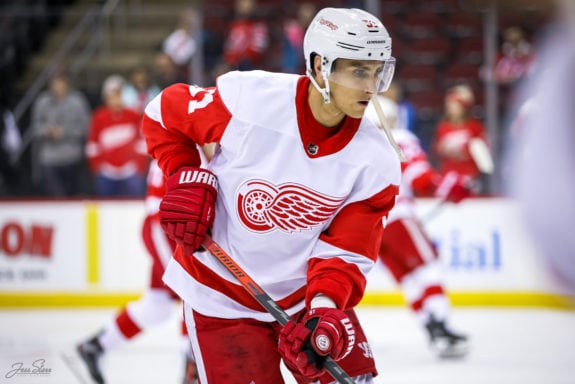 Worst Case: Filppula has a "Frans Nielsen" drop off, and he gets replaced in favor of someone younger and/or cheaper. I don't know that general manager Steve Yzerman would want to bury his salary in the minors, but that would be the most extreme way for Filppula's career with the Red Wings to end.
Sam Gagner (Center, Age: 31)
Best Case: Gagner re-signed with the Red Wings for $850,000, and I expect him to be another bottom-six forward who can fill in on special teams when needed. He had 12 points in 36 games with the Edmonton Oilers last season, so if he scores 15 points or more this season, I'll be thrilled.
Worst Case: He struggles offensively while failing to win any faceoffs, which causes Blashill to lose faith in his system of rolling four lines. He has a small enough cap hit that the Red Wings could move him, but I don't think they brought him in just to lose him. Expectations aren't high, so it'll take some hard work for him to fail.
Adam Erne (Left Wing, Age: 25)
Best Case: He gets back to being the player who scored 20 points with the Tampa Bay Lightning in 2018-19 and was worthy of a fourth-round pick two years ago. After scoring just five points and posting a minus-28 last season, anything would be an improvement. Seriously, if he scores just six points and has a minus-27, I would be happier than I was in 2019-20.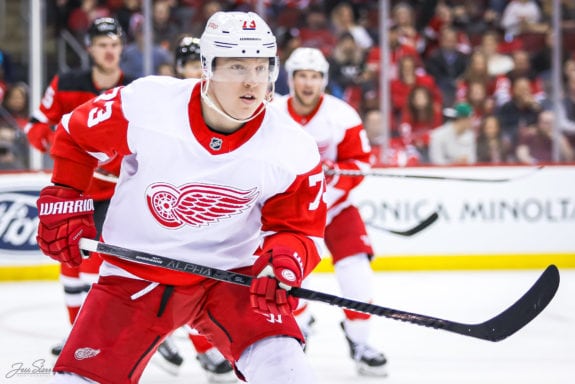 Worst Case: He posts another dud season, and the Red Wings get less in return than what they paid for him (a draft pick in the fifth, sixth, or seventh round or they let him walk). He has to earn a role above the fourth line because, so far, he hasn't shown that he's capable of more.
Luke Glendening (Center, Age: 31)
Best Case: Like Erne, I'll be happy if Glendening performs as he did in 2018-19 when he scored 10 goals and 23 points. That was in 78 games, so if he posts around 7 goals and 20 points, I will call that a successful season. I would also love to see him get a Selke Trophy vote again this season since he had the same number of votes as Leon Draisaitl last season. Mark that down among things you would love to see.
Worst Case: He fails to live up to his Selke Trophy hype and is sent down to Grand Rapids. Glendening is 31 and holds a $1.8 million cap hit, so if he has to clear waivers at some point this season, I won't be too worried about someone claiming him, and even if they do, the organization has enough center depth to replace him.
Frans Nielsen (Center, Age: 36)
Best Case: My greatest hope for Nielsen is that he's a quality depth guy on the fourth line, who scores on every shootout attempt and overtakes Jonathan Toews for the record. If you're expecting more than that from him, please stop living in 2014.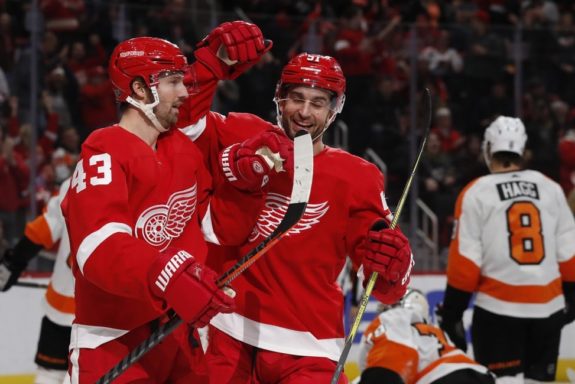 Worst Case: He gets even slower and has a bigger drop off from last season. He's 36, which is like 71 in hockey years, and the game continues to get harder for him with every passing day. Again, I'm hoping he can be a decent forward at this point, but there's no guarantee that happens.
Bobby Ryan (Right Wing, Age: 33)
Best Case: He's out day to day with an injury as of this writing, but if he gets healthy, the best case for Ryan is as a quality second-line right-winger. He has an opportunity to be a productive player, and he's just two seasons removed from scoring 42 points in 78 games for an awful Senators team.
Worst Case: He doesn't fit with the team, falls to a bottom-six role and/or misses a chunk of the season with injuries. Ryan should be motivated to bounce back, given how his career ended in Ottawa, and the Red Wings will offer him every opportunity to do so.
Michael Rasmussen (Center, Age: 21)
Best Case: Rasmussen asserts himself as the third or fourth-line center at some point this season. He's had 16 points in 18 games for Graz99ers of the ICEHL (the top league in Austria), and while I'm not expecting those point totals, seeing Rasmussen score 10 points this season would be nice.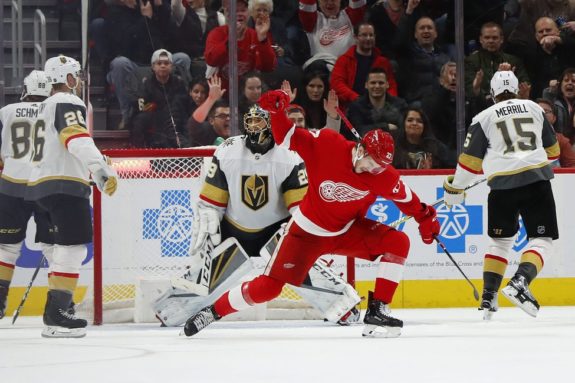 Worst Case: He spends the season on the taxi squad and gets to know what it's like to be with an NHL team for a whole campaign. He's only 21, so the jury is still out on him, but he might surprise some people if given the right opportunity.
Evgeni Svechnikov (Left Wing, Age: 24)
Best Case: THW Red Wings writer Tony Wolak put it best in the season preview when he mentioned that his benchmark for Svechnikov was playing in at least 20 games and having a relative Corsi-for rating above zero. I would say that anything beyond that would be a successful season for the 24-year-old, who the franchise is running low on patience for.
Worst Case: He's stuck in Grand Rapids again and fails to earn a spot with the Red Wings. The worst-case with Svechnikov has already happened, and many people, including myself, expected more from the team's first-round pick in 2015 before now. Maybe this will be the season he turns it around, but we'll see.
Givani Smith (Left Wing, Age: 22)
Best Case: He secures a full-time role in the starting lineup and puts up 10 points this season. He's starting 2020-21 on the taxi squad, so he'll be used in emergencies, but I'd love to see him get a regular spot. Coincidentally, he scored his first career NHL goal against Red Wings netminder Thomas Greiss.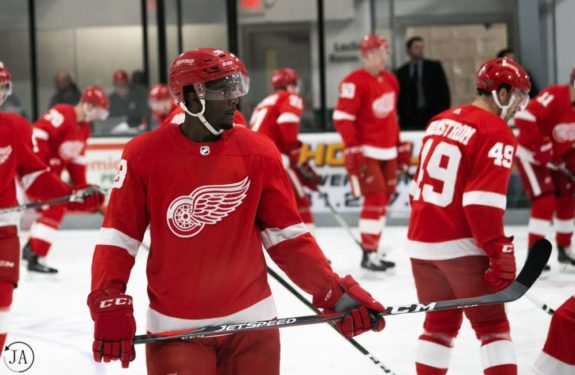 Worst Case: He's sent back to Grand Rapids and provides a critical role for the Griffins this season. I can't see this happening, but that's why it's the worst-case scenario.
Darren Helm (Center, Age: 33)
Best Case: Helm's season is more of a TBD as he's been designated "unfit to play" ahead of the Red Wings' season opener against the Hurricanes. This is absolutely the worst for Helm, and we wish him all the best as he returns to health.
Worst Case: See above.
Riley Barber (Right Wing, Age: 26)
Best Case: He turns into Pavel Barber and starts posting cool trick shots on Instagram, gaining hundreds of thousands of followers as a result. He's played in just 12 career NHL games, and even if he plays in half that number for the Red Wings, I'll consider it a successful season.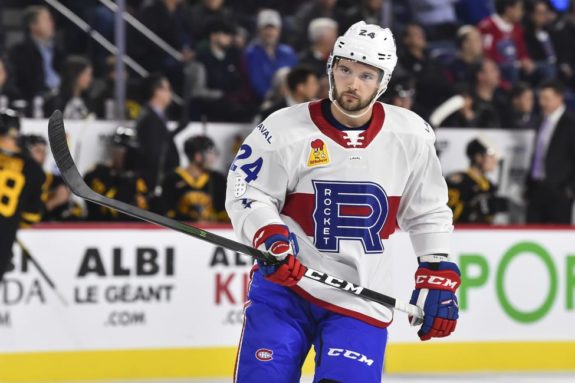 Worst Case: He becomes a regular player for the Griffins and leads them to a winning record. He's signed through next season, so he could be moved in a minor-league trade as well.
Kyle Criscuolo (Center, Age: 28)
Best Case: Criscuolo shines with Grand Rapids and plays in his first career NHL game this season. He was a member of the 2017 Calder Cup-winning squad with the Griffins, and that would be the peak of this season for him.
Worst Case: I hate to be mean, but if he was going to be a regular NHL player, it would've happened already. The worst-case for him is that he fills a role for Grand Rapids and leaves as a free agent at the end of the season.
Turner Elson (Center, Age: 28)
Best Case: He continues to be a leader in the Griffins' locker room as he was an assistant captain for them between 2017-19. If the Griffins are to have a good season, he'll be a significant reason why.
Worst Case: See Criscuolo's worst-case above.
Taro Hirose (Left Wing, Age: 24)
Best Case: Hirose suited up for 26 games last season (about a third of the Red Wings' season), so maybe he gets in 15-20 games this season? If he's in the lineup, he should fill a bottom-six role and give the Red Wings an "Energizer battery" burst. He's the most likely of the players at the bottom of this list to get an opportunity to play for Detroit this season.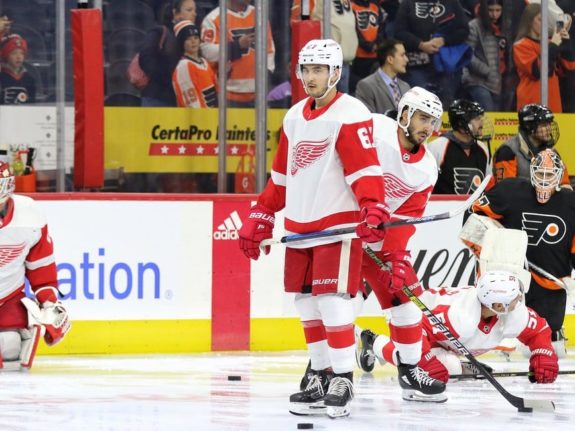 Worst Case: He sticks with Grand Rapids for the whole season and doesn't get any action with the Red Wings. Call it a regression from last season.
Chase Pearson (Center, Age: 23)
Best Case: He performs well enough with Grand Rapids that the Red Wings decide to give him another contract in the offseason, and he is invited back to training camp next year. Although, I want to give a quick shoutout to the Maine Black Bears of Hockey East, Pearson's alma mater.
Worst Case: He struggles with Grand Rapids (ie. scoring less than 15-20 points this season) and is let go at the end of the year.
Dominic Turgeon (Center, Age: 24)
Best Case: Turgeon has some NHL experience to speak of (nine career games over two seasons), so there's a world in which he could see some playing time with the Red Wings this season. However, he's likely to play for Grand Rapids.
Worst Case: He stays with the Griffins all season and performs marginally with them. He's an RFA after this season.
Final Thoughts
Similar to my piece on Detroit's defensemen, I have only discussed players who I think are part of the plan for this season. It doesn't appear that Lucas Raymond or Joe Veleno are in the team's plans for 2020-21, so that's why they aren't included. Next season should be better as many of the veterans move on and free up cap space. However, don't be shocked to see another tough season where the Red Wings struggle to score goals outside of their top line, and they drag behind in the newly formed, wide-open Central Division.
Want more Red Wings content? Tune into The Hockey Writers' Grind Line — a new weekly live show on YouTube and Facebook. We stream Friday nights starting at 8:00 pm ET on The Hockey Writers YouTube channel. Check out this week's show below, and make sure you subscribe to the channel so you don't miss any upcoming shows.
---
---
Currently writing about the Detroit Red Wings for THW
Content Creator for Speak Your Peace