Welcome to Red Wings Wednesday Weekly! In this weekly column, we will take a look at the Red Wings' most-recent week of play, identify any players and/or trends that stood out, and then look ahead and find out what the next week may have in store for the team from Hockeytown. As always, feel free to share your thoughts in the comments section down below.
Last Thursday was a good day for the Detroit Red Wings, who defeated the Tampa Bay Lightning 6-4. It was their only win of March and arguably been the highlight of the season. Then, on Tuesday night, the Wings were a bunch of jerks to the Carolina Hurricanes, as they pulled off the 4-2 upset at Little Caesars Arena. With March Madness just around the corner, all felt right in the world when Hockeytown got to have their cinderella moments in the last six days so let's breakdown the week where Detroit brought the noise with their performance.
Low Voltage in Detroit
3/11 vs. Tampa Bay; Win, 6-4
In their title track "Ride the Lightning" by Metallica, lyrics include "This can't be happening to me". I'm pretty sure that's how most Red Wings' fans felt after the final horn blew on Thursday as they defeated the league's best team by points percentage. Sure, Curtis McElhinney got the start instead of Andrei Vasilevskiy, so you could argue that it wasn't "truly" beating the Lightning, but a win is a win.
Eleven different players got points for the Red Wings in the game, including an impressive three-point performance from Anthony Mantha. He put home a goal and two assists, including passing up on the empty-netter so Vladislav Namestnikov could score his first goal since February 15th.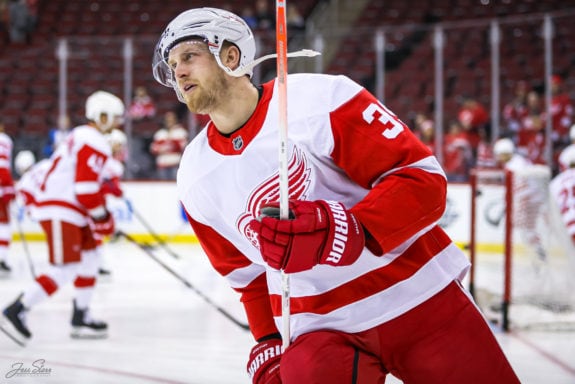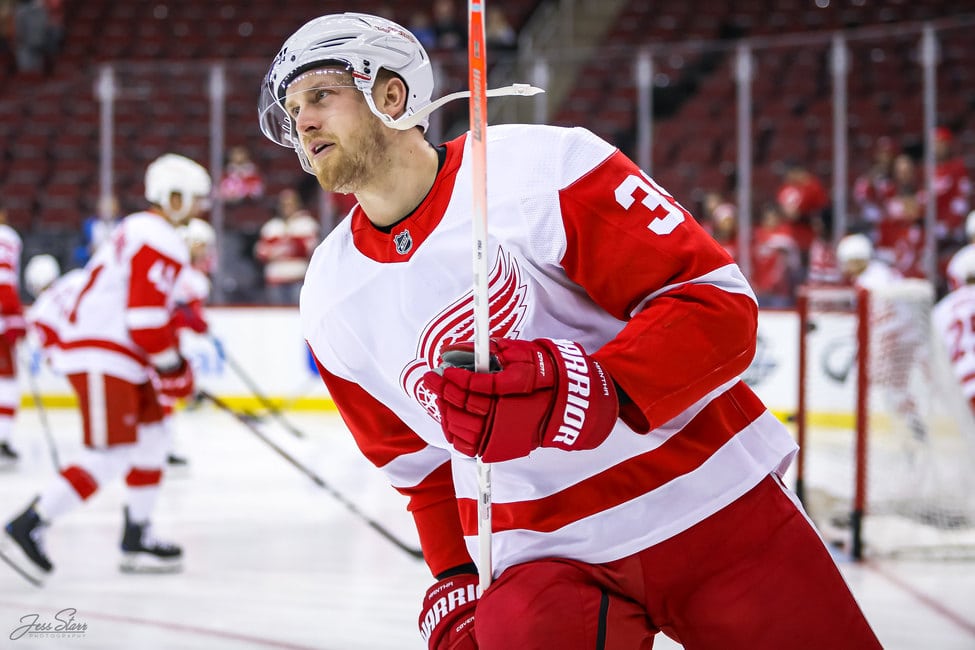 It wasn't a perfect performance by any means, but taking three out of a possible four points against the defending Stanley Cup champions is not something anyone should be upset with.
Overall Grade vs. Tampa Bay: B+
Splitting the Difference with the Canes
3/14 vs. Carolina: Loss, 2-1
3/16 vs. Carolina: Win, 4-2
Sunday's performance against the Canes was an underwhelming one for the Red Wings. Without Vincent Trochek (who's missing time due to an upper-body injury) and Petr Mrazek, who didn't make the trip because of a thumb injury, there was some hope that Detroit could pull off a massive upset. However, credit to Alex Nedeljkovic for making 25 saves and nearly shutting out the Wings until Anthony Mantha scored with 10 seconds remaining. This was the embodiment of a Hurricanes-type win, as they put the pressure on defensively and limited Detroit's scoring chances all-game.
Tuesday night was what Red Wings' fans had in mind when they saw Trochek and Mrazek out of the lineup. Adam Erne showed us what his peak performance looks like by scoring two goals in the first period, both coming on the powerplay. He took home the first star of the night, with Jonathan Bernier stopping 35 of 37 shots, including the beautiful diving save above, to earn second-star honors. To top off this outstanding team performance, Filip Hronek scored his first goal of the season, which was a shot from behind his own net into the empty Hurricanes net. It was a great all-around effort from them and you got to love seeing Detroit winning two of their last three games.
Overall Grade vs. Carolina: B+
3 Takeaways From Last Week's Games
1. This Is a Better Team than Last Season
Last week's games weren't the first time I've thought this but it's worth mentioning after the last seven days. You might look at Detroit's record and their position in the Central Divison and just assume that this team is still awful. It's a weak take, but I get how someone makes that conclusion.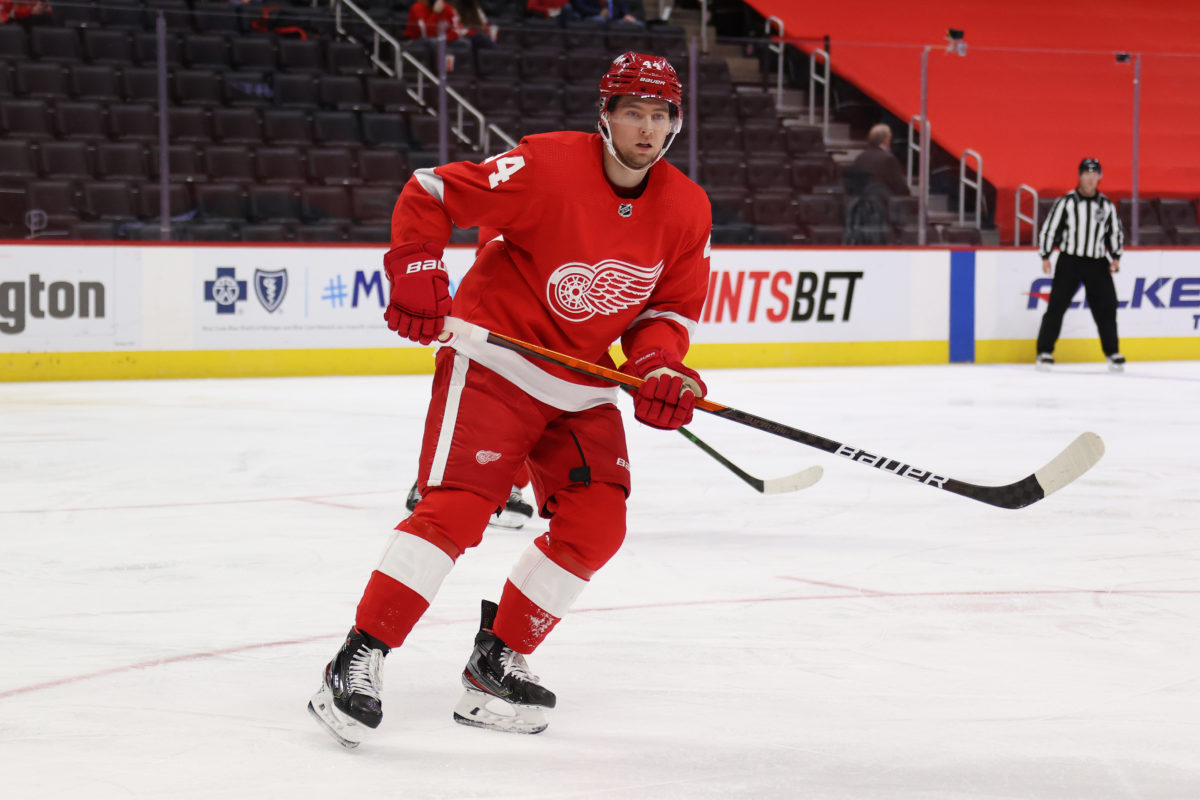 If you watch the Red Wings regularly, you'll notice a difference between this season compared to last season in terms of competitiveness. We mentioned this on the last episode of The Hockey Writers 'Grind Line' about how Detroit seemed to play only 20 solid minutes of hockey in a game last year and then struggle for the rest of the game. So far, in 2020-21, they're playing 40 minutes of good hockey and having a really bad period of hockey.
It's not like the Red Wings are a playoff team or that great of a team yet. But it's a small improvement that you like to see as this team goes through a major rebuild. They are currently 1-5 in one-goal games and 0-13-2 when trailing after two periods, so there is room to grow and get better in critical situations. But since there is no rush or pressure to win now, it's not the end of the world if they don't those figures around this season. Just the slightest progress is great and that's what we're seeing right now from the Red Wings.
2. Jonathan Bernier Deserves More Respect
This is following my article about why the Red Wings goaltending has been their biggest bright spot this season and I still believe this take. Bernier has stopped 105 of his last 113 shots, which have all came against the Lighting and Hurricanes. I don't know if any goalie has had a better three-game stretch against those two teams this season and if there's someone to keep your eye on in terms deserving more respect league-wide, it's Bernier.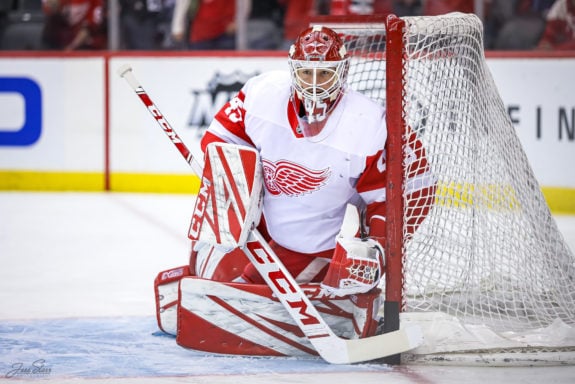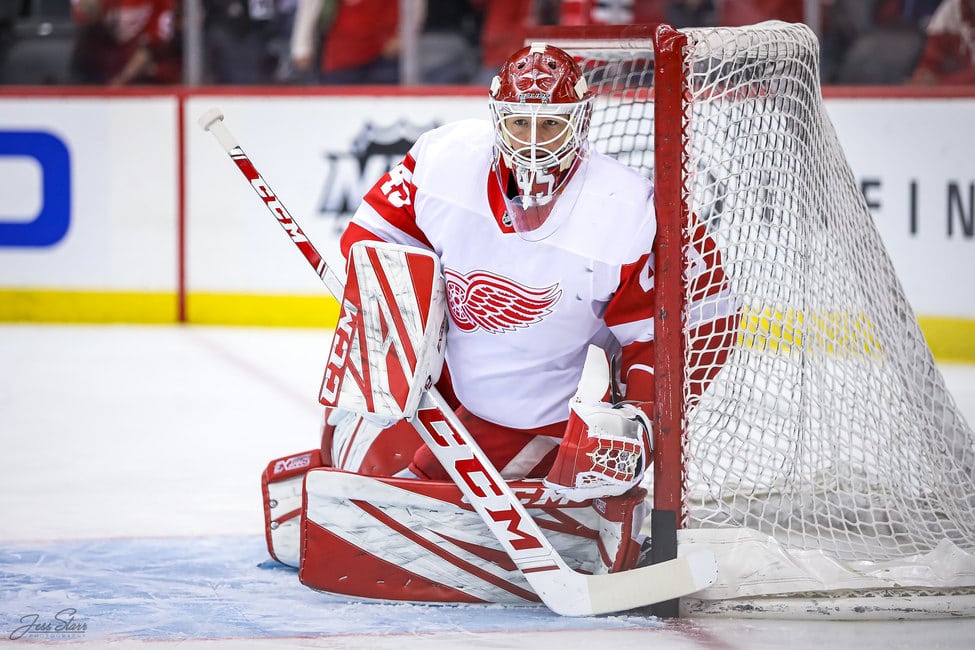 His performance is certainly helping his trade value should the Red Wings decide to move him before the Trade Deadline on April 12th. If you look at teams that have been struggling with 5-on-5 SV%, I wouldn't surprise to see contenders like the Philadelphia Flyers, St. Louis Blues, Colorado Avalanche, and Edmonton Oilers inquire about Bernier. The Oilers are in a bit of a tricky situation because of Canada's quarantine rules for entering the country, but for a fairly affordable $3 million cap hit, Bernier makes a ton of sense.
3. Donovan Sebrango Signed to Entry-Level Deal
Donovan Sebrango, a 3rd-Round pick for Detroit in 2020, was signed to a three-year entry-level contract on Sunday. This isn't related to the main roster but it is noteworthy for the Red Wings prospect pool and the team's rebuild. He currently has one assist in 10 games for the Grand Rapids Griffins of the AHL but hasn't had consistent playing time in the last year. He made five appearances with HK Levice in Slovakia's second-tier league early this season and also participated in Team Canada's Selection Camp before this year's World Juniors.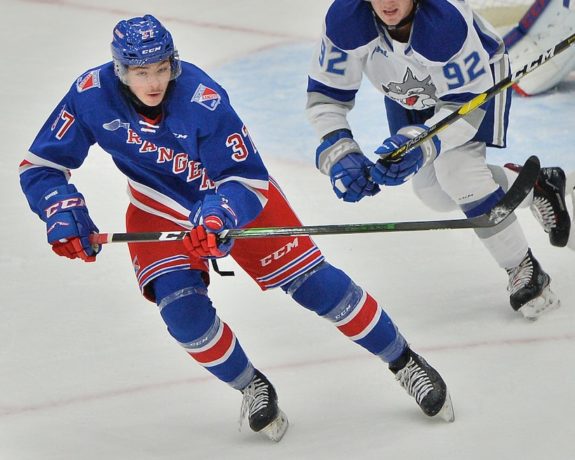 In 56 games with the Kitchener Rangers of the OHL in 2019-20, Sebrango scored six goals and 24 assists for 30 points. His best asset appears to be his skating ability as that's something the Red Wings could use a lot more of on the back end. Sebrango probably won't get called up to Detroit for at least another year and, if things go well, could be regular in 2023 when this team is more competitive than they are now. It's a smart signing for both sides that will hopefully lead to big things down the road.
Upcoming Matchups
Dallas Stars (3/18, 7:30 PM ET; 3/20, 7:00 PM ET)
Statistical Leaders (25 games):
Goals – Joe Pavelski (14)
Points – Pavelski (27)
Wins – Anton Khudobin (5)
Save-Percentage (SV%) – Jake Oettinger (.917)
No team has gone through quite the roller-coaster of a season like the Dallas Stars have. Between a pre-season COVID-19 outbreak within the locker room, a winter storm wiping out four home games, and missing three major players (Ben Bishop, Tyler Seguin, and Stephen Johns), it's been a wild ride for the Stars. This a great opportunity for the Red Wings to score some goals and get some points against a team that has been struggling recently.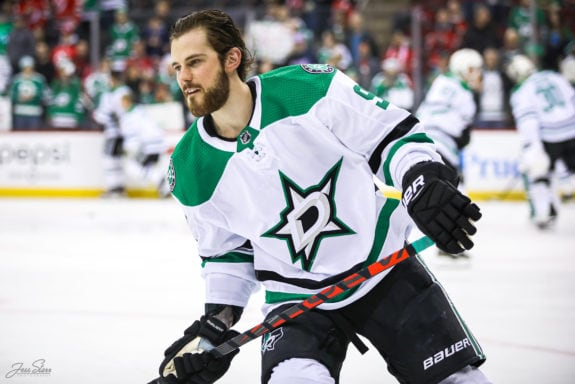 These teams haven't met since late January when Dallas outscored Detroit 9-4 in two consecutive games. Over those two games, Denis Gurianov had one goal and four assists for five points, making him a threat to score anytime. However, everything seems to be going through Joe Pavelski, who has more goals than Jamie Benn, Alexander Radulov, Esa Lindell, Miro Heiskanen, and Blake Comeau combined so far in 2020-21. While leaning on younger talent hasn't totally worked out for the Stars this season, they're certainly no slouches ahead of their battle with the Red Wings.
@ Nashville Predators (3/23, 8:00 PM ET)
Statistical Leaders (29 games):
Goals – Filip Forsberg (10)
Points – Forsberg (27)
Wins – Pekka Rinne (7)
SV% – Rinne (.899)
Of all the teams the Red Wings have had the most success against, it would be the Nashville Predators. Detroit has a points percentage of .500 against Nashville with a record of 2-2. With the two teams meeting on both Tuesday and Thursday, this is a great opportunity for the Wings to steal at least two, if not, four points, against one of the league's most underwhelming teams.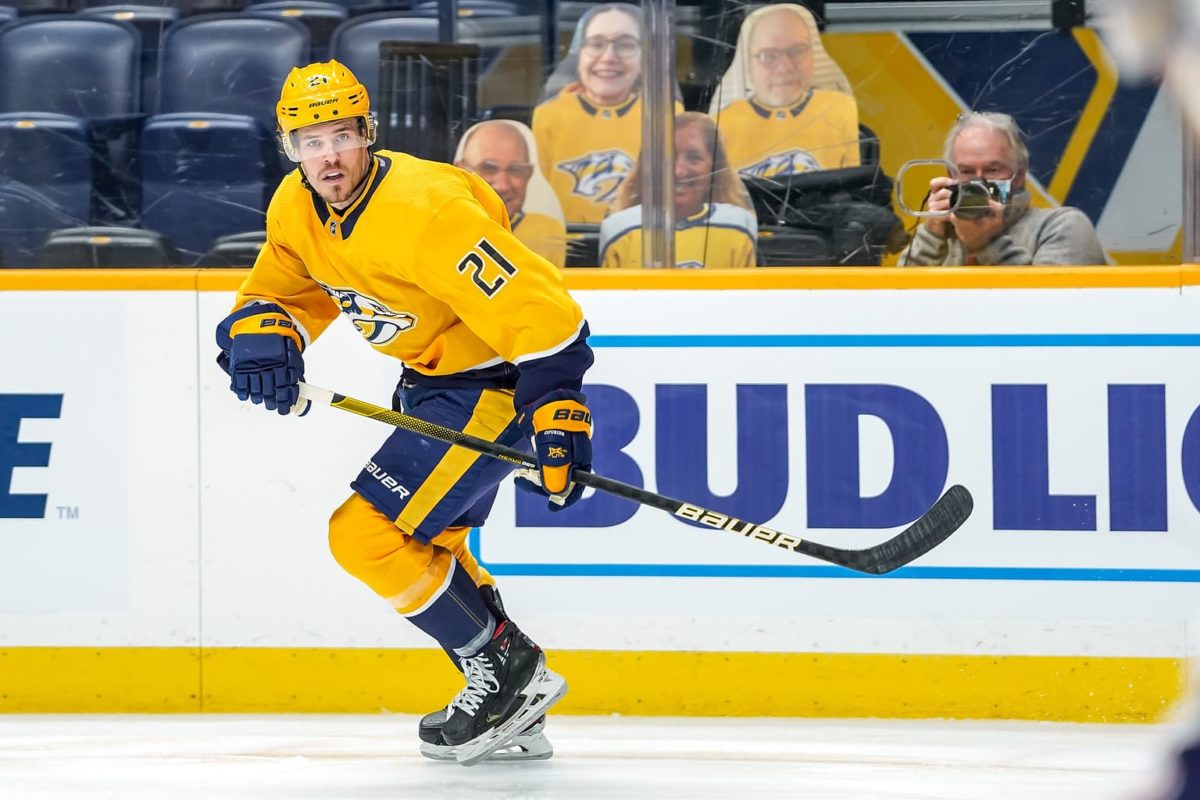 The Preds are coming off a nice 4-1 win over the Lightning on Monday. It was their first victory against a team with a winning record since February 4th and their only win against Tampa Bay in six games this season. Nashville is in the midst of an eight-game road trip, which includes three games in four days and a back-to-back on March 20th and 21st. By the time they face the Red Wings, they might be thankful for the time off and to be back on home ice. Definitely, something to keep an eye out for next week.
Players to Watch
I'm going to go with one of the most exciting young players in Miro Heiskanen for the Stars. He's had a weird season, when you look at his analytics, as he has two goals and 13 points, but just a -0.6 relative Corsi for percentage at even strength. CF% relative is what your on-ice Corsi for percentage is minus your off-ice Corsi for percentage and to put it in perspective, Heiskanen's figure is lower than both Nikita Zadorov and Pierre Engvall. It'll be interesting to see how he performs against the Red Wings.
With Nashville, I have to go with Dante Fabbro as someone to watch. On February 11th, Fabbro scored the game-winning goal with one minute left to beat the Red Wings 3-2. It was a bitter pill to swallow since Detroit was in that game until the very end and felt like one the Wings could've won. With trade talks heating up in the Music City, including several notable names like Matias Eklholm and Mikael Granlund, I'm going to watch the former Penticton Vee star and see how he's performing heading into the trade deadline.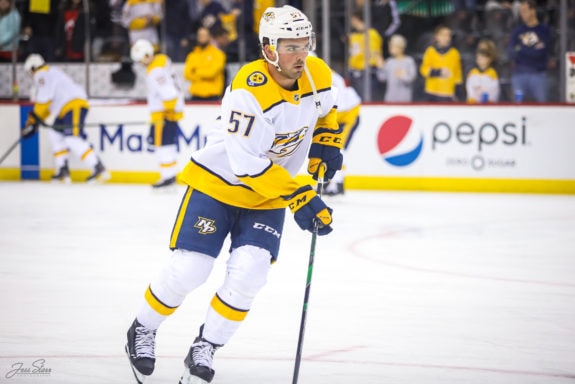 On the Red Wings side, I have to go with Adam Erne has someone to watch. As I mentioned earlier, Erne scored two powerplay goals (in the first period!) Tuesday against the Hurricanes and has seven points in his last 10 games. If the hot streak continues and the former Lightning forward is still contributing offensively, there's a world in which Detroit could get something for him at the Trade Deadline. I wouldn't count on it, but stranger things have happened.
Final Thoughts
This might be the best stretch of hockey we've seen from the Red Wings this season. Coming off wins in two of their last three games, against two of the league's best teams, there is a lot to be excited about if you're a fan of that team. Don't be surprised if this success continues against some of the weaker teams in the Central Division and if Detroit can maybe (just maybe) get out of the basement. It's going to be awesome to watch.
Want more Red Wings content? Tune into The Hockey Writers' Grind Line — a weekly show on YouTube and Facebook. Check out our most recent show below, and make sure you subscribe to the channel so you don't miss any upcoming shows.
---
---
Currently writing about the Detroit Red Wings for THW
Content Creator for Speak Your Peace