The Los Angeles Kings are a team that has largely been built the right way — through the draft. The following players are either locks for the roster (barring a trade) or have a good chance to make the team after having been selected either by former GM Dave Taylor or current general manager Dean Lombardi: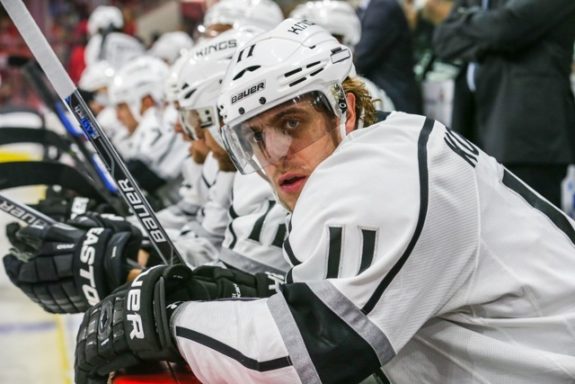 -Dustin Brown
-Anze Kopitar
-Jonathan Quick
-Trevor Lewis
-Alec Martinez
-Dwight King
-Drew Doughty
-Kyle Clifford
-Derek Forbort
-Tyler Toffoli
-Andy Andreoff
-Nick Shore
-Michael Mersch
-Tanner Pearson
That's fourteen players taken through the draft either certain or likely to be on the 23 man roster when the season begins on October 12th against the San Jose Sharks. Considering the fact that the Kings have been in the pantheon of the NHL elite since their first Stanley Cup back in 2012, that's a pretty good track record.
Draft Capital at a Premium
Being a championship-caliber club has its drawbacks, however. Inevitably, there are salary cap challenges in trying to keep the team together. Another drawback is the amount of draft capital expended to acquire players during the offseason or at the trade deadline in order to keep the good times rolling. Both were in full display with respect to the acquisition of Milan Lucic, along with the recent reports that the power forward will not be re-signed.
Despite the assets expended over the past five years, hope springs eternal in the form of the 2016 draft. The Kings didn't have a first round selection and were limited to just four picks as well. How did they do? Read on.
51st Overall: Kale Clague
The Hockey Writers ranked the 6'0″, 177-pound defenseman as high as a very late first round pick, so the Kings appear to have done well in terms of value with respect to their late second round selection. Clague's biggest asset is his skating, which not coincidentally, is probably Los Angeles' greatest need.
Check Clauge out in this clip. He may need to fill out, but he already has the type of edge to his game the Kings like:
He's considered to have strong passing skills (37 assists last year for the Brandon Wheat Kings) and superior vision, in addition to his top-tier skating. He plays "bigger" than his actual size and although he doesn't have a hard shot — yet — it is nevertheless accurate and leads to rebound opportunities. That fits the Kings playbook to a tee.
Considering where he was selected and how many boxes he checks, this was a very solid selection.
Grade: B+
112th Overall: Jacob Moverare
After waiting 50 picks to make their first choice, Los Angeles had to sit through another 61 before selecting Jacob Moverare, a large-bodied (6'3″, 198 pounds) left-handed defenseman who possesses a unique combination of size, mobility, stickhandling and maturity. Per Dennis Schellenberg's report in The Hockey Writers this past April:
He is not only very mobile on his skates, he is also possessing smooth hands and can stick-handle the puck very well. He is a calm puck carrier and can move the puck smoothly and often uses a toe-drag to buy himself time when under pressure by fore-checkers. Moverare is a decent three-zone-player as he works efficient at both ends of the ice and can be used in both special team units.

Especially on the power play, Moverare is a dangerous shooter from the blue line. He possesses a powerful shot from the point and uses all of his shot arsenal. He shows good timing when he uses his heavy shot and is excellent on one-timers.
This is a fairly long highlight video, but it displays his offensive skills, footwork and a surprisingly accurate snap shot, among other attributes:
Even with the offensive instincts, Moverare profiles as a stay-at-home defenseman with second-pairing upside. THW had him going late in the second round, so once again it appears that the Kings did fairly well in the value department with this selection.
Grade: B
142th Overall: Michael Eyssimont
In the fifth round, general manager Dean Lombardi added an offensive asset by picking Michael Eyssimont, a 6'0″, 192-pound left winger/center out of St. Cloud State University. While not possessing top-end skill (few fifth rounders do), he's the kind of guy that works his way into the right place at the right time, resulting in rebound putbacks and front-of-the-net opportunities:
Many of Eyssimont's goals this year came on easy put-backs right at the door step of the goal. But to dismiss them as easy goals would be to miss all the work Eyssimont does getting into the right spot, getting there at the right time, and gaining position and leverage on bigger defenders. That's no simple thing and shows his ability to think the game
Here's a perfect example:
Eyssimont was projected to go in the late fourth/early fifth rounds, so it's hard to call him a "value" pick. However, he's got a bit of a Mike Richards upside going for him: not a strong skater or possessing a great shot, but a right place/right time guy with leadership skills who plays at his best with the game on the line. Let's hope his personal life is decidedly more boring.
Grade: C+
202nd Overall: Jacob Friend
For their fourth and final pick, the Kings went back to the defensive well, selecting the hard-nosed defenseman in the seventh round of the draft. Michael Futa, the Kings' vice president of hockey operations and director of player personnel, said the following about Friend:
(He) is just an old throwback-type defenseman. Real hard-nosed. Competes. Kid is not afraid to muck it up. Kind of that Matt Greene mentality as far as an excellent penalty killer that will lay the lumber on you but defends well and just plays hockey the way it's supposed to be played.
At 6'2″ and 185 pounds, Friend has the frame of a prototypical NHL defenseman. Check out how well-spoken he is:
Late draft picks are a crap shoot at best, so it's hard to give this more than a passing grade. That said, he sure does have that "Matt Greene thing" going for him, doesn't he?
Grade: C