It's almost like an eerie feeling has set in upon Flyers fans.
Not because of the off-season doldrums. Not because Brayden Schenn still doesn't have a contract. And certainly not because the team will enter a season with a little bit of salary cap breathing room.
It's an unfamiliar feeling because here we sit, nearly three weeks into free agency and the Flyers haven't made any substantial moves.
That is a very far-fetched rhetoric for a team that has traditionally thrown big offers to the most sought after free agents each offseason. That's not to say the haven't been totally quiet. The two most notable signings were Dale Weise and Boyd Gordon, players who are really just there to bolster the back-end, something the Flyers really didn't need.
So with that being said, is Ron Hextall taking the right approach?
The Signings
As I mentioned in the open, the Flyers big "splash" was inking Weise and Gordon to contracts.
Weise is a guy who is a physical player and will bring some heat to the back-end, he had 27 points in 71 games last year, split between Montreal and Chicago. He has never cracked the 30 point plateau.
Gordon is a special teams guy who will probably be a large part of Hakstol's man down plan. His offensive game has taken a big tumble the past few seasons. Two seasons ago he cracked 20 points and last season he posted just 4 points in the 65 games he saw with the Arizona Coyotes.
Boyd Gordon is an understandable signing. He is effectively a Ryan White type player with more of a special teams upside and less of a risk of a dumb penalty. White had 101 penalty minutes last season, Gordon just 10. The Flyers also got him at a price that was manageable. He signed for $950,000, which ended up being $50,000 less than White signed for in Arizona.
But when you take a look at Dale Weise, you have to wonder, did the Flyers overpay?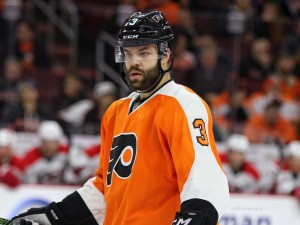 This is a Sam Gagner-esque experiment, the Flyers locked in Weise for four years, which seems excessively long for a player that fits into the role of a third or fourth line guy. Those guys are replaceable players. To put it into perspective, Marcus Foligno (very comparable to Weise), just signed with Buffalo under the same cap hit, but only for a year.
It makes you wonder if that will hurt the Flyers down the road.
Lastly, there's Radko Gudas.
I will say upfront that I'm a huge fan of the way he styles his game, and I think he's come a long way since the testy hits he was tossing around at the beginning of last season. He certainly deserved the money he was signed to, however, in the grand scheme of things, it may have been best for the Flyers to try to land him on a one-year deal or just let him walk.
Gudas is under contract until the end of the 2019-20 season, and one has to figure that by then, the Flyers black aces will be anchoring the blue line.
Ivan Provorov is looking like he may have a shot at the roster this year, Sam Morin is close, Travis Sanheim is only about a year away, Shayne Gostisbehere is already going to need a new contract after this season, and oh, by the way, Andrew MacDonald's $5-million cap hit is on the books until 2019-20 as well.
Put that puzzle together, and you will see that the Flyers could quite possibly have $8.25 million in cap space tied up in two defensemen on the third pairing.
Of course, it's not just who the Flyers did sign, but it's also who they missed out on.
Not Invited to the Party
In case you missed it, a few teams decided to turn the NHL upside down a few weeks ago and take everyone by surprise. Taylor Hall was traded to the New Jersey Devils, Nashville and Montreal casually swapped their franchise defensemen, and Steven Stamkos decided to stay in Tampa after all. Exhale.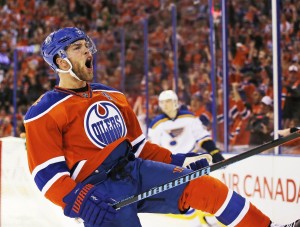 The Flyers weren't in on any of that.
That was fine, at the time, because free agency was still lurking around the corner.
But nothing really happened there either. So we were left to wonder, specifically about what the Flyers could have given up to get a guy like Taylor Hall.
To be fair, Adam Larsson is a solid defenseman, but a straight up swap for a guy like Taylor Hall is absolutely absurd. Hall tallied 65 points last year on a subpar Edmonton team. Don't forget he cracked 80 points just a few seasons ago as well.
As I said above, it really makes you wonder. Could the Flyers have given up one of their defensive prospects, or even a guy like Michael Del Zotto (and thrown in a pick for good measure) and landed Hall? It will leave you thinking in circles about "what could have been", but the potential for a deal had to have been there.
Couple that with the fact that Gudas and Weise (two easily replaceable players) were signed for nearly the same cap hit that Taylor Hall carries, that is something that will leave you in shock. Especially when talking about a guy like Hall, whose offensive talent is hard to come by.
Could you have imagined a line with Hall-Giroux-Voracek? Lethal.
Lastly, there're the missed opportunities in free agency.
It seemed to be Hextall's agenda from the beginning to lay low and watch things pan out, but once again, the Flyers could have easily made a run at one of these guys if they were interested in playing here.
A few weeks ago I wrote a piece detailing who would be a good fit for the Flyers.  They proceeded to sign none of these players (albeit two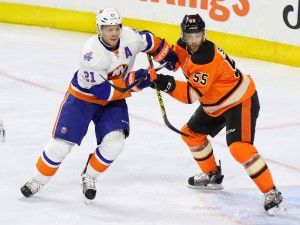 went back to their original team), but I'll stand by my original proposition, Kyle Okposo would have been an outstanding fit here.
Okposo has had fairly solid numbers on a dismal Islanders team over the course of his career, and as the team improved, he has become an even better player, even when playing in the shadow of John Tavares. He's netted north of 60 points in two of the last three seasons and brings a physical side as well standing at 6 foot and 217 pounds.
It hurts even more when, once again, the Flyers could have afforded him. Okposo, like Hall, signed in Buffalo with a cap hit of $6 million per year. That would have been completely manageable for the Flyers had they left out Gudas and Weise.
There is also Mikkel Boedker, who in my opinion was arguably the steal of free agency. Boedker was fresh off a career-high 51 points last season (split between two non-playoff teams) and signed with San Jose for 4 years with a cap hit of just $4 million per year, something that the Flyers could have benefited immensely from and easily afforded.
If that doesn't make you scratch your head, then the Flyers not bringing back Sam Gagner will certainly make you scratch your head. Gagner was decent when he played, had much more of an offensive upside than Weise, and was signed for nearly the same cap hit.
All of the hockey talk in Philadelphia surrounds the upcoming defensive prospects, goalie issues, and current defensive issues. However, the most nagging problem all year was getting consistent scoring. That was what the Flyers needed to address most in the off-season and they didn't do it.
Of course, Travis Konecny is in the farm system, and guys like Nicolas Aube-Kubel have shown promise already, but by they could be a little ways away.
The Flyers missed the free agent party this season, so don't be surprised if the Flyers struggle to find the back of the net again.