Summer. For hockey fans, it always seems like an eternity between the end of the last season and the beginning of the next. Case in point: it's barely been thirty days since the Penguins hoisted the 2015-16 Cup, and not only does it seem like a distant memory to non-Pens fans, but the upcoming season is still nearly three months away.
And yet, although championships are invariably incubated over a period of years, summer is the most impactful team-building period an NHL franchise has at their disposal. Aside from the draft itself, teams exercise a flurry of moves designed to keep their cores together and/or land new ones. Or, conversely, blow things up and start all over again.
The Kings Offseason Moves
Despite having little cap space to work with, the Los Angeles Kings made their share of transactions this offseason. Some were inevitable (restricted free agent contracts), others fiscally critical (Lecavalier retiring), others unfortunate (Lucic moving on to the Oilers), and still others under-the-radar except to ardent Kings fans. Due to the tight cap, no big names — at least not yet — punched one-way tickets to Hollywood.
As with virtually anything, it's impossible to say with certainty which moves will end up being successful. However, we're here to give it our best shot.
Thus, the following are the five transactions most likely to pan out for the Los Angeles Kings this season — and why.
Trevor Lewis Signs a Four-Year Extension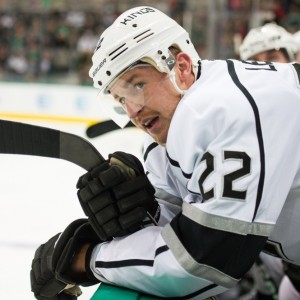 Selected #17 overall in 2006, Lewis will never put eye-popping numbers on the stat sheets (ironically, Milan Lucic was drafted #50 that same year), but he's been a key contributor on the lower lines and the penalty kill, to the point where he averaged 14:34 ATOI last season. He'll throw the body around (168 hits) and had excellent possession numbers (55.7% CF, 57.4% FF).
Why this makes sense for the Kings: With a cap hit of $2 million over the next four years, the signing of Lewis didn't make much noise, but he is the type of important cog every championship-caliber team needs to have on the roster.
Patrick Bjorkstrand Signs a One-Year ELC
Bjorkstrand has decent size (6'0″, 192 pounds) and hands, is just 23 and tied for second on Zagreb Medvescak of the KHL for goals scored (13) last season. He inked a one-year, $667,000 deal.
Within his arsenal is an impressive nice wrist shot:
He probably won't see time with the big club this season, but notice that I never said that was a prerequisite. He's young enough to be under club control for several more seasons.
Why this makes sense for the Kings: After expending draft capital on trades designed to improve the team's playoff chances, this past draft was the skinniest the team has had in years. Low-risk signings like this help fill the coffers, and Bjorkstrand has enough skill to warrant watching closely.
Brayden McNabb Re-Signs for Two More Years
After being stuck with untradable long-term contracts like Mike Richards and Dustin Brown, it's nice to see general manager Dean Lombardi minimizing risk. McNabb has a somewhat unfair reputation for ill-timed passes, but is otherwise solid defensively, averaging 18:49 of ice time last season. He slots in as a decent number four defenseman.
Why this makes sense for the Kings: With McNabb carrying a cap hit of just $1.7 million, Lombardi made a value signing while keeping a proven younger player — and, by extension, the defense — together for the foreseeable future.
Ted Purcell Returns to Los Angeles
Although this transaction was reminiscent of the type former general manager Dave Taylor used to make, it's actually a pretty shrewd gamble. Purcell is still just 30 years old, and albeit unlikely to crack 15 goals, can feed shooters like Jeff Carter, Marian Gaborik and others with aplomb.
Check out this beauty of a pass from a couple of years ago:
Why this makes sense for the Kings: As I pointed out last week, Purcell will not replace the impact Lucic had last year, but he's another value signing that should translate into top-six minutes as well as plenty of time on the power play.
Darryl Sutter Remains in Los Angeles
By far the most important offseason move was one that for a brief time King fans fretted over: the re-signing of head coach Darryl Sutter Reportedly, it's a two-year deal with an option for a third season.
Without question, Sutter is not only the greatest head coach in team history but one of the best in the entire league. He may raise eyebrows with some of his interview answers, but of all the moves made this summer, this was by far the most important.
Welcome back, Coach.
Walter McLaughlin is a Los Angeles Kings correspondent for The Hockey Writers. He is an avid sports fan, having followed the Kings since living in L.A. in the mid-1970's, as well as suffering through Seattle sports teams' general futility. He has a Bachelor's degree in Finance and has worked in community banking for over 25 years, specializing in SBA loans. He is married and has two daughters.