The newest OHL Rundown features all the latest news from last week in the Ontario Hockey League.  Featured in the October 11th released includes Aaron Ekblad reaching a personal milestone, a look inside the 2012 NHL goaltending crop and a Sarnia Sting sniper not named "Yakupov".  Read on to catch up on all things OHL.
TOP 10 SURPRISES OF THE OPENING WEEKS
Head on over to ohlprospects.blogspot.com and check out this excellent read on ten surprises during the first few weeks of the OHL season.  The crew mentions the strong starts of several surprise teams, players who are struggling, players who are thriving and some other great observations.
AARON EKBLAD NOTCHES FIRST OHL GOAL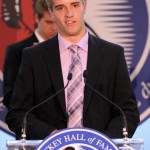 The guys over at thescoutingreport.com released an article titled, "Aaron Ekblad: The Real Deal" on October 8th and on the same day he decided to finally post his first career OHL goal versus Niagara.  The tall defenseman took seven games to post that first career goal (and point).  Expectations remain high for the kid who received "exceptional status" from the CHL but Ekblad is taking a game-by-game approach and appears to be adjusting well.   Aaron Ekblad: 7GP – 1G- 0A-1P, -1, 6 PIM.
DEAR NHL, PLAY OUR OHL STARS OR GIVE THEM BACK!
The OHL is currently without two tremendously talented "Ryans" as Ryan Strome and Ryan Murphy both remain with their NHL clubs.  Neither Strome nor Murphy have suited up for the Islanders and Hurricanes, respectively, and have been watching their teams play from the press box.  Yahoo! Sports Neate Sager covers the situation in Isles might not play Strome before return to 'Dogs.
2013 DRAFT CLASS OUTSHINING 2012 THUS FAR IN OHL
Trevor Miller of IntheOBloggers discusses how several 2012 draft eligible players have struggled in the opening few weeks of the OHL while some notable 2013 draft prospects have stolen their spotlight.  The season is early but there are some OHL players eligible for the 2013 draft that fans should be excited to see come to their towns.
2012 NHL DRAFT WATCH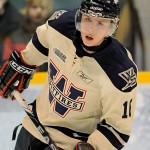 Spitfires Kerby Rychel (F)
The IntheOBloggers' staff takes on a new task of constructing weekly scouting reports on 2012 NHL draft eligible players.  This past week's highlighted player is none other than Windsor Spitfires' Kerby Rychel.  The son of ex-NHLer Warren Rychel, Kerby plays the game hard and is currently tied for the Spitfires' scoring lead (12 points) with Boston Bruins prospect Alexander Khokhlachev.
Greyhounds Matt Murray (G)
Don't forget about the 2012 goaltenders!  Greyhounds Matt Murray is off to a good start in Sault Ste. Marie posting a record of 5-2-0 with a 2.83 GAA and .909 save percentage.
FUTURE CONSIDERATIONS EXAMINES 2012 GOALTENDING CROP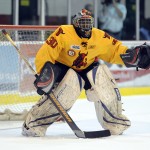 Dan Stewart discusses which goalies are strong candidates for the 2012 NHL Entry draft.  Future Considerations takes a look at several OHL tenders including Malcolm Subban (Belleville), Brandon Hope (Sarnia), Daniel Altshuller (Oshawa) among several other mentions.
COMING DOWN THE PIPE
Dean Millard posts his brief conversation with 2012 Draft Eligible Ottawa 67's defenseman Cody Ceci on his early success this season.  Ceci is a player who I have personally been hyping as an early draft riser for next year's NHL draft.  Ceci should be on everyone's radar as a player to watch and the young defender could fight his way onto Team Canada's World Junior squad if he continues his stellar play.
WHO PASSED ON ZACH HALL?
Zach Hall was passed over in last year's 2011 NHL Entry Draft by all 30 teams and he seems to have taken offence to those snubs.  Zach Hall is one part of the dominant line tearing up the OHL in Barrie.  Hall currently has 18 points in seven games and sits in second place behind teammate Tanner Pearson.  Hockeyprospect.com has all the information you need to get to know Barrie Colt Zach Hall.
THERE'S A LOT TO LIKE ABOUT THE LONDON KNIGHTS
Last week the CHL released its BMO Top 10 CHL Rankings and sitting atop was the squad from the beautiful city of London.  The Knights are off to a great start (6-1-0) and in first place in the Western Conference.  The London Free Press has a good article("Knights putting up promising numbers") highlighting how good the scoring has been this season comparing them to the Patrick Kane days.
SNIPER REID BOUCHER – SNAKEBITTEN or HAT TRICK SCORER?
How about both.  Reid Boucher had six or seven prime scoring chances on Friday night when the Sting hosted the Oshawa Generals.  There were several chances where known sniper Reid Boucher missed wide open nets and was not able to cash in on the "gimmie" goals.  Boucher did score in the Sting's 5-2 win but he could have had 6 or 7 goals (See "Three-goal third leads Sting to win").
Less than 24 hours later, Reid Boucher redeemed himself and came out a firing.  The Sting forward scored Sarnia's first three goals to earn his first career OHL hat-trick and looked extremely well in the 4-3 win over Kitchener.
NO ALEX GALCHENYUK.  NO PROBLEM FOR YAKUPOV
The Sarnia Sting have posted four straight wins and remain undefeated in the month of October and this past weekend's three wins came without the services of three significant players – Alex Galchenyuk (knee), Brett Ritchie (arm) and Connor Murphy (knee).  Fortunately, star forward Nail Yakupov has continued his strong play from last season's strong performance.  Yakupov has posted back-to-back three point games with his latest coming Monday afternoon when the Sting came back from a 3-0 deficit to defeat the Windsor Spitfires 4-3 in overtime.  Video of the Sting comeback can be found here. Yakupov currently has 5 goals, 11 assists and 16 points in seven games played.
The Sarnia Sting have a big weekend coming up as they face Saginaw, Plymouth and London – all conference rivals.
SIGHTS FROM THE OHL
Live from my BlackBerry – Taylor Carnevale's Penalty Shot Goal from Sarnia's Friday night 5-2 win.  Taylor had 2 goals and an assist.

FIGHT:  Brendan McCann (Windsor Spitfires) vs. Dane Fox (London Knights)

Neate Sager's BTN Slater Koekkoek Video

TOP OHL SCORERS (ending Monday, October 10th)
1. Tanner Pearson (Barrie Colts): 7GP-7G-14A-21P
2. Zach Hall (Barrie Colts): 5GP-8G-10A-18P
T3. Colin Behenna (Barrie Colts): 7GP-5G-11A-16P
T3. Nail Yakupov (Sarnia Sting): 7GP-5G-11A-16P
TOP OHL DEFENCEMEN SCORERS
1. Matt Petgrave (Owen Sound Attack): 9GP-4G-8A-12P
2. Dougie Hamilton (Niagara Ice Dogs):  6GP-2G-9A-11P
T3. Cody Ceci (Ottawa 67's): 7GP-2G-6A-8P
T3. Matt Finn (Guelph Storm):  7GP-2G-6A-8P
 TOP OHL ROOKIE SCORERS
1. Max Domi (London Knights): 7GP-5G-5A-10P
2. Michael Clarke (Windsor Spitfires): 9GP-5G-4A-9P
3. Sergey Kuptsov (Mississauga St.Michael's Majors): 8GP-5G-3A-8P
 OHL PLAYER OF THE WEEK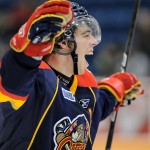 The Ontario Hockey League has announced that Erie Otter Greg McKegg (Toronto Maple Leafs' prospect) has been named the Player of the Week after posting seven (7) assists in two games.  More remarkably, McKegg earned an astonishing six (6) assists in Erie's 7-5 win over Owen Sound.  Those six assists were of the primary (first assist awarded) variety.
Congratulations Greg McKegg (and Maple Leaf fans)!
My passion for the game has led me to writing about hockey, specifically dealing with the future of hockey and it's prospects.
You can find more of my work at DobberProspects.com, TheHockeyGuys.net and OHLWriters.com
Outside of the rink, I enjoy spending time with my friends, golfing, kayaking and fishing as well as competing in several of my own hockey leagues.
If you so do choose, please feel free to follow my thoughts and work on twitter @RossyYoungblood