Now that a number of teams are out of the 2017 NHL playoff race, next on the agenda is how to handle the dominos that come from planning for the 2017 NHL Expansion Draft. One of the teams likely to lose a pretty good player is the Columbus Blue Jackets who are expected to go the route of protecting seven forwards and three defensemen. On the list of players, Columbus is likely to lose forward Josh Anderson if they can't figure out a way to protect him.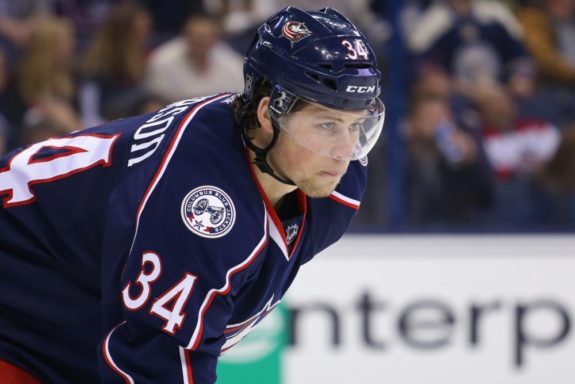 Why Anderson?
Brandon Dubinsky, Nick Foligno and Scott Hartnell all have no-movement clauses and would have to be protected. David Clarkson is exempt due to his long-term injury status and assuming the Jackets opt to protect Cam Atkinson, Boone Jenner, Brandon Saad and Alexander Wennberg, it leaves Anderson, William Karlsson and Matt Calvert exposed. The Jackets would have to choose between Anderson, Karlsson and Calvert.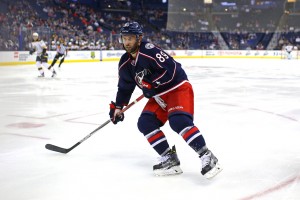 The Blue Jackets also have to determine where the team goes with the contracts of players like Sam Gagner and Alexander Wennberg.
Gagner was acquired this past summer at a cut-rate price of $650,000 and was among the team leaders in scoring this season. He will be a UFA in July and will definitely earn a raise thanks to the season he produced. Blue Jackets GM, Jarmo Kekalainen must also work out terms with breakout star Wennberg who produced 59 points in 80 games this past season.
As a result of all this juggling, Anderson becomes a question mark and potentially the most attractive option for the Vegas Golden Knights. As a question mark, the Blue Jackets may determine that trading the young restricted free agent (RFA) has better results than losing him for free — if that's how things play out. And it may, should Scott Hartnell choose not to waive his no-movement clause which the Blue Jackets will inevitably ask him to do.
Alternatively, should Karlsson be the trade bait, the Blue Jackets have to mindful of the return and potentially move the player who obtains them the most coming back.
Anderson Understands He's a Potential Target
As Tom Reed of the Columbus Dispatch writes, Anderson tries not to think about it much but understands the possible ramifications of the NHL Expansion Draft and how it affects him personally. When asked, Anderson's comments showed the maturity of a young forward who is part of a very young team that had a breakout season:
Anything can happen in the summer…I talk about this group all the time, how close it is together. It's such a young core right now. It's so close on the ice and off the ice. Obviously, I want to stay here. I want to be here a long time. Hopefully, I will be here a long time.
The Ask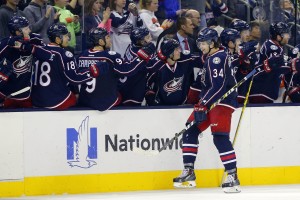 Anderson is the type of player who is trending upward. His 17 goals may be only scratching the surface of his potential and at only 23-years-old when next season starts, Anderson's ability to score goals and play physical will have some cache around the league.
He stands 6'3" tall and weighs about 220 lbs. His game is pretty simple, focusing on getting pucks deep, using his big body and skating well. Columbus should do well if they, in fact, decide to trade the forward.
What the Blue Jackets might ask for is hard to guess. What they should work on is convincing Scott Hartnell to waive his no-movement clause so that the Jackets can ensure Anderson doesn't go. At 35-years-old and making $4.75 million for the next two seasons, it's a lot less likely the Golden Knights would even wink at Hartnell if he was available to be drafted. Hartnell would get to stay in Columbus, so would Anderson. It would be a win-win for everyone.