The Chicago Blackhawks and defenseman David Rundblad have mutually agreed to part ways, the Chicago-Sun Times reported on Tuesday. The remaining year left on Rundblad's two-year, $2.1 million contract has been terminated so that he can "explore other opportunities," said Rundblad's agent, Claude Lemieux.
Rundblad, 25, was placed on waivers by the Blackhawks on July 1. The agreement to terminate his contract is significant for the Blackhawks — a team that now has just under $2.4 million in salary cap space according to General Fanager. If the Blackhawks bought out the remaining year of Rundblad's contract, the team would have been on the hook for cap hits of $133,333 in 2016-17 and $183,333 in 2017-18. Rundblad would have cost the club $100,000 next season if he played in the minors.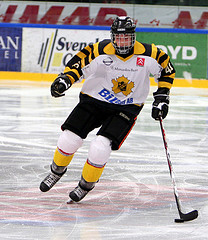 Rundblad played parts of three seasons with the Blackhawks after being acquired by the club via a trade with the Phoenix Coyotes during the 2014 regular season. Rundblad had his best NHL campaign came in 2014-15, when the 6'2″, 187-pound blueliner played in 49 games and registered three goals, 14 points and was a plus-17 rating. During the club's march to the Stanley Cup that postseason, Rundblad played in five games.
During the 2015-16 regular season, however, Rundblad played in just nine regular-season games with the Blackhawks — a team with some of the best blueline depth in the NHL. On Jan. 3, the Blackhawks agreed to loan Rundblad to the Zurich SC Lions of Switzerland's National League A. Rundblad played in 11 regular season games and compiled two goals and 15 points.
Earlier this month, Blackhawks general manager Stan Bowman spoke about Rundblad potentially looking toward taking his hockey career back to Europe. "David indicated to us that he wanted to kind of get a fresh start, so I think he's looking to maybe pursue some other opportunities, whether it's in the NHL or maybe in Europe," Bowman said. Rundblad was born in Lycksele, Sweden and played parts of four seasons there before coming to North America.
With Rundblad's contract terminated, the Blackhawks will not take a cap hit for it next season. This move helps clear some salary space to potentially pursue Jimmy Vesey, who will become an unrestricted free agent on Aug. 15 if he is unable to come to terms on a contract with the Buffalo Sabres.
Steven is a lawyer and writer with a passion for the game of hockey. He's the Lead Writer covering the Tampa Bay Lightning with THW. He's also been press credentialed through the Lightning since 2016. His work has been published at The Fourth Period, LightningInsider.com, Bolt Prospects, The Sports Daily Network, U.S. College Hockey Online and College Hockey News. He's had radio appearances on TSN 690 in Montreal, Lightning Power Play Live and multiple podcasts to give insight and analysis on the team. He can be reached on Twitter @StevenDiOssi and by email at sdiossi@gmail.com.