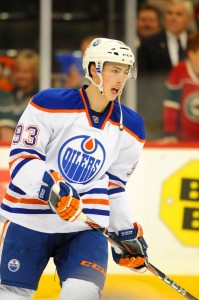 For a young player coming into the NHL, it can pretty be tough to get noticed. With players like Sidney Crosby, Alex Ovechkin, Steven Stamkos and the Sedins getting all the attention, it's easy to slip through the cracks, especially playing for a small market Canadian team in the Western Conference. But when the same player wins rookie of the month in two consecutive months, and is only 18 years old, it's time to stand up and take notice.
Drafted 1st overall by the Edmonton Oilers in last summer's entry draft, Ryan Nugent-Hopkins was projected to be a difference maker, but not in the Crosby/Ovechkin category. As is the case with most youngsters, it's hard to predict how they will acclimate themselves to the pros, but Nugent-Hopkins is fitting in just fine, despite his small frame. The critics who thought he wouldn't be strong enough for the NHL are starting to eat their words. With points 29 points in 27 games, "the Nuge" in on pace to score the most points for an 18 year old since Sidney Crosby's 102 in 2005-06. He has found tremendous chemistry with linemate Jordan Eberle, and currently leads all Oilers in points, and is tied for the lead in goals (12) with Ryan Smyth. His strong play is giving the Oilers a chance to compete in the tough Western Conference. The team is in 10th place, but tied in points with the 8th place San Jose Sharks.
When comparing him to 1st overall picks the past few seasons (Stamkos, John Tavares, Taylor Hall), Ryan Nugent-Hopkins has gotten the least hype. There wasn't a 100% consensus that he would be selected first, nor was there confidence that he could contribute straight away. But his skill, his vision and his anticipation has made him a budding star, and the type of the player the Oilers are going to be able to build around. For a struggling team and impatient fan base, Nugent-Hopkins is a dream come true.
Comparisons are never fair, not to the player himself, nor to the guy he's being compared to. But his small stature, the team he was drafted to, and the type of game he plays is drawing parallels to a certain Wayne Gretzky. Obviously, no player will ever be The Great One, but watching what Ryan Nugent-Hopkins can do on the ice is a real treat, and perhaps even a little unexpected. He is currently ranked 6th overall in NHL scoring, just 3 points back of first place Phil Kessel. Nobody could have predicted that. But at the same time, nobody should be all that shocked. Nugent-Hopkins has the potential to be a tremendous hockey player, and rather than make comparisons, and heap on unrealistic expectations, just sit back and watch. The kid can play.
Marcy, a former hockey player, is a hockey correspondent on CTV News and TSN radio. She began her career as a Sports Journalist in 2009 and has been part of The Hockey Writers since 2010, where she is currently a senior writer and editor.