The Buffalo Sabres haven't just been bad. They've been abysmal. The organization appears to be in a complete free fall without anyone at the helm.
If you're a fan, you've read the stats, you've seen the record, and you've been there for every crushing loss. I'll omit the eloquent rendition of the numbers expressing just how terrible they are that you can find in most articles written about the team. We can see where the Sabres are in the standings.
If you're not a fan, you've also likely heard or read about the Sabres woes. The main focus of any Sabres media coverage is on how they are a substandard organization. A laughing stock. That isn't a good look for the team's owners, Terry and Kim Pegula.
It's painful to be a Sabres fan right now. But it can get a lot more painful than this. Just ask Toronto Maple Leaf fans. They endured a terrible team and a process to make it better that took its time. Head coach Ralph Krueger talks about "the process" all the time, which could be part of this team's long-term vision. That's right; management might be interested in seeing things through with Krueger. However, all Sabers fans ears' perked up a bit when general manager (GM) Kevyn Adams told us this week he has the ability to fire his coach.
Whether or not he did was in question since most of the organization's managerial structure leads back to the Pegulas. Adams also said he doesn't believe in a full rebuild.
Do the Sabres Need a Shanaplan?
This season says a lot about the Sabres needing a Maple Leafs style "Shanaplan." Brendan Shanahan and those he brought in to Toronto (or moved out) orchestrated a rebuild that has been successful so far. He did it with complete buy-in from ownership, who realized that letting a man who made his fortune in construction is probably not the best person to be making hockey decisions. That's no offence to a great businessman in Larry Tannebaum. Whether the Leafs will win a cup or not is still yet to be seen, but they're a damn good hockey team. It started not with just a team on the ice but a team in the press box.
Adams and his VP of hockey Administration Mark Jakubowski are on an island when it comes to the rebuild that lies ahead. Whether they want to call it that or not, it's either a rebuild or a retool. And in their case, there's no Shanahan-type director of hockey operations to coach a team of GMs and assistant GMs. It's Adams, Jakubowski and their scouts, who were just hired not that long ago. Who knows what input they get from the Pegulas. Adams's most trusted advisor is Krueger, and soon, he might have to fire him.
The Pegulas recently started selling off assets in their portfolio to focus on the Sabres and the Buffalo Bills. So, you can expect changes are coming. 
Will Krueger Be Fired?
Will it start with the coach? This week, in his press conference, Adams said that Krueger's performance is under evaluation. The evaluation may extend at least over 100 games, perhaps even 200. Given he has only coached in only 91 games for the Sabres, he might have a longer leash than we imagine. However, since the salary cap era began, mid-season coaching changes have not been a rarity, with the average number of games coached by those being fired sitting at around the 200-mark.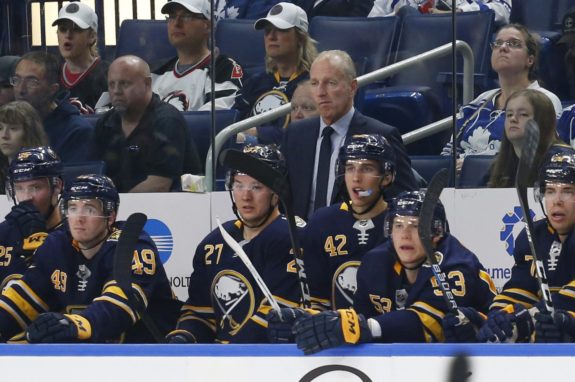 All of that to say, Adams might be willing to see what Krueger can do with the rest this season. He might want to see whether this bit of adversity helps him grow with this group. On the other hand, if Krueger gets fired before he coaches in 200 games with the Sabres, no one will be surprised.
For a distinguished member of the World Economic Forum, Krueger sure has made some blunders with the media in recent weeks.
Whether it's the gaffe on when captain Jack Eichel got hurt or a guffaw at the fact his job may soon be on the chopping block, his failure to communicate well externally might sign that his message is also missing the mark in the locker room.
Krueger is well respected around the league. The man knows hockey. But so does Mike Babcock and now he coaches the University of Saskatchewan Huskies.
These men have had distinguished careers in the game and are well-qualified National Hockey League coaches. But once you lose the team, that's it. In Babcock's case, he also was on thin ice with GM Kyle Dubas, who was eager to bring in Sheldon Keefe, the coach he also hired to coach the Sault Ste. Marie Greyhounds of the Canadian Hockey League.
If Krueger can't sort out his team's woes, he might not even make it to 100 games with the team.
Michael Traikos wrote in the National Post recently that his sources are telling him Jeff Skinner's agent Don Meehan gave GM Adams an ultimatum: fix the situation between the player and the coach in two weeks. (from 'TRAIKOS: Next two weeks could decide Jeff Skinner's future in Buffalo,' National Post, 02/26/2021) "Either put Skinner…in a position to succeed or find (him) a new home."
A Skinner trade won't fix all the issues with this team, and neither will firing the coach. But either one is a step in the right direction.
Will Eichel Be Traded?
One place to begin making changes that would have an immediate impact: trading some players. That could start with moving Jack Eichel somewhere where he can go back to being himself.
The sniper who mesmerized the league with his next-level play has all but disappeared. Eichel does not want to be in Buffalo anymore than you want to be at your in-law's house. But according to Adams, he hasn't requested a trade yet.
The potential Eichel trade is a move that might not happen this deadline. With the amount of money that will be moving around to get something like that done, sources say that will be tricky before the summer. The picture will have changed by then, and the financial plan for next season will be clearer.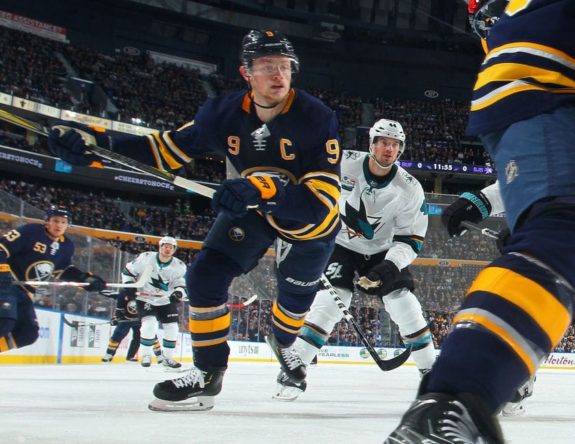 The Sabres could make a creative deal. One that would be reminiscent of Robin Lehner's brief stopover with the Maple Leafs. The Chicago Blackhawks shipped Lehner to the Vegas Golden Knights, but the Leafs became the third player in the trade. He had a brief stopover in the Big Smoke, giving the Leafs a fifth-round pick in the process as the team retained a portion of the Knights number one goalie's salary. So, let's say he does get traded in a deal like this. That assumes that there are a couple of GMs willing to play ball, and it assumes Adams is willing to jump through hoops to trade his best player.
Waiting out the rest of the year and reevaluating their options during the summer vacation might be the best course of action (or inaction). The Sabres may decide to keep a hold of their star and try to bring him on board with a total revamp, whatever that might look like. Sources say the Pegulas are conspiring plans behind the scenes to bring this franchise in line with the kind of success the Buffalo Bills have enjoyed recently. Time will tell where that goes.
COVID-19's Impacts on the Sabres Deadline Moves
Two things that tie back into one big thing that has affected the entire world dictate what will be a most unusual NHL trade deadline. Most GMs and NHL executives you talk to will mention them. A lack of money due to COVID will make it tough to take on large contracts, and the need to quarantine for two weeks means a player you trade for now won't immediately be available. 
We saw the quarantine come into play once with the large delay between the trade itself and the night when Pierre-Luc Dubois and Patrik Laine first pulled on their new sweaters. Half the league is using LTIR to remain cap compliant. Many teams have been asked to lessen their load in terms of the contracts they carry, so taking on new contracts is out of the question.
These two things are a possible accelerant on trades, pushing many GMs to try and negotiate deals earlier in March, a month before the actual deadline. Though, there will no doubt be some deals that take longer to reach a mutual agreement, possibly right up until the last minute. 
Rental players will still move, and contending teams will bolster their roster's weak points in preparation for the postseason. 
This deadline will go one of two ways for the Sabres. They will make a few moves, but no big splashes. Or they will try and blow it all up. Adams will be trying to do everything he can, but he is new to this. He might be undergoing a bit of trial by fire right now, and he'll be extra vulnerable to some of his craftier, more daring counterparts. He might get gun shy when it comes down to pulling the trigger. 
He was poking around the league earlier this year shopping for a goalie. He's probably still working on that. It's an identified organizational need. He believes Linus Ullmark is number one, so he will do everything he can to keep him in the mix. The more likely avenue for Adams is a trade that will improve the situation behind Ullmark. 
The Sabres could offer up Jonas Johansson or Carter Hutton to solidify the backup position. Even though he hasn't been lights out (though not the tire fire some overly zealous fans want to make him out to be), odds are it will be Hutton whose experience would be of higher value in a trade than the unknown Johansson who GM Adams wants to hold on to. 
Without an NHL-capable netminder in place for next season, anything is possible if the wheels start moving on the goalie front including putting Ullmark into play.
Sabres Players Being Shopped
In terms of the roster itself, there are a few players that Adams has been said to be offering around the league.
Brandon Montour
Known as a scoring threat his entire career going back to the days when he wore the red and black for the Waterloo Black Hawks of the United States Hockey League (USHL), Montour has worked in most recent years on honing his defensive game. It's something that his talent and skill were able to gloss over before his stint in Buffalo, where it all caught up with him.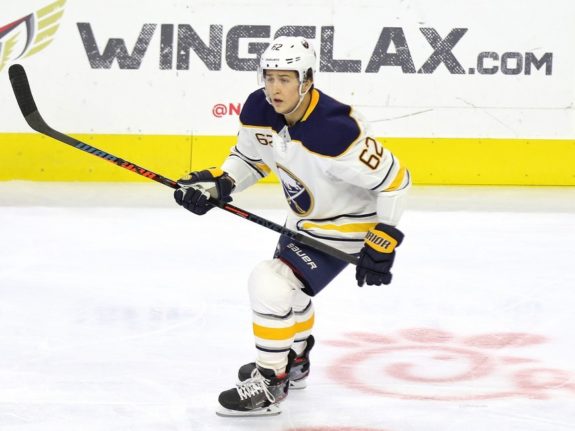 It's not like Montour has been terrible in his end at any point in his pro career. It's just that it was identified as a weakness that he needed to work on. Early scouting reports on him from 2015-16 when he was suiting up for the Anaheim Ducks American Hockey League affiliate San Diego Gulls tell of a player whose style can make him a bit of a risk.
He's proved his worth as a top 4 defenseman seven seasons later. But Montour finds himself on the trade block once again with a chance of uprooting once more on route to his third NHL city. 
Montour needs a defensive partner to compliment his style of play, like what the Maple Leafs got for Morgan Reilly when they signed T.J. Brodie. Pairing him with someone who processes solid defensive-minded traits would allow Montour to open signs up a bit and contribute to the area he excels in, providing some help on rush chances and producing points. This type of arrangement would allow him to use his speed to jump into plays and loosen the leash around his neck a bit. 
Casey Mittelstadt
Here's a player the Sabres could move, but most fans wouldn't want him to. While most of the players in his draft class are still trying to land jobs in the NHL, he's been there for a reason. It hasn't all been for show either. Drafted eighth overall in 2017, Mittelstadt earned a spot on the roster straight out of the NCAA, where he played for the University of Minnesota Golden Gophers. He was projected as a center throughout his earlier career but is better suited on the wing.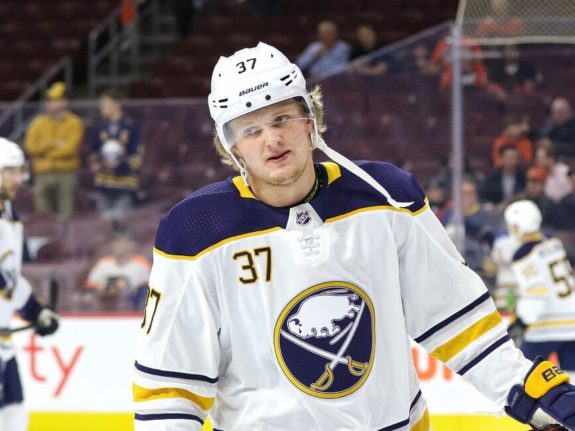 This year, he's struggled to maintain his spot on the roster, and out of training camp, he settled into an assignment with the Rochester Americans. Because of injuries and COVID relief, Mittelstadt has played seven games, notching one goal, three points. He's earned some praise from his coach along the way. 
He was maybe pushed into the league a bit prematurely on a Sabres roster that was a bit lacking in what it needed. He has had to learn things at a bit of a hurried pace, and it's hurt his development a little. But there's a more than good chance this player ends up reaching a higher level in his game at some point. Trading him would mean a team is betting on just that. 
One thing he's missing in his game is elite-level speed, but there's a lot to be developed in the 22-year-old that has enough decent upside for teams around the league willing to take a flyer on him. 
Taylor Hall
When Hall signed a one-year $8 million deal to reunite with his former-Edmonton Oilers coach, who helped him understand the NHL, nobody could understand it. It makes even less sense now, but still, Hall has expressed interest in staying on with the organization beyond this year. That means that if the Sabres trade Eichel, Hall becomes the face of your franchise.
But Hall would need a long-term deal. That would surely come days after a hypothetical Eichel trade away.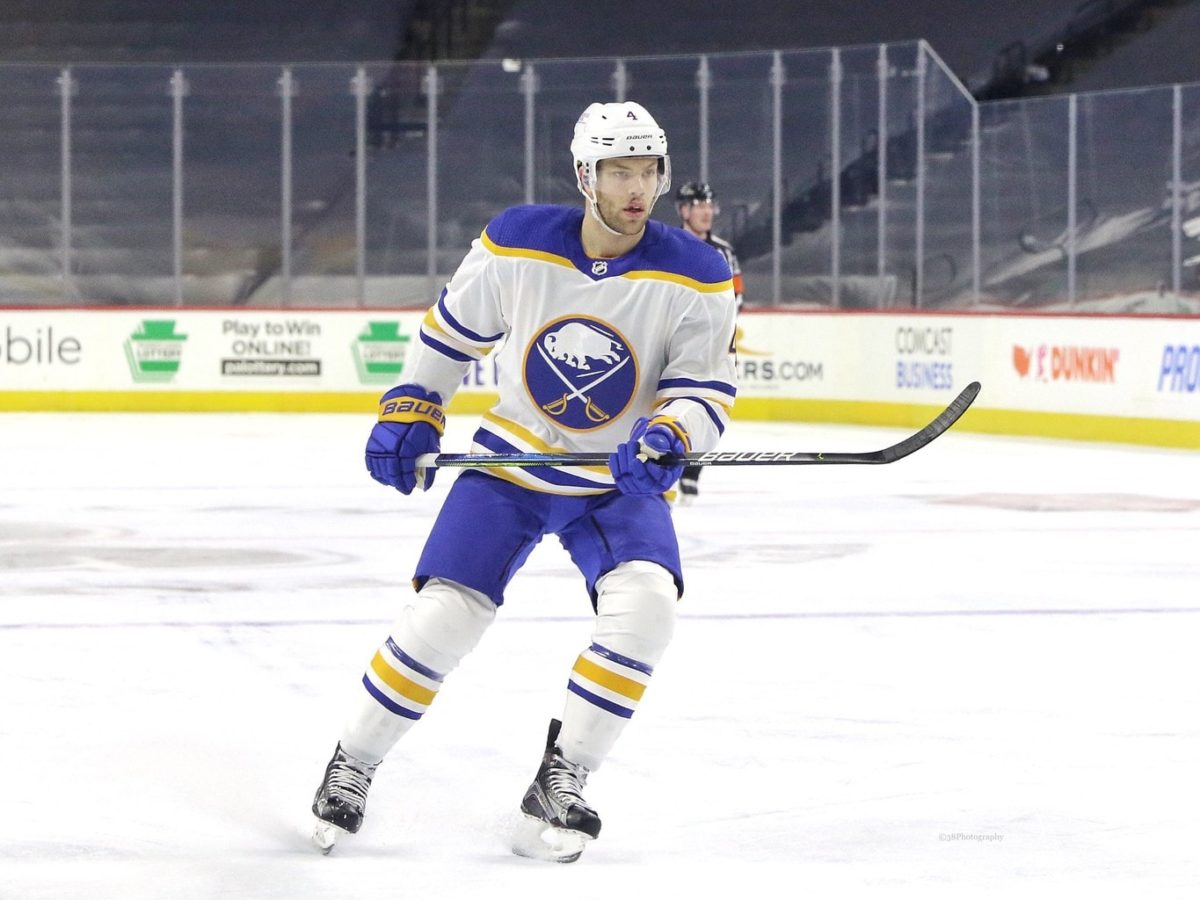 His family is not far away in Toronto. Perhaps he would prefer to be there, but that's not going to happen. Buffalo is close enough, and he is comfortable with the organization. He would need to be on board with a tear down to the studs and the renovation that follows on this Sabres organization if he were to stay. He's recently said he and agent Darren Ferris share the opinion that they should stay "open to anything." That means he might not be staying here next year anyway. If he is given that role on a contending team right now, it could prove too enticing.
He could contend for a cup and still be an unrestricted free agent at the end of it all. Plenty of teams around would be willing to spring big to land Hall, although some would take a pass completely. Adams should maximize the return on the $8 million they spent on the one-year contract by trading Hall now for picks and prospects to stock the cupboards for a full tear-down rebuild.
The hurdle here, though, is (again) money. Hall's massive price tag will certainly harshen the buzz of any team looking to reach out and grab him. 
Jeff Skinner
Skinner's contract, combined with his lack of solid play of late, will make him one of the least likely players on this list to be moved. It's been well documented that he has lost his way a bit and has been at odds with coach Krueger since day one, it seems. But like Eichel, I believe Skinner wants out of the Sabres situation. Unfortunately, his contract will prove difficult to be moved. 
Unlike with Eichel, teams won't be willing to pull out all the stops with a creative three-way trade that could lower his $9 million cap hit. Skinner will likely remain on this team until Adams thinks he has a good hockey deal in place to move him.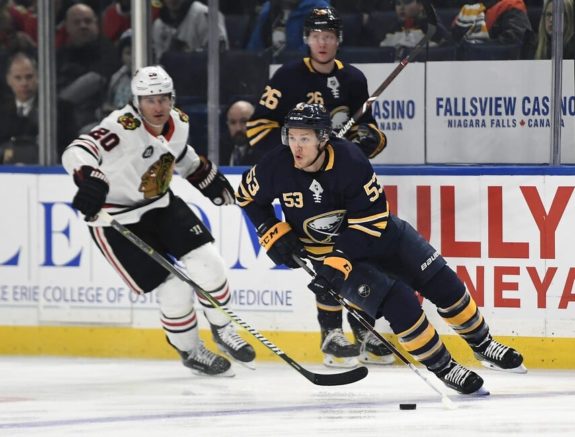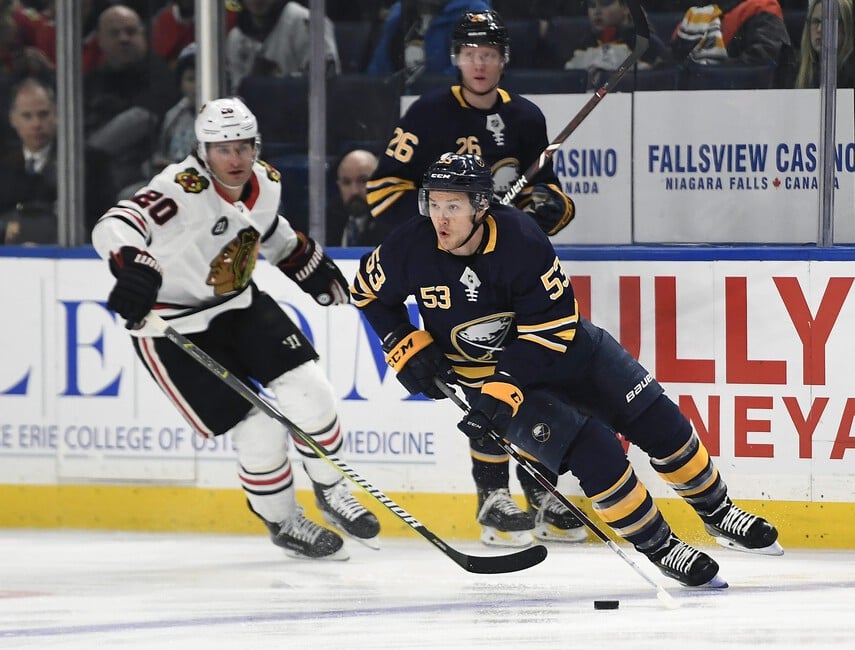 On the other side of the coin, if he's not playing at all or not playing well, his trade value is plummeting. It's so far down now you would need a rod and reel to bring it back up, and that alone scares off potential suitors. 
 This year, it might be quieter than the Sabres and many other teams' normal trade deadline. In the end, what Adams does will signal us all what this teardown will look like and how long it might take. 
---
---
Mike Carter is a freelance writer and contributor for the Buffalo Sabres with The Hockey Writers and NHLTradeRumors.Me He is @mikecarterlives on Twitter. Mike has been writing professionally since 2012, with stints as a reporter in northern British Columbia and Edmonton, Alberta. He now calls Salmon Arm, B.C. home.