The Buffalo Sabres biggest need heading into the draft was a solid centre.  If at all possible they wanted one who would be ready to play as early as next season. They were able to leave the draft on Friday night having found what they were looking for. After the Sabres were able to steal Grigorenko at the 12th pick fans new it was going to be a good draft.
Many fans thought the Sabres should move up in the draft in order to get their hands on Grigorenko.  They didn't have to.  Mikhail Grigorenko fell right into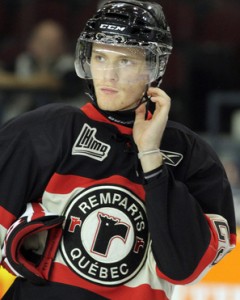 their laps at 12th overall. It was a surprise that he fell that low, but the Sabres are more than happy to have him. Darcy showed no fear about drafting a Russian and has put his team in a very good place with regards to centres. By drafting Tyler Ennis, Cody Hodgson, Grigorenko and Girgensons as the top 4 centres, Buffalo could be a force to be reckoned with in the near future.
Just as important as getting a skilled playing like Grigorenko with the first overall pick, the Sabres were also able to add size to their forwards, something that was lacking last season. Grigorenko comes in at 6 foot 2 200 pounds a kid in a mans body, his size and skill may allow him to step right into the NHL come October.
With the 2nd pick in the first round, Darcy Reiger made a move with the Flames. Unsatisfied with his 21st overall pick, he dealt the 22nd and 42nd picks in the draft to Calgary in exchange for the 14th pick overall. While it was no blockbuster trade and it did not rid the Sabres of Roy, they were able to take another solid centre with the 14th pick. With the new pick the Sabres selected Zemgus Girgensons who may only be 1 year away from the NHL. Much like Grigorenko, Girgensons adds more grit and height to the Sabres up front weighing in at 6 foot 2 and 198 pounds with his large frame it will only be a matter of time before he bulks up to his full potential.
Drafting Grigorenko gives the Sabres  the skill that they were looking for in their future number one centre. In his rookie season with the Quebec Ramparts he lead all rookies with 40 goals and 85 points in just 59 games.  Not too shabby. There is no question this kid can play, the only hesitation and likely the reason he fell down the board was his commitement to the NHL and committement to playing every shift. But to put everyone to ease Grigorenko told the media "I wont even speak to the KHL, the Sabres are my team now, I will be in Buffalo come October".
"I won't even speak to KHL. I can guarantee I will be in Buffalo in October" – Grigorenko #Sabres

— Slava Malamud (@SlavaMalamud) June 23, 2012
Sabres fans should be excited about the potential of having Grigorenko in the starting lineup come October.
Let's move on to the more physical of the two Girgensons. If given the proper time to develop and mature his game, he could become one of the best 2 way centres to don the blue and gold if not one of the best to ever play. He uses his big frame to his advantage and isn't afraid to play in the high traffic areas on the ice and mix it up with opposing players.
While he isn't the scoring threat that Grigorenko is, Girgensons brings soild leadership experience and has been know to let his shot go when he needs. In 2 seasons as captain of the Dubuque Fighting Saints in the USHL he has scored 45 goals and has amassed 104 points.
While this is a solid pick for the Sabres it will likely be a year or two before we see Girgensons in the NHL full time. He needs to develop his skating and grow into his frame.   When he does he is going to be tough to knock off the puck.
Sabres seem like winners to me with their two center selections. Zemgus Girgensons could be a sleeper. He has a Brind'amour- like work ethic

— Kevin Allen (@ByKevinAllen) June 23, 2012
With the drafting of Mikhail Grigorenko and Zemgus Girgensons, Sabres fans certainly have a lot to be exited about. Buffalo will not have a hole at the centre position for much longer, with these big skilled players the Sabres could turn into a very exciting team to watch.
Two interesting scenerios to watch play out: Will Cody Hodgson once again become the odd man out of the centre rotation? -and- Is Derek Roy now expendable?