Amidst major flooding of the Bow and Elbow Rivers in Calgary and the evacuation of roughly 100,000 citizens from their homes, reports are surfacing that the Scotiabank Saddledome has suffered major flood damage.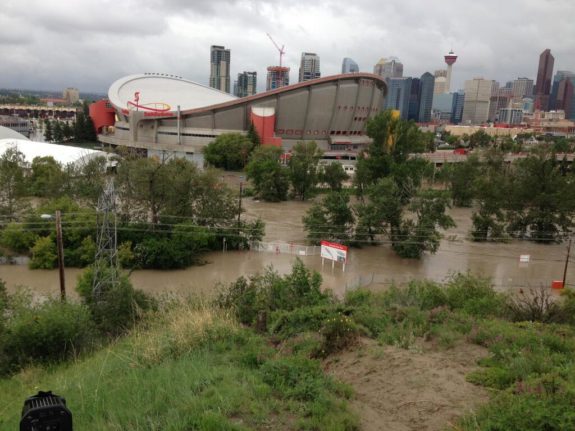 As per various reports from local media – notably Eric Francis of the Calgary Sun – there is significant flooding of the lower bowl of the Saddledome and much of the locker room and office areas underneath the lower bowl seating.
No official word yet regarding the impact of the flooding on the annual Calgary Stampede – scheduled to kick off on July 5 – or on the Calgary Flames season itself. Much of the Saddledome's technical equipment, including ice-making machinery, zambonis, sound and electronic equipment, and the locker rooms of the NHL's Calgary Flames and WHL's Calgary Hitmen are located in the areas reportedly flooded.
Hot Stove Lounge & Ed Whalen Media Lounge destroyed by the Dome flooding which certainly will mean cancellation of all Stampede concerts

— Eric Francis (@EricFrancis) June 21, 2013
So much history destroyed at the Dome including massive championship team photo from 1989 signed by most players. #yycflood

— Eric Francis (@EricFrancis) June 21, 2013
Water up to Row 14 at Saddledome. #theshow

— X92.9 (@X929) June 21, 2013
It will be a while before the full extent of the damage to the Saddledome will be fully known. #yycflood

— Rob Kerr (@SNRobKerr) June 21, 2013
UPDATE: Late Friday night, a photo reportedly from inside the Saddledome surfaced on Twitter, seemingly corroborating the reports of flooding up to around the 10th row of lower-bowl seating.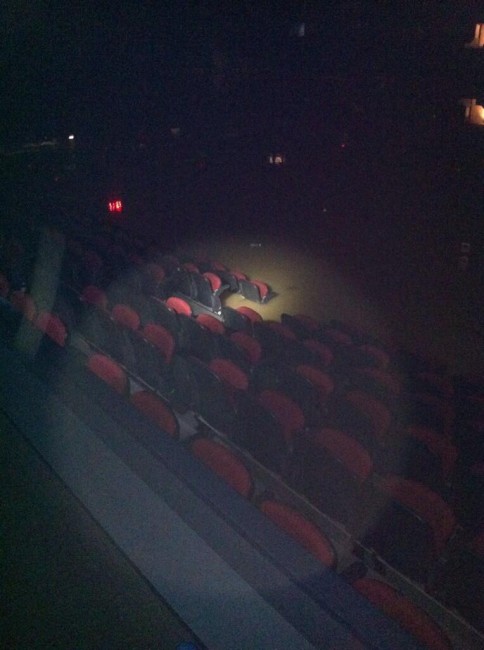 Ryan Pike has covered the Calgary Flames and the NHL Draft extensively since 2010 as a Senior Writer for The Hockey Writers and Senior Contributing Editor of FlamesNation.ca. A member of the Professional Hockey Writers Association, he lives in Calgary.