Ever since Lou Lamoriello became General Manager of the New Jersey Devils in 1987, the NHL Draft has been an important component in building up the organization.  As one may imagine, the list and names of draft choices reads a mostly prominent "who's who" of hockey.  What might be a most daunting task is choosing the best pick by round in the Lamoriello era.

So with that's, let's take a round by round look at the best players picked.
1.) Martin Brodeur (Goaltender): Is there really any debate here?  Well, of course there is always the question of how early to take a goalie, let alone in the first round.  Yet Brodeur, who was taken at pick number 20 in the first round of the 1990 draft, is the unquestionable face/mask of the franchise.  Over 669 victories, three Stanley Cup titles and four Vezina trophies will do that.  Other first rounders who deserve a hearty say in this conversation: Scott Niedermayer ('91), Brendan Shanahan ('87), Bill Guerin ('89), Zach Parise ('03), Brian Rolston ('91), Petr Sykora ('95), Scott Gomez ('98), Travis Zajac ('04), Jason Smith ('92), Dennis Pederson ('93).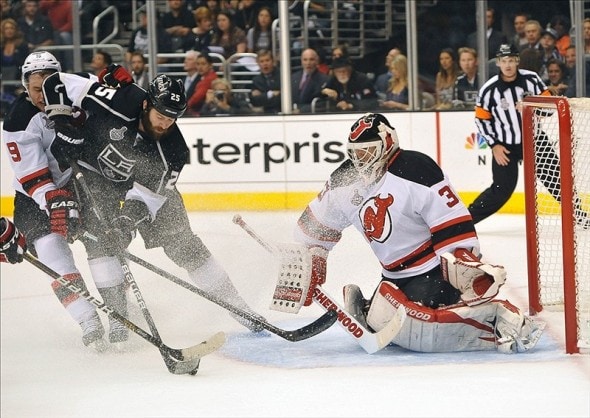 2.) Patrik Elias (Forward): When it comes to choosing the best of the second round picks, why not the most prolific scorer in franchise history?  Elias was take at pick number 51 in the second round of the 1994 draft.  In his career, Elias has been a first line fixture, posting 375 goals, 555 assists and 930 points in 1,090 games.  Twice a Stanley Cup champion, where others have come and gone, Elias remains a rock.  There are a lot of other very likeable second rounders who merit consideration as well: Sergei Brylin ('92), Brendan Morrison ('93), Jay Pandolfo ('93), Colin White ('96), Mike Commodore ('99), Paul Martin ('00), Ricard Persson ('87).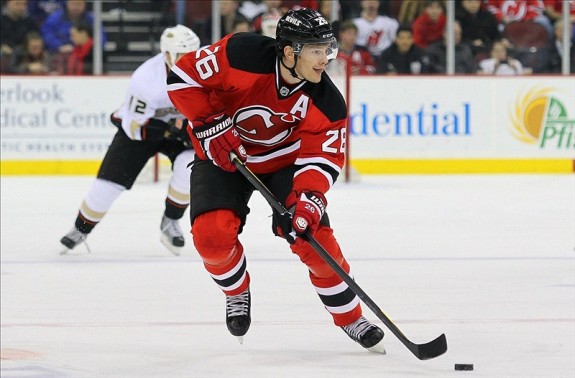 3.) Brian Gionta (Forward): A little bit tougher to come up with a selection here as we go down the list but as third rounders go, Gionta gets the nod.  Gionta was taken at pick number 82 in the third round of the 1998 draft.  I gave Gionta the edge here because of what he accomplished in a Devils uniform.  In seven seasons with New Jersey, Gionta won a Stanley Cup and registered double digits in goals in six of those years, including one with 48 tallies.  On his career, Gionta has 231 markers.  Other third rounders encompassing this list include: Sheldon Souray ('94), Cale Hulse ('92), Krzysztof Oliwa ('93), Mike Dunham ('90), Brad Bombardir ('90), Scott Pellerin ('89), Mike Rupp ('00), Adam Henrique ('08), Zdeno Ciger ('88), Mark Fraser ('05).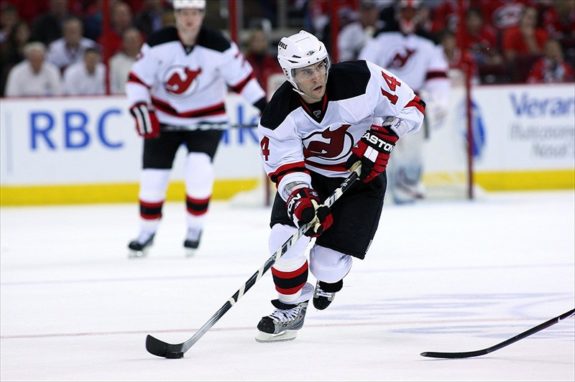 4.) Cam Janssen (Forward): This round was a little bit more daunting and perhaps in the coming years, a player like Reid Boucher could lay claim to this spot.  With 752 penalty minutes (282 with New Jersey), Janssen has proven to be one of the elite fighters in the NHL.  Janssen was taken at pick number 117 in the fourth round of the 2002 draft.  Other notable players in this round include: Pierre Dagenais ('98), Josef Boumedienne ('96), Alyn McCauley ('95), Matt Halishuck ('07).
5.) Kevin Dean (Defence): I hedged somewhat on this one as well but I gave the edge to Dean over Mark Fayne.  In 1995, Dean captained the Calder Cup winning Albany River Rats and was a member of the Devils Stanley Cup winning squad as well.  Dean played five seasons in New Jersey and was a solid defensive defenceman.  Dean was taken at pick number 86 in the fifth round of the 1987 draft.  Other players taken in this round that get some props: Mark Fayne ('05), Jiri Bicek ('97), Chris Mason ('95), Dean Malkoc ('90).
6.) Deryk Engelland (Defence): In making this list I have tried to select players based on their impact with the Devils but I had to take Engelland here.  While he never played with the Devils, Engelland has rounded into a solid regular on the blue line of the Pittsburgh Penguins.  There were no doubt some prolific AHL players in this bunch, like Steve Brule, Ben Hankinson and former Hobey Baker winner David Emma but Engelland, who was taken at pick number 194 in the sixth round of the 2000 draft, gets the stick tap here.  Other players you might recognize from this round include: Ben Hankinson ('87), David Emma ('89), Steve Brule ('93), Sascha Goc ('97).
7.) Chris McAlpine (Defence): Much like Dean, McAlpine was part of a deep Devils defence corps in 1995.  Although McAlpine made more of an impact for the Devils at the AHL level, he did play fairly regularly for some solid St. Louis teams and logged 289 games in his career.  McAlpine was taken at pick number 137 in the seventh round of the 1990 draft.  Other players you'll perhaps recognize include: Pierre-Luc Letourneau-Leblond ('04), Ilkka Pikkarainen ('02), Geordie Kinnear ('92), Chad Erickson ('88).
8.) Jim Dowd (Forward): Oh this was an excruciatingly difficult pick for me, because on the whole at this position I'd probably take Willie Mitchell.  That being said, Dowd played longer with the Devils, was a contributor to their 1995 Cup team and heck he is from New Jersey.  So, the man who scored the first goal in Albany River Rats history and notched a Stanley Cup clinching goal, gets the stick tap.  Dowd was taken at pick number 149 in the eighth round of the 1987 draft.  Other players of note that were taken in this round include: Willie Mitchell ('96), Aaron Voros ('01), Scott Clemmensen ('97), Eric Bertrand ('94), Stephane Yelle ('92).
9.) Steve Sullivan (Forward): Not a bad late pick for a guy who logged over 1,000 games and netted 290 goals.  Sullivan, whose career if over, has likely book-ended with the Devils (and with possibly his first and last career goals coming against Montreal) and the feisty forward has carved out a solid career.  Sullivan was taken at pick number 233 of the ninth round of the 1994 draft.  Other players of note from this round include: Jaroslav Modry ('90), Andre Faust ('89), Jeff Toms ('92).
10.) Alexander Semak (Forward): As someone who hails from Albany, N.Y., I have a soft spot for Corey Schwab.  While Schwab was a part of the Devils' third Cup team in 2003 and a Calder Cup champion with Albany in 1995, I have to take Semak here.  During the 1992-93 campaign, Semak was second on the club with 37 goals and 79 points.  In all, Semak racked up 83 goals across six NHL seasons.  Semak was taken at pick number 207 of the tenth round of the 1988 draft.  Other players taken in this round are: Corey Schwab ('90).
11.) Valeri Zelepukin (Forward): How's this for an eleventh round choice?  Zelepukin was a member of the Devils 1995 Cup winner and was a valuable role player for the team.  Plus, Zelepukin had two 20-goal seasons for New Jersey and tallied ten playoff goals.  In his career, Zelepukin potted 117 goals.  Zelepukin was taken at pick number 221 of the eleventh round of the 1990 draft.
12.) Todd Reirden (Defenceman): What a draft that was in 1990!  Reirden had the misfortune of the Devils defence depth at not only the NHL level but the AHL as well.  Eventually, Reirden would crack the NHL for 183 games between Edmonton, St. Louis, Atlanta and Phoenix.  In 1999-00, Reirden was a + 18 with the Blues and registered a carer high 25 points.  Reirden was taken at pick number 242 of the twelfth round of the 1990 draft.
Along with all of those aforementioned players, there's a great deal more who have either made it or are on the cusp of making an impact.  Players like Adam Larsson, Jacob Josefson, Mattias Tedenby, Stefan Matteau, Reid Boucher, Jon Merrill, Alexander Urbom, Eric Gelinas and many more in the pipeline.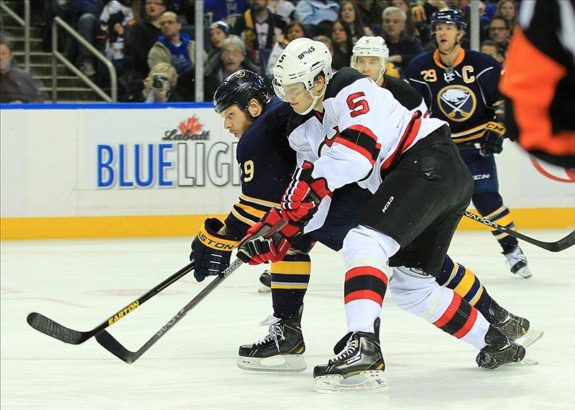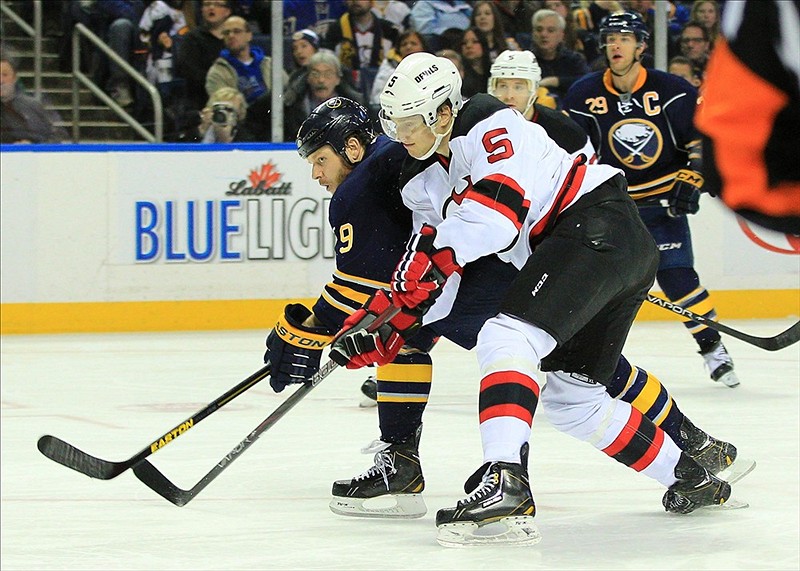 Who will be next?  You'll just have to wait until June 30, 2013, when the Devils, Newark and the Prudential Center host the NHL Entry Draft.
Michael Gwizdala covers the New York Islanders for The Hockey Writers. Michael is also an Associate Producer at WNYT NewsChannel 13. Additionally, Michael was once a Media Relations intern for the AHL Albany River Rats. Michael is a graduate of The College of Saint Rose in Albany, NY.