As the Stanley Cup Final moves towards its own final act, all sorts of thoughts start to bubble to the surface. The series may be over in a matter of hours, or it make take several more days. There remains much drama, especially if San Jose can find a way to win Game 5.
Exploiting the Thin Blue Line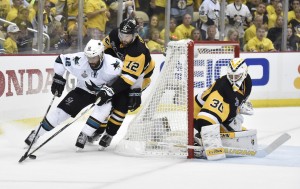 If there is one thing San Jose will scratch their collective heads over in the offseason, it might well be their difficulty in exploiting a couple of thin blue lines in the playoffs. In the opening round, the Sharks had their way with Los Angeles Kings Norris finalist Drew Doughty. Aside from Doughty and Jake Muzzin, the Kings had very modest talent on the back end. Doughty, at minus-5, was one of just two Kings defensemen to be minus players in the series. For the most part, the Kings bottom four blueliners held their own.
Going into this series against Pittsburgh, players like Olli Maatta and Ben Lovejoy seemed the sorts of defensemen San Jose could exploit. With Trevor Daley, one of the Pens better defensemen injured, the Sharks looked to feast on this defensive opportunity. It has not happened. Though advanced stats aren't very nice to Maatta, he has collected three points in four games and is plus-3. The advanced stats are nice to Justin Schultz, who leads all players in Corsi differential during the series. This is the same Justin Schultz who played his way out of Edmonton — and not in a good way. Second and third best among all players on both teams are two more Pens defensemen, Brian Dumoulin and Ian Cole.
#Pens vs #SjSharks series Corsi differential (so far)
PIT's defensemen have led the way, just as everyone predicted. pic.twitter.com/YcGN9GDAkV

— Sean Tierney (@ChartingHockey) June 7, 2016
Ready Or Not
I think back to the comments of the coaches entering the series. Sharks coach Peter DeBoer spoke about a "feeling out period" in the early part of the series, while Penguins coach Mike Sullivan was not the least bit interested in feeling things out, wanting to just go full-bore from the moment the puck dropped. It spoke to confidence. Pittsburgh was confident they could play their game, while San Jose figured they would need to adjust to the Pens game. I liked Sullivan's attitude. One irony to me, though, is that Sullivan has probably made more adjustments than DeBoer during the series.
Remarkable Health
The Sharks have used just 21 players in the entire 22 games of the Stanley Cup playoffs. Backup goalie James Reimer was used only briefly in one game. Just 19 skaters have been used. The only injured player to miss time, who is not normally a candidate for a healthy scratch, is Tomas Hertl. Though Hertl has missed just two games, the timing could not have been worse. He missed Game 3 and 4 of the Cup Final after being perhaps the Sharks best forward in Games 1 and 2. DeBoer says he is day-to-day, making a Game 5 return a possibility.
Hitting Everything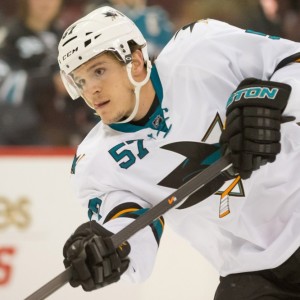 Tommy Wingels and Dainius Zubrus have been among the players DeBoer has taken the most ice time from in this series as he shortens his bench. Many, myself included, have suggested the Sharks need to take advantage of their size and physicality. Zubrus and Wingels have 53 minutes of ice between them (Zubrus was a healthy scratch for Game 2) with a combined total of 34 hits in that time. It is a pace of 38 hits per 60 minutes of ice time. Matt Martin of the Islanders led the league in hits, averaging 26 hits per 60 minutes.
Neither Wingels or Zubrus has made a major impact in scoring, either for or against. They have an even rating for every game except Game 4. In that game, Zubrus was minus-1, with the goal against coming from mistakes made before Zubrus was on the ice.
The heavier play has shown signs of working. San Jose was outplayed in Games 1 and 2, but was the better team in Game 3, and the teams were relatively even for Game 4. The Sharks have also been better later in games. It is not clear if either Wingels or Zubrus will be a Shark next season. Wingels is one of the Sharks most likely to be traded. Zubrus, the oldest player on the roster, has his contract expire at the end of the season.
So Close, Yet So Far
Game 4 was the only game in the series where a team had a two goal lead after the midpoint of the game. Games 1-3 were either a one goal difference or tied from the midpoint of period two for the remainder of the game. Games 1-3 were tied with three minutes left. In Game 4, Pittsburgh led by one goal with three minutes left. All four games have had a goal scored in the game's 57th minute or later. That each game in the Stanley Cup Final has been close does contrast with all three of the NBA Final games thus far, where there has been exactly zero late game drama. The closest game was 15 points, which is a borderline blowout. The other two were complete blowouts, with victory margins of 30 points or more.
A Strange Thing About Depth
There are numerous comments describing how stacked and deep the Penguins are, citing this as a major reason for their success. I'd ask this though — If I told you a year ago the Penguins would ice Conor Sheary, Bryan Rust, Matt Murray, Brian Dumoulin, Justin Schultz and Tom Khunhackl, would you have said the Penguins would be on the verge of a Stanley Cup victory? Add in Eric Fehr, Ian Cole, Nick Bonino, Ben Lovejoy and 39 year old Matt Cullen. A deep, stacked roster would not have been what came to mind. These players have scored seven of the Penguins ten goals in the series thus far.
Roman Polak?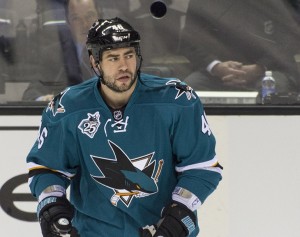 One question which will continue to be asked: why Roman Polak? One could make a reasonable case that the powerful defenseman was an asset for the first three playoff rounds. He and his defensive partner Brenden Dillon share the same issue — neither is very quick or adept with the puck.
Against Pittsburgh's speed, it has been costly, especially when it comes to exiting their own zone. Many, myself included, wondered before the series if this might be a major issue. The story line did not go away after Game 1. Or Game 2. It has only grown larger, game after game.
San Jose does have a better puck handling defenseman with greater mobility in Dylan DeMelo. DeMelo was paired with Dillon for a large part of the season. While one could argue Polak is the better player in a generic sense, this is not a generic situation. Against the speedy Penguins, having two less than mobile, and not very deft puck handlers, on a defensive pair has been a problem for San Jose. Further compounding the problem, the Sharks have given this pair roughly 25% of the available ice time in each game thus far. They could cut that back considerably. The Sharks top four defensemen are very talented.
Epic Comeback?
As for San Jose's chances for an epic comeback, well, they do have a chance. This team has battled long odds this season and come out ahead. The challenge for the Sharks is simple enough, they have matched Pittsburgh at times but never found a way to be the better team with any consistency. If you match a team, and each game is 50/50, winning three in a row is unlikely.
Still, if San Jose wins Game 5, I like Sharks chances. Pittsburgh, with a number of young players, may feel a lot of pressure to close out Game 5 at home. The one advantage, aside from the obvious advantage of a 3-1 series lead, is no single mistake by Pittsburgh can end their hopes.
This is not the case for San Jose. A single mistake at this point could end their season. Sharks coach Peter DeBoer gives off a 'business as usual' vibe in his comments. I'm not sure business as usual gets it done against a team which is as intense and well prepared as Pittsburgh.