I am from Saskatchewan.
Yes, I've been hearing all the lame jokes about Saskatchewan ever since I've moved here. Like how flat the province is, that you can still see your dog after two or three days. Or that our four seasons here are winter, more winter, July, and road construction.
When I first moved here from Alberta sixteen years ago, I thought that I would last less than six months. There wasn't anything to do here. Before I got homesick, I took a visit to the Saskatchewan Sports Hall of Fame and I didn't realize the bumper crop of hockey talent this province has. If you go back to the early days, Saskatchewan produced some great players: Eddie Shore of Fort Qu'Appelle, Doug & Max Bentley of Delisle, Brian Trottier of St. Brieux, Wendel Clark of Kelvington, and Gordie Howe of Floral to name a few. The list goes on and on.
In the 2014 Stanley Cup Playoffs, Saskatchewan is well represented. There is an opportunity for many of the players and coaches from this province to have a hand on Lord Stanley's mug. With Round One that just started a few nights ago, there have already been some significant mini-stories involving Saskatchewan's finest. For example:
Chris Kunitz of Regina – Pittsburgh Penguins
My fiance boasted on several occasions that she once dated Chris Kunitz when they were in junior high. Yeah, whatever. It's hard to believe that after a college stint that he was signed by the Anaheim Mighty Ducks as a undrafted free agent in 2003. Many teams who had passed him over are regretting that decision now. Kunitz enjoyed early success with the Ducks and was big contributor in their 2007 Stanley Cup run.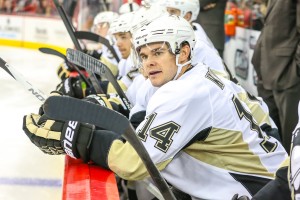 With the Pittsburgh Penguins, he clinched another Stanley Cup in 2009. Since then, the Pens have had trouble reaching the final round, being outclassed and outplayed. Kunitz however has been contributing, being put on the first line with either Sidney Crosby or Evgeni Malkin. Having earned Olympic gold this year in Sochi could be the catalyst for hopefully another Pens' long run this spring.
Ryan Getzlaf of Regina – Anaheim Ducks
Kunitz's former teammate has also collected his fair share of hardware, having a  junior gold, two Olympic golds and one Stanley Cup. The Ducks this season finished strong and are poised to be one of the favorites to win their second Cup.
What's the definition of Saskatchewan "tough"? With a few seconds left in Game One, holding onto a 4-3 lead against the Dallas Stars, Getzlaf blocked a shot…with his face. Here was how it looked:
Ryan's brother Chris who happens to play for the 2013 CFL Grey Cup Champion Saskatchewan Roughriders, posted a picture of his brother. And why not? Get a puck in the face, shrug it off, get ready for Game 2.
One of the toughest guys I know #warrior #ducks #playoffperformer #saskboy pic.twitter.com/ieVIthEx8D

— Chris Getzlaf (@ChrisGetzlaf) April 17, 2014
That's Saskatchewan tough.
Patrick Marleau of Aneroid/Swift Current – San Jose Sharks
Besides Marty Brodeur and Shane Doan, Marleau is the third longest serving member of his draft team. Since his rookie season in 1997-98 to the end of the 2013-14 regular season, Marleau is the Sharks' all-time leader in goals (both even strength and power play), points, shots and games played. His career so far in San Jose has been met with some highs and lows.
Critics remain adamant that Marleau and the Sharks can't handle post-season pressure. To me, that's not a fair assessment. He knows how to handle the big stage. Just look at the two Olympic gold medals he earned in 2010 and 2014. He and captain Joe Thornton are well aware of the Sharks' high expectations. Already up one game on the California rival Los Angeles Kings, the Sharks could be well on their way through the long road to perhaps finally a Stanley Cup victory.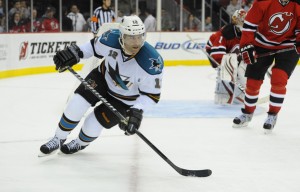 Jaden Schwartz of Melfort & Regina – St. Louis Blues
After a few lean seasons in junior and college hockey, Schwartz forgo his final two years of NCAA eligibility and signed with the St. Louis Blues in March, 2012. He had been going in and out of the minors for the first couple of seasons before he stayed on the Blues rosters in the shortened 2012-13 season. Schwartz is the younger brother of Mandi Schwartz, who was a star player for the Yale Bulldogs before she was diagnosed with acute myeloid leukemia and passed away in 2008 due to cancer relapse.
In Game One against the defending Stanley Cup Champions Chicago Blackhawks, Schwartz not only scored the game tying goal with over a minute left in the game, but he also blocked a shot to force overtime. The Blues eventually won with Thomas Steen scoring the game winner just as the third overtime started. Watch and learn:
Even though Canada may not be represented well with the exception of the Montreal Canadiens, it's nice to know that Saskatchewan is very well represented in the 2014 Stanley Cup Playoffs.
Honorable Mentions (other Saskatchewanians in the post-season):
Jarret Stoll of Melville – Los Angeles Kings
Dwight King of Meadow Lake – Los Angeles Kings
Sheldon Brookbank of Lanigan – Chicago Blackhawks
Cory Sarich of Saskatoon – Colorado Avalanche
Josh Harding of Regina – Minnesota Wild
Brendan Morrow of Carlyle – St. Louis Blues
Travis Moen of Stewart Valley – Montreal Canadiens
Keith Aulie of Rouleau – Tampa Bay Lightning
Blake Comeau of Meadow Lake – Columbus Blue Jackets
Ryan Murray of White City – Columbus Blue Jackets
Derek Dorsett of Kindersley – New York Rangers
Scott Hartnell of Lloydminster – Philadelphia Flyers
Brayden & Luke Shenn of Saskatoon – Philadelphia Flyers
Tanner Glass of Regina/Southey – Pittsburgh Penguins
A former novice/atom player, timekeeper and fan of the game, Peter has lived and breathed hockey throughout his life, covering hockey happenings in Edmonton, Vancouver, and currently in Saskatchewan. He is now a contributing writer for the Hockey Writers.