It's time for another edition of the Seattle Kraken Prospect Report! I'm really excited to see how the organization's prospects respond to added pressure down the final stretch of the season and into their respective playoffs. We'll get to see who elevates their game in big moments, and it could set players up for a strong training camp ahead of next season.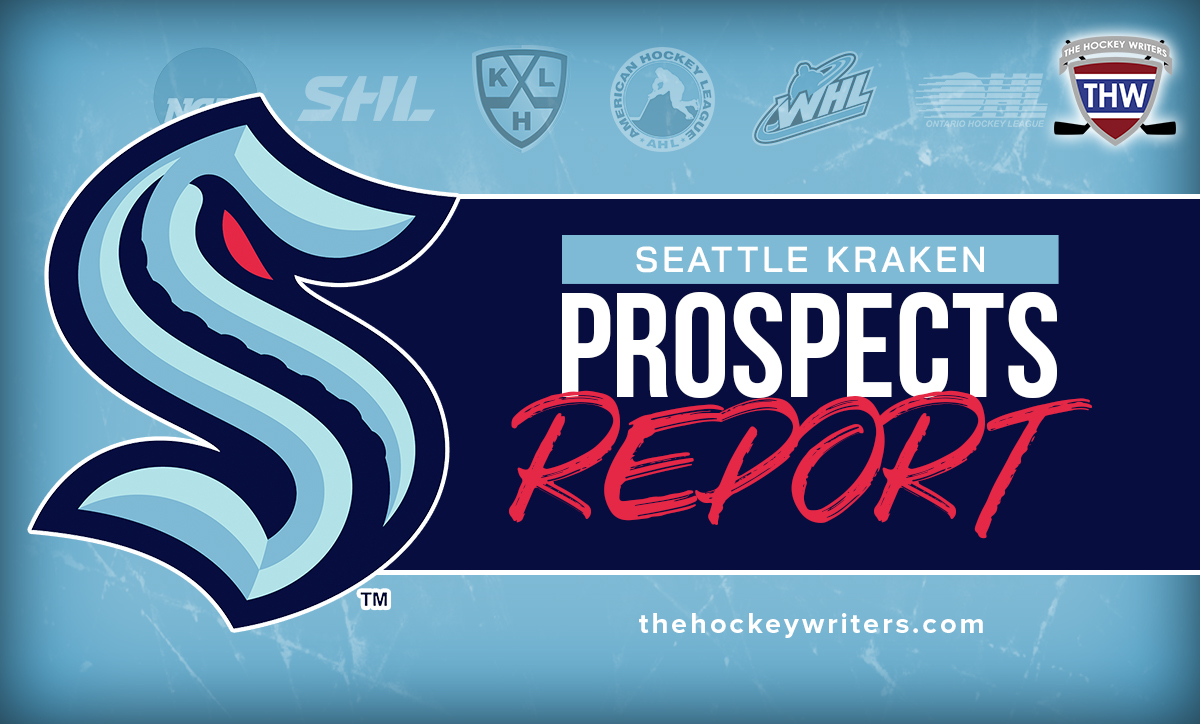 Everyone should be used to me leading off with Shane Wright. He's the team's top prospect, so he's a player I feel the need to check in on every edition; especially considering how his Kraken career started. He'll be one of three players I'll look at who play in the Ontario Hockey League (OHL) before we take a trip to the Quebec Major Junior Hockey League (QMJHL) and overseas to Russia. Let's dive in.
Shane Wright Gearing Up for Playoff Run
The 2022-23 season has been an eventful one for Wright. We all know the drama surrounding his time with the Kraken, and his success playing for their American Hockey League (AHL) affiliate, the Coachella Valley Firebirds. Now with the OHL's Windsor Spitfires, he can cross "overcoming an injury" off the bingo card. I bring this up for two reasons; the first being that it's an added layer of adversity for him to climb over, and the second because it wasn't a serious injury so he didn't have to miss an extended period of time. The Kraken want him playing, obviously, so that's important to note. 
---
Latest News & Highlights
---
He's continued to have a successful season with the Spitfires since joining the team following the World Junior Championship. He's scored 12 goals and 27 points in 14 games as the team is leading the West Division. We've now got a good taste of regular season Wright, as he's in his third OHL season. We've also seen how he handles himself in big moments, having captained Team Canada to gold. I'm curious now to see his consistency over a (presumably) deep playoff run, and if they make it, into the Memorial Cup tournament.
David Goyette Hot Down the Stretch
David Goyette has put a peculiar thought into my head; will he make it to the NHL sooner than I anticipated? He's continuing to light the lamp for the OHL's Sudbury Wolves, and even tallied a four-point night on March 8. That game was in the midst of what's now a six-game point streak where he's tallied four goals and 12 points. Overall, he has 38 goals and 80 points in 57 games, leading the Wolves in both goals and points.
One thing that I'm still being a bit nitpicky about is his faceoff percentage. I mentioned it in a prior Prospect Report, but I really want to see that number increase; it's currently at a 45.1 faceoff percentage (FO%). He's now eyeing the playoffs, so we'll get to see how he elevates his game.
Ryan Winterton Back in Stride
Now we take a trip to London, Ontario to check in on Ryan Winterton. After missing a majority of the season due to injury, he has settled in with the OHL's London Knights following his trade from the Hamilton Bulldogs. His productivity rate has dropped from last season, but he's still having a strong year. He's scored eight goals and 27 points in 29 games as the Knights are firmly in first place in the Midwest Division.
Jacob Melanson Lights Up the QMJHL
Jacob Melanson's success has continued since his trade from the QMJHL's Acadie-Bathurst Titan to the Sherbrooke Phoenix. Bear with me here, I'll be throwing a good amount of numbers at you. He scored 25 goals and 44 points in 27 games this season with the Titan, and 21 goals and 44 points in 26 games for the Phoenix.
He currently sits fifth in the league in points per game, fourth in goals, and seventh in points. Regarding both goals and points, every player ahead of him has played more games. While in the points per game ranking, one player has played fewer games than him. He scored four goals and six points in eight playoff games for the Titan last postseason, and with the way things have gone, I expect big things from him this time around.
Semyon Vyazovoy Locked the Cage
While North American players are in the regular season's final stretch, Semyon Vyazovoy has already seen postseason action. He's seen a good amount of time in both the Supreme Hockey League (VHL), the second-highest professional Russian league, and the Russian Junior Hockey League (MHL). While his win-loss record may not be the prettiest, he put up some strong numbers in both leagues.
Related: Kraken's Matty Beniers Worthy of Winning The Calder Trophy
While playing for Tolpar Ufa in the MHL, he went 9-8-3 in 20 games with three shutouts, a 2.61 goals-against average (GAA) and .930 save percentage (SV%). He won both his postseason games, and put up a 1.01 GAA and .970 SV%. He was dialed in, to say the least.
Moving to the VHL and playing for Toros Neftekamsk, he suited up for 24 games, going 14-8-1 with a lone shutout. He finished the regular season with a 2.27 GAA and .920 SV%; both solid figures. In eight playoff games, he has a 5-3 record with a 1.98 GAA and .935 SV%. I'm very curious as to whether or not he'll play in the KHL next season. He's just 20 years old, and goalies take longer to develop, but I like the consistency I'm seeing from the 6-foot-3 Russian netminder.
Playoffs Will Fuel Draft Plan
Part of the Kraken's drafting strategy should hinge on how their prospects perform in the playoffs, especially the unsigned ones. I've mentioned it before, but it's very important to see which players step up to the plate. The Kraken only hold a prospects rights for three seasons before they'd have to sign them, so time could be running out for some of their prospects, while others could put themselves in a great position ahead of next season.