Last season the Detroit Red Wings AHL affiliate supplied Hockeytown with youth when their roster began falling off injury by injury.
Detroit fans welcomed the young talent of Gustav Nyquist, Tomas Tatar and Riley Sheahan, who each adapted to the big league in their own ways.
Nyquist (57 GP, 28 G, 48 Pts.) and Tatar (73 GP, 19 G, 39 Pts.) established themselves as real talent and contributed well to the score sheet. The big-bodied Sheahan proved he could use his body in a faster, stronger and bigger league to protect the puck and has maintained great two-way play and faceoff percentage for the Winged Wheel.
The kids basically carried the Wings to their 23rd post season. Cue the post-season and the inexperience began to show. Nyquist, Tatar and Sheahan combined for zero points in five games against the Boston Bruins and the Wings began golf season early.
Look to the Future
Fast-forward a year later and the Wings have found themselves in their 24th straight playoff appearance. It's the kids' second chance to show they can compete in the Stanley Cup Playoffs.
The Wings take on the Tampa Bay Lightning for a pivotal game 3 tonight at 7pm at Joe Louis arena. With the series tied 1-1, the kids have combined for one of the teams four goals. Tatar potted the late goal in game 2 when the Wings fell 5-1 in Tampa.
Though one point is still depressing in a season that saw Nyquist hit 27 goals and 54 points in his first full campaign, while Tatar added 29 goals for 56 points and Sheahan tallied 36 points, their play has been better than their stats suggest.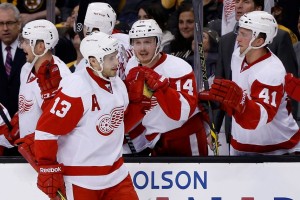 Even star center Pavel Datsyuk took a couple of years to adapt to the NHL playoffs, recording just 12 points (3 G, 9 A) in his first 37 playoff games. Since then, Datsyuk has recorded 96 points (36 G, 60 A) in 108 playoff games. That's more like it.
So as many say, let's let kids be kids. Allow Nyquist, Tatar and Sheahan some growing pains before judging them too harshly on their playoff performances.
Statistics compiled from TSN and ESPN.
I offer opinions and insight on the Detroit Red Wings organization and its prospects.