A few weeks ago we took a look at how Sidney Crosby, in his sixth NHL season, was finally moving into the legendary realm of Mario Lemieux.  Amidst a career of unbelievable plays, one of Lemieux's finest moments came in December of 2002 when a local radio host offered to donate $6,600 to charity if Lemieux could ever score a goal directly off a faceoff.  That same evening, he delivered:
Lemieux's wizardry in almost every hockey facet is still hard to comprehend even today, but when Crosby came into the league, faceoffs were certainly not one of his strong points.  After winning just 45.5% of his draws as a rookie in 2005-06, Crosby has worked tirelessly on improving that aspect of his game.  This season, Crosby is one of the NHL's elite centermen with a 56.3% success rate.
Not only is Crosby winning faceoffs on a regular basis, but his wins are now leading directly to goals for the Penguins.  In the first period of a 6-1 win on Monday over the Phoenix Coyotes, Crosby found himself matched up against Verne Fiddler, another one of the league's best faceoff men.  After Fiddler took a preemptive slash at Crosby's hands, he was thrown out of the faceoff and replaced by winger Lauri Korpikoski: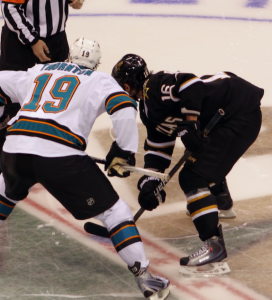 The highlight above was just 14 seconds long, but there were a number of quick subtle reads by Crosby that led to the puck ending up in the back of the net.
The Faceoff Deception
The first was the deceit with his hands.  Instead of taking a faceoff holding the stick the normal way, some players flip the lower hand over for more leverage when it comes time to quickly draw the puck back toward a teammate.  The problem with this method is that Joe Thornton knows the Dallas Stars player in this picture is almost always going to try to win the puck back to his right side.
As you'd expect, a predictable center is easily countered.  Crosby used reverse psychology against the unsuspecting Korpikoski by flipping his hand over to give the impression he would try to win it back.
He also knew that after replacing Fiddler, Korpikoski would be distracted and concerned with just winning the faceoff.  "When a guy is coming in as the second guy, he's usually pretty focused on winning it so I expected him to bear down a bit," Crosby said.
Bearing down meant Korpikoski completely revealed his intentions prior to the drop of the puck.  Lauri not only flipped his hand over like Crosby (indicating he'd try to win the puck back towards goaltender Jason LaBarbera), but he even motioned and said something to the goalie probably telling him to be ready.  Crosby knew that he'd not only have a clear lane to the net by winning the puck forward, but Korpikoski would be trying to win the puck in the same direction and pose little resistance.
After the win, it also helped to have Evgeni Malkin ready to receive a pass when Crosby was challenged by Coyotes defenseman Adrian Aucoin.  "That's a play we use once in a while, and I heard [Malkin] kind of call for it when they switched, " Crosby explained.  "We knew right away we were going to try it and it was nice to see it work."
When Crosby was asked if he'd be willing to divulge the code name of the faceoff play that Malkin called for, he joked that he's "not obligated to say the names" to reporters.
The real reason he wouldn't reveal it?  There probably isn't a name.
In football, a quarterback barks audibles at the line just before the ball is snapped.  Secret plays in baseball usually come via hand signals relayed from the manager and mixed in amongst dozens of other dummy signals.  In hockey there's also a surprising number of signals and plays communicated non-verbally between teammates.
Eye contact, an elbow shrug, a nod of the head; part of developing the all-important chemistry with certain linemates is learning the non-verbal cues that give hints at what a player might do next.
On Monday night's faceoff play, the communication probably consisted of Malkin saying "Sid…" and Crosby then tapping his stick on the ice to indicate he'd try to go forward with the faceoff.  You can see the quick stick tap at the beginning of the video above before Crosby moves in for the draw.  An alternate angle from FSN Pittsburgh gives us a better look:
Crosby's success isn't by accident.  He's constantly focused on ways to improve and works on little tricks and plays like this on a daily basis in practice.  Now that Mike Comrie is out with an injury, it's probably safe to reveal a play Crosby was working on with him back in October when both were members of the top powerplay unit – but never got to attempt.
With Crosby lined up for a shot from the right circle in the offensive zone, Comrie would slip away from his normal spot in front of the goalie and over to the left side of the goal.  A slapshot from Crosby aimed intentionally wide right would conveniently carom off the back boards and onto Comrie's stick for an easy goal.  Crosby made Comrie stand at the goal for 15 minutes while he meticulously analyzed the angle and bounce of the puck.  If they had pulled it off in a game, a first impression as a viewer would have been 'wow, what a fortunate bounce'.
Whether it's a stick tap or an intentionally missed shot, these subtle nuances in Crosby's game are what make him one of the best in the modern era.
News and Notes:
~ Coach Dan Bylsma gave an update on Comrie on Monday:
"Mike injured himself in the second game of the season. He played with it and tried to rehab it for the time he played. He's since been rehabbing and trying to strengthen his hip. He is scheduled to continue to do that. On [December] 27th he'll see a doctor to see his hip and where he is with that. Mike's been rehabing since he hasn't played. He's been dealing with it since the start of the season to the point where he needs to see a doctor and see what he can do."
The Penguins second game of the season was against Montreal, and Comrie probably suffered the injury in a fall after this fight with Maxim Lapierre:
It's still unknown at this point if the injured hip is the same one he underwent surgery on in May 2009 at the Steadman-Hawkins Clinic in Colorado. Comrie rushed back onto the ice too quickly last season after the surgery and ended up missing over a month with recurring problems.
The hip injury explains his unusual dropoff in play after an impressive preseason.  Watching Comrie in the regular season, I saw a player who had no speed and went out of his way to avoid all contact and high-traffic areas.  If he can get healthy and make a return to the Penguins lineup this season, he still might be the surprise signing we anticipated this summer.
~ With 3 more points on Monday, Crosby extended his point-streak to 21 games. In the streak he's scored 21 goals to go along with 21 assists. The streak is the second longest in the NHL since the lockout trailing only Dany Heatley's 22 game run in 2005. Heatley had 38 points during that stretch.