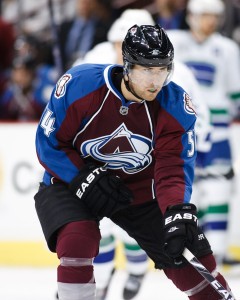 With the NHL trade deadline just two weeks away, it's time for teams to decide whether they will be "buyers" or "sellers" on February 27th. For some teams – Columbus, Carolina, Edmonton – no pending free agent or grizzled veteran is safe. These players could be attractive options for the buyers – think New York, Boston, Detroit, Vancouver – who may believe that they are just one piece away from hoisting Lord Stanley this June.
Other teams, however, are in a state of limbo. This is where the Avalanche fit in. Currently one point out of the eight spot in the West, the Avalanche is in a dog fight with at least four other teams for the final spot. If Greg Sherman and crew believes that this team has what it takes to secure that spot and possibly even make a deep playoff run, then we should see the Avs holding on to their assets and perhaps even going out and landing a top 9 forward. If, on the other hand, the team does not believe this group is going anywhere, certain players become available
Enter: Adrian Dater.
Last Monday, the Avalanche beat writer penned a blog post in which he speculated that David Jones, Shane O'Brien, and Kyle Quincey could all be on their way out of Colorado by the deadline.  Puck Daddy also got in on the fun last week, naming Quincey as one of the seven most intriguing defensemen to look at on trade day.
Listen, folks. Getting rid of any of these guys is a bad idea – unless there is player of equal value coming back. However, as much as Avalanche fans enjoy Shane O'Brien's toughness and leadership and Kyle Quincey's guts and potential, the Avs have a ton of defenseman on the verge of making the team next season (Barrie, Gaunce, Siemens), so getting rid of a veteran defenseman or two to make room certainly makes sense.
David Jones, on the other hand? I'm not so sure. Let's take a closer look:
Dater makes a lot of good and completely valid points about David Jones. He's had a sub par season, not to mention the fact that he's an unrestricted free agent this summer. As Dater notes,
The Avs need to get something for him if they don't plan to re-sign him. It'll be just bad management if they don't.
I'm not sure if Jones reads his press, but in the two games since these rumors began, Jones has two goals and three assists in two Avalanche victories. There's no doubt that he's been ineffective this season – terrible at times, even. But Jones is still just 27, and his twelve goals are still good enough to tie him for fifth on the team.
It's not as though his supporting cast is doing any better, either. Very few goal scorers are remarkable by themselves. Jones has played much of the year with Paul Stastny (on his way to a second straight disappointing season) and Jay McClement (not exactly an offensive juggernaut). Yes, Jones must be held accountable for his play, but fans tend to blame lackluster results on the player rather than looking at the broader situation. No one is arguing that Jones is an elite NHL goal scorer. But he's certainly a serviceable one. (Check out his snipe from Tuesday's game against the Blackhawks, below).
Furthermore, the bigger issue that the Avs are facing is depth. It's no secret that the Avalanche hasn't been strong on the wings in a long while. Currently, the top four consists of  three mainstays:  the soon-to-be-gone Milan Hejduk, oft-injured, but effective Peter Mueller, and the promising Gabriel Landeskog. The fourth winger? A mix of Jones, TJ Galiardi, and Chuck Kobasew. Not exactly an All Star ensemble.
Sure, this problem may be addressed when Matt Duchene, who transformed from center to winger earlier this season, returns, but does that mean Duchene's days as an NHL center are already over?
Finally, I'm going to go out on a limb and say that in two weeks, the Avalanche's playoff hopes will still be alive. Given that the team has no first round pick this season, it's playoffs or nothing for the fans. If the Washington Capitals go up to the draft podium with a top ten pick, I don't think it's outside the realm of possibility that Greg Sherman's days in Colorado could be numbered. That said, given that the team is within striking distance, I don't see how Avalanche management could justify shipping one of its leading, albeit most inconsistent, goal scorers away, especially when he finally appears to be heating up.
Jones is still young and is still capable of providing important secondary scoring for the Avalanche. If he is to be traded, a similar player needs to be headed to Colorado. Otherwise, this season may be going to the dumps.