On July 1, 2019, Connor Brown was traded from the Toronto Maple Leafs along with Nikita Zaitsev and Michael Carcone to the Ottawa Senators in exchange for Cody Ceci, Ben Harpur, Aaron Luchuk and a third-round pick in the 2020 NHL Entry Draft.
In his first season with the Senators, Brown played a full season, scoring a career second-best 16 goals and career-high 27 assists for 43 points.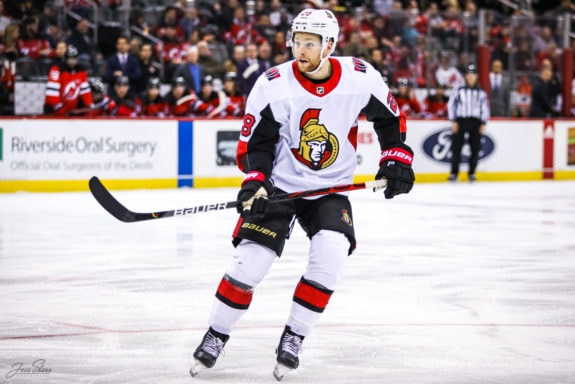 However, this season the winger has struggled to hit the mark on his career stats. Primarily, he has struggled to finish the opportunities he has gotten throughout this season. This changed recently, though, as Brown has not only stepped up to finish the opportunities he's been given but also has shown outstanding confidence in himself. Making franchise history in consecutive games with a goal, and surpassing some of the biggest names in NHL in takeaway stats.
Finding His Footing
On March 25, 2021, Brown scored a goal that would be the beginning of a goal streak that would put a franchise goal streak record in question. Since then, he scored six goals in six straight games. He's also finally making the most of the playing time he gets on the Senators, as Brady Tkachuk is the only forward who gets more playing time than Brown.
Although the stats and the streaks are what stand out and reflect Brown's recent success, his achievements are also reflective of how confident he's looking while navigating the puck around the ice. He is taking shots and finishing the opportunities he's getting. He's had many chances to pass the puck, but his confidence has shown when he decided not to pass and instead take quick shots on his own. Coincidently, those quick and confident shots ended up in the back of the net.
King of Takeaways
It's also not just Brown's offence that is getting him recognized lately as an important player in the lineup. His focus and failure to be distracted by the complexities of some of the very good teams he's faced shows how truly talented he is. He brings different elements to his game, including a defensive presence that has kept some teams to minimal scoring opportunities.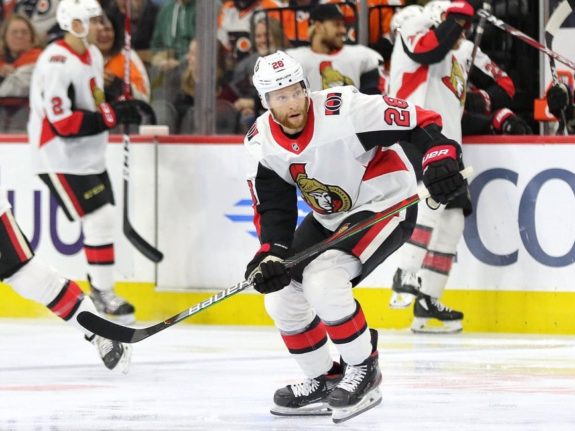 One of these is the way he transitions the puck the other way. Although his scoring stats may not make it even close to top NHL stats, his takeaway numbers do. Brown currently sits tied second in takeaways, with 39 across the entire league. If that's not shocking enough, the people he sits between and besides will make this even more shocking. Brown is tied second with none other than Sidney Crosby. He also sits behind the league-leading Mark Stone, who only has one more takeaway at 40.  
The players who sit behind him also are names that include Mark Scheifele, Leon Draisaitl, Auston Matthews, Jack Hughes, Mikael Backlund, and Mitch Marner. Being ahead of such elite players in the league truly shows what an asset and well-rounded player Brown is.  
Brown Makes Franchise History
Before Saturday night's game against the Maple Leafs, Brown had six goals in six consecutive games. He joined Drake Batherson, Jason Spezza, Daniel Alfredsson, Dany Heatley and Bob Kudelski as the only Senators players to score in six consecutive games. None of these players had ever scored seven goals in seven consecutive games.
The streak began against his former Maple Leafs' team, and it was the place where Brown made Senators franchise history with a seven-goal streak in seven consecutive games. (from SNAPSHOTS: Connor Brown can set franchise record by scoring in seventh straight Saturday … Erik Gudranson thrilled to be a new father,' Ottawa Sun, 04/10/2021) This may be the validation and confidence boost he's been looking for since getting traded.
Although he broke a franchise record, that doesn't mean he's going to settle. He's on fire, and has found a comfortable and confident mindset that's allowing him to to bet on himself. Fans should not underestimate Brown to extend that record further, and should have confidence in him to finally be the type of that player that the Senators traded for.
Even though the Senators have had a disappointing season, it makes these individual player achievements more valuable because it shows that they still care enough to play. Even if playing means only trying to improve personal performance and set new goals for themselves. With that said, Brown could extend the new franchise record to eight straight on Monday when the Senators host the Winnipeg Jets.
---
---