There is a glaring problem staring the San Jose Sharks in the face: offense.  They only managed to score 10 goals in seven games against the Los Angeles Kings when they were bounced in the second round of the playoffs.  Granted they had to put those past Jonathan Quick, but a team that aspires to a Stanley Cup (hint: EVERY team wants that) would have found a way to beat any netminder.  The Sharks 2013 draft options for the first round should be limited to forwards.  But is there another Logan Couture hiding in the ranks?
Andre Burakovsky
At 179 pounds, this young forward is not a physically imposing individual.  He will not be Joe Thornton reincarnated.  What he will be one day, though, is an elite scorer.  His combination of blistering speed and quick hands make him a nightmare when he gets control of the puck.  His size does not make him timid, but if there were an aspect of his game that could be seen as weak is his weight.  He can be knocked off the puck at times, but it does not happen often.  The Sharks could benefit from his raw skill, and with veterans to coach him up his consistency problems and defensive short comings can be dealt with.
Max Domi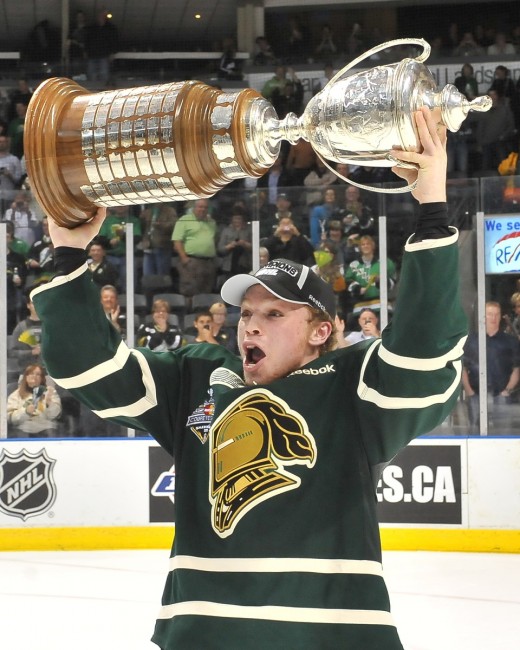 The son of the old Toronto enforcer did not exactly take after his father in terms of his hockey abilities.  Again, a smaller player, he only weighs 190 pounds and does not even crack six feet on a measuring stick.  His talent is undeniable up front.  He has a great shot and an even better hockey IQ. His low center of gravity makes him tough to knock of the puck.  His vision makes him seem like he is destined for playmaker greatness or maybe even a leadership role in his career.  Where he could improve is in a part of the Sharks game that improved dramatically from last season.  Domi can disappear on the defensive end.  The Sharks will want him to amp up his play behind the blue line.
Adam Erne
Last season with the Ramparts north of the border, Erne recorded 72 points in 68 games.  He also became a physical presence on the ice as well, even without the frame that one would expect.  Erne is expected to be drafted early in the first round, but there is a genuine chance he can fall to the twentieth spot.  He will not put up the same numbers that the first two draft prospects will, but his strength as a power forward will make him a force in the NHL.  He does not hold the speed and agility you would like, but if the Sharks look for another big man up front, Erne would be a prime option.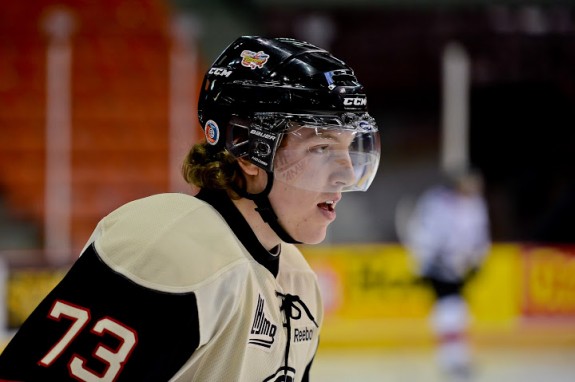 Curtis Lazar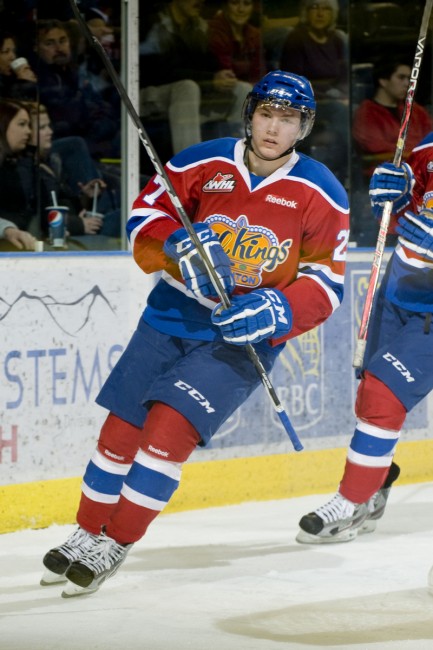 It is almost impossible to tell when a prospect will do well in the NHL.  The case with Curtis Lazar is complicated by his current team, the Edmonton Oil Kings.  The Oil Kings are old and have plenty of NHL-level talent.  So his numbers may be a bit skewed.  What makes Curtis so strong as a player in general is his ability to read plays.  He is not going to be a superstar goal scorer in the big show, but he will definitely bring talent.  He is good enough for the NHL and does not generally have a weak point to his game.  If the Sharks were to pick him, they would be risking very little.  Lazar would work well on any line against any player.  He has to learn to be more decisive and take a few more risks, but those are solved with experience in the NHL.  He would make a great addition to the second line and fits perfectly into the Sharks philosophy of two-way forwards.
Anthony Mantha
The problem with Anthony Mantha is that he will remind Sharks fans of a much larger version of Patrick Marleau and his streaks.  Mantha is subject to droughts in scoring.  He also has not quite mastered the ability to use his massive 6'4" frame to his advantage.  However, with these issues in mind, Mantha is going to be, without a doubt, a first rounder.  He is deadly with the puck on his stick and in the offensive zone in general.  He is not afraid to get physical and plays a tough game.  Mantha is capable of scoring over thirty goals a season and because of his inconsistency, he could drop all the way to twentieth where the Sharks could steal a golden pick.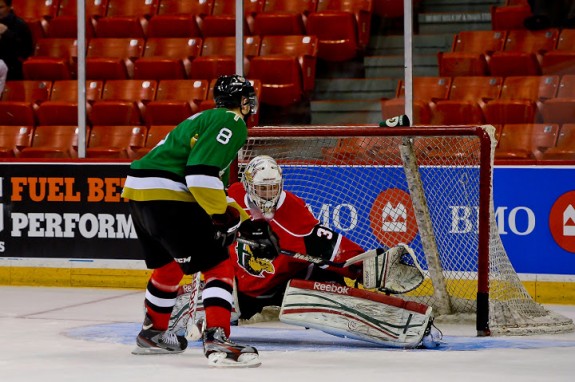 Sharks 2013 Draft Pick
There is no exact science to picking the Sharks first rounder.  And as mentioned in THW's Mock Drafts, the Sharks could select Robert Hagg or Josh Morrissey or Adam Erne.  Our own writers fail to agree!  Max Domi would be great, only if he fell to the Sharks.  But, he is likely to be taken by the even more offensively-starved Devils on Sunday.  The story is similar for Curtis Lazar, if he falls far enough, the Sharks would love to have him.
With that in mind, the Sharks should select at the 20th spot, Andre Burakovsky.  His weakness in size can be rectified with an adjustment in diet.  But the upside to his goal scoring and talent is well worth the risk.  The Sharks have three picks in the second round, so taking a risk is not a problem.
Kenneth is a graduate of the University of San Francisco in Politics and Chemistry. But his passion in life has always been hockey. He has played since he was four and even coached a few teams. Kenneth writes for the San Jose Sharks at thehockeywriters.com