A Misleading Record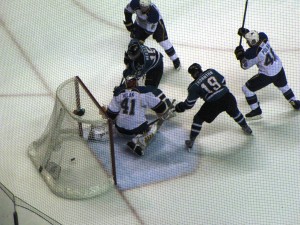 After the San Jose Sharks lost their first-line center, Joe Thornton, to an injury sustained against the Anaheim Ducks, the team achieved a decent 2-2-0 record before he returned to the lineup. At face value, this break-even record seems to show that the Sharks are capable of winning games without their former captain. However, by looking into more detail about each of those four contests, a more disastrous story is revealed.
In 240 minutes of hockey, the Sharks were outscored by their opponents 19 to 11, which includes identical 7-2 losses against the St. Louis Blues. Both games against the Blues showed a disorganized and scrambling San Jose team in desperate need of their lost playmaking forward. They were unable to create any sort of consistent zone pressure and struggled to get high quality scoring chances against goaltender Brian Elliot. Despite holding a lead at one point in each game, the Sharks were unable hold off the relentless Missouri-based team and ultimately lost by embarrassing scores.
The two wins that San Jose were able to secure came against a crippled Winnipeg Jets team and a Minnesota Wild squad that is currently out of a playoff spot. In each game, the Sharks only won by one goal, and the game winners came very late in the contests (the last five seconds of regulations against the Jets and in overtime versus the Wild). With Thornton, those games could have potentially been slam dunks.
#SJSharks without Thornton so far: 2 blow out losses to a good team, 2 skin of their teeth wins against banged up and slumping teams.

— Andrew Bensch (@BenchWarmerView) January 9, 2015
Dismal Power Play
Without arguably the greatest passer hockey, San Jose looked downright pathetic with the man advantage. In the absence of Thornton, the Sharks' top 10 ranked power play scored only once in 19 attempts. They had difficulty cycling in the offensive zone and were rarely able to put dangerous shots towards the net. The lack of a first class playmaker on the top power play unit decimated their scoring ability and forced the team to have a mere 5.2 percent success rate over the four game span.
Sadly, San Jose's penalty kill looked better offensively than their power play. Their short handed unit scored once in 14 instances, giving them a 7.1 percent goal-scoring percentage, almost two percent better than their power play. Even without the goal though, San Jose generated a number of chances, including multiple two on one rushes, while being down by a man. The forward pairing of Logan Couture and Tommy Wingels was especially dominant in their own end of the ice and fostered numerous scoring opportunities for their club while on the penalty kill.
Losing the Possession Battle
Last season, the Sharks finished the year as the fifth best possession team in the NHL at even strength, and currently rank in the top half of the league by holding a corsi-for percentage of over 50 percent. Interestingly, the San Jose Sharks have held positive possession numbers every year since corsi became tracked by the NHL in 2007, and have lead the league in the category multiple times. This team is a possession juggernaut historically, and that trend seems to be continuing this season.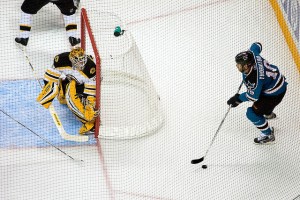 In their four games without Thornton, however, San Jose only registered a 49.1 corsi-for percentage in all situations. That is already subpar for the Sharks, but this statistic is even more shocking when you account for the fact that San Jose had five more power play opportunities than their opponents, giving them 10 extra minutes with the man advantage. If a team has 10 more minutes of power play time than the opposition over four contests, they should easily be able to possess the majority of shot attempts. This was not the case for a Thornton-less Sharks team.
Even Joe Pavelski struggled without his usual centerman.  In the two games against St. Louis without Thornton, he held a disappointing -17 corsi differential. Thornton is a vital part of this team, especially when it comes to the first line's possession numbers.
When comparing San Jose's performance with No. 19 against their recent play without him, it is easy to notice his impact on the squad. Losing him for an extended period of time would destroy the Sharks' playoff hopes and could cause another offseason like 2014. Fortunately for San Jose though, his stint on injured reserve only lasted four games and he is now back centering the top line.