What a difference a year makes. When John Hynes took the head coaching job with the New Jersey Devils, he preached about being fast, attacking and being supportive. His Devils were playing loose, over-achieving and the culture change appeared evident.
Enter this point in year two and no one is buying in. The writing is on the wall, whether anyone wants to admit it or not, they're in full tank mode. Winless in 10 straight, 0-8-2, following another trade deadline of swapping players for late draft picks, players know it too.
The #NJDevils comeback falls short in Arizona as the club falls to the Coyotes 5-4. #NJDvsARI pic.twitter.com/TZKKuoqKf8

— New Jersey Devils (@NJDevils) March 12, 2017
Given what this ownership group has done with its NBA Philadelphia 76ers, they're not above outright tanking and tanking hard. Hence, in fairness to Hynes, it's tough when your roster is being dismantled for the purpose of better draft positioning.
What is concerning is when the head coach speaks to a lack of motivation from his players. A coach can only do so much without talent but if guys aren't playing hard, it's a reflection of the bench boss.
Livid John Hynes starts presser with, "I'll make this easy for you, we weren't ready to play in the first period…"

— Andrew Gross (@AGrossNewsday) March 10, 2017
One can argue if going into tank mode is a positive or negative for the Devils. Some probably wish they'd done it the past two seasons when Connor McDavid, Jack Eichel, Austin Matthews and Patrik Laine were on the board. However, in a league where being in first place midseason (hello Michel Therrien) or at the helm of a playoff team last season (read, Gerard Gallant and Jack Capuano), doesn't guarantee job security, it doesn't bode well when your team looks like it has flat-out quit.
Fired for Less
Save for perhaps Peter DeBoer, former general manager Lou Lamoriello possessed quite the quick trigger when it came to head coaches. Lamoriello made 21 coaching changes during his tenure and it didn't matter if you were Jacques Lemaire or Larry Robinson.
During the 1999-2000 season, the Devils jettisoned Robbie Ftorek with eight games remaining on the schedule. Ftorek's squad was 41-25-8 at the time of his firing. The move paid off with Robinson guiding the club to a Stanley Cup title.
With three games remaining in the 2006-07 campaign, Lamoriello axed Claude Julien and his 47-24-8 record and named himself head coach. In the postseason the Devils were bounced in the second round.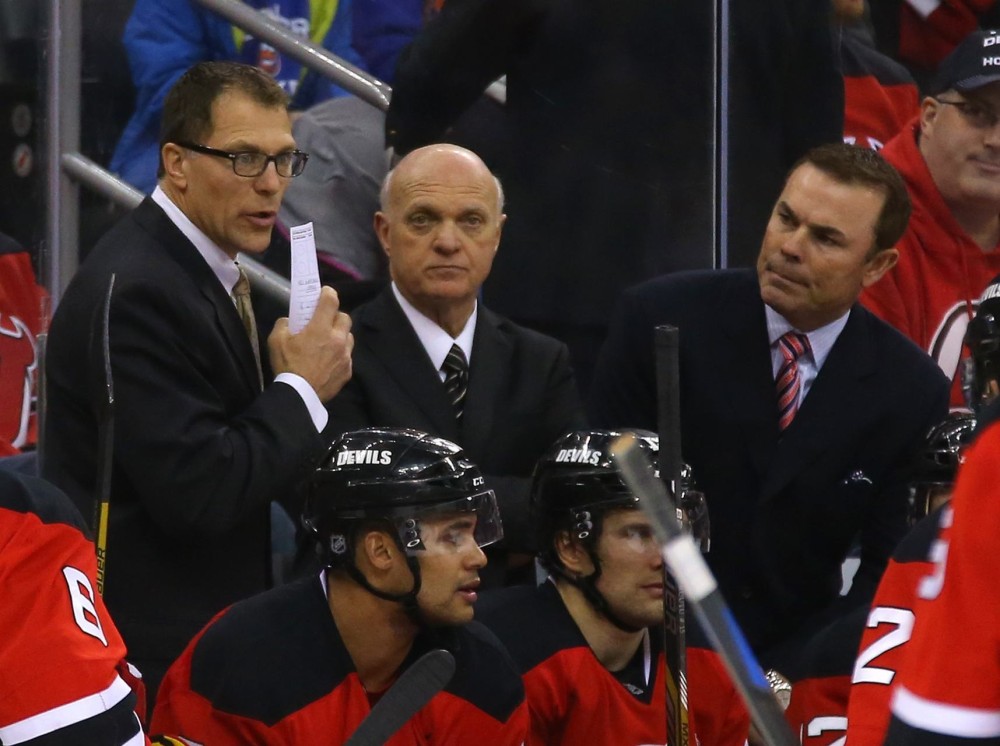 Again, it was a different era with a contending team with different expectations but there hast to be a line drawn somewhere with standards.
Potential Solutions
It seems as though the Devils are in this rebuilding "process" for the long haul. Hence, it may not yield much of a difference, other than optics toward a frustrated fan base. Plus, general manager Ray Shero and Hynes have a relationship dating back to their days in the Pittsburgh Penguins organization and if this arrangement only lasts two seasons, it makes it look like neither one has a clue of what they're doing.
Internally the organization could bring up Rick Kowalsky from the AHL Albany Devils. After Kowalsky earned the Louis A.R. Pieri Memorial Award for top coach in the circuit in 2015-16, his A-Devils are likely headed back to the Calder Cup playoffs this season. Kowalsky is familiar with the Devils' prospects. Granted, before their recent success, Kowalsky's teams had missed the playoffs from 2010 to 2013. Talent matters.
.@AlbanyDevils head coach Rick Kowalsky, named 2015-16 recipient of the Louis A.R. Pieri Award →https://t.co/tuhOyJDFnA

— AHL Communications (@AHLPR) April 8, 2016
While they may not want to revert back to the previous regime, a popular move may be bringing back Scott Stevens. Stevens is a Devils legend, Hall of Fame defenseman. The optics are a no brainer, the Devils need some serious coaching on the blue line and perhaps someone who can lure Kevin Shattenkirk to the Garden State.
Bottom Line
If you're where the Devils are and you're desperate for points, you can't afford to believe you're going to coast and win against the likes of the Colorado Avalanche and Arizona Coyotes. During this winless stretch, it's exactly what this team has done and they lost to both as a result. Sometimes coaches can only have so much of an impact on wins and losses but there's no excuse for a lack of motivation and effort.