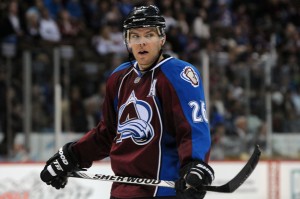 Before the 2011-2012 season began, The Colorado Avalanche surprised fans and media by trading for then Washington Capitals goaltender Semyon Varlamov. While there's no denying he has shown signs of brilliance during his time in the league (Varlamov is only playing in his 4th season in the NHL), the most confusing part of the trade may have been that the Avs were willing to part with their number 1 pick in the 2012 draft for a mostly unproven commodity. It's an understatement to say the organization is still in the process of rebuilding, and trading what could end up being a top 15 pick for a young and unproven net-minder may not have been the best choice. However, Varlamov has been hot and cold throughout his first season in Denver so far, and shows promise for the future.
The question now becomes: How do the Avalanche handle not having that draft pickto rely on next year? The lineup still needs plenty of help in the form of a pure sniper, to complement rookie sensation Gabriel Landeskog. Center is a position, perhaps the only, that the young Avs have an abundance of talent at. This could work out in their favor as the trade deadline looms closer. With Matt Duchene on the rise and the emergence of fellow 2009 draft pick Ryan O'Reilly, Paul Stastny may become the odd man out in Denver this year. Trading him may be a little difficult with a $6.6 million price tag attached, but there are several teams out there who lack a play making center like Stastny, who also is fairly young (he entered the season at 25 years old).
A couple of hopeful suggestions to start. The New Jersey Devils are rumored to be looking for potential suitors of Zach Parise, since his contract is up and there is almost no way the Devils can sign him with the little cap space they have. If they feel they need to trade him, the Avs could offer Stastny for Parise and perhaps throw in a draft pick or two. New Jersey might be looking to shed more cap room with a trade of Parise, but if a deal could be reached somehow, the Avs would get a definite scoring threat on the wing to compliment Duchene, with enough money (about $41 million next year) available to resign him.
Much like the Parise deal, Colorado could also try to swap winger for center with the Washington Capitals. It's no secret that there is some unrest in DC, so making a swap of Stastny for Alexander Semin, also a UFA at the end of the season, could make sense to both teams. Semin makes only about $100,000 more than Stastny on his current deal, so the cap hit would be negligible. A change of scenery could do wonders for both of the slumping stars. Maybe Colorado could even surprise people and deal for Corey Perry, who  has been rumored to be on the block in a bad year for the Anaheim Ducks.
Perhaps the most likely option would be to find a potential suitor with enough cap to take on Stastny's salary, and trade for their first round pick. This way, whether or not Varlamov ends up being a consistent starter, the Avalanche save themselves from losing on a first round talent that really could use at this stage in their development.