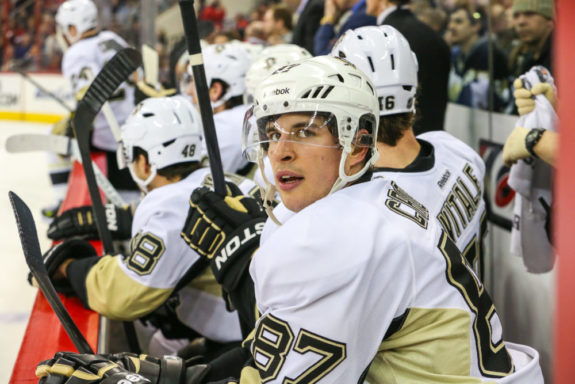 Is Sidney Crosby an admirable captain leading the Pittsburgh Penguins? We know he is the best player in the world, or at least one of them. Crosby tore up the league and played on a higher level than anyone else in the NHL this season when he was healthy. Sid the Kid arguably anchored the best line in hockey. He made Chris Kunitz look like a top-tier sniper. Crosby is also the main reason why Pascal Dupuis will be adding millions to his bank account once Dupuis inks a new contract.
Crosby's talent is not being questioned. But, when you need your captain to step up and make a statement, where has Crosby been the last two playoff seasons? Crosby got entangled in the Philadelphia Flyers bullying in last year's post-season series and was completely out-dueled by Flyers' captout-duelled Giroux. In last year's playoff series, Giroux proved to be a better leader and playoff performer than Crosby.
Crosby looked to have turned the page on this chapter by tearing up the first two rounds of the 2013 playoffs against the New York Islanders and Ottawa Senators. No one was able to stop or even slow down Crosby in either series. Despite missing 12 games due to a broken jaw, Crosby looked like a man possessed as he posted 15 points in 10 playoff games.
Eastern Conference Finals
As much as we think the Pens may have faced adversity in Round 1 against the Islanders, they never trailed in the series. They never had an issue scoring goals, nor did they in their series against the Senators. Then Game 1 of the Eastern Conference Finals against the Boston Bruins began. At the midway point of the first period, the wheels began to fall off the captain of the Pens.
Crosby took an uncharacteristic interference penalty on Patrice Bergeron and managed to whine about the infraction all the way to the penalty box. After receiving a luscious shot from Bruins' captain Zdeno Chara towards the end of the second period, Crosby was determined to spit some trash towards Chara. Then Crosby decided to take a shot on Bruins' goaltender Tuukka Rask after the buzzer sounded in the middle of the center ice melee. After Evgeni Malkin was finished fighting Bergeron, Crosby initiated more trash talk with Chara. To begin the third period, Crosby took an ill-advised slashing penalty on Tyler Seguin, and again complained about the call. Is this a good captain?
Crosby was off his game and never stood out as a world-class player in the series. Game 2 was one of the worst games I've ever seen Crosby play. He didn't want to hold the puck on his tape for more than a second and inadvertently assisted on Brad Marchand's goal to open the scoring in that game. Crosby didn't decide to make himself noticeable until Game 4. By that point, time had run out on the Pens' opportunity to win the series.
Making a Statement
This wouldn't be the first time Crosby's leadership has been questioned. About a year and a half ago, Pittsburgh Tribune-Review columnist, Dejan Kovacevic reported that there were rumblings between a few players that the Pens should have a temporary captain while Crosby was healing from his concussion injury.  Crosby's distant relationship with the team during his concussion was in question. There was a heated debate over this topic in the media, but the controversy was quickly diffused. Crosby remained the captain and all of his teammates wore "C's" on their jerseys in the following practice in support of Crosby.
Don't get me wrong, the Pens will never strip that "C" off of Crosby's jersey until he retires in a Penguins' sweater. That's not up for debate, but I do question whether Crosby can improve his leadership skills. Instead of being absent during the Conference Finals, and allowing the Bruins' to dictate their style of play, Crosby needed to make one heroic play to capture his team's attention. A goal would've been a glorious wake-up call, but this wasn't Crosby's only option. He had the ability to make a bone crushing hit on a Bruins' player or sacrifice his body in front of a Bruins' slap shot to wake up his bench. Crosby needed to do something as team captain to spark a comeback.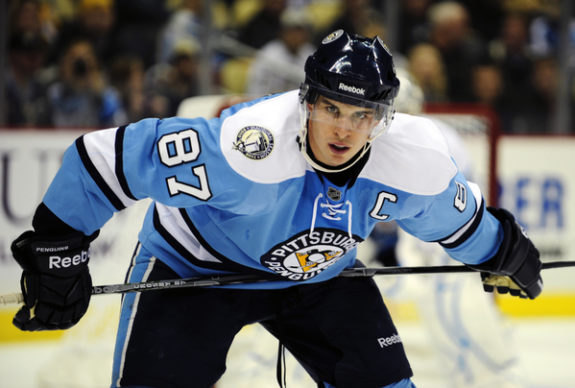 Whenever true adversity confronts the Pens and their captain, and a solution is not quickly found, their frustrations stick out like a sore thumb. Rather than running his mouth in the direction of Bruins' players or complaining about the referees in the media, why doesn't Crosby speak up more in the locker-room? Crosby is soft spoken, but I can guarantee if he spoke up in the locker-room or in the media to make a statement proving his leadership, this dialogue would motivate his teammates. Crosby is not a bad captain, but I do feel his leadership was questionable during the Bruins' series.
Leading the Way
In my opinion, there is no other player in the league who works harder in the off-season, or to improve upon a particular skill than Crosby. If you've ever played sports and dealt with an injury, there is nothing tougher than returning to old form when attempting a comeback from some sort of bodily damage. Crosby has proven he is able to accomplish such a feat and carry the Pens on his shoulders.
Crosby needs to prove the ability to mount his team on his shoulders and will the Pens to a series victory when the outcome looks bleak. I know Crosby does more than we know behind the scenes, but what we see is what we know. As the face of the Pens' franchise and the league, he has to be on his best behavior at all times. I hope Crosby never again publicly complains about the referees in the playoffs and never whines to the refs after disagreeing about a call. I have the same request when Crosby wants to talk trash. I hope he refrains from talking trash to opponents and concentrates on the team goal; winning a Stanley Cup before time runs out.