The NHL trade deadline is February 29th, but several clubs have already decided to act on their biggest weaknesses. I was all prepared to write this column as yesterday's feature deal, but then Columbus and Nashville (along with the Washington Capitals signing of Mike Richards) had to go ruin everything. So now, like the high school student who has to explain to the ten people who showed up why his party is cooler than the rager everyone else is at, I will attempt to describe why what the Kings and Flyers just pulled off will have very serious ramifications.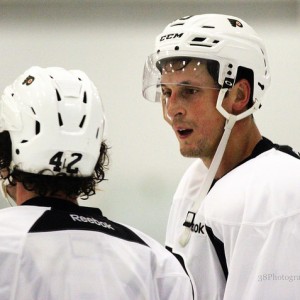 Don't be fooled by the lack of current star power or big names, this trade matters a great deal for the Los Angeles Kings. L.A. kicked trade deadline season off by sending forward Jordan Weal and a third round draft pick to the Philadelphia Flyers, in exchange for defenseman Luke Schenn and
washed up former legend
veteran forward Vinny Lecavalier. It's a simple trade formula at first glance: The Kings needed a defenseman, and the Flyers had a logjam on their blue line. As is normally the case with trades, the team getting the short end of the personnel stick seeks some financial retribution, usually in the form of a salary dump with any bad contracts they have on the books. And my God, did the Flyers have one of those on their hands.
It's easy to look at a trade and automatically declare a winner. But how effective is that? There are so many factors in play here, including the expectations of current Kings and any future decisions the franchise might make. The people who want to proclaim trade winners and losers right after a deal is made are likely the same people who think they know more than the general manager, or who would be caught saying "yeah you can come to Vegas with us discretely, just put this blonde wig and mustache on and you'll blend right in." It's just not practical.
The Kings and Flyers both felt this move was in the best interests of their team. I kept that premise in mind when I broke down the six main reasons any trade is made. If you have a reinforced belief in a particulary trade after looking at these six areas, it should be made every time. If any reason causes your belief to waver, then the trade may have been a worse mistake than the 2016 NHL All-Star game jerseys (that just have to come with a free bowl of soup). Let's run through the checklist.
What the Kings Gave Up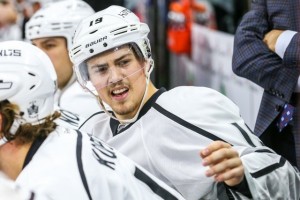 The only player on the active roster L.A. had to part with was young forward Jordan Weal. I respect the workman-like mentality that Weal brought to the rink every day, but the truth is that he's expendable. He was barely getting into the lineup before Dwight King returned up front (and started playing very effectively), and now there really is no room for him. In 10 games with the Kings he failed to register a single point, and is still a work in progress. Weal's NHL career might prosper at some point, but this was an easy decision for Kings brass to make.
Oh, and the Kings front office also made an absurdly easy decision to part with a 3rd round draft pick in 2016. I know you can find great players in every round of the draft, but these picks are basically the wrapping paper in a deal. For every Jonathan Quick, there's twice as many players who barely scratch the NHL surface in the middle rounds.
What the Kings Received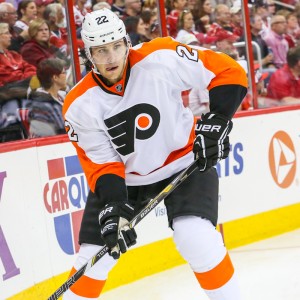 I harped last month about the void on the Kings blue line, and the team obviously listened by making a deal with one of the teams on my list. Unfortunately for me, L.A. went with Luke Schenn over Michael Del Zotto in Philadelphia. Schenn, the former fifth overall pick by Toronto in 2008, is a solid, stay-at-home defenseman. He will never dazzle you with his offensive prowess, but he's a reliable piece in any rotation and is by all accounts very coachable. The Flyers had one too many defensemen on their roster, and made (in my opinion) the correct call to ship Schenn out over their other options (Shane Gostisbehere has arrived in the city of brotherly love, much quicker than even Flyers executives could have expected). Plus, his younger brother Brayden played for the Kings and can give him a sophisticated tour of the do's and don'ts of the city.
The other player acquired by Los Angeles is a former Stanley Cup Champion, and one of the most respected players in the NHL. Vinny Lecavalier debuted with the Tampa Bay Lightning in 1998 at the age of 18, the #1 overall pick in that year's draft. The young Canadian did not disappoint, becoming the youngest captain in league history (at the time) and a driving force in creating a sustainable, winning culture in Tampa Bay. Eventually, as is the case with all great hockey players, Lecavalier got old. He signed with the Flyers in 2013, and has slowly seen his game deteriorate across the board.
Where does Lecavalier fit in this deal? Well as odd as it might sound, he's clearly the throw-in player for salary dump purposes (more on this later). The Kings made this trade to acquire some support on their blue line, and were willing to take on an expensive player well past his prime to do so. Lecavalier made a name for himself with his slick hands and hockey smarts as opposed to pure speed. If he is able to adjust to the Kings defensive-minded, puck possession system, there could be a place for him to be effective at the back end of the lineup.
The Financials
Ok, this is where the gloves come off. My first reaction to this trade was not personnel-driven. Instead, it was something along the lines of, "how the heck is (Kings general manager) Dean Lombardi going to make the numbers work, without some Enron-level accounting?" Lecavalier's cap hit was a staggering $4.5 million in Philadelphia (Schenn's was $3.6 million), and with Weal making close to league minimum, it was clear that there would be some salary retention on the Flyers part.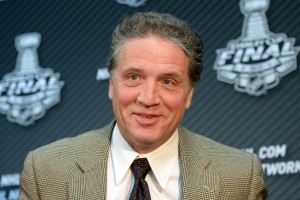 As Darren Dreger first reported (and Lombardi later confirmed), Philadelphia will retain 50% of both Schenn and Lecavalier's contracts, which put the Kings under the salary cap by the slimmest of margins. Say what you want about this deal, but understand one important thing. Lombardi really had to work to make this happen. The Flyers current president is legendary goalie/stick swinging lunatic Ron Hextall, and he was hell-bent on improving the long-term health of his organization by dumping these contracts. The fact that the Kings were willing to get their hands dirty just to make the numbers work by a nose says a lot about what this deal meant to them.
How Will the Newcomers Perform?
I touched on Lecavalier earlier, but the fact is, it really doesn't matter all that much. The Kings have 12 capable forwards now, and the former Lightening legend becomes a glorified insurance policy similar to Ravishing Rick Rude when Degeneration-X was formed. I could certainly see a scenario where Lecavalier contributes (especially in the postseason), but the Kings will not be asking for much more than a good attitude and a solid work ethic. Lombardi is on record saying that he hopes the veteran can have a similar effect to the one Bill Walton had on the Boston Celtics, which is certainly better than hoping for the Bill Walton who shows up at Grateful Dead concerts.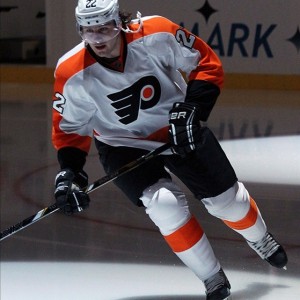 As for Schenn's expectations, well that's an entirely different type of flying (all together). He's the reason L.A. made this trade, the reason why they are brushed up against the salary cap like a bar at full capacity with drinks being spilled left and right. After the cap-shock wore off, I kept coming back to the same thought. Did the Kings improve that much (if at all)? I hope my instincts are wrong, but I really feel like the Kings might have settled for a surer thing as opposed to waiting closer to February 29th. The trade deadline is almost two months away, but they've made a major play while the betting blinds are small. They expect Schenn to be here, and to perform.
I don't know where L.A.'s newest defenseman will fit in with the current rotation, but I do know that Darryl Sutter will make him earn every shift he has with this club. Schenn has a low-end chance of being the ying to Drew Doughty's intrinsically gifted yang, but it will be an uphill climb to supplant the players Sutter knows and trusts on this team. Speaking of which…
What it Says About the Current Roster
When I mentioned my trade targets column last month, I outlined a few of them for potential Top 4 defenseman spots, and several others that would be on the borderline. I think it's no secret where Luke Schenn fits into that distinction. He's a solid player, but has not been playing better defensive hockey than Brayden McNabb, Alec Martinez, or Jake Muzzin. Not at all. Martinez and Muzzin are really gelling as a unit, developing that symmetry you need when your back is against the wall in the postseason. And McNabb has certainly had his ups and downs on the blue line, but he's starting to figure out how to adapt his game when playing with Doughty. Schenn might one day crash the top parings' party, but that day is not here yet.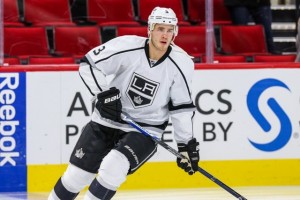 Having stated the semi-obvious, I think Schenn in the third pairing could work out very nicely for Los Angeles. The biggest positive in his game has always been his defensive fundamentals, which is exactly what you need at the bottom of the rotation. Schenn and Christian Ehrhoff (if he figures it out) could be highly successful as a duo, if Sutter elects.
And maybe this deal signifies how satisfied Sutter and Lombardi have become with their best defensemen. L.A. floated the idea of acquiring a top 4 guy at the trade deadline, but perhaps they've come to the realization that they don't necessarily need another one to win the Stanley Cup.
More Moves to Come?
I wouldn't rule out anything when it comes to Lombardi making moves, especially when it appears easier than transferring funds in Venmo with Philadelphia and Columbus involved. Still, it will be very difficult to swing a trade with no salary cap wiggle room. Unless the Kings are willing to move some key pieces, I think the trading might be on hold till next off-season.
And speaking of next off-season, I'll leave you with this. In 2016, Luke Schenn is an unrestricted free agent, and Vinny Lecavalier has informed the Kings he will retire (which appears to have been a provision before this deal was made. Seriously). If Schenn flames out down the stretch, or simply finds a suitor he likes more than a Sutter, he may be a flashy rental for Los Angeles. And if Vinny Lecavalier changes his mind, well, I don't even want to think about the repercussions that would create in today's "salary cap sensitive" environment.
Trading season has officially opened for NHL clubs. Ryan Johansen and Seth Jones stole all of the headlines on Tuesday, as highly skilled players should. Time will tell if Luke Schenn and Vinny Lecavalier can help make a difference when it matters most this coming June.
Just a hockey loving American. I grew up in Cleveland, Ohio, and attended Saint Louis University where I skated for the Billikens. From 2013-14 I covered the St. Louis Blues for ESPN Radio St. Louis. I currently work in sports video production in Los Angeles, and will always show solidarity for stay-at-home defenseman.