After a red-hot start to the season, the New York Rangers have had somewhat of a tumultuous ride over the past few weeks. Their possession numbers and overall quality of play have taken a stark downturn, but the team has still managed to avoid any prolonged losing streaks.
While many of the Rangers' struggles can be attributed to an inconsistent defense corps that has trouble moving the puck, one major bright spot on the back end so far this season has been 22-year-old rookie Brady Skjei.
Living Up to the Hype
Because of numerous trades the Rangers made over the past few seasons when they have operated under a "win-now" mentality, Skjei actually represents their most recent first-round draft pick. Selected 28th overall in 2012 after playing for the U.S. National Development Team of the USHL, Skjei was touted as a smooth-skating defenseman with size and good instincts at both ends of the ice.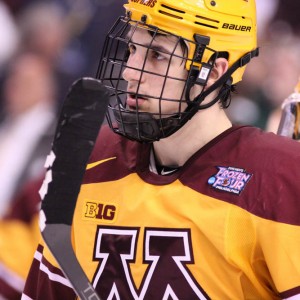 Playing at the University of Minnesota for the next three years, Skjei became an integral player for the renowned Gophers program before turning pro following the 2014-15 season.
"Brady had a terrific career here at the University of Minnesota, helping us earn three regular-season titles, a playoff title and three NCAA tournament berths," Minnesota head coach Don Lucia said back when Skjei made the decision to turn pro. "He has been a great program guy — a guy who always put the team first — and we look forward to seeing him continue to develop as a professional player."
So far, Skjei has developed quite nicely for the Rangers. After playing a handful of games last season — including in the playoffs — and not looking out of place, Skjei has now become arguably the Rangers' second-best defenseman behind captain Ryan McDonagh. 
Skjei draws some comparisons to McDonagh, as he has good size (6 feet 3 inches, 211 pounds), is an excellent skater, and has some offensive abilities that will continue to blossom.

Unexpected Offense
In fact, Skjei's offense has come along perhaps sooner than expected. With the departure of Keith Yandle, the Rangers looked to be pretty thin in terms of offense from the blue line coming into this season. Jeff Gorton and the Rangers' management saw Skjei as a potential replacement for Yandle when they knew they would likely not retain him because of salary cap complications.
"You need good players that are coming that don't make a lot of money," Gorton said at the GM meetings back in March. "Brady looks on the cusp of being an NHL player. I think that will help our decision."
Frankly though, asking Skjei to step in and replicate the offensive production of Yandle, who tallied 47 points for the Rangers last year, couldn't have been what Gorton was realistically thinking. Skjei is a young player who could be counted on for good minutes and solid puck movement, with the offense continuing to develop over time even if it never reached the level of Yandle's production.
http://gty.im/625808468
Over a quarter of the way into this season though, Skjei has been a major contributor for the Rangers offensively. While he has yet to pick up his first NHL goal, he has 13 assists through 26 games – a solid 41-point pace. Yandle, meanwhile, has 12 points (one goal, 11 assists) in 25 games for the Florida Panthers. No one could have expected Skjei to be outperforming Yandle in the points department by early December, but here we are. 
Skjei is a strong defender, but the Rangers are also getting offense out of him. His excellent play will have to continue, as the Rangers need him and McDonagh to cover up for the rest of the club's deficiencies on the blue line. In the longer-term future, however, Skjei is making his case to be a mainstay on defense for the Rangers for years to come, giving the team a solid piece (along with McDonagh) around which to build.