2013-14 American Hockey League Season Previews
SPRINGFIELD FALCONS

Coaching Staff: Brad Larsen – Head Coach; Nolan Pratt, Jared Bednar – Assistant Coaches
Affiliates: Columbus Blue Jackets (NHL)
2012-2013 RECAP
Record: 45-22-5-4 (99 points)
Won the F. G. "Teddy" Oke Trophy for winning the Northeast Division
Finished the regular season 2nd in the Eastern Conference (and the AHL overall) with 99 points
Earned their first playoff appearance since the 2002-03 season
2013 Calder Cup Playoffs:
Beat the Manchester Monarchs 3-1 in the first round.
Lost to the Syracuse Crunch 4-0 in the Conference Semifinal round.
THE OFF-SEASON
Roster Departures
One of the most important parts of a successful Calder Cup run is goaltending. Last year's standout goaltender Curtis McElhinney was named to the AHL's All-Star Second Team, but this year will be the backup for 2013 Vezina Trophy winner Sergei Bobrovsky in Columbus.
Several players from the 2012-13 Falcons are expected to be playing with the Jackets come opening night:

Ryan Johansen (40 games), Matt Calvert (34), Dalton Prout (40)

Others have been traded away or are otherwise no longer with the team:

John Moore was traded to the New York Rangers in the trade that brought Marian Gaborik to Columbus.
Tomas Kubalik, who played in 54 games and had 20 points on the year, was traded to the Winnipeg Jets for Spencer Machacek, who should play in Springfield this season.
Roster Additions
Mike McKenna will start as the #1 goalie for the Falcons. He has looked solid throughout Blue Jackets camp and now into Falcons camp.
Blake Parlett – Looking to play in his first NHL game and should be a nice addition, having come from the Connecticut Whale last year (now the Hartford Wolf Pack). Played 67 games with 28 points in Connecticut last season and after being traded, played in 9 games and had 4 points for the Falcons as well.
Spencer Machacek – Came to the team last year in March but will have potentially a full season in Springfield this year. Has played 25 games in the NHL with the Atlanta/Winnipeg franchise, and had 39 points last season in 75 games with the St. John's IceCaps and Falcons
2013-2014 SEASON PREVIEW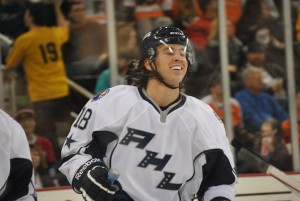 In this, the 20th anniversary season for the Springfield Falcons, 11 players return who were a part of last season's Northeast Division Championship. Guys like Andrew Joudrey, Sean Collins, Dalton Smith, Trent Vogelhuber, Michael Chaput and Cody Bass should be mainstays to the team. The combination of the veterans and newcomers should have this team thinking of a return trip to the Calder Cup playoffs, and potentially a deep run at that. Jonathan Marchessault was the team's leading scorer and tied for 5th in the AHL with 21 goals and 46 assists in 74 games. Despite being a potential call up, the AHL First Team All-Star should have a big impact in Springfield again this season.
Springfield Falcons head coach Brad Larsen said that "a team that's more organized early has a better chance to win. We have a lot of returning faces, which is good. It's about old guys bringing the new guys along and making sure they understand what we're doing."
Speaking of knowing what they're doing, Vogelhuber is one of those "old" guys that will be expected to show the new guys the ropes. Trent was the first Columbus-born player to play for the Blue Jackets when he played in the first preseason game against Pittsburgh. He survived the first few cuts, but not the final one, and said practices are intense and he likes Brad Larsen's high tempo offense. He realized his dream, albeit in the preseason, but is excited to get the Falcons' season underway: "It was awesome, my family was at the first game. But I'm excited to get this thing going. You gotta just take it day by day, focus on today and who knows what could happen tomorrow. Everyone's chomping at the bit to get [to the NHL]." When asked about his hopes for the season he said "we're excited to get this year going. It's good to have our core back. There are guys to look up to to set the path and some younger guys to get on the path."
Assistant coach Jared Bednar expects "more of the same. We like the way we played. We took a lot of pride in that last year. If you stick to the process and you're committed and respectful of your teammates, the process of getting a playoff spot and competing for a Calder Cup comes after that." Commenting on the fact that the coaches were a new group last year, he echoes Vogelhuber's sentiments saying "we're picking up where we left off" instead of piecing things together for the first several weeks.
According to Larsen and MassLive.com's Falcons beat writer Garry Brown, you can expect Ryan Craig to be the team captain once again. Craig is 31 years old and in his second tour of duty with the Falcons. He played in 75 of 76 games last year and anchored the power play with Sean Collins, who scored the game winner with just over 4 minutes left in the team's preseason finale this past Sunday. Collins also will be expected to be a leader and looks to start the season strong. He was called up for 5 games last season after playing 64 contests in Springfield and may be a mid-season call up once again.
Potential Call-Up Impact
On the opening night of training camp,  Larsen said "Nobody wants to be here." And ain't it the truth. That day, 23 players reported to Falcons training camp having just been cut from the Columbus Blue Jackets training camp, shattering their dreams of playing in the NHL, at least for now. Larsen would go on to say that "the fact that they are here, instead of there, means they have work to do and things to prove. There are some bruised egos here, but they simply have to put their dreams on hold and get to work. Each player has a chance to prove himself worthy of a shot at the NHL."
In general, many of those players won't make it to the big club, but there are certainly many who will be called up. In fact, only hours after being assigned to Springfield, some of the promising prospects were immediately recalled to the big club to fill spots as the minor injury bug went around Blue Jackets camp. Marchessault, Collins and Dalton Smith were recalled, played in the Jackets final preseason game in Columbus against the Carolina Hurricanes, and then were immediately reassigned after the game. For those 3, among others, the NHL is just a phone call away.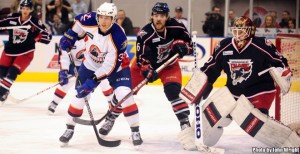 Taking a quick run down of the roster, you see guys like Cody Goloubef who played 38 games in Springfield last season, but also played 11 games for the NHL squad. I would expect him to be called up as one of the first defensive replacements should any of the top 6 go down in Columbus. Will Weber and Ilari Melart were also given hefty looks in Blue Jackets training camp and could be their other potential defensive call ups. As far as forwards go, expect the three previously mentioned call ups to be up and down pending injuries along with Jack Skille. Broc Little was also given a long look in Columbus, but his size – Broc is just 5'9″ – may keep him in the AHL.
The Falcons had a shot at being a team on high alert to win the Calder Cup at the start of Blue Jackets training camp. However, the two best prospects in the system have since made the Columbus Opening Day roster, as detailed by fellow THW writer Andrew Roman. Boone Jenner (the 37th overall pick in the 2011 NHL Entry Draft) and Ryan Murray (2nd overall in 2012) are two rookies who have hopes of winning the other trophy named Calder – the Calder Memorial Trophy, given to the NHL's best rookie. Jenner is a prime example of what Larsen said above, and his time is now, despite only playing 5 games in Springfield last year. It will be an unfortunate loss of sorts for Larsen, but a great opportunity for these New Blue Jackets. Don't be surprised to see Jenner or Murray in Springfield if either of them struggle, but judging by the way they played in camp and who they are paired with (Jenner has been playing with potential Jackets Captain Brandon Dubinsky and Murray has been paired with James Wisniewski on the blue lien), I would not expect any extended appearances for either of them.
2013-2014 PREDICTIONS
Prospects to Keep your eye on:
Sean Collins is just 24 years old. Columbus has a bit of a battle for centermen on their hands and Collins could be called up to be the 3rd or 4th line center if injuries start to pile up.
Will Weber is a 6'4″ defenseman that continues to work hard. Last year he started with the ECHL's Evansville Icemen before getting the call to the Falcons when the NHL lockout ended. This will be his third year in Springfield, and potentially his last if he can break through to Columbus.
Peter Sakaris also played in Evansville last year and has been catching the eye of the coaching staff thus far in camp.
Alex Aleardi was acquired late in 2013 and is poised to set the tone for the Falcons Offense, having scored 6 goals in the Falcon's 2 preseason games. Checkout FalconsTV's preseason interview with him below:
Projected Finish: Last year's Assistant Captain Andrew Joudrey said it all after only a couple days in camp. When asked what he thinks the team is capable of, he quickly said "The Calder Cup. If you're not shooting for that, you're selling yourself short. We learned a lot from last year. It was great looking back, but we can learn a lot from that and carry it forward."
The Falcons went 2-0 in the preseason, beating Hartford 7-0 and 4-3. A good start, and they will play their first regular season game on Saturday, October 5th.  Last season, Springfield allowed just 2.45 goals per game, much to the credit of their strong defense and McElhinney in net. Mike McKenna and Jeremy Smith need to be reliable in net to replace McElhinney. Having Marchessault be top 5 scorer once again will be a welcome boost.
After their first appearance in the Calder Cup Playoffs in 10 years, the Falcons have enough core returnees and new pieces that a long run into the Calder Cup Playoffs is in the cards. The key will be goaltending.
My guess for the 2013-14 Springfield Falcons is another Northeast Division Championship, and a trip to the Conference Finals, falling short of their first ever Calder Cup.
Doulas Cutler is a Lead Writer for The Hockey Writers covering the Chicago Blackhawks. Follow him on Twitter at @DougCutlerTHW. In addition, he also writes on The Blog of Brotherhood, dedicated to Miami RedHawks Hockey (www.blogofbrotherhood.com and @MiamiHockeyBlog). LET'S GO HAWKS!