The Columbus Blue Jackets have not filled their vacant captaincy position since trading away Rick Nash, the original "face of the franchise" in July of 2012. Brandon Dubinsky was an assistant captain for the 2013 season, and not only is he looking to replace some of the scoring lost when Vinny Prospal left the team, but here I make the case for him to fill the void and become the next Blue Jackets Captain.
Let's start by taking a look at the previous Captains. When the franchise started, Lyle Odelein held the position from 2000-02, it bounced to Ray Whitney for 1 season and bounced again to Luke Richardson for 2 seasons. Then things calmed down a bit, as Adam Foote (one of the most disliked Blue Jackets of all time) took the captaincy from 2005-08. Rick Nash – "The Captain" as he was named – then took over from 2008-2012 as he had finally come into his own after being drafted #1 overall in 2002. It wasn't as if Nash wanted to be the Blue Jackets Captain, but as the face of the franchise, and it's best player for so long, it was only fitting. During the strike shortened season last year, Dubinsky and defenseman Jack Johnson were both assistant captains, but the front office chose not to put a "C" on anyone's sweater for the season.
Saying and doing the right things
As we start to make the case for Dubi to fill the vacancy, it certainly sounds like he wants to be the captain. In my opinion, a captain should be willing to play anyone, anywhere and never whine and moan about playing time, the coaching staff's decisions or even the pre-game meal selections. His comments to BlueJackets.com this week illustrate this perfectly:
My objective is to get myself prepared to be the best player I can be at the start of the season. I don't care if it's Marian Gaborik or if it's anybody else; whoever the coaches see me best fit to play with is who I'll play with. You have to let your play speak for itself as far as how much ice time you gather, and who you're going to play with.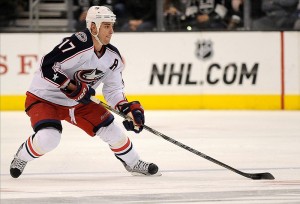 If it was possible, his actions speak even louder. In practice, Dubinsky is consistently teaching the new arrivals (including rookie Boone Jenner), and is always doing the right things right. It starts with the great work ethic and continues into the heat of the battle where Brandon isn't afraid to stick up for his teammates. In 5 games during the preseason, he also scored a goal and added 6 assists, good enough for the second best point total in the NHL. Jackets head man Todd Richards and I agree that even though it's the preseason, the scoring is a good thing.
Goals don't matter if they go in off your skates, either; when you look at the stats and follow the stats, if you have a goose egg under that (goal) column, it can really grow on you.
Currently signed through the end of the 2014-15 season, Dubinsky is just 27 years old, is set to make $4.2 million over the next 2 seasons. If the cards fall correctly, he could be in line for a contract extension before it expires. Marian Gaborik is in his contract year and will make $7.5 million this season – the highest paid player on the team by nearly $2 million a year. Many around the league think that Gaborik will try to fetch top dollar in the offseason in an effort to finish his career in one location, and it's no guarantee that location will be in Columbus. With that large contract freed up, there's cap space to sign Dubinsky to a long term deal and keep him in Columbus for years to come. Just think of the prospects of a line of Dubinsky centering Boone Jenner and Nathan Horton on the Blue Jackets top line for the next 5-7 years. I know it has me thinking about frequent trips to the playoffs.
Who else can fill the void?
Let's not get ahead of ourselves. All of this is not to say that there aren't other viable candidates to fill the captaincy. Fedor Tyutin and Derek MacKenzie have been around for a long time and could be considered dark horse candidates for the slot. Tyutin will be starting his 6th season in Columbus and MacKenzie his 7th, but both would be more suited as assistants if they are given such a vote of confidence by the front office.
James Wisniewski has a similar role to play in the proceedings as Dubinsky. While Dubi plays mentor to rookie Jenner up front, The Wis will be playing the same role to rookie Ryan Murray. The the two have been paired together during most of training camp on the blue line, both at full strength and on the power play. Each will have very important roles in the development of these two rookies. As my fellow THW writer Andrew Roman details, each of them has just been named to the opening day roster, and both are potential Calder Memorial Trophy candidates for rookie of the year. Wisniewski wasn't an assistant captain in 2013, however, and I will give the edge here to Dubinsky.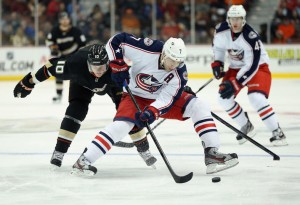 Despite being a former Michigan Wolverine – a team despised by most that live in Columbus – Jack Johnson also has a great shot at donning the Captain's C on his sweater. Who else can say that, in 2012, when he came to Columbus that fans were allowed to have their jerseys' name plates changed from Carter to Johnson after a trade sent Jeff Carter to the Los Angeles Kings in exchange for the new number 7? Johnson was an Assistant Captain in the strike-shortened 2013 season along with Dubinsky and if it isn't him, it is most likely that Johnson will be named captain.
Not so fast, my friends
As the regular season gets ever nearer to opening night for this, one of the younger teams in the NHL, a clear leader must be established. "Dubi" has been a quiet leader, but an effective one so far during this preseason. Judging by the reaction when asked, it doesn't seem like Richards thinks there will be a team captain named any time soon:
Richards on naming #CBJ captain this week: "There's always a chance, But it would be a real, real, real low percentage."

— Shawn Mitchell (@shecky218) September 30, 2013
Whether the Blue Jackets Captain is named by the three-headed monster of John Davidson, Jarmo Kekalainen and Richards now or during the season, Brandon Dubinsky is the right choice to lead this squad into the future.