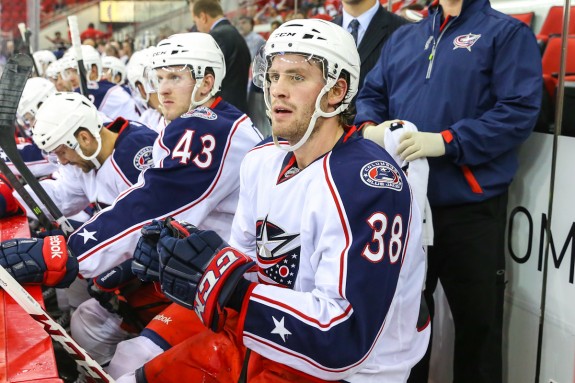 The Blue Jackets made their final roster moves today placing 5 players on waivers and passing 3 players directly through to the minors. Two players not assigned to the minors are rookies Ryan Murray and Boone Jenner. Which is great news for the Blue Jackets franchise.
In general it is not uncommon for a team to employ two rookies in any given season, what is uncommon is that these particular two rookies have monumental pressure to perform. What is even more uncommon is that the hype around these players is virtually completely created from what they've done on the ice. For a little perspective on the pressure, this author already gave his fictitious, preseason Calder Trophy nomination to Murray, while fellow Blue Jackets contributor Douglas Cutler has thrown his ballot towards Jenner.
The Players
It is easy to forget that Ryan Murray was the number two overall pick in the 2012 draft, not that he didn't deserve to be, but mostly just because he got hurt playing in juniors a couple of weeks before the NHL resolved it's lockout issues and he was held out of action for the rest of the season. Most expected Murray to make the Jackets' roster from day one, but as the Jackets season progressed and the team crawled into playoff contention, fans focused just a little less on the future, and Murray's name fell by the wayside.
Boone Jenner's rise has been even more unanticipated, a second-round pick in 2011, Jenner was considered, at best, a project that would need all four years of junior as well as at least a full season in the AHL before he would be able to move his large frame at an NHL level. Instead, Jenner decided to take his development into his own hands, greatly improving his skating before his 2012-13 junior season in which he managed 45 goals and 37 assists in 56 games with the Oshawa Generals. Following his junior season Jenner did get a total of 13 games with the Jackets' AHL affiliate, the Springfield Falcons, where he managed 9 points.
How Murray and Jenner earned their spots
Murray literally could not have started his NHL career in more dramatic fashion. In his first preseason game he recorded 23:06 of ice time, mostly against the Pittsburgh Penguins' Evgeni Malkin, James Neal, and Beau Bennett (not exactly an easy matchup for a 19 year old), before capping off the night with his first professional goal: an overtime game winner. Overall, Murray spent most of the preseason playing alongside James Wisniewski, netting a total of 1 G, 2 A, and an average of 20:24 TOI per game in 5 games. Murray's inaugural season will likely be shared with Wisniewski and the duo will likely constitute the team's 3rd pairing.
For as good as Murray was, Jenner was downright dominant, often looking like the Jackets' best player in his 5 preseason games. After producing 6 shots but no points in his first game (against the Sabres), Jenner went on a tear in his next two, totaling 3 goals and an assist skating alongside Brandon Dubinsky and Marian Gaborik on the Jackets' top line. Despite failing to tally a point in his next game (at home against the Wild), Jenner's physical presence was profound enough to earn him a third star nomination from the hometown journalists in attendance. Jenner's NHL debut figures to be a bit more conspicuous than Murray's, he will continue to skate with Dubinsky and Gaborik on the top line. When asked by Aaron Portzline of the Columbus Dispatch head coach Todd Richards had this to say of Jenner's preseason,  "Based on what they were able to do and how they were able to play as a group, I would be foolish to try and experiment with (Jenner) now somewhere else, just because they worked so well together."
Can Murray and Jenner live up to the hype?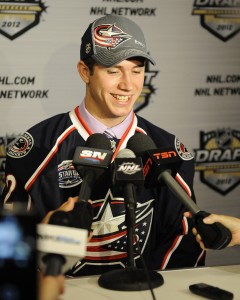 It should be noted that it looks like Murray will be given a much shorter leash, perhaps only through the first nine games of the season (after which point the team would have to send him back to his junior team, the Everett Silvertips, or burn a year off of his NHL contract), given that the team has decided to keep 8 defensemen at the NHL level (Murray, Wisniewski, Jack Johnson, Fedor Tyutin, Nikita Nikitin, Dalton Prout, Tim Erixon, and David Savard). For Murray, it's not really a question of whether he WILL be good enough, it is mostly a matter of when. Playing defense in the NHL is unlike playing any other position, merely being big enough and skilled enough is not the question (as it is for forwards and netminders). NHL defensemen need to be the smartest players on the ice and that is the only variable that Murray still needs to prove at this stage of the game. But as GM Jarmo Kekalainen told the media,
But, as I've said to you many times, the biggest part might be the mental maturity. Some of these guys have the bodies to play in the NHL at a young age, but not the maturity it takes. But they both earned the right, and it has nothing to do with draft status or anything else. It was based purely on merit.
As for Jenner, it is the rarest of rarities for a true power forward to make the jump (essentially) directly from junior to the NHL and put up monster numbers. Of course one franchise that has seen it happen (relatively recently too) is the Columbus Blue Jackets. Regardless of your feelings towards Rick Nash today, it is a little hard not to be excited about possibly having a player of his caliber donning the Union Blue this year.
Andrew is a professional student earning his Masters at WVU. He enjoys craft beer and watching open wheel racing. Find him on Twitter: @andrewroman.