The last time the St. Louis Blues won their division was the 2014-15 season. Since then, they've come in second twice and finished third last season.
St. Louis finished last year with a total of 99 points, 10 back of the Chicago Blackhawks for first place in the Central Division and seven back of the Wild for second. If they want to claim the top spot in 2017-18, they'll need to have a few things go their way.
Stay Healthy
This goes without saying — you can't be a competitive team if your best players are missing large chunks of the season waiting for injuries to heal. Unfortunately for St. Louis, they're already at somewhat of a disadvantage with center Patrik Berglund expected to be out until December with a shoulder injury. His loss will certainly be felt in those early months of the season.
Berglund's 23 goals last season were the second-most on the team. The Blues' acquisition of Brayden Schenn at the draft may be able to fill the hole, as Schenn had 25 goals with the Flyers last year. He also had 30 assists, which is 19 more than Berglund did last season.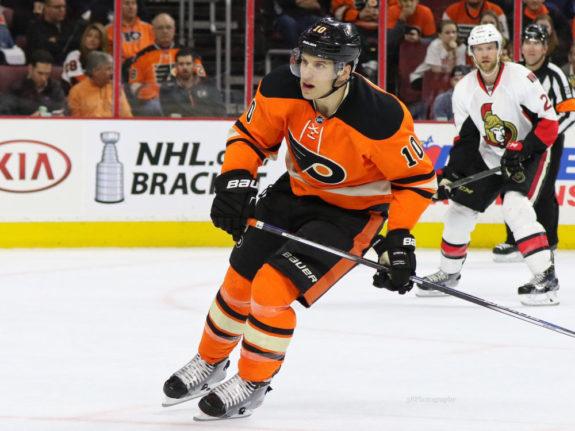 Assuming that Schenn stays healthy and manages to keep his numbers in the same ballpark, the Blues could see a bit up an uptick in offensive production.
Of course, most of the Blues' scoring will have to come from Vladimir Tarasenko, who put 39 pucks in the back of the net last season. If Tarasenko were to be injured for a significant length of time, it's safe to say that the team would be in real trouble.
Every team has some sort of injury trouble during the season. The Blues should just hope that they've already experienced their worst with Berglund.
Goaltending
Once again, this is obvious. Goaltending is probably the most important position in hockey — if your starting goalie has a bad year, it generally adds up to a bad season.
Looking at last year doesn't exactly inspire a lot of confidence in the Blues' goaltending. Remember when they left Jake Allen at home for a few games because he was playing so badly? Not exactly what you want to have happen to your starting goalie — especially when he is on the books for the next four seasons.
In Allen's defense, last season was the first time he was made a bonafide number-one goalie in the NHL. Previously, he had never played 50 games in a season and had spent his career sharing time in net with Brian Elliott, before Elliott was shipped off to Calgary last offseason. Allen also won over half the games he started last year and played very well in the playoffs, posting a 1.96 GAA in 11 postseason games.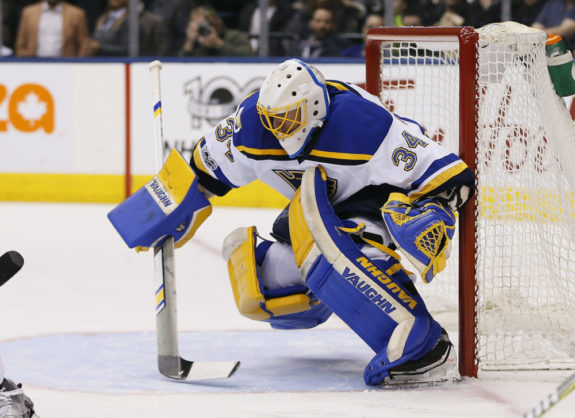 If Allen can put his struggles behind him and build on the way he played in the playoffs the Blues could be in a good position to challenge for the top spot in the division this season.
Depth Scoring
As mentioned earlier, Berglund's 23 goals last season were second on the team only to the 39 that Tarasenko put home. The Blues' goals need to start coming from more than just Tarasenko if they want to challenge for first in their division. The trade to get Schenn helps, but will it be enough? Berglund and Tarasenko were the only two on the team last season to hit the 20-goal mark.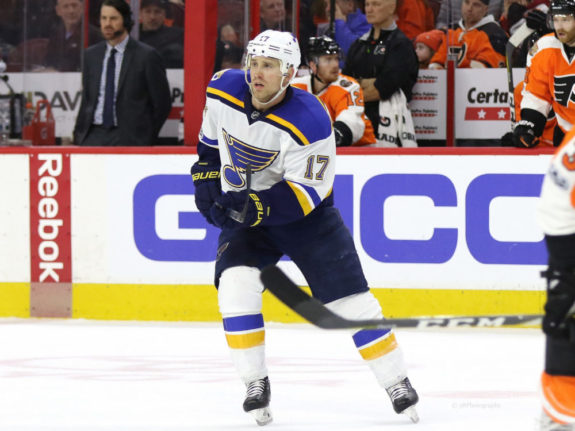 Players such as Jaden Schwartz and Paul Stastny need to contribute more to take some pressure off Tarasenko, and the signs are there that both will come though. Stastny had 18 goals but played only 66 games last season due to injuries, meaning if he stays healthy this year he should be able to put at least 20 in the net. Schwartz has proven in his career that he can score 2o — his career high is 28 back in 2014-15. Last year he had 19 goals and will be looking to improve on that this season. Just a few more goals here and there from a few players should help take at least some of the pressure off Tarasenko.
If the Blues can get these things they should be in a pretty good spot to at least challenge for the Central Division title next season.