The St. Louis Blues have always had near-the-top attendance ratings and boast an excellent list of alumni players such as Wayne Gretzky, Bernie Federko, Al MacInnis, Brett Hull, Chris Pronger and potential Hockey Hall-of-Fame inductee, Keith Tkachuk.

Gretzky, Curtis Joseph and Brendan Shanahan are among the usual forgotten Blues players, but they were big enough names who played a decent number of games for the Blues that you might remember them. But what about some Blues players that played less than a dozen games? Here are five players that you probably forgot played for the Blues.
1. Martin Havlat
One of the quickest and shiftiest players in recent memory was Martin Havlat and yes, he was once played for the St. Louis Blues. Havlat is commonly forgotten because he was with the organization for seven days and two games. He received a professional tryout (PTO) from the Blues in October of 2015 and after a series of injuries to their forwards, he signed a contract.
You may also like:
Havlat was 34 years of age when he signed with the team and in his first game scored the game-winning goal against the New Jersey Devils. After appearing in just one more game, he was put on unconditional waivers and later announced his retirement.
Havlat made a living as a top-6 forward who consistently scored 20 goals a season. He was an incredibly skilled and speedy forward who was thrilling to watch. His best years were with the Ottawa Senators, from 2000-2004, and the Chicago Blackhawks, from 2006-2009. He played 14 NHL seasons for a total of 790 NHL games while tallying 242 goals and 594 points. He ranks sixteenth on the all-time list for points scored by a Czech-born player.
2. Olli Jokinen
One of the greatest Finnish-born players and perhaps the greatest Florida Panther of all time, Olli Jokinen was once a St. Louis Blue. He was traded to the Blues on Mar. 2 from the Toronto Maple Leafs in exchange for Joakim Lindstrom. At the time, the Blues were fighting for a playoff spot and added Jokinen as bottom-six security but, he only played eight games for the team before he suffering a season-ending upper-body injury. Jokinen tallied just one goal and two assists during his brief eight-game span, primarily playing on the fourth line alongside Ryan Reeves and Steve Ott.
The Blues were Jokinen's 11th and final NHL team. The former third-overall pick made it public after the 2014-15 season that he would no longer be playing hockey but it was not until March of 2017 that he signed a one-day contract and officially retired as a Florida Panther. He appeared in a total of 1231 NHL games and scored 750 points. He ranks sixth on the all-time scorers list for Finnish-born players and is the top-scoring Florida Panther of all time.
3. Martin Brodeur
Future Hall-of-Famer and arguably the greatest goaltender of all time, Martin Brodeur was a member of the St. Louis Blues. Remember that? On Nov. 26, 2014, Brodeur signed a PTO with the Blues after Brian Elliott was injured. After one week, Brodeur signed a contract with the Blues ending his 21-year career with the New Jersey Devils. He played a brief seven games for the Blues where he posted a 3-3 record with 2.87 goals against average (GAA) and 0.899 save percentage (SV %). Once Elliott returned from injury, Brodeur announced his retirement.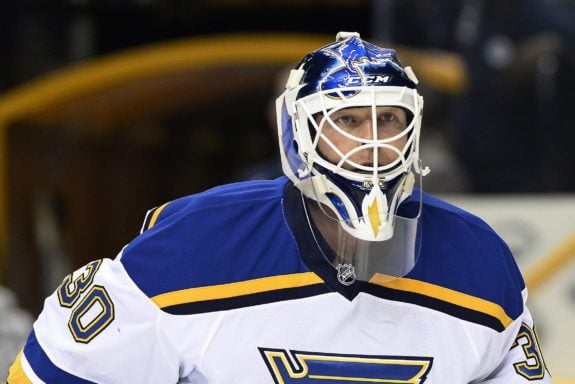 Brodeur has the most shutouts in NHL history with 125 and it was fitting that his final NHL win was a 3-0 shutout victory against the Colorado Avalanche. He played in over 1200 NHL games as a goaltender which is incredible. He has a career stat line of 691 wins, an impressive 2.24 GAA, and a solid 0.912 SV%. After his career with the Blues, he became the team's assistant GM under Doug Armstrong and news broke on Aug. 28, 2018 that Brodeur left the Blues front office to rejoin the Devils.
4. Tom Barrasso
Ranked 19th on the all-time wins list in NHL history is goaltender Tom Barrasso. Believe it or not, he was a St. Louis Blues goaltender at one point. Barrasso signed a contract with the Blues on Nov. 1, 2002, as a free agent and he played a total of six games with the team. During his time in St.Louis, he tallied a 1-4 record, with a 3.28 GAA and a .879 SV%. The Blues were Barrasso's sixth and final NHL team. Altogether, he has a career record of 369- 277, with 3.24 GAA and .892 SV%.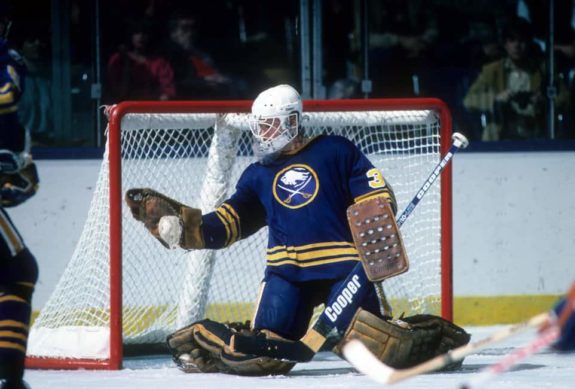 Known for being one of the best puck-handling goaltenders of all-time, Barrasso ranks first on the NHL's all-time points list for goaltenders with 48. He is commonly remembered as a Buffalo Sabre but his better and most established years were with the Pittsburgh Penguins. Barrasso played a total of 12 seasons for the Penguins and he ranks second all-time in wins, games played and shutouts, all next to Marc-André Fleury. He was inducted into the United States Hockey Hall of Fame in 2009 and is considered one of the greatest United States-born goaltenders.
5. Anders Nilsson
Anders Nilsson is the only active NHL player on this list. He was traded to the St. Louis Blues on Feb. 27, 2016, after Elliott suffered a lower-body injury that put him on the long-term injured reserve for around three weeks. The Blues were at the top of the Western Conference during the 2015-16 season and needed some insurance in goal until Elliott returned. After he did, Nilsson served as the teams third-string goaltender where he did not see much action. He is often forgotten as a Blue because he never started a game, and he appeared in a whopping 60 minutes over three relief appearances. He had a record of 0-1 with a GAA of 2.75 and SV% of 0.909.
Nilsson finished the 2015-16 season with St. Louis and after the Blues lost Elliott in free agency to the Calgary Flames, they signed Carter Hutton as his replacement. Nilsson, who was just 25 years old at the time still had some value so, the Blues traded him to the Sabres in the offseason for a fifth-round draft pick.
---
Latest News & Highlights
---