In this series, we're debating the merits of players who may have been overlooked for induction into the Hockey Hall of Fame. Using the Hall's criteria of judging a player based on their "playing ability, sportsmanship, character and contributions to his or her team or teams and to the game of hockey in general" we will debate who should be up next for inclusion in the Hockey Hall of Fame. Now, we look over Keith Tkachuk's case.
Ranking Keith Tkachuk:
1,201 games played (104th all-time)
538 goals (31st all-time)
527 assists (120th all-time)
1,065 points (63rd all-time)
212 power play goals (12th all-time)
72 game-winning goals (40th all-time)
3,350 shots (43rd all-time)
0.448 goals per game (58th all-time)
0.887 points per game (119th all-time)
Why He Should Be In:
Tkachuk tics the 500 goals and 1,000 points boxes that seem to give a player a very good shot of finding their way into the Hall. He was a natural scorer and a prototypical power forward, putting up goals at a good clip throughout his career, climbing the all-time ranks to a very respectable level.
His 212 career power play goals are second among players who aren't in the Hall already. (Hello, Dave Andreychuk.) His 538 goals are also second among players who aren't already in the Hockey Hall of Fame.
He's an American, which is significant in terms of his ranking among American players all-time. He's up there and that makes his contributions to hockey significant, even if there are Canadians above him who have put up more points. Only Mike Modano and Brett Hull have more goals among American skaters.
His importance to American hockey is clear in his being inducted to the U.S. Hockey Hall of Fame in 2012, one year before he was even eligible to be inducted into the Hockey Hall of Fame. He was also honored by the franchise that drafted him when he was inducted into the Arizona Coyotes' Ring of Honor in 2011.
He never won the Hart Trophy, but he led the league in scoring during the 1996-97 season, which is a testament to his scoring prowess. That season he became the first American to lead the league in scoring. He received Hart votes in both the 1995-96 and 1996-97 seasons. Additionally, he appeared in five All-Star Games and was named a Second-Team All-Star twice.
He scored 50+ goals twice, adding another two 40-goal seasons and five 30-goal seasons.
He's also got a long track record of being a team leader both in the NHL and at the international level. He first captained a NHL team at age 21, wearing the "C" for the Winnipeg Jets. In total, he was captain of the Jets / Coyotes for seven seasons and an alternate captain for one.
After that franchise, he moved to the St. Louis Blues, where he spent the majority of his career going forward. He served as an alternate captain there for seven seasons.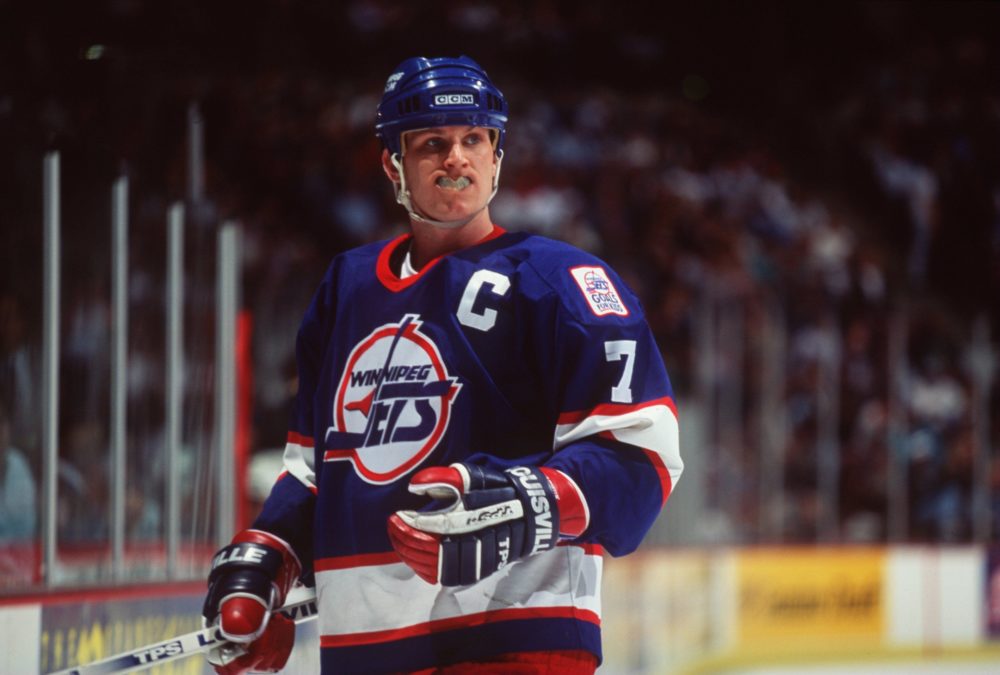 Non-NHL Accomplishments:
While Tkachuk never won a Stanley Cup, he found success at just about every level. He helped Boston University to a Hockey East championship in his only season of NCAA hockey, putting up 17 goals and 40 points in 36 games.
The next season he jumped into the NHL and helped the U.S. National Team to a bronze medal at the World Junior Championship. That was his second time playing for the national squad. He totaled nine goals and 16 points through 14 games between the two tournaments. In the year the team medaled, Tkachuk was named the team captain.
He also played for his country at the 1996 World Cup, where the U.S. won the tournament. Tkachuk put up six points in seven games there. He served as the team's alternate captain there as well. He joined the team for the World Cup in 2004 as well, scoring six points in five games.
He also spent time with the U.S. at the Olympics, playing in a total of four Olympic games, serving as the team's alternate captain twice (1998 & 2006). He grabbed a silver with the U.S. in 2002 and is just one of two Americans to skate in four Olympics.
Why He Shouldn't Get In
There's a lack of hardware on his resume. He got votes, but never won a voted-on trophy or a Stanley Cup. There's some significant to that. Additionally, his medals in international play, aside from the World Cup, are second or third place awards.
Not only did he never win the Cup, he didn't play a lot of playoff hockey, considering he played 1,201 games. He was never dominant when he was in the postseason and he never even led a team to a deep run.
As he aged, his playoff performances became even less impressive. And in his four Olympic appearances, which is a feat, he scored just three goals and three assists.
Ultimately, the argument against him is really that he's a very good hockey player and not an elite hockey player.
Verdict:
Almost in the opposite situation we saw with Steve Larmer, I started very high on Tkachuk and feel a little more lukewarm afterward. Tkachuk was undeniably fun to watch play and his place in American hockey history holds a lot of weight with me.
But he's a step back from some of the other guys waiting for their spot in the Hockey Hall of Fame like Jeremy Roenick, Larmer, Eric Lindros or Paul Kariya. On the other hand he lead the league in scoring one year and is the second highest goal scorer among players not already in the Hockey Hall of Fame.
Do I think it's pretty reasonable for Tkachuk to be in the Hall of Fame? Yeah. He was great. He's got the point totals. He was a respected leader and contributed to his country's international play. Ron Wilson called him one of the NHL's five greatest power forwards ever. The goal total and his contribution to American hockey should get him there eventually.
When the voting is actually laid out do I think he gets in within the next three-to-four years? No.
RELATED: 7 Hall of Fame Snubs to Rectify
More Hockey Hall of Fame Debates:
Dave Andreychuk
Curtis Joseph
Paul Kariya
Steve Larmer
Eric Lindros
Sergei Makarov
Alexander Mogilny
Jeremy Roenick
Originally published December 8, 2015