This week we're debating the merits of players who may have been overlooked for induction into the Hockey Hall of Fame. Using the Hall's criteria of judging a player based on their "playing ability, sportsmanship, character and contributions to his or her team or teams and to the game of hockey in general" we will debate who should be up next for inclusion in the Hockey Hall of Fame. This week we're looking at Steve Larmer.
Ranking Larmer
441 career goals (63rd all-time)
571 career assists (91st all-time)
1,012 career points (80th all-time)
162 career power play goals (31st all-time)
24 short-handed goals (44th all-time)
60 game-winning goals (66th all-time)
56 playoff goals (39th all-time)
131 playoff points (40th all-time)
0.438 goals per game (65th all-time)
1.006 points per game (46th all-time)
0.4 playoff goals per game (54th all-time)
0.936 playoff points per game (52nd all-time)
Why He Should Get In
Larmer is a good player who has probably waited long enough to get his due. Eligible for induction since 1998, the 6th round draft pick was making an impact as soon as he entered the league, winning the Calder Trophy in the 1982-83 season when he scored 43 goals and 47 assists in 80 games and led all rookies with nine game-winning goals.
He'd go on to total five 40-goal seasons and four 30-goal seasons through his 15 NHL seasons, spending 13 of those with the Chicago Blackhawks and playing in two All-Star Games.
Larmer was highly regarded by peers for many seasons, not the least of which was that he was a threat at both ends of the ice. He received All-Star votes in six seasons, Lady Byng votes in five seasons, Selke votes in five season and Hart Trophy votes in the 1990-91 season. He was also named The Hockey News/Inside Hockey "Man of the Year" in the 1990-91 season, when he posted 101 points.
The Selke votes are key honing in on what was special about Larmer. The Peterborough native was an excellent two-way winger, able to score goals with the best of his day and be used in a shut-down capacity.
He was also notably effective in the postseason, finishing his career with 131 points in 140 career postseason games. Despite his short career, his 131 playoff points ranks fifth among Hall of Fame eligible players who are not already in the Hall. That total includes a nine-goal, seven-assist performance in the 1993-94 playoffs with the New York Rangers when he won his first and only Stanley Cup.
He was a leader in that Cup run, wearing the "A" for the Rangers, just like he did for three years in Chicago.
One of Larmer's great accomplishments was being the league's "Iron Man," stringing together 884 consecutive games. He may have set the record, but chose to sit out because of a contract dispute with Chicago. Those 884 games are the third longest streak in NHL history and the longest streak with any single team.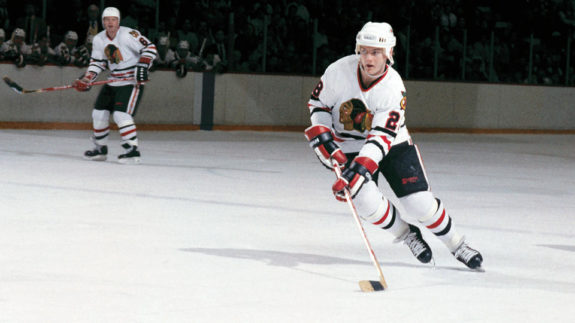 That kind of streak is sometimes looked down upon as a lesser accomplishment for Hall of Fame consideration.
However, a player who has accomplished a feat that amazing will tell you it's something their proud of and is a significant accomplishment. Staying healthy and staying effective for that long is a feat. Just ask Dave Andreychuk, who is proud of his games played total.
Additionally, he had 24 short-handed goals and a plus-204 rating. I'd argue that he compares favorably to some guys already in the Hall, like Dino Ciccarelli. He's just one of six players to ever post 150 power play goals and 20 shorthanded goals.
As former teammate Doug Wilson once said of Larmer, "He was one of the best forwards to ever play the game and more importantly, one of the finest people I have ever met."
Non-NHL Accomplishments
At age 20, he helped the New Brunswick Hawks to a Calder Cup Championship in the AHL and was named a second team All-Star of the AHL that season, scoring 38 goals and 44 assists in 74 games.
Larmer was a part of Canada's 1991 Canada Cup team, where he led the tournament with six goals and finished one point behind Wayne Gretzky with 11 points. He also helped Canada to a Silver Medal at the World Championship that year, scoring five goals and three assists in 10 games.
Why He Shouldn't Get In
The length of his career may be a factor here. He only played 1,006 games, having his career cut short by injury when he was just 33 years old, but there's precedent for guys who didn't rack up the games played totals, with guys like Pavel Bure getting in with just 706 career games to his game.
He's no Cam Neely or Pavel Bure, but after crossing 1,000 games, the length of his career shouldn't be the factor that keeps him out.
The other big argument against Larmer is a familiar one. It's the "good, but not elite" argument. There's some validity to the argument, Larmer was clearly a good and decorated player, but he wasn't Mark Messier. Teams weren't planning how they could defend against Larmer when Chicago came to town.
With a number of other players in this echelon and the Selection Committee not giving him the nod for 18 straight years, the cards may have been played already. Some players have had to wait a long time for induction, but Larmer's 18 years is a long time to go without induction if you're going to be inducted. The last time someone waited that long was Dick Duff being inducted in 2006, his 31st year of eligibility. The year before Duff, Valeri Kharlamov was inducted after 23 years of eligibility. Others who have come close to those marks since 1999 when the veteran player category was absorbed into the standard player category: Mark Howe, 14 years; Clark Gillies, 13 years; Bernie Federko, 11 years; Ciccarelli and Phil Housley, 10 years; Bure, nine years.
Verdict
This is tough. I started out as a no on Larmer, but the more I think about it, the closer I move to a yes.
His track record isn't flashy and his time in the league was relatively short, yet he was so consistent in his time in the league. He also represents all the maxims the Hall of Fame stands for (outlined in the intro). While the only hardware he has besides a Cup ring is a Calder trophy, he was a well-rounded player who received both Hart and Lady Byng consideration.
I'm not sure I'm picking him this year over the likes of Andreychuk, Lindros, Makarov and Roenick, but as many have attested, there's something to be said for guys who have waited for their time and Larmer has certainly waited. The upcoming vote is going to be something of a litmus test. With no likely first-ballot inductions, it feels like this may be the best shot Larmer will have for a while.
I'll let Chris Chelios take this home:
I would call Larms an unsung hero in Blackhawks history. You never saw him over-celebrate his own goals and he never sought out the limelight, maybe even at the expense of his own publicity or popularity outside of Chicago. Blackhawks fans knew that they had something special in Steve Larmer, but I don't think people in general really knew how good he was.
RELATED: 7 Hall of Fame Snubs to Rectify
More Hockey Hall of Fame Debates:
Dave Andreychuk
Curtis Joseph
Paul Kariya
Eric Lindros
Sergei Makarov
Alexander Mogilny
Jeremy Roenick