In today's Rumor Rundown a few teams have made some news, but the biggest comes out of St. Louis where the Blues might have some work to do after finding out forward Robby Fabbri will be out of action for the duration of the 2017-18 season. Could it lead to Jaromir Jagr signing with the Blues?
Islanders and Tavares
Jimmy Murphy of Murphs Hockey Law is reporting a few developments as it pertains to the New York Islanders and John Tavares. In a series of tweets, Murphy explains that the Islanders have been telling teams not to even consider inquiring about the status of Tavares until January 1, 2018.  The date Murphy reported is not exactly correct as the Iles have until January 30th, but the reason for the January 30th marker is because it's the date the team can opt out of its arena deal with the Barclays Center.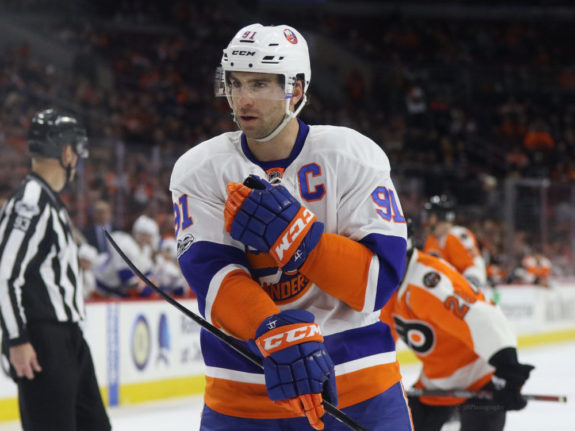 This won't, however, stop the Islanders and Tavares from reaching a deal in principal and making it official after the arena situation is more clear. That should be the plan for general manager Garth Snow who's going to need to make keeping Tavares a priority.
Tavares may still choose to leave but if the Islanders can get the legwork done, they just need to hope a new arena deal comes through. Expect teams to have packages ready to roll come January 30th if the arena deal falls apart.
St. Louis Blues Shopping?
Dan Murphy is reporting Scottie Upshall signing with the Blues is expected to be announced as he left the Canucks training camp to make a Blues deal possible. It is believed his deal will be a one-year contract worth $800,000. The news has been backed by a number of media sources and it makes sense considering the Blues are looking for options thanks to some injury issues.
Speaking of injuries, Jim Thomas of the St. Louis Post-Dispatch is also reporting that Blues' GM Doug Armstrong indicated the team is looking at ways to fill the shoes of Robby Fabbri who will miss the entire season. While options like Jaromir Jagr have potentially been thrown out there and the team admits having looked at the idea, TSN's Pierre LeBrun is speculating that seems unlikely and that the Blues will look to fill Fabbri's center spot internally.
Army on Jagr: He's a great player, someone we've talked internally about, and we'll have to talk about how players complement our style.

— Jeremy Rutherford (@jprutherford) September 28, 2017
What we do know is, if the Blues don't find some bodies to fill the spots of injured players like Alex Steen, Jay Bouwmeetser, and others, they could struggle early out of the gate. Armstrong needs to consider multiple options and with potentially only $2.2 million in cap space to make moves, he'll need to weigh those options carefully. Jagr is a plan B if the team feels like it's running out of options and Jagr badly wants to stay in the NHL. He'd need to be willing to work for around $2 million.
Blue Jackets and Josh Anderson
In his most recent edition of 31 Thoughts, Elliotte Friedman of Sportsnet looked at the situation in Columbus where the Blue Jackets have not finalized a deal with restricted free agent forward Josh Anderson. Reports are surfacing that he has asked for a trade but if he has, the request is news to Blue Jackets GM Jarmo Kekalainen.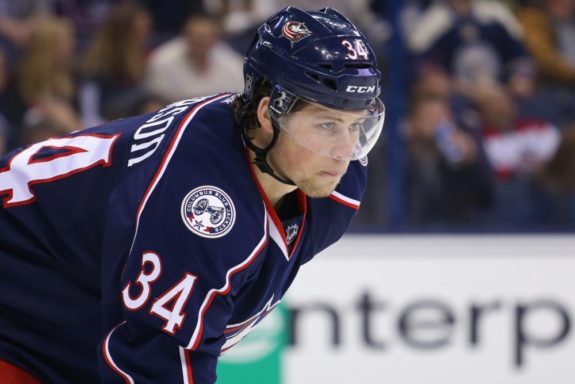 When news of the trade request leaked, the Columbus Blue Jackets did some public relations damage control and reached out to Friedman stressing they weren't looking to trade Anderson, but Friedman got the impression that this could be a sign and trade situation since there is definite interest from the Colorado Avalanche as part of any Matt Duchene trade. Friedman did clarify that he did not hear the actual trade request from Anderson's camp but that it was simply buzz that had traveled down the wire and Friedman reached out to the team for comment.
TSN's Pierre LeBrun was able to confirm Kekalainen was not aware of any such trade request and that the organization is still very committed to getting the free agent signed to an extension.
Further to @FriedgeHNIC, Jackets GM Jarmo Kekalainen tells me he's not aware of any trade request from Anderson; team focused on signing him

— Pierre LeBrun (@PierreVLeBrun) September 28, 2017
When asked for comment on the situation, Anderon's agent wouldn't confirm the rumors, but he did say the player is hoping to come to a resolution with the team soon. The Blue Jackets have some work to do in other areas and some big decisions. Cam Atkinson, Jack Johnson, Sergei Bobrovsky and Artemi Panarin are free agents within the next couple seasons and if the team hopes to keep that core together, Columbus will have to do their best to keep Anderson's deal one that works for the team moving forward.